Into the Khumbu
4 May 2010, Namche Bazaar - 11,200 feet or 3,400 meters
Dear Friends and Family,
The map below shows our month-long trek through the Everest (Khumbu) region NE of Kathmandu. This particular newsletter covers our 2 day trek from Lukla (where we flew in) north to Namche Bazaar (at the base of the "circle").
Mt. Everest is the pin in the top right. Clicking on the link below the map (or the box in the upper right corner) will bring up a larger version. The Markers are points of interest, mostly where we spent the night. Clicking on a marker or trail segment will display text telling something about it. The box in the upper left brings up a list of all the markers. At the bottom of the list is a box that will switch in and out of Satellite View. Click the box in the upper left again to get rid of the list. Enjoy...
We had tickets to fly from Kathmandu to the Khumbu (Everest area) May 2nd. We knew the Maoists couldn't block the flights, but getting to the airport could be difficult. So we hired a tiny van usually used for transporting vegetables and crammed all 7 of us (plus driver and assistant) and all our gear into it at 4AM. We managed to make it all the way to the airport before the Maoists woke up. At a police checkpoint the policeman just smiled at us all crammed in and waved us through (I got the impression he was stifling laughter).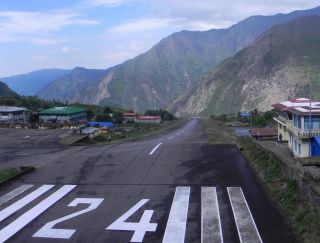 The sloping Lukla runway at 9,300' (2800m)
But we had to pay a small fortune for the transport, and Tenzing, our guide, had to walk all the way back to the house, as no transport was available. Tenzing's wife, Phu Doma, needs minor abdominal surgery in Kathmandu and she's terrified, so he's staying with her for several days until they can both join us in the Khumbu - but the Maoists are blocking the doctors from getting to the hospitals.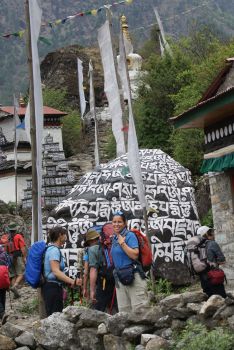 Mani rock - carved in prayers
Without the Maoists, we might have tried to bus to Jiri and then walk 10 days into the Khumbu, as Sue did with her father in 1974, but there are actually very few views and much fairly brutal upping and downing on that trek. Instead we chose to fly into Lukla at 9,300' (2,800m), where we'd be only 2 days' walk to the main Sherpa town of Namche Bazaar.
So we pile into this 20-year old 18-passenger Canadian Twin Otter (STOL - Short Take-Off and Landing) plane, with a car-type GPS taped to the pilot's control yoke. Some mechanic opens one of the engines (spilling a BUNCH of water from somewhere), fiddles around a bit, and closes the engine back up again. OK...
An attendant gives us little hard sweets to suck on as the cabin is unpressurized so our ears need to pop a lot. No pre-flight checklists, but the pilot soon got us airborne and we go up to 12,400' (3,800m) where we skim over a ridge (Chris claims he saw the trees blowing in our prop-wash). Then the roller-coaster begins as we're now in the mountains in a small plane, with clouds above and below. To his credit, the pilot achieves an air of nonchalance but the plane's being buffeted all over the sky, wings flapping and all of us belted in hard as we turn up the Dudh Kosi valley and start descending.
The runway at Lukla is now paved (it was grass in 1980) but it's tiny, gains perhaps 100' elevation over its length, seems to have a significant cross-wind, and ends in a stone wall. The plane is also probably overloaded as they only weigh our checked bags (15kg max) but everybody's also got huge and heavy day-packs, which aren't weighed and are often heavier than the checked bags (certainly true for all of us). Not a place for the faint of heart. But the pilot makes it all look easy and soon gets us on the ground, to a round of applause (when did you last applaud your pilot?

)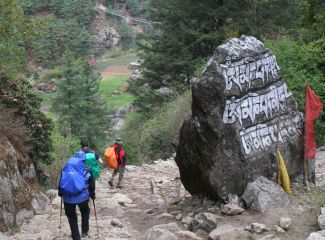 Hiking down to a bridge across the Dudh Kosi
Our porters had walked in from Jiri while we were in Pokhara so they met us, took our bags, and showed us a good place to buy breakfast before we hit the trail. It was funny to watch Pema assuming the Sirdar's duties (in Tenzing's absence) and bossing the porters around with a stern face and much laughter. Pema can't go more than a few minutes without laughing, and she's got the most delightful laugh, almost child-like sometimes.
Lukla has really grown up since 1980 when Jon was last here. Instead of only 2-3 tea-houses, there are now more than 30 full-on guesthouses, with more every few hundred meters down the trail. The trail from Lukla to Namche Bazaar starts at 9,300' (2,800m) but actually drops a bit as it traverses up the valley to meet the Dudh Kosi. Kosi means River and Dudh means Milk. It's called the Milk River because it's almost white from all the ground-up glacial rock-flower suspended in it. Absolutely undrinkable but there are lots of clear side-streams. We'll be following the Dudh Kosi and crossing it several times as we walk up to its source - the Khumbu Glacier, near Everest Base Camp. The trail is well maintained - it handles ALL the traffic for the entire Everest area - but it's still rocky enough that walking while watching the mountains (and not the trail) is dangerous.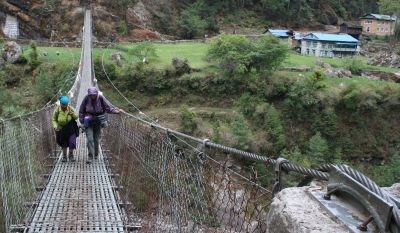 Sue and Pema cross the Dudh Kosi on a Swiss bridge
And mountains there are. The ridge behind Lukla had new snow and we occasionally saw jagged peaks, despite the low clouds today. The valleys are incredibly steep-sided, and anywhere the land gets less steep, it's immediately cleared, terraced and cultivated with potatoes, wheat, barley or cabbage. The Swiss have put in a number of strong but wobbly suspension bridges, some of which cross very deep chasms (DON'T look down). Yak trains (the Mack Trucks of the Khumbu) pass us by every hour or so, loaded going up the valley and empty when coming back down. All very picturesque.
We stopped for the night at relatives of Pema's. Most guest-houses are 2-3 story stone structures but this one is all just single level, several buildings sprawled over several acres right next to the Dudh Kosi. Our rooms all had en-suite showers and western toilets (a real treat for us in the mountains) and the dining room was warm and cozy.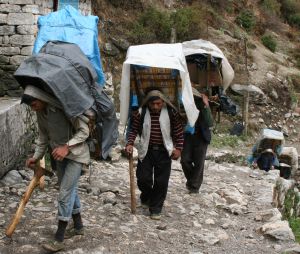 Porters on the "Everest Highway"
The next morning was still a bit cloudy which made for delightful walking, winding in and out of terraced fields and crossing several long suspension bridges. We stopped early for lunch at another friend of Pema's who had a nice restaurant overlooking the valley. Unfortunately, it started raining fat drops soon after lunch, which soon settled into a constant rain. The trail was easy enough until about 2pm when it made its highest crossing yet of the Dudh Kosi and then started winding up the mountain - for 1,700' (500m). Straight up, in the rain, with the trail turning into a stream, and all of us fighting for oxygen.
We were all very glad to arrive in Namche Bazaar (11,200' or 3,400m). We found ourselves a small guesthouse, showered ourselves warm, and watched the views from the wonderfully heated dining room. Somewhat perversely, the clouds cleared and the mountains started coming out. It's very amazing how HIGH they are, even when we're already so high up. They're not just up there, where you'd expect them. They're way up THERE, covered in snow with glaciers falling off them. The first of our "old friends" to come out was Thamserku, at 21,700' (6,600m). We'll be able to see her for much of our trekking in the Khumbu. Kusumkhan (20,900' or 6,400m) and some other lesser peaks also poked through the clouds, looking jagged and ethereal in the mist.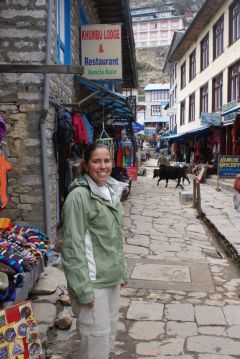 Namche Bazaar
The next morning dawned bright and beautiful, giving us spectacular views of the nearer mountains. Namche Bazaar is in a bit of a valley so we can't see as many mountains as we'll be able to later, but they're still magnificent. We decided to take an acclimatization day so we just walked around the village and surrounds. We visited the local monastery and a nice Sherpa museum which included a full Sherpa house of about 1980, when we were here last. The ground floor was for the cattle, firewood, and dung (which gets dried and burned) while the upstairs had a big room for cooking and sleeping, with another room as a prayer room, with many of the trappings of a monastery. This seemed more elaborate than most houses we visited back then, but it's true that ALL houses have a prayer area (if not a full room) with statues of Buddha, candles, and many other religious items. Buddhism really does permeate all facets of the Sherpas' lives.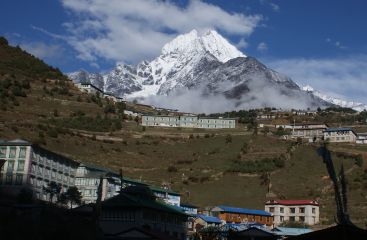 Thamserku, 21,700' or 6600m above Namche Bazaar
We'll continue climbing up the "Everest Highway" tomorrow, probably stopping at Khumjung (12,400' or 3,780m). Unfortunately we've found that our new CDMA modem doesn't provide us with the promised internet access up here. This means that we'll have to go to cyber-cafes to send or receive emails, and there aren't many up here so these emails will be a bit sporadic. But please rest assured that we're safe from the Maoist troubles, and we're pretty sure they'll have calmed down by the time we have to return to Kathmandu in June. Chris and Jon both seem to be handling the altitude better this time and we're taking it slow. From here on we'll probably limit ourselves to gaining 1,000' (300m) or so per day.
For those who asked about photos, I'm afraid we really can't send any until we get out of Nepal. We just don't have the bandwidth. But as soon as we get back to Ocelot we'll be updating the website with these newsletters, and we'll certainly be illustrating them then with LOTS of photos.
Fair Skies and Calm Flights -- Jon, Sue, Chris and Amanda
Nepal Newsletters: Up | Chitwan | Langtang | Gosainkund | Pokhara | Into the Khumbu | Thangboche | To Everest | High Passes | Mani Rimdu | Last Leg
Related Pages: Overview Map | Chitwan Map | Langtang Map | Khumbu Map | Destination Nepal | Nepal Newsletters | SE Asia Flora & Fauna
Indian Ocean Newsletters: Laos Letters | Vietnam Letters | India Letters | Nepal Letters | Indonesia Letters | Malaysia Letters | Thailand Letters | Sri Lanka Letters | Maldives Letters | Chagos Letters | Seychelles Letters | Madagascar Letters | Mayotte Letters | Africa Letters
Top Level: Home | Destinations | Cruising Info | Underwater | Boat Guests | Ocelot | Sue | Jon | Amanda | Chris | Site Map | Make a Comment
---
Lifetime
Commodores
of the
Seven Seas
Cruising
Association

If our information is useful,
you can help by making a donation
Copyright © 2000‑ Contact: Jon and Sue Hacking -- HackingFamily.com, svOcelot.com. All rights reserved.