Thangboche


Thangboche Monastery in morning light, with mountains behind
7 May 2010, Thangboche Monastery (12,700' or 3900m)
Dear Friends and Family,
The map below shows our month-long trek through the Everest (Khumbu) region NE of Kathmandu. This particular newsletter covers our 2 day trek from Namche Bazaar (at the base of the "circle") to Thangboche Monastery (at the bottom right of the circle).
Mt. Everest is the pin in the top right. Clicking on the link below the map (or the box in the upper right corner) will bring up a larger version. The Markers are points of interest, mostly where we spent the night. Clicking on a marker or trail segment will display text telling something about it. The box in the upper left brings up a list of all the markers. At the bottom of the list is a box that will switch in and out of Satellite View. Click the box in the upper left again to get rid of the list. Enjoy...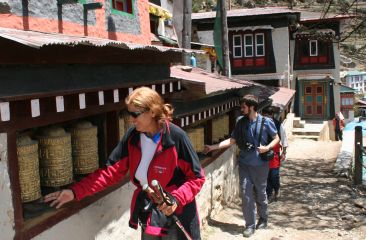 Spinning prayer wheels as we leave Namche Bazaar
We last wrote from Namche Bazaar, the main village of the Sherpas. The morning dawned grey and rainy and we almost decided to spend an extra day in Namche, but after lunch the weather cleared up so we walked up 1,000' (300m) to Khumjung, home of our friend Pema as well as of our Sirdar, Tenzing.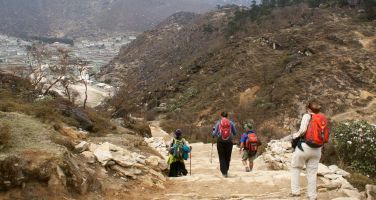 Coming into Khumjung, Pema's home
Coming into Khumjung we were greeted with fields of blooming rhododendrons in the little nitch above the school that Hillary setup. Although Tenzing and Phu Doma are still in Kathmandu waiting for the doctors to get to the hospital for Phu Doma's operation, we stopped at Tenzing's house where we were given tea and met more of his family, including his 2 kids, now 4 and 8.
Pema's house is partially rented out but it used to be a trekking lodge and the old trekkers' accommodations were empty. Pema dug up mattresses and blankets for us and immediately started stuffing us with her cooking - wonderfully fragrant and filling soups, fried garlic and onion potatoes with eggs, French toast, rice pudding, and endless pots of popcorn and cups of tea.
We decided to take an extra acclimatization day, mostly to let Tenzing catch up to us. The Maoists prevented the doctors from getting to the hospital so Phu Doma's abdominal surgery will have to wait until the monsoon has closed the trekking season. They flew to Lukla and then walked to Khumjung all in the same day! Luckily, they've found that her operation can be done arthroscopically, so minimal invasiveness and improved recovery.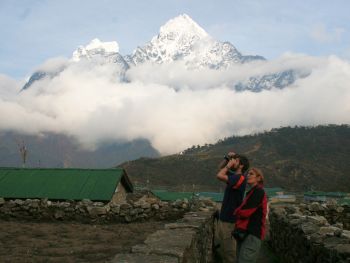 Sue and Chris with Kangtega and Thamserku
We used our acclimatization day to get some laundry done (which is slow to dry in the cool fog!) and to hang out with the Sherpa women in the kitchen where a wood fire in the adobe-stove kept us warm while we drank endless cups of sweet, rich "milk tea", and met many of Pema's relatives, from 8 months to over 80. After lunch we strolled along the narrow paths between stone walls that surround the potato fields and made our way to the neighboring town of Khunde to visit the Hillary Clinic, the local monastery, and to take a quick hike up a nearby 800' (250m) ridge. That night produced lots of rain and lightening so we were glad to be snug in Pema's house.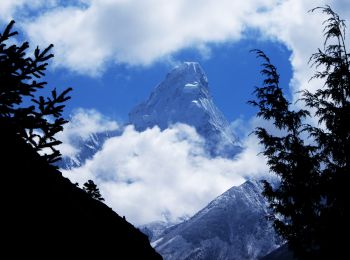 The angelic Ama Dablam
The next day dawned brilliantly clear, with gorgeous mountains all around us. Kangtega and Thamserku (both about 21,700' or 6600m) were just across the valley from us (and WAY above us). Beautiful Ama Dablam (22,350' or 6800m) was looking angelic further up the valley. Other snow-clad mountains were all around us. The snow level was only 2,000' (600m) above us, so even the "foothills" around us had bright new snow.
Our walk to Thangboche Monastery was delightful, walking down the main "Everest Highway" along with all the pack-yaks, with white, pink, and yellow(!) rhododendrons blooming all around us. The forest included pine and fir, and the warm sun brought out all the wonderful scents that we remember from our own mountains. While Thangboche is only slightly higher than Khumjung, it's on the other side of the Dudh Kosi river. So we had to descend over 1,000', cross the river, and then grind 1,600' (500m) up the other side. The bridge that we'd crossed in 1980 was washed out in 2007, so they'd built a temporary wooden bridge down low and they now have a new 400' (114m) long suspension bridge.
At Thangboche the clouds closed in but we found a rather primitive lodge, washed the trail dust off (for $4 each!), visited the prayer room of the monastery, and went to the monastery museum to learn more about Buddhism and the history of the area.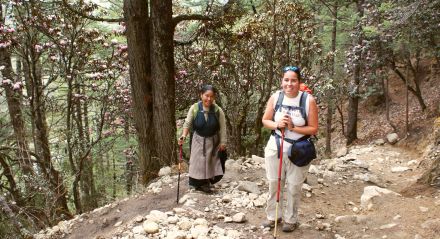 Rhododendron forest trail up to Thangboche Monastery
Then, while we were clustered around the stove in the dining room of our lodge, the clouds lifted and we got our first views of Mt. Everest (or Chomolongma - Mother Goddess of the Earth)! The shifting clouds and the afternoon sun made for endless photos. From this angle, Everest only just pokes up above the Nuptse ridge, so it doesn't look very imposing, but there are so many other tall mountains around it that it almost never does.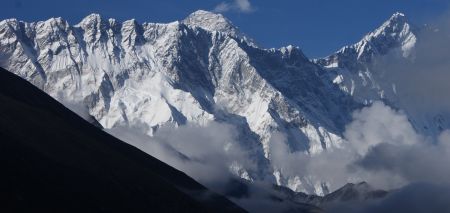 First view of Everest (center) behind Nuptse Ridge
Internet here costs $15/hour (when we can get it at all) so I'm not sure when we'll be able to send more emails. Our rough plans are to head up towards Everest Base Camp (17,600' or 5364m), then cross over Cho La Pass (same height) to Gokyo (15,700' or 4790m), then cross over Renjo Pass (again, same height as Everest Base Camp), to Thame (12,500' or 3800m) where we hope to attend the Mani Rimdu festivities May 23‑24. This schedule is pretty tight as we only have 4 extra days in there. If the passes are closed (too much snow) then we'll go up the 3 valleys individually. After Mani Rimdu we'll probably return to Pema's house in Khumjung and use that as a base for shorter treks before we have to return to Lukla to fly back to Kathmandu on June 6.
Sunny Skies and Magnificent Views -- Jon, Sue, Chris and Amanda
Nepal Newsletters: Up | Chitwan | Langtang | Gosainkund | Pokhara | Into the Khumbu | Thangboche | To Everest | High Passes | Mani Rimdu | Last Leg
Related Pages: Overview Map | Chitwan Map | Langtang Map | Khumbu Map | Destination Nepal | Nepal Newsletters | SE Asia Flora & Fauna
Indian Ocean Newsletters: Laos Letters | Vietnam Letters | India Letters | Nepal Letters | Indonesia Letters | Malaysia Letters | Thailand Letters | Sri Lanka Letters | Maldives Letters | Chagos Letters | Seychelles Letters | Madagascar Letters | Mayotte Letters | Africa Letters
Top Level: Home | Destinations | Cruising Info | Underwater | Boat Guests | Ocelot | Sue | Jon | Amanda | Chris | Site Map | Make a Comment
---
Lifetime
Commodores
of the
Seven Seas
Cruising
Association

If our information is useful,
you can help by making a donation
Copyright © 2000‑ Contact: Jon and Sue Hacking -- HackingFamily.com, svOcelot.com. All rights reserved.