Last Leg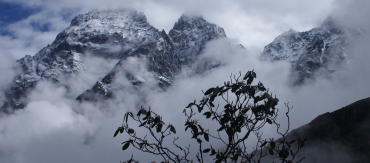 Misty mountains and rhodie above Lukla
6 June 2010, Kathmandu
Dear Friends and Family,
The map below shows our month-long trek through the Everest (Khumbu) region NE of Kathmandu. This particular newsletter covers the final days of our trek - basically the entire part below the "circle".
Mt. Everest is the pin in the top right. Clicking on the link below the map (or the box in the upper right corner) will bring up a larger version. The Markers are points of interest, mostly where we spent the night. Clicking on a marker or trail segment will display text telling something about it. The box in the upper left brings up a list of all the markers. At the bottom of the list is a box that will switch in and out of Satellite View. Click the box in the upper left again to get rid of the list. Enjoy...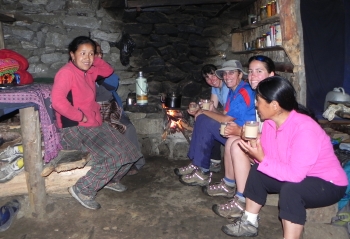 Warming tea/rest stop above Lukla
These last few days have been some of the toughest of our entire trip, even though we're now acclimatized, fit, and lean (so lean our pants are falling off us!

)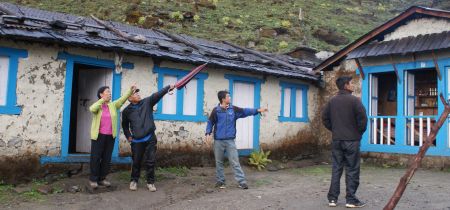 Our Sherpas outside our very basic Chutanga tea-house
We last wrote when we were in Thame, after Mani Rimdu. This mostly finished what we wanted to see in the Khumbu (Everest) region, so we hiked back to Pema's house in Khumjung and then headed down the Dudh Kosi River back to Lukla, where we'd originally flown into the Khumbu. On the way we again got to stay at Pema's friends' lodge in Phakding. This was the first Khumbu lodge we'd stayed in and at the time we didn't realize that it would be the nicest one we'd see - friendly folks (with a cute baby!), good food, lovely grounds right on the river, big sunny rooms with attached western style bathrooms that included free solar heated showers, and free electricity for charging all our computers, cameras, cell-phones, and MP3 players (lodges usually charge $4/hour/device, even when they get their electricity for free).
Most of the lodges we've stayed at stuff us into tiny rooms that are barely longer than the (single) beds, with little room for all our gear. We pushed the beds together when we could but sometimes the rooms were so small that the beds had to be separated or the door wouldn't open. Toilets were usually down the hall (or even outside!) and were usually what we call "squatties" - an oblong hole in the ground with foot-pads on either side and a horrific odor (this style of toilet is fairly ubiquitous throughout SE Asia, despite the appallingly poor aim of the users). Showers were likely to cost as much as the room and could be "creatively funky" - enough so that we often just took 2 basins of warm water to our room and sponge-bathed.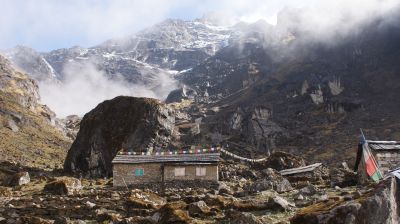 Terraced camping areas below a closed Thuli Kharka lodge
In Lukla we thought we'd try hiking up the Hinku Valley, which is the next valley east of the Dudh Kosi. The Hinku was very pretty in 1980 with lots of dwarf rhododendrons, primulas, blue poppies, and summer yak pastures. There were no permanent settlements, but the itinerant yak-herders would sell us fresh yogurt (called "curd"). It's quite remote even though it's the way to get to the base-camps for Makalu, Baruntse, and Mera Peaks. The problem is that there's a huge mountain range between the Hinku and the Dudh Kosi. There's a trail out of Lukla (9,300' or 2840m) but the pass is at 15,100' (4610m), a climb of almost 6,000 feet or 1800 meters!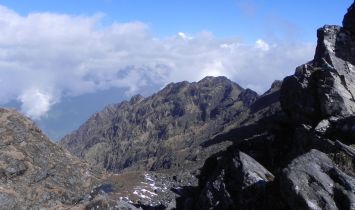 Back over Zatrwa La, in better weather this time
More importantly, we weren't at all sure of the accommodation situation in the Hinku. In 1980 we were camping, so we were completely self-contained and accommodation wasn't an issue. But this time we're not equipped to camp, so we need tea/guest-houses that can both feed us and provide us with beds (tea-houses can provide food but usually not lodging, or only very basic lodging). Not only are guesthouses rare in the Hinku valley but some of them were already closing for the rainy summer monsoon season. After asking several sources we decided to try, realizing that it might not work.
In Lukla we stocked up on extra proteins like yak cheese, canned tuna, and nuts to augment the unknown meals of the Hinku. As we hiked up the ridge east of town we passed the new hospital, dedicated to Nepal's first woman to summit Everest (she died on her descent). Then came several very old-style rural farmhouses surrounded by beautiful potato fields now blooming with white and lavender flowers. Vegetation became more dense higher up and we passed moss-strewn boulders decorated with wild orchids, then entered a lush rhododendron and birch forest. Clouds moved in, giving the area a mysterious gray/black feel. After a few hours, 2 young women passed us on the trail and said the tea house we were aiming for, higher on the ridge, was closed. But they were returning to their own tea house to finalize its closure for the summer and they offered to let us stay the night.
| | | |
| --- | --- | --- |
| Blooming Rhodies along the trail | Everest highway mule train | Sherpani churning butter |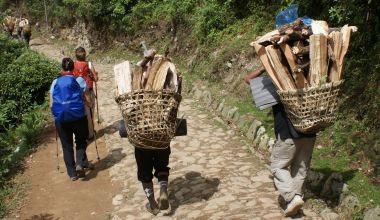 Amanda & Sonia passing woodcutters returning to Lukla
Welcome to Ye Basic Tea House! The eating/sleeping area was a rectangular stone building with wood beams that held up a tin roof and plastic sheeting to keep (most of) the leaks away. We had hard wooden benches around the perimeter of the room to sit on, with a few rough-hewn tables. A drum stove with a small wood fire tried to keep the damp and cold away, and for the first time we had to pay $1/person to have it lit! Dinner was a choice of dal bhat, dal bhat or dal bhat (rice and lentils) eaten by the light of our headlamps. For sleeping we stacked ourselves like sardines along a hard wooden platform at one end of the room, while the porters, Pema and Tenzing took positions on the wooden benches. Only Sonia, with her Therma‑rest, had more than 1/4" (½cm) of very inadequate padding between her and the hard wood, and none of us had any privacy at all. The outhouse was a fine old-style Nepali long-drop over a field: down a muddy path, around 2 huge yak dung piles, into a wooden shack with a (very small) oblong hole cut in the wooden floor. This one didn't even have pine needles to cut the smell.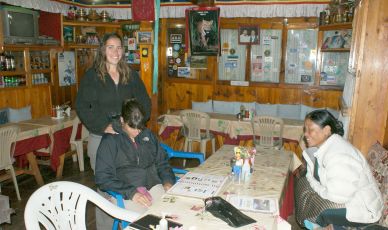 Dining room of our Lukla ("Namaste") guesthouse
We made-do for the night, ate a hasty breakfast, and then carried on UP the mountain, having been advised that the tea houses were better on the other side. Our trail gave way to some land-slide areas and the walking was tricky on a path wetted by the night's rain. At one point Sonia slipped off a rock and ended up with both feet in a stream, soaking her boots (she claimed it was refreshing). The clouds chased us up the mountain, giving us tantalizing intermittent peek-a-boo views. We could see that we were entering an area of blooming yellow rhododendrons, but our little bubble of visibility kept closing in on us as the clouds thickened until we could only see about 100m. Once above tree line we rested on granite rocks for a picnic of tuna, crackers, nuts, raisins, granola bars and freshly filtered water - just in time, it turned out.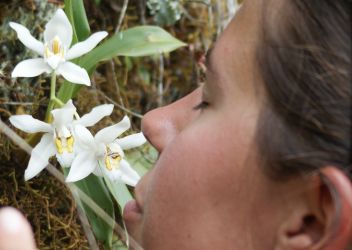 One must take time to smell the orchids...
The final push to the ridge top was done in the worst wind and rain we'd seen yet. We all climbed into our rain-gear but we were working so hard that it soon got pretty clammy on the inside, despite being "breathable." We were very glad to finally reach the prayer flags fluttering between black crags that marked the top. Unfortunately everyone had referred to the lodge as being the one at "Zatrwa La" meaning "at the pass", but once there we realized there was no lodge, just a tiny closed tea-house. For two more hours we navigated slick wet rocks, muddy trails, wind, hail and rain along a high traverse, then down a cloud-shrouded hillside, eventually dropping 1,000' (300m) from the summit. When at last a man-made stone house came into view we were some wet, tired trekkers. Accommodation here was vastly improved, as there were no leaks, few draughts, and our own rooms. There were few enough guests that we could double up mattresses to make cozy beds. The dining room sported a bigger stove (we still had to pay) and solar powered electric lighting! Pure luxury!

Our trail out - Kharikhola village from Bupsa
The rain pelted down all night, and the next day dawned with dense low-lying clouds hiding the Hinku valley, so we decided to take a lay-day to see if things improved. Our cabin-mates were 3 young men from the States, new medical doctors and very interesting to spend time with. They had been abandoned by a "Sherpa" guide who had claimed he could get them from Kathmandu to Mera Peak (over 20,000' or 6000m) and back to Lukla in 6 days, something that even we, as acclimatized as we were, would never attempt. One guy had already suffered mild pulmonary edema, and the guide took off, saying he had to get to Tibet(!?) The company was Panda Treks in Kathmandu and we'd certainly advise against dealing with them!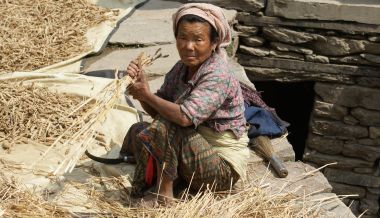 Rai woman harvesting wheat by hand
The next morning we abandoned the idea of trekking the Hinku Valley, as the clouds stayed thick and low. Instead we turned back to the west, climbed the 1,000' (300m) back up to the ridge (this time in bright sun, with clouds chasing us up the mountain!), and dropped over to the Lukla side for one of our toughest days of trekking -- almost 6,000' (1800m) of a foot-pounding, rock-stepping, mud-sliding down-hill slog. With better weather, though, we did get a chance to enjoy some of the last blooming large rhododendrons and the bright purple and yellow primulas along the way. As the sun warmed the dwarf rhododendrons, they released the most wonderful smell (Sherpas often burn bits of dwarf rhododendrons as incense). An hour above Lukla we came across dozens of young people with woven baskets filled with newly cut wood. This day marked the first of 15 days of summer wood-cutting allowed for the residents of Lukla, and the forest echoed with the laughter and shouts of the wood cutters, and the thud of axes on birch and rhododendron.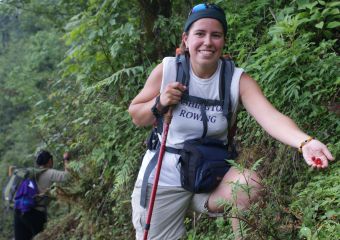 Harvesting tiny wild strawberries along the trail
Arriving back in Lukla on the last day of May, we celebrated with beer and popcorn at the friendly Namaste Lodge, then had several hours of discussion as to what to do next. Sonia opted to fly to Kathmandu as her knees were shot from 2 brutal days of vertical ascent and descent. The 4 of us, plus Pema, contemplated walking out from Lukla to Jiri, a knee‑crunching, leech‑filled, possibly rainy trek of 6‑8 days. But sanity prevailed and we chose to explore a new area: a 3 day trek through the Middle Hills to the next airstrip to the south at Phaplu (PA-flu).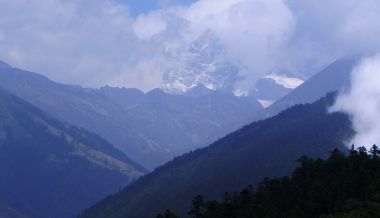 A final view of the high mountains from Trakshindu
After a rest day in Lukla (spent largely at a pirate Starbucks coffeehouse that had free Wi‑Fi) we said goodbye to Tenzing, who returned to Khumjung to spend time with his family before flying to Korea for the summer. This would also give them time for Phu-Doma's stomach operation before Tenzing left. Then we 4, plus Pema, set off downhill from Lukla. This trek was a beautiful way to end our month in the Khumbu, as the scenery changed from rocks and ice to waving fields of ripe wheat, red silk tassels on corn stalks, and shimmering green potato fields, all on intricately terraced hillsides.
In Kharikola children ran to give us ripe purple plums and we stained our mouths with this luscious new taste! Although still predominantly Sherpa (so we still had mani walls, chortens, stupas, and prayer flags along the way) some of the people are Rai, and the women wear large gold nose and ear rings and brightly colored dresses more like Indian saris than the Tibetan dress that Sherpas prefer. The lower the elevation the lower the prices at the guesthouses so we finally enjoyed daily hot showers! But my oh my, what a trail.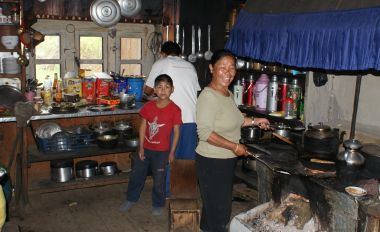 Pema helping cook in the Ringmo guesthouse kitchen
Our trail was the same as the last few days of the notorious Jiri to Lukla trail, meaning we gained and lost LOTS of elevation every day as we crossed ridges, traversed hillsides and dropped to cross rivers. Perhaps more importantly, we hiked many more hours each day than we had before (8‑10 hours instead of 4 to 5). We arrived at our destinations each evening thoroughly thrashed. It was all we could do to stay awake long enough for dinner to arrive before we gratefully fell into bed.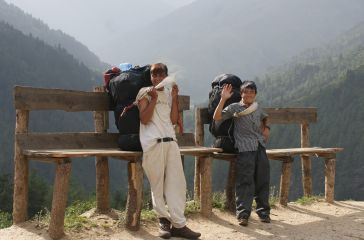 Our porters Arjun and Santos at a "pack-rest" stop
Our first day we started at Lukla (9,300' or 2840m), dropped down 1,800' (540m) to Surke, climbed back up 2,100' (650m) to Chutok La Pass, traversed several miles around to Khari La Pass, and finally dropped 2,000' (600m) to Bupsa, where we spent the night. Happily, we could see Bupsa from Khari La, which made the last leg much nicer. The next day we dropped down 2,500' (760m) to cross the roaring Dudh Kosi on a steel, Swiss-built suspension bridge, then we ground 2,350' (720m) up the side of a ridge to finally stop at the sleepy village of Nuntala (7,650' or 2330m). But on the way we found lots of tiny wild strawberries and yellow thimbleberry-like "aisheylo" berries on the side of the trail, which we picked for our breakfast. Our last day we continued to climb up another 2,400' (740m) in thick cloud to the top of Trakshindu La Pass at 10,130' (3070m) where the clouds miraculously disappeared, giving us glorious views across and up the valley. Then we dropped down 1,650' (500m) to a huge lunch of "spring-rolls" at Ringmo, where we turned off the Jiri-Lukla trail. From Ringmo to our destination at Phaplu the trail was quite long (5 miles or 8km) but it was delightfully walkable, gently dropping down 1,300' (400m). This last section had warm afternoon sun with a gentle breeze, and alternated between lush forest and cultivated fields, with grand views as we contoured well above the river below. A delightful hike.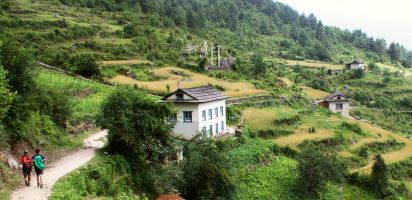 The long but delightful walk to Phaplu
At Phaplu we were distressed to learn that some Nepalis had been waiting 5 days for a flight to Kathmandu. We really didn't want to end our trekking with a long stay at the very basic (but expensive) lodge by the airstrip. Somewhat embarrassingly, our "western‑priced" tickets (3 times as much as Nepalis pay) got us priority seats on the one flight that roared in to land on the gravel runway the next morning.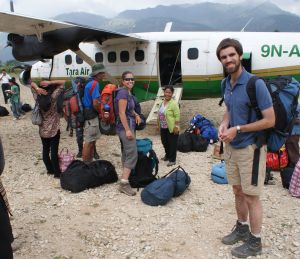 "Check-in" at Phaplu
So here we are in warm, humid, vibrant Kathmandu, back at Pema's lovely house decompressing from 35 days in the Khumbu. We're tired and sore, with blister-bandaged feet, a pile of trekking clothes to wash, and 60 Gigabytes(!) of digital photos to sort through. But we've got skinny new bodies and wonderful memories of breath-taking vistas across steep valleys while wandering through blooming rhododendrons under magnificent mountains.
This will probably be our last newsletter for a while. We'll be poking around Kathmandu for a few days and we fly back to Kuala Lumpur and Ocelot on June 11. Then Sue's going to be working furiously to finish the third revision of her Seattle Walks book (Take A Walk) and Jon's going to be busy sorting through the 12,500(!) photos we took so he can update the website. He's also hoping to embed some Google Maps so our descriptions and place-names make a bit more sense. We'll let you know as soon as it's ready!
Fair Views and Level Trails -- Jon, Sue, Chris and Amanda
Nepal Newsletters: Up | Chitwan | Langtang | Gosainkund | Pokhara | Into the Khumbu | Thangboche | To Everest | High Passes | Mani Rimdu | Last Leg
Related Pages: Overview Map | Chitwan Map | Langtang Map | Khumbu Map | Destination Nepal | Nepal Newsletters | SE Asia Flora & Fauna
Indian Ocean Newsletters: Laos Letters | Vietnam Letters | India Letters | Nepal Letters | Indonesia Letters | Malaysia Letters | Thailand Letters | Sri Lanka Letters | Maldives Letters | Chagos Letters | Seychelles Letters | Madagascar Letters | Mayotte Letters | Africa Letters
Top Level: Home | Destinations | Cruising Info | Underwater | Boat Guests | Ocelot | Sue | Jon | Amanda | Chris | Site Map | Make a Comment
---
Lifetime
Commodores
of the
Seven Seas
Cruising
Association

If our information is useful,
you can help by making a donation
Copyright © 2000‑ Contact: Jon and Sue Hacking -- HackingFamily.com, svOcelot.com. All rights reserved.