Mani Rimdu
25 May 2010, Khumjung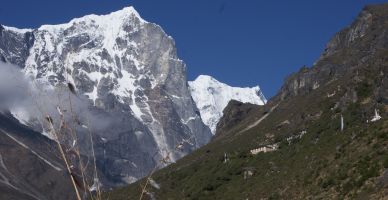 Thame Monastery, nestled under towering massifs
Dear Friends and Family,
We've spent the last few days up at the village of Thame (Tah‑may) watching the Mani Rimdu festivities. Thame is only about 5 hours walk from Pema's house in Khumjung, and while the trail goes down and then back up about 1,000' (300m), it's a beautiful trail. Thame (and Khumjung) are both at about 12,600' (3850m) which is just within the tree‑line, so the trail goes through forests of pine, fir, cedar and rhododendrons, with lovely vistas and steep drop‑offs to the river below. The final push from the river crossing up to Thame has a beautiful, clear stream below the path, with what looks like several manicured gardens of blooming yellow, white, and purple rhododendrons sprinkled around lovely boulders and grassy patches. I'd love to have a garden like that for the backyard of my house...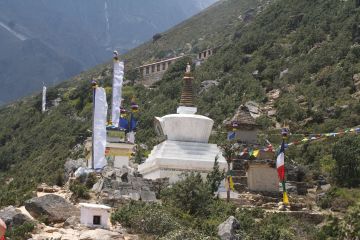 Chortins & prayer flags approaching the monastery
We stayed at the guesthouse of the wife of the main doctor at Hillary's Khunde clinic. She turned out to be a friend of Pema's, so we got excellent treatment. She even gave us a room with an attached bathroom, quite a rarity up here. They have their own greenhouse so they can grow wonderful fresh vegetables, which we particularly enjoyed.
The monastery is perhaps 15 buildings about a 30 minute walk above Thame, clinging tenaciously up a ridiculously steep hillside. The festivities were held in an outdoor courtyard, perhaps 50x80 feet (15x25 meters) and surrounded by cold, hard, stone seats (Tenzing brought foam pads for us all to sit on, bless him). The 6 highest-ranking lamas were seated well above the floor against the wall of the main building. The other 3 sides of the courtyard had people sitting around, but significantly fewer than we remembered from 1980. The 2 highest seats were reserved for the high lama of all Nepal, Thulshik Rimpoche, and for the rimpoche for the Thame monastery (who died a few months earlier). Since neither could attend, their seats held pictures of them.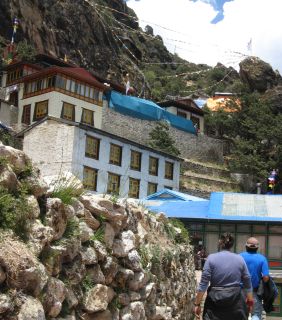 Note blue covered plaza above Sonia
I should explain about rimpoches - these are the reincarnate lamas. When a rimpoche dies, the monks wait a few years and then gather some of the late rimpoche's most treasured possessions, along with many other similar objects. The monks then travel from village to village, spreading out all these objects for the children to play with. If/when a child plays only with the old rimpoche's possessions, he is assumed to be the reincarnation of the old rimpoche, and therefore a rimpoche himself.
The whole plaza where the dances would take place was covered with a blue plastic tarp. This kept us all dry (and it rained off and on much of the second day) but the blue made it extremely difficult for the photographers. It would have been virtually impossible to filter out the blue with film cameras, but Christopher's underwater photography experience has taught him how to adjust a digital camera's white‑balance to get photos that are much closer to natural color. He spent a fair amount of time showing folks how they could adjust the white-balance on their cameras to compensate for the blue.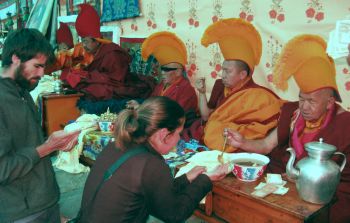 Chris and Amanda receiving blessings from monks
The first day's festivities were pretty short - just some initial "music" and prayers, and then we all lined up to receive blessings from the high lamas. These consisted of murmured prayers, the exchange of kata (long thin scarves, draped around the neck), touching our heads (sometimes with stranded cloth at the end of a short staff), holy-water and/or chang (local rice beer) poured into our hand (then usually drunk and/or wiped in the hair), small "long-life" pills (interesting but not very palatable), and larger "torma" balls of barley-flour, sugar and butter, which are eaten.
I quote "music" because it didn't resemble our music at all. There were long 17' (5m) horns, shorter 10' (3m) horns, huge Helmet shell horns, small, rather squeaky reed instruments resembling oboes (the only instruments with finger holes for notes), lots of cymbals, and lots of mostly hand-held drums. Some horns could actually produce several notes - the higher notes were pleasant enough but the lowest notes resembled a flatulent elephant. There was no apparent score, and players seemed to play what and when they wanted, usually trying to hit the same note as their companion (which often took several attempts). The Helmet shell horns were the nicest, but they only produced a single note. The whole lot together produced a noise that was certainly not conducive to meditation, Buddhist or otherwise. It sounded more like a cat being swung around by its tail. Ethnic. But it added to the general ... ambience.
The second day was much more interesting, consisting of a series of about 15 dances, each lasting 20‑30 minutes and each having several dancers dressed in a variety of colorful costumes, many with elaborate masks. Movements were generally fairly slow and deliberate, not acrobatic in any way. Choreography was amateurish at best, but I suppose these monks have better things to do than practice dancing. The point of the dancing was to reenact the expulsion of evil and the forces of the ancient Bon religion and the adoption of Buddhism. We found an old paper describing the Mani-Rimdu dances elsewhere, which I've included below, with comments in [square brackets]. "Cham" incidentally means Dance.
Rol-Cham: The grand entrance of the monks wearing yellow peaked hats and playing ritual instruments [described above. Note the huge Helmet shell to the right].
Serkyem: Dancers in black hats, which represent Vajrayana yogi priests. This dance is to extend and enhance ones life, health, intelligence and appearance.
Ging-Cham: (Right) Danced by 4 attendants to Dorje Trollo, a wrathful appearance of Guru Rimpoche who established Buddhism in Tibet. Two are females with drums and 2 are males with cymbals. They make offerings to Dorje Trollo. [We actually had 4 and 4, not 2 and 2. Also, since we're at a monastery, all dancers are male, despite comments to the contrary.]

Dorje Trollo: (Left) A single, masked dancer, preceded by monks playing ritual instruments.

Nga-Cham: The dance of Guru Rimpoche when he blessed Samye, the first monastery in Tibet. The 6 dancers wear golden hats with peacock feathers and they carry drums. In the past, these hats were worn by Tibetan officials. [This dance did not seem to be performed.]

Durdag Cham: A complicated dance with 2 skeletons and 2 black-hat dancers. The skeletons carry a dough figure on a rope between them. It is symbolically destroyed by the black-hat dancers. [The skeletons were some of the most active dancers in the whole show, obviously younger monks. As performed for us, the dough figure only appeared after the black-hats had left the stage. The skeletons beat it up a bit, but it wasn't obviously destroyed.]

Mi Tsering: A comic interlude, featuring the Long-Life man. [These comic interludes were quite fun. They preferred to take the micky out of us tourists. Tenzing's son joined us for Mani Rimdu, and he's shown laughing on the left between Pema and Jon.]
Makakala: Eight dancers, each representing different deities. Tseringma (the main long-life sister associated with Mt. Everest), Mahakala (the protector) and Mahadeva are the main ones. [The dancing didn't seem to favor one deity above another. A monk stopped the dancing while he gave each deity a kata.]
Zurra-rakye: A local protective deity, carries a goat horn and a long stick. Two attendants are with him. He is the guardian of Khenpalung, a hidden valley that has not yet been opened. [This theme of wonderful hidden valleys waiting to be discovered is repeated often. Apparently the Khumbu was one such valley once. Our version did not include a goat-horn, even though we saw wild goats just below Thame.]
Khedro: Five female deities of wisdom or dakiknis, also referred to as sky-dancers. [These also received kata while they were dancing.]
Thog-den: A second comic dance. This is the only dance with speaking, as the primary dancer jokes with his assistant and the crowd as he makes fun of teaching religion. [This whole skit was hysterical, even though we couldn't understand the dialog. He'd make fun of the whole worship of religious artifacts by holding up some nominal artifact and getting everyone to pay homage to it. Then he'd reveal that it was only an empty potato-chip bag. The yeti-like assistant had fun with Jon, stealing one of his blue gloves and then his reading glasses (left). They had even more fun with a good-natured student from Oregon, and the crowd threw lots of money into the plaza afterwards, probably because of Lindsey's humorous performance.]
Lhagma: To distribute any leftover nibu, or long-life pills. [Apparently there weren't any leftovers. This dance was very short.]

Ti-jum: Four masked dancers carrying knives. [There was a rectangle of sand near the edge of the courtyard marking where the dancers were supposed to dance, and where we observers were supposed to stay behind. We were well behind the line, but these dancers were well over the line and got quite close to us. I'm sure their short swords weren't very sharp, but they were metal and were waved about without much concern for us.]

Zor-cham: (Left) The ritual exorcism, where dancers with black hats carry small torma (butter-cake offerings) which signify evil. The dancers throw out these evil torma.

Then-cham: Is also to dispel evil influences. Half the dancers wear black hats, the other half wear masks. [This dance appeared to be sort of combined with the previous one. We'd now been sitting about 7 hours, so we were glad things were hurried up a bit.]

Log-cham: (Costume close-up, right) The finale, with some dancers from each cham [dance].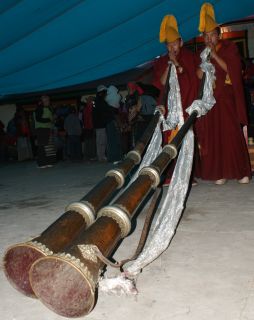 Loooong horns during closing


The monks watched everything from a raised platform
Usually the local Sherpas dance the night away after the Mani Rimdu dancing, but since it's only been 4 months since the rimpoche died, they're sort of in mourning and no additional dances were held. While we were somewhat disappointed, we were also freezing cold after sitting still for so many hours (it had snowed at the monastery the night before). Tenzing had organized with a local tea-house to bring us lunch (big fresh samosas and hot chocolate) as well as hot tea in the afternoon, but after so long we were more than ready to head down to our guesthouse and dinner.
We've been debating what to do with our last 12 days in the Khumbu. We've recently heard that there ARE tea-shops up the valley behind Lukla (where we flew into). We have to go over a high pass to get there, and the tea-houses are little more than private houses, without the amenities of most guesthouses, but apparently they'll keep us fed and they have dorm-type accommodations. The valley itself was delightful in 1980, and we're looking forward to walking up it again.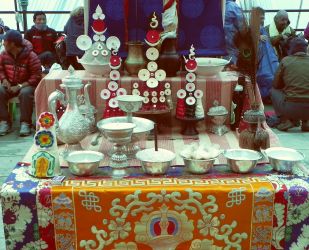 Torma ball offerings in front of the monks
By the way, please don't hesitate to write us. We don't get internet access very often, but when we do it's usually plenty fast enough for text emails, even long ones. We especially like questions. Once we leave Lukla we'll probably be out of touch for over a week, but we love hearing from you.
Sue's knees are holding up very well, thanks to her 2006 operation in Australia and to her more recent operation on the other knee in Malaysia. Thanks to all who asked. We're all handling the altitude very well now - pretty much fully acclimatized. And the Trekking Weight-Loss Program has kicked in with a vengeance - despite eating mountains of food, we've all lost so much weight that our clothes are falling off us!
Long Vistas and Magnificent Mountains -- Jon, Sue, Chris and Amanda
Nepal Newsletters: Up | Chitwan | Langtang | Gosainkund | Pokhara | Into the Khumbu | Thangboche | To Everest | High Passes | Mani Rimdu | Last Leg
Related Pages: Overview Map | Chitwan Map | Langtang Map | Khumbu Map | Destination Nepal | Nepal Newsletters | SE Asia Flora & Fauna
Indian Ocean Newsletters: Laos Letters | Vietnam Letters | India Letters | Nepal Letters | Indonesia Letters | Malaysia Letters | Thailand Letters | Sri Lanka Letters | Maldives Letters | Chagos Letters | Seychelles Letters | Madagascar Letters | Mayotte Letters | Africa Letters
Top Level: Home | Destinations | Cruising Info | Underwater | Boat Guests | Ocelot | Sue | Jon | Amanda | Chris | Site Map | Make a Comment
---
Lifetime
Commodores
of the
Seven Seas
Cruising
Association

If our information is useful,
you can help by making a donation
Copyright © 2000‑ Contact: Jon and Sue Hacking -- HackingFamily.com, svOcelot.com. All rights reserved.