Shantha Ravikumar
April 17 - May 20, 2011
This is the article Shantha wrote about her trip with us for the Tamil Nadu Sailing Association - reprinted with permission. Photos have been changed.
---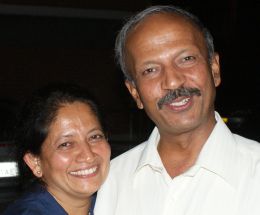 Shantha & hubby Ravi, in Chennai
Into the Great Unknown - Our graceful feline home
It all started when Sue and Jon Hacking landed in Chennai in their catamaran Ocelot on a morning in March. On the very first evening we met, as we exchanged notes on our mutual interests of sailing and exploring, they suggested to me that I might enjoy sailing with them to Chagos, their next destination after Chennai. I hadn't heard of Chagos until then and I politely agreed with what I thought was polite conversation and nothing more. But their description of these islands had planted a germ inside and Chagos niggled at me. A long voyage over the Indian Ocean to an unspoiled tropical paradise seemed just the thing to do this summer and this was a great opportunity. A bit of Googling Chagos on the net settled it. I went back to them to check if they were serious about their suggestion and after an enthusiastically reaffirmed invitation and a few discussions later I had signed up as crew in the Ocelot! There was one little issue though; they didn't know where they were going after Chagos, so couldn't tell me from where I could fly back to India! I arranged visas for Madagascar in the West and Malaysia in the East, so I could buy tickets once I reached wherever we did finally sail to. They needed a few days to repair the damage caused to Ocelot's hull by a wayward reef in the Andamans and then go to Sikkim for a trek they had planned, so we planned to depart Chennai around the middle of April. I had to pack the least I had ever done for an indefinite period of time! Couple of shorts and tees, swimsuit, one pair of pants, Sunscreen and glasses. For the first time in my life, I cut my hair short; water was going to be a prized commodity on board and I didn't fancy the prospect of having to come back with dreadlocks!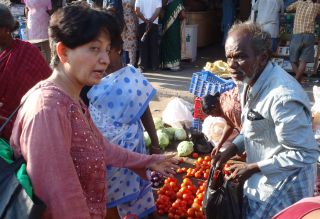 "You really want to pay THAT much?"
Shantha & Sue go provisioning in Chennai
Just a few words on Chagos to explain why it attracted me so much - Chagos is an archipelago 310 nautical miles (nm) south of Maldives and administered by the British Indian Ocean Territory (BIOT). Chagos has a sad history. The islands were thought to be too far from anywhere to be settled in and originally remained uninhabited till almost the end of the 18th century. In 1793 the French established the first colony at Diego Garcia and started coconut plantations with slave labour, whose descendants continued to live and work there even after their eventual manumission. Between 1967 and 1973, the entire population was involuntarily removed from the islands and relocated to Mauritius and the Seychelles to make way for a joint United States-United Kingdom military base on Diego Garcia. Now except for Diego Garcia, the Chagos islands are home only to abandoned coconut plantations, large coconut crabs and a lot of sea birds. Sailing yachts which wend their way to destinations beyond in the East or West are, with prior permission, allowed to anchor up in the safety of the lagoons for about a month. The northern islands have two main atolls and are considered one of the best spots in the world for marine life and corals. (Source: Wikipedia)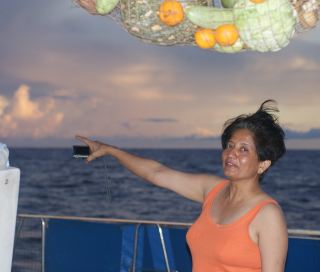 Shantha, quick to point out squalls or sunsets!
After the Hackings' return from Sikkim and a couple of days of last minute provisioning for fresh fruits and vegetables, we set sail on Sunday April 17th, at two in the afternoon. There was one lone figure on the West quay who let our lines out and watched us leave [ed: Shantha's husband]; out into the great unknown. The first morning at sea we ran into fishing nets 20 miles off coast and Jon had to dive under and cut the nets; but we were still snagged so he had to remove the port propeller to free it and put it back. I parted with the only Indian money I had, 1,000 rupees [ed: ~$20] to appease the owners of the net. On the second day as we continued to sail south we were still discussing how we were going to get South of Sri Lanka. To glide over Adam's Bridge like 'Out of the Bag' would not be possible for the heavier Ocelot which did not have a retractable centreboard like theirs. We had also heard from Vamp and knew that going under the Pamban Bridge when that opened was not an available option. (Just to jog your memory, Vamp and Out of the Bag were the other 2 sailboats that came to Chennai along with Ocelot and had already left for Maldives on the way to Chagos.) On the third day, after poring over the weather models, Jon finally admitted that the issue at hand was not how to get around Sri Lanka, but whether it was feasible to attempt to go to Chagos at all. We were late in the season, winds had already shifted and south of Sri Lanka we'll have the wind on our noses all the way to Maldives where we planned a stopover and then onward to Chagos. The sea would be a lot rougher too and Cats do not ride those sorts of waves well. The decision was reluctantly made and twenty miles east of the Indian coast and north of the Sri Lankan coast we turned east and started sailing in the general direction of Thailand. My initial disappointment soon melted away; an ocean remains exciting whichever direction you sail.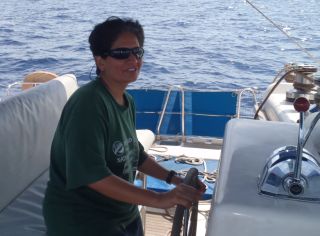 On the helm. Not as exciting as a laser!
We had set sail from Chennai on a full moon day and after we turned east we had a few days of glorious sailing. We saw turtles and most mornings dolphins swam by to greet us; particularly fascinating were the dwarf spinner dolphins, which put up a spectacular show! Jon put out fishing lines every day but we managed to catch just one fish, a Dorado aka Mahi Mahi which added some protein to our menu!
Our night watches were magical as we sat chatting on the deck bathed in moonlight. As the moon waned and started rising later and later, we took to stargazing. We had software that helped us identify stars and soon I could recognize most of the major constellations and some planets. There were great swathes of twinkling phosphorescence on our wake to delight in before the moon rose and made everything else insignificant. It is quite amazing how much light even a tiny sliver of moon or a bright star can cast on the water on a dark night.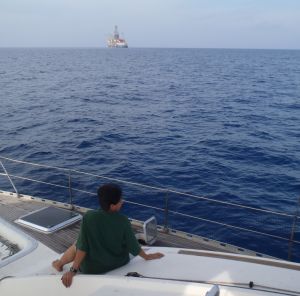 Shantha on the bow. Oil rig offshore India.
I learned the various ropes and navigation instruments in the Ocelot and slowly was being trusted for short periods on watch during the day; I wasn't ready for solo night watches yet. From 8pm, Jon and Sue alternated on 4 hour watches while I would be on watch until 10pm and again from 2‑6am, so I shared part of both their watches.
First few nights there was always moon to look forward to and psychedelic sunrises the likes of which I have only seen on the high seas. Every shade from a delicate lilac and pink to brilliant oranges and yellows and lurid reds. On the first night, even the moon rose an incredible blood red.
Things started changing in a few days - the wind dropped and swung more towards the East and we had to motor sail continuously. We would have a perfectly glorious sunny morning with friendly white puffs of clouds, which would gather later in the afternoon into menacing black thunderheads and we would see squalls all around us which we would try dodging as best as we could. We weren't always successful in our efforts and then we would reef down the main and sometimes the head‑sail as well. The warm air then turned chilly and if we were lucky the winds remained moderate while the skies wept. But sometimes the winds blew over 35 knots and while it wasn't as scary as being on a laser in those winds, it is not pleasant. One squall chased us from behind and we could do nothing except offer as little sail area as possible while still having enough for maneuverability as it engulfed us. I reckon squalls are nature's gentle reminder to us that we are quite at her mercy no matter how technologically advanced we imagine we are.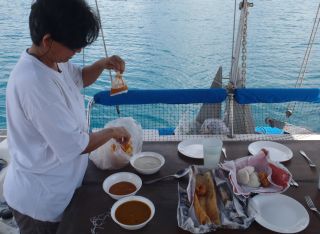 Shantha lays out a spicy lunch of idli & chutney
As we sailed on, days blurred into nights and time was seamless. We were aware of the moon phase but not calendar dates! Night watches became tougher. The moon appeared later and later and the stars were blanketed by grey fuzz. We could no longer dodge the squalls in the dark of the night with much success and some nights all of us had to be awake because of ugly weather. By now we had used up a lot of fuel and it looked like we might run out before we reached Thailand.
So we decided to make an emergency stop at Hut Bay in Little Andaman to refuel. While I as an Indian will have no problem stopping at Andamans, Jon and Sue had already cleared immigration at Chennai. It was on the morning of April 26th that we sighted land. Phones started working now and after a few calls to our fortunately very influential commodore and a few navy officers, we obtained permission from the Port Control, Little Andaman to enter into Hut Bay and anchor but were strictly advised not to step off the boat until further instructions.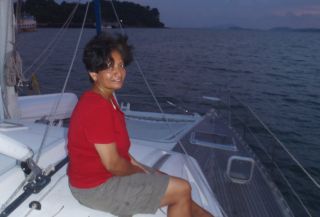 Quiet evening anchored at Ranong, Thailand
After being subjected to close interrogation by the Coast Guard and the Marine Police and convinced that our emergency halt was indeed genuine we were allowed to step on land. But there was no diesel in Hut Bay! Soon the police and many other sundry individuals who had collected there out of curiosity got into the act and found that there was diesel available 16 kilometres (10 miles) away. The Police were particularly helpful, they organized the vehicle for us and one of them accompanied us to the diesel station which was just a shack with beat up looking 200 litre (55 gal) barrels of diesel. The island is green and lush and the friendly policeman even took us to a farm nearby and got us tender coconuts. By evening we were all done and ready to leave the next morning.
But now the authorities wouldn't let us leave! Well, the information from the coast guard and police had to go all the way to Port Blair immigration and filter through various levels up and down back to Hut Bay Port Control. It did give us an extra day of rest and a night of undisturbed sleep. By the end of the second day after we paid a princely sum of 350 rupees ($8) in port fees, we were informed that we could leave any time and we decided to leave the next morning after breakfast.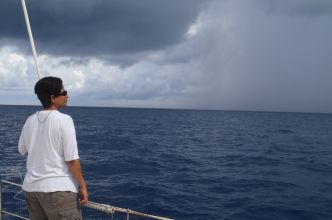 Squall watching in the Andaman Sea
We weighed anchor and sailed out of Hut Bay towards Thailand at 7am on the morning of April 28th. It would be three more days to the Thai coast. The passage was mostly squally and we felt comforted with the thought that things should be easier once we crossed the legendary roughness of the Ten Degree Channel. But squally weather continued to dog us and these three days were perhaps the toughest of the entire voyage. In the middle of the last night we were hit by a storm with very high winds which spun us around completely and the boat bounced and rocked terribly. We already had reefed down the main in the evening as the skies had looked threatening and Jon brought down one more reef in the dark as the skies opened up. I was not on watch then, but none of us could sleep that night. May first morning, as it dawned we could see a hilly coast rising out of the mists. But this was the single sliver of sky that we could see as a giant semi-circular system closed in on us from all sides; it wasn't over and this was the worst one yet. Soon it was upon us and the land once again vanished from sight in the heavy downpour that lasted for two hours. We only had slivers of main and head sail out and huddled in our rain jackets as the weather robbed the joy out of our landfall. We sailed by GPS and as the rains let up we snuck into a bay and we could see lush green windblown vegetation on the slopes of the coast. Thailand!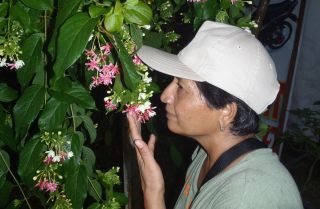 Shantha stops to smell the flowers!
The most exciting part of my voyage, the ocean passage was over. We had reached the eastern moorings of Surin, which is the northernmost Thai island off its west coast. As the day cleared up, we could see islands of Myanmar to the north and the vague outline of the Thai mainland to the east. The Thai fishing boats which moored there and the single navy boat we saw completely ignored us. We went around in the dinghy exploring the waters around the island.
The water was a delightful pale green and crystal clear through which we could see the coral reef. We spent a few days here resting and recovering from two weeks of sailing. We snorkeled and swam with the brilliantly coloured reef fish and watched lobsters wave their long antennae from under the rocks they lurked. The island forests looked so primeval that we wouldn't have been surprised to see dinosaurs!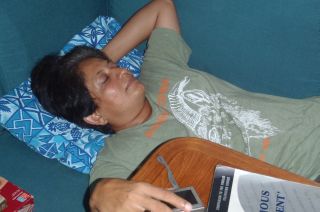 Was it all a dream? Ocelot crew, hard at work.
We next went to Ranong, the northernmost Thai port, to check ourselves in. The immigration office was somewhere in Ranong town, we were told at the pier. The entire population of Ranong spoke about 5 words of English collectively and after wildly gesturing and futilely repeating the words, 'visa' 'passport' and 'immigration' to the uncomprehending locals, we finally managed to find it, only to be told that they didn't have the authority to clear an Indian, we had to go to Phuket! This was rather strange as Indians were also eligible for visa on arrival like other nationalities. I can only presume that no Indian had arrived on their land from the sea until now and hence they were not prepared to deal with us unlike westerners on yachts who are a common sight. Anyway, we still were able to go to the market and shop for fruits and vegetables, but now returning to the pier seemed impossible. The local transport is a kind of minivan and the first one promptly took us back to the immigration, which was in the opposite direction; after all, that's where we had wanted to go earlier! After a couple of more guided tours of the little town, when I was beginning to feel we might never leave Ranong market, we finally managed to find a taxi which took us back to our pier.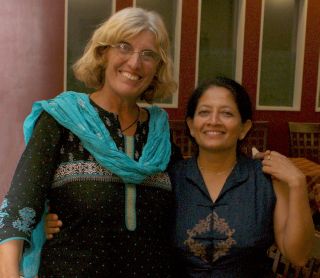 Welcome back to Ocelot, anything!
From there on it was going to be day sailing with night halts behind islands, sheltered from the brewing SW monsoons. A huge system by now had developed in the Bay of Bengal and we holed up behind one of the islands waiting for it to pass. After two days, the sky looked somewhat less fearsome in the southwest and we decided to make a dash for the next island; and ran smack into a fierce storm. We sailed for over an hour in tough conditions when wind speed hit 43 knots and the monstrous waves that pummelled into us tore the starboard trampoline.
Couple of days later as we made our way into the safe waters behind an island, Ocelot wasn't responding very well to the wheel. We dropped anchor and Sue and I were soon making plans as to where we will sail to after we reach Phuket.
Jon was decidedly grim and silent till he broke up our plans with his announcement, "the starboard rudder is gone! Likely it broke in that storm. We cannot go anywhere without fixing the rudder and the trampoline." I was thankful it was a Cat and we still had one rudder; even more thankful that this happened off the Thai coast and not in a remote place in the middle of the Indian Ocean as it might have if we had proceeded to Chagos!
On May 16th, a month after we left Chennai, we reached Phuket without further incident. While Jon and Sue attend to Ocelot, yours truly is reluctantly back to mother earth in the searing summer of Chennai. Until the next voyage!
---
Up | Colin in Oz | Rachel Mather | Shantha Ravikumar
What to Bring | 2002 Visitors | 2003 Visitors | 2004 Visitors | 2005 Visitors | 2006-11 Visitors
Top Level: Home | Destinations | Cruising Info | Underwater | Boat Guests | Ocelot | Sue | Jon | Amanda | Chris | Site Map | Make a Comment
---
Lifetime
Commodores
of the
Seven Seas
Cruising
Association

If our information is useful,
you can help by making a donation
Copyright © 2000‑ Contact: Jon and Sue Hacking -- HackingFamily.com, svOcelot.com. All rights reserved.