Colin in Oz
February 6 - February 27, 2006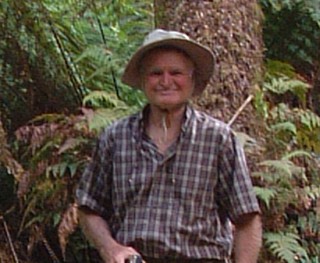 Jon's father, Colin Hacking, in the rainforest
With Ocelot safely tied to the pilings in the Brisbane River, we drove our newly purchased 1989 Mitsubishi Magna station-wagon south to Sydney to pick up Jon's dad, Colin Hacking. Colin had visited us twice before, helping Jon re-engineer Ocelot in the Caribbean and searching for the perfect coral reef in Fiji, making him our first 3-time visitor. For a map of where we went with Colin, see our Road-Trip newsletter.
Having "done" Sydney with Colin in 2000, we set off immediately for the Blue Mountains, west of the city. The goals of our trip with Colin were sort of three-fold: escape the heat of Queensland in summer, visit old (and some new) friends of Colin's, and see as much of the National Parks and wildlife of southeastern Australia as we could.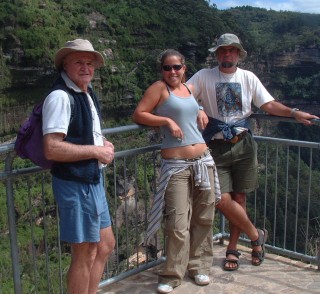 At a dramatic overlook in the Blue Mountains
The Blue Mountains, with their sheer cliffs and sculptured canyons were a stunning surprise to all of us. We camped in a eucalyptus forest far from the busy through-road and awakened with cockatoos and magpies calling and a family of kangaroos grazing on the fields around us. Car camping is second nature to our whole family, and we soon got in the swing of things as we made and broke camp daily on our journey: empty and dry the tents, deflate the sleeping mattresses, put on a pot of water for the imperative morning tea, have breakfast (usually granola, yogurt and fresh fruit), then re-pack the car for traveling. Colin made good use of the station wagon by claiming the back as his bedroom, allowing him privacy and an overhead light for late-night reading. (Jon and Sue had a huge, borrowed dome tent, and Amanda had a tiny tent that she just fit into.)

It got cold in the Snowy Mountains
After three days of hikes and short drives from one view-point to the next, we drove south towards Canberra where we met up with the Anderson family. Don and Joan Anderson had stayed with Colin and Jon's family in California in the early 1960's (their boys being about Jon's age) and then we'd lost touch with them. Before this trip Colin Googled Don and sent him an email. In the enthusiastic reply, we were all invited to visit the family home near the shores of the lake in Canberra. What a great visit! Don (aged 80) was off to play tennis, so Colin, Jon, Sue and Amanda joined in -- only to find our own skills somewhat poorer than those of the septa- and octogenarians! From the Anderson's we took a day trip with Margi Bohm, an old cruising friend from the 80's, out to the Tidbinbilla Deep Space Tracking Station (very cool displays and videos of Mars, etc) and to see the Parliament Building in Canberra (where there are ancient fossils of sea shells imbedded in the marble floors). Colin caught up on 40 years with Don while Joan Anderson got Sue interested in learning Indonesian for our upcoming sail to SE Asia.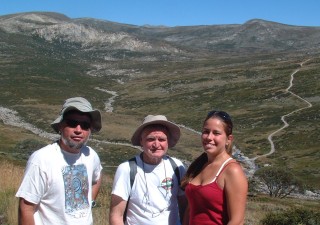 Hiking in the Snowy Mountains was a treat
With clean laundry, good food, and well rested after 4 nights in beds, we set out again, heading south towards the Snowy Mountains of New South Wales. Colin wanted to learn more about the Great Snowy Hydroelectric Scheme so we made a point of spending time at two different visitor centers and one power plant. The Snowies are the highest mountains in Australia but are geologically very old. The tops are worn down, making for some beautiful above-tree-line hiking and great views over seemingly endless blue ridges. We camped three nights in the park, enjoying the cool evening temperatures high on ridges, or in valleys by clear running streams.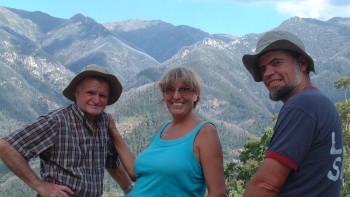 Yet another fabulous Australian mountain viewpoint
We've taken many road trips with Colin and he often drives, but on this one he was happy to let Jon do the chauffeuring. He and Sue swapped turns in the passenger seat, also known as the navigator's seat. From the Snowies we crossed into Victoria and headed south and west towards the coast. It was great to be on the water with Colin, who loves his swims in the rough surf. At Wilson's Promontory we camped under tea trees on sandy ground, spending our days hiking the hills to viewpoints and beaches, then returning to shower and prepare dinner on the public BBQs (barbies) where the silver gulls were determined to carry off part of the evening supper! We saw some great wildlife and Colin was always keen to help us spot the animals -- like the possum that lived above the men's room urinals and the wonderful wombats that grazed by the roadsides at night.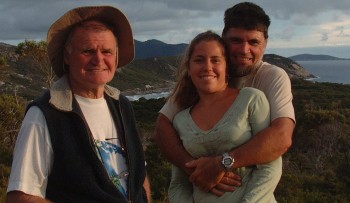 Sunset at Wilson's Promontory
We stayed on the coast for about 10 days -- moving west along Bass Strait, south of Melbourne to the Great Ocean Road. Built in the 30's to mimic California's very scenic Route 1, Colin (and we) proclaimed the Great Ocean Road to be far more spectacular! Although some people drive these few hundred miles in a single day, we spent 5 days camping in various idyllic spots: high in a eucalypt forest with koalas in the trees above us, on sandy beach-front sites with a koala just 3 feet (1m) over our tent, and on a grassy meadow by an estuary, just a short walk from the rugged beaches. We hiked precipitous beach trails over carved sandstone cliffs and pounding waves, picnicked by surfing beaches, visited historic ship wreck sites, trekked rainforest trails, and walked a tree-top suspension trail deep in a forest of majestic mountain ash.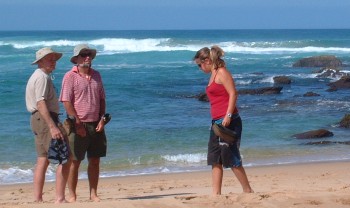 We loved our walks on the spectacular beaches
From the coast we went inland to the Grampians, a National Park west of Melbourne. Despite the devastating fires that had swept the area only 1 month before, we were able to camp and hike in much of the park. The burned forest was reminiscent of fall colors, and sometimes the naked trees made for better views of the rugged landscape. As always, Colin was a tireless hiker, a great conversationalist, a help with things mechanical (like changing brake pads on the car in a campsite on the coast) and a cheerful helper around the campsite. We spent many a night in the tent with Jon and Colin trying to teach Sue and Amanda to play bridge. We made progress, but we think Colin was looking forward to playing with his wife, Eleanor, and their friends back home!

Another fantastic view along the Great Ocean Road
We took Colin to Melbourne for his flight home, spending the last evening with his name-sake, another Colin Hacking of Torquay. No, they'd never met before, but we all hit it off, and threw around the possibility of an ancestral connection. After going out to dinner we were invited to sleep in the house -- an upgrade from the original offer of a plot of lawn on which to pitch our tents! It was great to have Colin with us for 3 weeks, and we were especially grateful to Eleanor for letting him run away with his crazy traveling son and family!
Up | Colin in Oz | Rachel Mather | Shantha Ravikumar | Colin in St. Martin | Colin in Fiji
What to Bring | 2002 Visitors | 2003 Visitors | 2004 Visitors | 2005 Visitors | 2006-11 Visitors
Top Level: Home | Destinations | Cruising Info | Underwater | Boat Guests | Ocelot | Sue | Jon | Amanda | Chris | Site Map | Make a Comment
---
Lifetime
Commodores
of the
Seven Seas
Cruising
Association

If our information is useful,
you can help by making a donation
Copyright © 2000‑ Contact: Jon and Sue Hacking -- HackingFamily.com, svOcelot.com. All rights reserved.