Colin in Fiji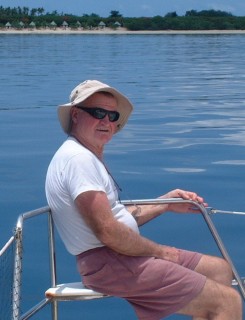 Colin Hacking, Jon's father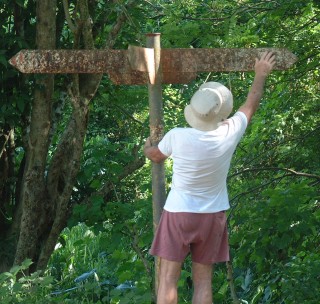 Thoroughly lost, miles from anywhere,
and no gas - a classic Hacking car trip!
January 17 - February 5, 2005
It was wonderful to have Jon's father back with us. On his first visit, shortly after we'd moved onto Ocelot, we were working hard to convert Ocelot from a charter boat into a cruising boat. We never even did any sailing with him. This time we planned on doing no boat work while he was here, so we didn't. Well, except to change the rudder bearings. And maybe some other stuff... You can't stop a couple of engineers from futzing with things!
Colin announced when he arrived that he'd looked after Jon for umpteen years, and now it was payback time. He expected us to look after him! OK, fair enough. So we went out and had fun with him!
We met him in Lautoka at the Queen's Wharf (he loved our directions to tell the cab driver to turn left at the woodchip pile - it's about 3 stories high!) and spent the first day walking around this very Indo-Fijian town with its wonderful market and small shops.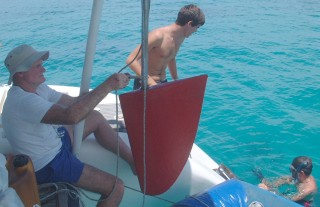 Installing Colin's custom made rudder bearings
Sue's feet were still not healed enough to go swimming after the barnacle episode, so we decided to spend a few days on shore. We found a relatively inexpensive (US$45 per day) car rental and took off east from Lautoka to the small predominantly Moslem town of Ba. Finding lunch was a challenge as this town offered mostly tiny hole-in-the-wall places that didn't look very appealing - and we're not very picky anymore! From there we headed inland on a semi-paved road past the picturesque (but touristy) village of Navala, which we decided to skip as they charge guests to enter this village. A bit too Disneyland-ish for us, I guess. A couple hours into the rolling hills with views of high plateaus found us wishing we had filled the fuel tank in Ba. Oops. At the tiny village of Bekuya (which boasts only a short-cut to Lautoka) we had to beg fuel from a villager. It arrived in leaky 1 liter plastic bottles (probably destined for his weed-eater). From there the road got wilder and more remote, with essentially no traffic. The lack of signs and landmarks had us guessing which way we had to go. Finally we dropped down into the Sigatoka River valley and made our way back to civilization. A classic Hacking Car Trip.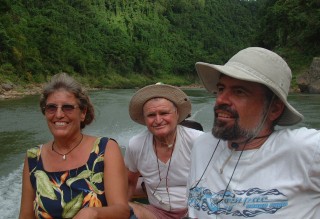 Boat trip up the Navua River
The next day we drove south, stopping to see the WW II gun emplacements on the hill overlooking Momi Bay. They were never fired in combat, but were supposed to keep the Japanese from entering the Lautoka/Nadi area. We had a great curry lunch at the Sigatoka Club right on the river, and then drove east for several hours, arriving at the river town of Navua at 4 pm. We convinced a boatman to take us half way up the famous river, as far as the rapids and waterfalls. So we splashed up the rain-forest bordered river in a long outboard powered canoe, having fun pushing up the class II rapids.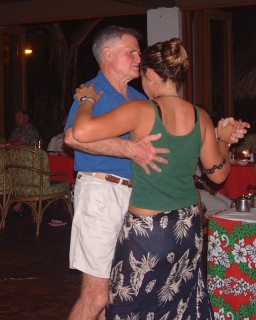 Colin showing Amanda how to
ballroom dance
The next morning we had until 10 am to return the car so we visited the Garden of the Sleeping Giant just south of Lautoka. They have some fabulous orchids as well as lots of other beautiful flowering plants - a gorgeous garden. On the way back we stopped at the really good Fiji Meats store to do some last minute provisioning before heading out into the Mamanuca Islands.
Bounty Island backpackers resort was our first stop. It was challenging to find a place to anchor clear of all the coral, but then a resort boat came out and told us we were welcome to pick up the big mooring for the night. The snorkeling was great, and it was nice to show Colin a preserved reef on his first Fijian snorkel. We strolled around the island, enjoying the gorgeous water and the skittish banded rails (ground birds) that wander at will, finally having drinks ashore at the bar in the early evening. From Bounty we went to their sister resort, Treasure Island, which is more upscale. We were greeted with exuberant "Bulas" from the boatmen who showed us which mooring to take. Then we were given a complete tour of the island, including their spa and tennis court. That did it - we stayed several days and nights, enjoying snorkeling and tennis by day, and dancing and music in the evenings. The band puts on a colorful and fun "meke" - local Fijian dances that tell stories, complete with costumes. Colin was keen to dance (as in ball-room dancing) and he tried unsuccessfully to teach Sue and Amanda the steps. It's tough when you're wearing Tevas! He did find a hotel guest one evening to dance with and they had some fun together.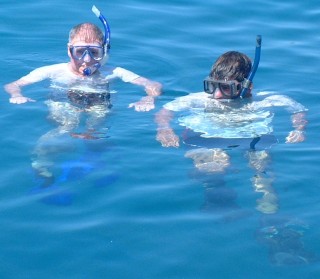 Snorkeling in Fiji is superb!
The snorkeling around Treasure is some of the best we've seen in Fiji. There are a profusion of bommies near the moorings, and then just a bit offshore of the main island is a sand bank which almost submerges at high tide. Surprisingly its rim is a wall of plate coral of all colors. What a treat to get to share that underwater adventure with Colin!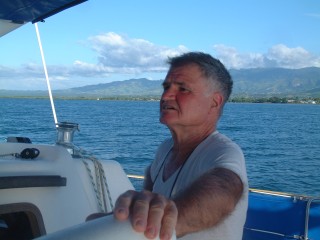 Sailing in the Mamanucas
Weather in the western South Pacific is variable and we got warnings for strong southerly and westerly winds, so we moved south to Musket Cove on Malolo Lailai island for better protection. There we again enjoyed being the only yacht traveling in cyclone season. Colin and Jon took many walks in the hills above the harbor and around the coastline with its alternating sandy beaches and rocky outcroppings. We made use of the tennis courts at Plantation Island Resort and enjoyed the cultural experience of a lovo (like a luau) there. It was similar to a Tongan Umu feast with pork, beef, chicken, and fish, coconut sauces, lots of sweet potatoes and local greens. The really special treat, though, was the dessert bar with its choices of ice creams and sorbets.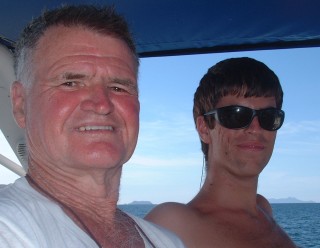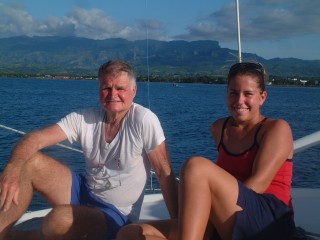 Grandfather and 2 of his 10(!) grandchildren

A beautiful spinnaker run
back to Lautoka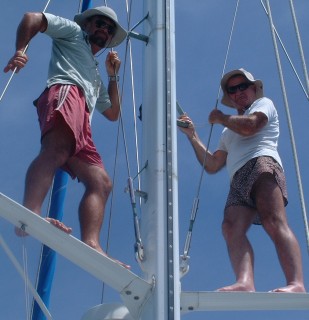 We even got Colin up the mast as lookout
From Musket Cove we sailed west around Malolo Island, stopping to check out several of the other resorts such as Walu Bay and Malolo Resort. Both were pretty, with green hillsides creating a nice backdrop to the thatched bures (huts) of the guest rooms.
Leaving Malolo Island we sailed north, skirting the many reefs with someone (even Colin) up the mast. We pulled into the narrow entrance to Mana Island, but were disappointed to find it virtually impossible to get ashore at low tide. We did not find the snorkeling to be very good at Mana, despite its reputation, so after lunch we opted to sail back to Treasure where we could get ashore, snorkel and feel welcome.
We needed to return to Lautoka all too soon, but Colin's oldest granddaughter, Rori (Chris and Amanda's cousin) was coming in time to overlap with Colin by three days. We had a beautiful spinnaker run from Treasure Island back to Lautoka and the Bekana Resort. Together with Rori we hung around Lautoka, and did a day trip to Nadi to see the "tourist town" together.
Up | Colin in Fiji | Rori Garfinkel | Emilia | Tianna Hacking | Colin in St. Martin | Colin in Australia
What to Bring | 2002 Visitors | 2003 Visitors | 2004 Visitors | 2005 Visitors | 2006-11 Visitors
Top Level: Home | Destinations | Cruising Info | Underwater | Boat Guests | Ocelot | Sue | Jon | Amanda | Chris | Site Map | Make a Comment
---
Lifetime
Commodores
of the
Seven Seas
Cruising
Association

If our information is useful,
you can help by making a donation
Copyright © 2000‑ Contact: Jon and Sue Hacking -- HackingFamily.com, svOcelot.com. All rights reserved.