Fiji Summer
18 Feb 05, Mamanuca Islands, Fiji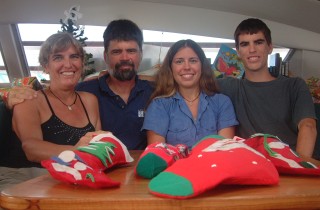 Christmas morning in the tropics (Savusavu) with the usual stocking ritual.
Dear Friends and Family,
We thought that about now some of you northern-hemisphere folks would be getting a bit sick of the cold and wanting a glimpse of summer, so we'll try to give you a bit of a "summer fix". After all, we're in the middle of the Fijian summer here - soft-cool mornings (the best part of the day), then long hot days with lots of swimming on the colorful local reefs (whenever we can), lazy afternoon siestas (especially if we have beer with lunch), possibly some exploring in the afternoon, and gloriously colorful tropical sunsets. As we write this we're anchored off Navadra, an uninhabited island with 3 pristine palm-lined beaches, lots of coral reefs to enjoy, and no lights to interfere with stargazing at night. 3 sets of turtle tracks go up the beach to where they laid their eggs, covered now with the tracks of crabs, birds and lizards. If we're near a resort island (and we often are) then we might end the day with a bit of tennis (if we're feeling particularly masochistic), a swim, a long cool shower, and perhaps a sundowner during happy hour. Dinner on the boat, but we might go ashore afterwards if the resort is having a cultural show and/or dancing in the evening. We move Ocelot to a new location every few days, usually in the late morning with the sun directly overhead so we can see the reefs.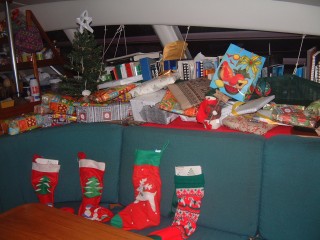 Santa was busy at the Indian shops in Suva buying lots of sarongs and shirts!
When we last wrote, we'd just spent a bunch of time in Suva fixing Ocelot up while Christopher applied to universities, and we were about to sail 120 miles NE to Savusavu for Christmas and New Years. We had a reasonable trip up to Makogai (Makongai), our usual overnight stop on our way to Savusavu. But the next morning we came across a trimaran that had just had an argument with the reef. They'd knocked their keel off while trying to go through the narrow pass, but were otherwise OK and declined our offer of assistance. It made us appreciate our GPS, our electronic charts, and especially our spotter (usually Amanda) up the mast, guiding us through the tight bits. We made it through the reef safely and had a delightful sail, close reaching at 7-9 knots under azure skies. There's a long finger of reef that sticks out into our route and instead of going around it as we had before, we decided to go through it (2 more reef passes) just for the delight of sailing over the clear, shallow, aquamarine water. Instead of anchoring in Savusavu proper, we anchored out by the lighthouse where the wind and water were clearer. The nearby reef was shallow but interesting, and we spent many happy hours exploring it over the next few days.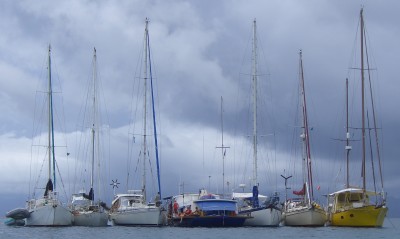 The Christmas Cruisers raft-up off Savusavu.
Ocelot was anchored off to the left.
The next day was Christmas morning. This is always a bit strange for us northerners, as we expect Xmas to come with cold and perhaps the threat/promise of snow. We did put up our little Xmas tree and decorated it with seashells. We even had our Xmas Stockings, hung in the salon with care. About 10am most of the cruising boats in Savusavu came out to us and started rafting up, leading to a wonderful party that lasted the rest of the day.
New Years Eve was spent at the Savusavu Yacht Club. Fijians don't usually set off fireworks for New Years, but there had been an Indian festival a few weeks earlier, and 1 store still had some leftover fireworks, so Jon bought much of their stock and held his own fireworks show. It was here that Chris met a lovely Indian university student. Praneet's father is a Police Chief, which keeps a strange Hacking tradition alive.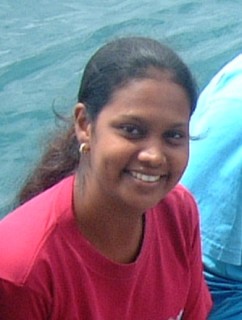 Praneet Singh, visiting Ocelot
on the day Sue cut her feet
Shortly after New Years, Sue had an accident: She tried to jump from the dinghy to the dock and missed. Her feet slid down a dock piling, over sharp barnacles that cut both her feet cruelly. Luckily, 2 cruising boats had doctors on board, and both (plus 2 visiting med-students) were on one of the boats, all having a bit of a party. So Sue got her feet cleaned and treated, although with a bit more alcohol than necessary. Sue's better now (she's recently joined our afternoon tennis games) but her injury prevented us from going on our planned trip east along the south side of Vanua Levu, keeping us near Savusavu for the next week or so.
In mid-January we sailed about 150 miles SW to Lautoka (on the west end of Viti Levu) to pick up Jon's father, who was flying in to cruise with us for 3 weeks. The route is full of coral the whole way, so we broke the trip into 3 day sails, all of which were glorious. The wind was well aft of the beam so we got some nice sailing in, the sea and sky were clear blue, and the reefs (and the passages through them) were (mostly) where they were supposed to be. We even caught a fish every day!
Our first night we anchored at the southernmost point of Vanua Levu, in a well protected bay with lots of kids jumping off the wharf and playing in the water. Although the village was very rustic, there were several big wind-generators on the ridge above the village, which seemed a bit incongruous. The second day we crossed from southern tip of the big northern island (Vanua Levu) to the northern tip of the big southern island (Viti Levu), across the Vatu-I-Ra passage. The winds were ideal and we had a rollicking good sail, but penetrating the reef surrounding northern Viti Levu was dodgy as the charts were out and the markings had changed. After checking the pass from up the mast we made it in safely and found ourselves a nice protected anchorage behind a private island. Our third day was the most trying as we had to follow a narrow, winding (but thankfully, well marked) passage through the reefs to the west end of Viti Levu. Amanda kept busy by coloring in our charts to more easily show land, mangroves, reefs, markers, and navigable waterways. We were a bit disappointed in the water clarity here as runoff from the big island makes the sea quite murky, but at least we could see where the reefs were.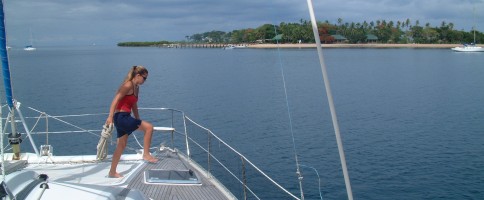 Amanda picking up the deck off the pretty and friendly Bekana Island Resort, about 1 mile west of Lautoka
A delightful little resort on an island just off the city of Lautoka allowed us to use one of their moorings (as well as their swimming pool, showers, and delightful bar) so we decided to make this our base of operations for our trips out to the many Mamanuca and Yasawa Islands off the west end of Viti Levu. But those stories are long enough that we're going to save them for a new newsletter.
In the mean time, all the best from all of us on Ocelot. We're doing well and having fun, but we'd love to hear from you. Our current plans are still to stay in Fiji through the cyclone season before heading west with the trade-winds. We're also hoping to fly back to the US, probably from late March to late May, to set Chris up for university.
Fair winds -- Jon, Sue, Chris and Amanda Hacking
Up | Heading to Fiji | Arriving in Fiji | Initial Fiji | Fiji Thoughts | Fiji Summer | Western Fiji | Cruising Info | Passage Dangers
Panama Letters | Ecuador Letters | Galapagos Letters | Marquesas Letters | Tuamotus Letters | Tonga Letters | Fiji Letters | New Caledonia Letters | Australia Letters
Top Level: Home | Destinations | Cruising Info | Underwater | Boat Guests | Ocelot | Sue | Jon | Amanda | Chris | Site Map | Make a Comment
---
Lifetime
Commodores
of the
Seven Seas
Cruising
Association

If our information is useful,
you can help by making a donation
Copyright © 2000‑ Contact: Jon and Sue Hacking -- HackingFamily.com, svOcelot.com. All rights reserved.