Western Fiji
21 June 05, Bula from Fiji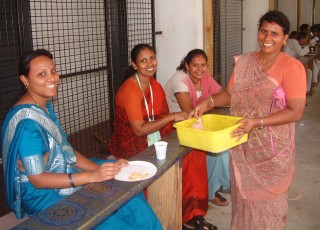 Hari Krishna devotees at their
free Sunday lunch
Dear Friends and Family,
"Bula" means Health, and is the common greeting in Fiji. When we last wrote, we had just arrived in Lautoka at the western end of Viti Levu, to pick up Jon's father (and later our niece). Lautoka is a sugar-mill town, with a network of tiny narrow-gauge railway lines leading out from it. It's a quaint town, but it's actually the 2nd biggest in Fiji. It has a vibrant and colorful market for fruits and veggies (and Kava, their slightly narcotic national drink, made from the roots of a pepper plant). There are lots of (usually Indian) clothing shops with the exquisitely beautiful embroidered and printed long women's dresses, and the food is wholesome, wonderfully spiced, plentiful, and cheap.
Immersing ourselves fully in the Indo- part of Fijian life, we attended a service at the Hari Krishna Temple. Seated on woven grass floor mats we witnessed dancing, singing, prayers, and much waving of incense in front of the gilded and flower-bedecked statues of Krishna. The devotees did not dress in orange or have shaved heads, which was our memory of the Hari Krishna movement in the USA in the 1960's. There was not even any proselytizing. After the service we were invited to a free vegetarian lunch served every Sunday: dahl (lentils), rice, crisp mango slice chutney, green veggies, and curried potatoes. The trick was eating it entirely with our fingers! Luckily they served rotis (like tortillas) which we could use as spoons or to wipe up the rather liquid dahl.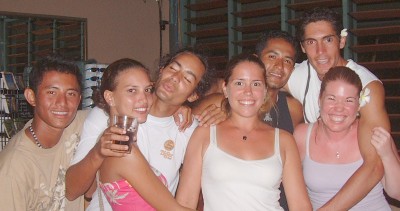 Amanda and Rori with the Pacific Oceania tennis team
We also visited the Northern Club, a private sports/drinking club that welcomes yachties. There we learned that part of the 2005 Davis Cup was to be played in Lautoka for the next 3 days, with a kick-off party at Bekana Island Resort (right next to our anchorage) that night. We joined the tennis teams for beer and kava, and met the young tennis players who represented Pacific Oceania. Never having seen world-class tennis in person before, we were thrilled. Our seats were just above the service line so the view was excellent. This match was between Lebanon (whose players lived all over the world), and the South Pacific Islands (excluding NZ and OZ). We got to sit with the trainers of the main Pacific Oceania player, a South African/OZ couple who competed at Wimbledon in 1957. Their observations and insights helped us appreciate the game much better.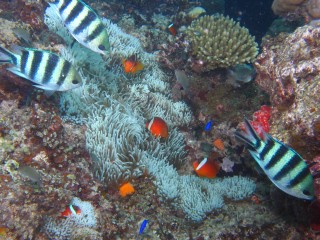 Damselfish and anemonefish abounded at Treasure Island
From Lautoka, we made several forays into the Mamanuca (Mamanutha) Islands just to the west. These are fairly low, coral islands, and most have fairly upscale resorts on them, served by a fleet of high-speed power-catamarans. Our favorite resort (by far) was Treasure (or Luvuka) Island, where we were warmly welcomed and allowed to use whatever facilities (swimming pool, tennis court, washing machines, showers, bar, internet access) we wanted. Fijians are delightfully friendly, and strangers will often greet you on the street, but the folks at Treasure went out of their way to make us feel welcome. And the snorkeling was out of this world - vast fields of plate corals in pastel colors, teeming with brightly colored fish. We all did lots of snorkeling, and Jon and Chris did several dives, including a couple on a WW2 B26 bomber that ran out of fuel before it could return to its base at Nadi after bombing Guadalcanal.
Another favorite was a pristine, uninhabited anchorage off the island of Navadra (Navandra). We snorkeled, swam, and explored the coastlines, picking our way out to the windy point walking on black volcanic rocks. The white sand beaches had lots of sea-shells, and we found 3 sets of turtle tracks going up to egg-laying pits. By night there were no shore lights to mar the brilliant star-scape. In the well-populated Fijian islands it is rare to experience this degree of seclusion, so this was a special treat.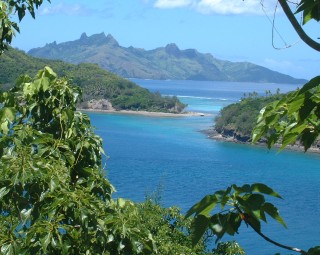 The view from near Manta Ray Resort
of the neighboring Yasawas
Sailing north from Navadra, we entered the higher, volcanic island group known as the Yasawas. Less accessible than the Mamanucas, the Yasawas have more small native villages - few islands are uninhabited. They still host many tourists, but mostly backpackers: young Kiwis, Aussies, and Europeans who ride the Yasawa Flyer power catamaran from island to island, staying at lower-scale, backpacker-type 'resorts' which offer small bures (huts) or tent sites for the guests. With no pools or tennis courts, these are resorts where the guests make the fun: diving, snorkeling, shelling, and hiking by day, with dancing and singing at night.
On Nanuya Balavu we anchored off Manta Ray Resort with its ridge-top bar and dining on an open veranda. The views at sunset were stunning and we had to explain to the guests about green-flash sunsets. As the sun went down the air filled with hundreds of large fruit bats. The next day we had a lovely hike through scrub forest, palms, and palmetto trees, finding a fabulous lookout on a cliff with views across the channels to the south.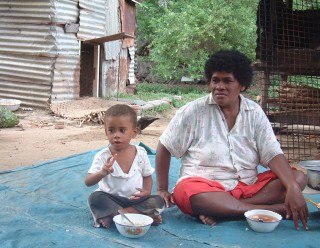 Fijian villagers are always friendly
Our most northern stop was at Nanuya Lailai Island. We visited the village and told the young Fijian who came to greet us that we'd like to do a sevu-sevu ceremony with the chief. Our guide led us, barefoot, along sandy village paths, past thatched huts where women sat on mats cooking or minding young children. The chief lived in a concrete house with one huge room filled with carpets, a few pieces of furniture, and many knick-knacks on the walls. He solemnly welcomed us and gestured for us to sit on the floor in front of him. We presented him with a bundle of dried kava root wrapped in ribbon and he said many Fijian words over it and to us. Then our guide said, "The chief accepts this sevu-sevu and you are welcome in the village. You may swim, snorkel, talk with the people, take pictures, whatever you wish." What we wished for was some fresh fruit, as we'd run out. Our guide told us it would be waiting in our dinghy, and he would accept no payment. After visiting the village and having tea with a family who invited us to join them, we returned to our dinghy to find about 10 lbs (4kg) of papaya in it!

The river to the plantation was narrow and lined with mangroves
A local farmer-entrepreneur named Sakay took us to his plantation south of the village, which entailed a wild dinghy ride and then navigation up a river to the base of his fields. He walked us over the hills and valleys of his small plantation, showing us his tiny dam and where he grew pineapples, papayas, mangoes, coconuts, green peppers, green beans, pumpkin, and bananas.
On Sunday we all dressed in our best (Jon in his 'pocket sulu' skirt) and attended the Methodist church in the lovely, green-lawned village of Sese. We were led to seats on bare wooden bench-pews, right in front of the choir. The service was all in Fijian, but the a-capella singing by the choir was magnificent. The choir leader would hum a note, and the voices would raise in magnificent, inspirational, multi-part harmony.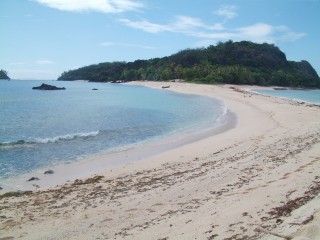 A beautiful beach on Navadra
Ocelot's currently anchored in an old volcanic caldera, about 20 miles SW of Suva. The winds here have been especially light, so we've used the opportunity to sail (well, motor-sail) east along the south coast of Viti Levu (the main Fijian island). We're currently in the Beqa (pronounced Benga - Fijian tends to stick in unwritten Ns wherever needed) lagoon where we've been snorkeling in the shallow, clear water. Tomorrow we hope to head for Kadavu (Kandavu) and the Astrolabe Reef that featured in the National Geographic some months ago. The coral there is reputed to be superb.
This anchorage is idyllic - We're entirely surrounded by jungle, with nobody else around. No houses or lights are visible - just the moon, almost full and spreading its silvery light on the calm waters of the lagoon. While the wind was blowing 20 knots as we arrived here from across the lagoon, the high walls of the caldera protect us and only a gentle breeze gets inside. The huge fruit-bats, called Flying Foxes for their size, were circling and screeching in the early evening. Other strange jungle sounds can be heard ashore, mainly grunts and screeches.
Our current plans are to head west from Fiji in early July, visiting Vanuatu and New Caledonia before sailing to OZ, but our plans are also in flux, so keep in touch. Christopher is now on his own in WA and will be going to the University of Washington (UW) in September. He now has some part-time technical jobs for the summer.
Fair winds -- Jon, Sue, and Amanda Hacking
Up | Heading to Fiji | Arriving in Fiji | Initial Fiji | Fiji Thoughts | Fiji Summer | Western Fiji | Cruising Info | Passage Dangers
Panama Letters | Ecuador Letters | Galapagos Letters | Marquesas Letters | Tuamotus Letters | Tonga Letters | Fiji Letters | New Caledonia Letters | Australia Letters
Top Level: Home | Destinations | Cruising Info | Underwater | Boat Guests | Ocelot | Sue | Jon | Amanda | Chris | Site Map | Make a Comment
---
Lifetime
Commodores
of the
Seven Seas
Cruising
Association

If our information is useful,
you can help by making a donation
Copyright © 2000‑ Contact: Jon and Sue Hacking -- HackingFamily.com, svOcelot.com. All rights reserved.