Rori Garfinkel
February 3 - March 12, 2005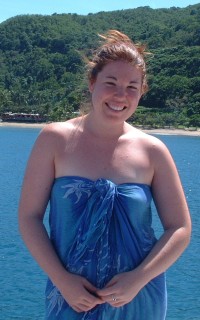 Rori on her 23rd birthday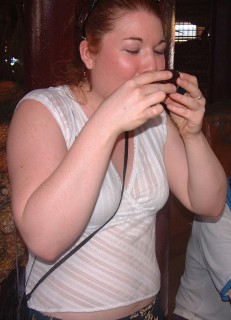 Rori's first (of many) kavas
It was a great treat to have Jon's sister's daughter, Aurora (23), down to visit for 5 weeks. Like we did for her grandfather, Colin, with whom she overlapped by three days, we met her at the Queen's Wharf in Lautoka. Although she'd had no sleep on the overnight flight and was laden with many duffels of boat gear, she was gung-ho for a day in town. After dropping her gear and having a coffee cake for breakfast, we walked along the narrow-gauge sugar-mill railroad tracks into town and took her to the Lautoka market where she got photos of the kava sellers and fruit vendors. We spent that afternoon, and the next three afternoons cooling off in the pool at Bekana Island Garden Resort where we were welcome to swim, have drinks at the bar and use the showers. What a god-send in the heat of the Fijian summer!
On a day trip to Nadi, Rori and Sue visited the Sri Krishna Hindu Temple and had a guided tour and long conversations with several of the young priests newly arrived from India. With child-like glee the priests asked that we take many pictures of them. They loved seeing their own images in the cameras.
From Lautoka we sailed straight to Luvuka (Treasure Island Resort) where we were again made to feel very welcome. Like with Colin, we played lots of tennis, enjoyed sunsets on the beach at Happy Hour, drank kava (for which Rori developed a fondness) and participated in the Meke and welcome dancing. Rori, Chris and Amanda often stayed later to dance at the disco. A new treat was splurging on Fijian massages. The deal that especially attracted Amanda and Rori was the 20 minutes of aqua-robics (lead by Abraham, a very good- looking young Tongan-Fijian) followed by a 10 minute back massage, all for US$6. From Jon's point of view the aquarobics consisted mostly of the girls being chased around the pool by Abraham, but I suppose that constitutes real exercise. The massages started out at 15 minutes and by day 3 they were more like 45 minutes...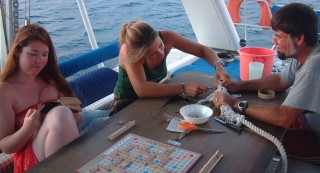 Rori and Sue played lots of Scrabble.
Amanda's splicing a thimble into a heavy line.
While Rori was with us school work had to continue for both Chris and Amanda, so while they studied Sue and Rori spend hours in pursuit of the perfect Scrabble game. Afternoons and evenings were spent making music as Rori (a music major) and Amanda learned new songs and worked to create beautiful harmonies. They were often the hit ashore, playing guitar and singing with the Fijians.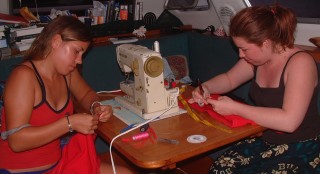 Rori & Amanda making matching tennis skirts
Rori loved the snorkeling, and we returned to favorite spots we'd discovered with Colin in earlier weeks. The summer water is a balmy 85°F (29°C) so we could swim for hours around green, red, yellow, and tan corals with their swarms of exotically colored reef fish.
From Treasure Island we sailed to Musket Cove to introduce Rori to the buffet dinner, disco, and great views from the hills. The kids spend several afternoon getting sweaty exercise at the pick-up beach volleyball games at Plantation Resort.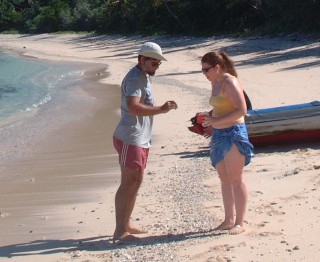 Rori & Jon exploring the beach at Navadra
We headed north from Musket Cove straight to the three-island group that includes Navadra, the northern most of the Mamanucas. Here we walked deserted beaches, collected beach shells, and saw the tracks of sea turtles on the sand where they had come ashore to lay their eggs. It was a real taste of isolated paradise, rare in Fiji.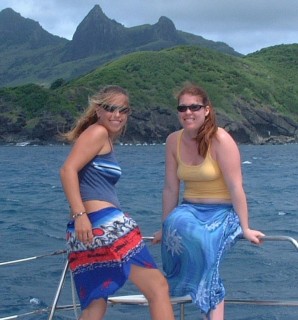 Rori & Amanda approaching Waya Island
On Waya Island, the tallest and southernmost of the Yasawas, Rori participated in the sevu-sevu ceremony at the chief's house, after which we had tea with a village family seated on grass mats on the sand, drinking from metal bowls. During the next two days we walked several times over the hill to the Octopus Resort to see the western reefs from land. We all took a hot hike up a dry stream to see a waterfall, but it was dry season, and although the shade was nice, there was not enough water for a swim.
Our next stop was the island of Nanuya Balavu, where we anchored off Manta Ray Resort. We snorkeled in the pass and took a hot hike up the hills for a fabulous view to the south. Then we sailed north to Naviti Island, finding anchorage in an open roadstead on the west coast, just off the backpacker resort of Korovou. Here the kids had so much fun dancing and visiting with the young travelers and playing beach volleyball with the locals that Rori asked to stay anchored there for her 23rd birthday celebration.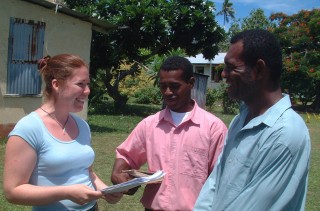 Rori & the church choir leader at Nauya Lailai
Our next stop was Nauya Lailai where we again did sevu-sevu with the chief, visited a local farm that supplies the neighboring backpacker resorts, and attended the local church, where we were treated to some delightful singing.
The wind was piping up, so we spent one more night at Nauya Lailai then sailed south through the reefs to Lautoka. Amanda, Rori and Sue treated themselves to a Bollywood movie: Bewafaa, which was a real cultural experience and fun.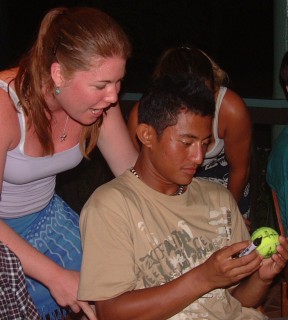 Rori urging Mike to sign her tennis ball
Later, at The Northern Club Rori and Amanda saw some young men carrying tennis equipment, and learned that they were representing Pacific Oceania in the Davis Cup. We stayed in Lautoka for the next three days to watch some awesome tennis. Rori and Amanda became the cheer leaders for the PO team, especially the number one player, Mike Leong from the Solomon Islands. The Pacific Oceania victory party took place at Bekana where we were moored, and Rori and Amanda had tournament tennis-balls signed by all the players and their coach, much to the amusement of all. It was a great party, with much dancing and hilarity.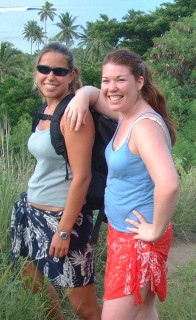 Amanda & Rori - the cousins
had lots of fun together.
We made one more trip to Treasure Island for a bit more snorkeling after the dust of the city, then returned to Lautoka. On Rori's second to last day Jon, Sue, Rori and Amanda took a minivan (4.5 hours) to Suva to show Rori the capital. We had iced mochas at the Republic of Cappuccino and a good curry lunch at Singh's Curry House. It was an exhausting day, but one more cultural/touristy event for her to remember!
Most of our boat guests have been kind enough to help transport needed goods and parts TO Ocelot, but Rori got to do it both ways. She escorted our dear boat cat, Arthur, all the way back to Northern California. We had a wooden cage built for him through the local SPCA, and we had to pay a quarantine official to be sure he was delivered to the airport freight office. Rori's job was to collect him in LA and get him on her plane to San Jose, where he went to live with Colin and his wife. So, on March 12 we had a doubly sad day: seeing off both Arthur and Rori. Once the cat was safely checked in at the freight office, Rori, Sue and Amanda had an airport curry dinner (not nearly as good as curry in Lautoka or Suva!) and wandered the shops for last-minute souvenirs. All in all, it was wonderful to get to know our niece and cousin so much better, and it was great to see Rori and Amanda, despite the seven years difference in age, really enjoying each other's company.
Up | Colin in Fiji | Rori Garfinkel | Emilia | Tianna Hacking
What to Bring | 2002 Visitors | 2003 Visitors | 2004 Visitors | 2005 Visitors | 2006-11 Visitors
Top Level: Home | Destinations | Cruising Info | Underwater | Boat Guests | Ocelot | Sue | Jon | Amanda | Chris | Site Map | Make a Comment
---
Lifetime
Commodores
of the
Seven Seas
Cruising
Association

If our information is useful,
you can help by making a donation
Copyright © 2000‑ Contact: Jon and Sue Hacking -- HackingFamily.com, svOcelot.com. All rights reserved.