Mamanucas
The Mamanuca Islands of western Fiji -- Scroll down for details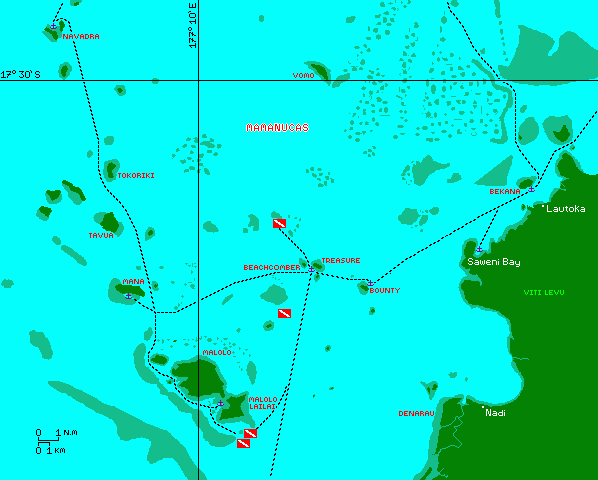 Map by Amanda Hacking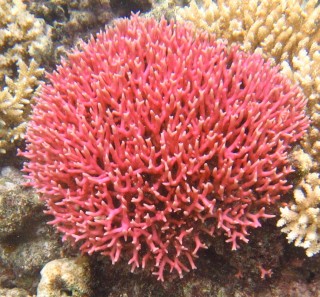 Red coral sphere off Treasure Island
Landscape: About 20 islands, mostly very small except Malolo. Mostly low, dry coral islands with small hills. See our Fiji Diving page for snorkeling and diving info.
Visited: January-March 2005 and again June-September 2005. See also our Fiji Newsletters for more at-the-moment descriptions of where we went and what we did, as well as some information for other cruisers.
There are two island groups off the western end of Viti Levu. The northern group is covered in our Yasawas page. The southern group is called the Mamanucas (pronounced mam-a-NU-thus). Lying in clear blue waters between the Great Sea Reef and Viti Levu, an area with numerous smaller coral reefs, these islands are the closest to the international airport in Nadi (NAN-di) and are popular with tourists. Some are rocky but most are low coral islands that barely dry at high tide. Most have glorious white sand beaches and either a village or, more likely, a tourist resort. We visited six of the larger islands and got to see a variety of landscapes and hospitality.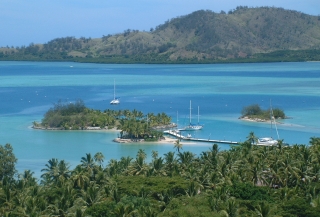 Musket Cove marina & $3 bar (off-season)
with Ocelot alone in the anchorage
(Sue) The island most well-known with yachts is Malolo Lailai which is home to Musket Cove Yacht Club and Marina. Here we spent many days on the (US$6/day) moorings, taking walks high on the hills and around the beaches and mangrove shorelines of the island. Musket Cove offers everything for a short-stay boat: a grocery store with fresh meat, fruits and veggies, a few bits and pieces for boats, a laundry room, hot showers, and a beach bar with free barbeque pits available for anyone's use. We left Ocelot tied up inside the inner lagoon while we went back to the States in March-April 2005. It was well cared for and safe from potential cyclone waves and surge.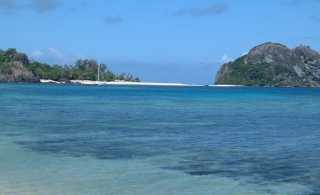 Navadra islands have black rocks & white
beaches. Ocelot's mast is dwarfed.
A short dinghy ride from the moorings are several nice snorkeling and diving sites. Across the grass runway is Plantation Resort with swimming pools and tennis court available for a small fee to non-guests. We found the buffet dinners (including Fijian lovo feasts) to be the most economical here at about US$15 per person - all you can eat fish, beef, chicken, pork, vegetables and salads, starches, and maybe best of all: a buffet ice cream counter.
My favorite place in the Mamanucas was probably Navadra (na-VAN-dra) Island, which, with its tiny neighbors formed a protected, uninhabited anchorage. Here, enclosed on three sides by tiny islands, we were the only boat, the only people. We snorkeled, swam, and explored the coastlines, picking our way out to the windy point walking on black volcanic rocks. The white sand beaches had lots of sea-shells, and we found 3 sets of turtle tracks going up to egg-laying pits. By night there were no shore lights to mar the brilliant starscape. In the well-populated Fijian islands it is rare to experience this degree of seclusion, so this was a real treat.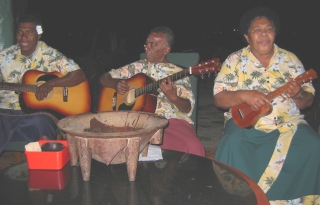 The Bekana band, with their kava bowl in front
(Amanda) My favorite islands in the Mamanucas were Treasure Island and Bekana. We spent a fair amount of time at both places, and I got to know the staff at both the resorts. At Bekana this was mostly the band, a four-person group that got together in the evenings to serenade the guests throughout dinner with Fijian songs. At times there were only a few guests at the resort, and my cousin Rori and I were invited to join the band. With me playing one of their acoustic guitars and Rori singing - and the band singing/playing along if they knew the song - we had quite a lot of fun. Every few minutes there'd be a "kava break" where they'd stir up the big bowl of kava in front of them and pass out bilos (cups, usually made of half a coconut shell) of the drink to everyone. Depending on the mood of the person handing out the kava, you could get a "low tide," which is barely a sip in the bottom of the cup, or "high tide," which could be anywhere from half-full to overflowing. As the evening progressed, the tide was generally going up, haha.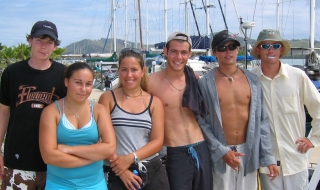 The six teens at the Musket Cove Marina:
Alan, Tia, Amanda, Adam, Warren & Adam
Most of the time we were cruising the Mamanucas, there were no other cruising boats around. We had all the anchorages to ourselves, and never had a problem finding a mooring. Imagine my surprise when I came back from a month in the US and Canada to find Musket Cove absolutely packed with boats! Musket Cove Regatta Week had begun. This is an annual event held in Musket Cove, with lots of fun and games and carrying on for a week, leading up to a rally/race to Port Vila, Vanuatu. We weren't too interested in the rally, but a week of partying? Sign us up! We also met up with two other boats we hadn't seen in a while: Seeka, back from Australia, and Scud, whom we hadn't seen for three years! With my cousin Tianna on board, this made for 6 teenagers running wild. There were Hobie Cat races, games of golf, barbeques, knee-boarding and skurfing, games of pool, yacht races, a "P" party (the winners being a puppet and puppeteer), swimming, wet T-shirt and hairy chest contests, coconut-put, coconut boules, volleyball, and drinking. There were prizes for everything, which ranged from caps, t-shirts, and sarongs to karaoke machines, champagne, and money. It was all a bunch of fun but we had to convince Tia that this wasn't what cruising was all about!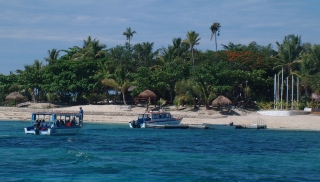 Just a few feet off the beach at Treasure
Island is some of the best coral of Fiji.
(Jon) We found virtually all Fijians to be extremely friendly: women with kids in the car would often give me a ride into town, and people on the street would give us the Fijian greeting of "Bula!" (which means Health). But the folks at Treasure (Elevuka) Island really went out of their way to make us feel welcome. As we tied our dinghy to their floating dock, they'd often gather up whoever was on the beach, grab a guitar, and sing us the "Welcome Song". They made it very clear that we were welcome to use any of the facilities - bar, tennis courts, showers, dining room, swimming pool, even the spa. We were also invited to join in any activities, like the cultural shows in the evenings and even the Managers Cocktail Party every Monday afternoon. The Activities Director was a fascinating man named Suka, who generously sat me down to answer any questions I might have on Fijian lore and customs.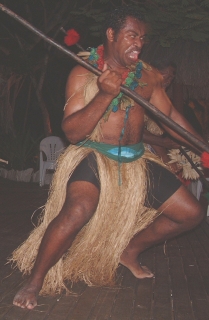 The male Fijian dances
reveal their warrior heritage
Some of those customs can be quite different. Fijians have very strong concepts of honor, respect, tradition, and social position. For instance, adults can tell children what to do but certainly not vice-versa, and foreigners are often held above local Fijians. A friend who was working in the Lao Group told us a story about when he was cutting down some trees above a cliff, while a group of Fijians were cutting trees below the cliff. When he had to cut a big tree that would fall over the cliff, our friend told a young boy to run down and tell the men below the cliff to get out of the way. But when the big tree was finally falling, he heard the sounds of people still working down below! The boy he'd sent down was just watching all the workers! Luckily nobody was hurt, but nobody would tell our friend what had gone wrong. Since our friend was a (white) foreigner, local custom prevented anyone from even admitting that he'd done something wrong, let alone tell him about it.
I found the Fijian's solution quite ingenious - at a kava elders meeting a few nights later, one man started telling a story about how a foreigner had sent a boy off to tell Fijian men to do something, and how Fijian custom prevented a mere boy from telling an adult anything, and how (the extremely polite) Fijian tradition prevented anyone from telling the foreigner what he'd done wrong. The whole story was told in the 3rd person, with no references to the tree-cutting incident, but our friend understood that this was the only way the Fijians were allowed to explain the situation to him. Quite remarkable.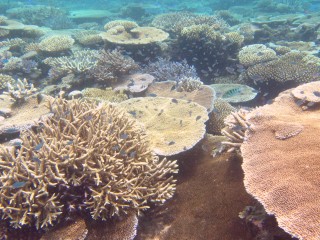 Colorful corals off Treasure Island.
The grey spots are all tiny fish.
Abraham was the young and personable Fijian who ran the spa at Treasure Island. He took quite a fancy to Rori and Amanda and pointed out a spa-special: 30 minutes of Aquarobics followed by a 10-minute back massage, all for about $6. All 3 women signed up (of course). I was amused to note that the Aquarobics consisted largely of Abraham chasing Rori and Amanda around the pool (which was actually pretty good exercise) and while the massages started at about 20 minutes, by day 3 they were closer to 45 minutes! I think everyone got their money's worth...
The snorkeling around Treasure Island was superb. Vast plains of vibrant corals surround a small sand island nearby. The various, multi-colored plate corals grow so thick that they bump into each other, creating an interesting effect at the margins. We saw lots of fish, but not too many larger fish, although we saw one white-tipped shark of about 4' (1.3m) when the resort staff fed the fish at 4pm each afternoon. Another great snorkeling location was on the far side of the neighboring Beachcomber Island resort. Since Treasure Island has a dive center, we also went on 2 scuba dives while we were there, one to the wreck of the Salamanda (a small ferry) and the other to the WWII wreck of a B-26 bomber. You can read about both dives (as well a couple of other dives we did in Fiji) on our Fiji Diving page.
Up | Fiji Map | S Vanua Levu | East Viti Levu | West Viti Levu | Mamanucas | Yasawas | Southern Islands
Ecuador | French Polynesia | Kingdom of Tonga | Fiji | New Caledonia | Australia | Fiji Newsletters | Fiji Diving
Top Level: Home | Destinations | Cruising Info | Underwater | Boat Guests | Ocelot | Sue | Jon | Amanda | Chris | Site Map | Make a Comment
---
Lifetime
Commodores
of the
Seven Seas
Cruising
Association

If our information is useful,
you can help by making a donation
Copyright © 2000‑ Contact: Jon and Sue Hacking -- HackingFamily.com, svOcelot.com. All rights reserved.