West Viti Levu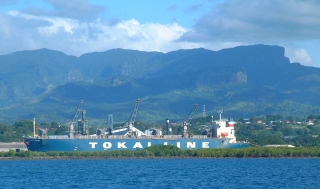 The tiny Lautoka dock can get quite busy
Landscape: Western Viti Levu is drier than the region around Suva and the Rewa Valley in the east. It is known for its sugar cane fields and high cliffs cut by hanging valleys and the Sigatoka River. The main towns are Nadi (near the international airport) and Fiji's second largest city, Lautoka on the northwest corner. Lautoka is one of four clearance ports for yachts entering or leaving the country.
Visited: January through September 2005, interspersed with visits to the outer islands.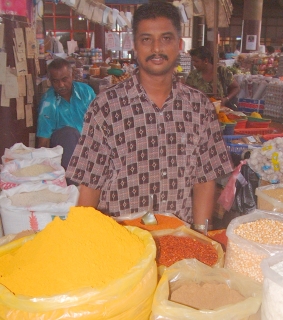 An Indo-Fijian tends his spice
stall at the Lautoka Market
(Sue) Lautoka is a very Indo-Fijian city almost devoid of tourist attractions, which made it an interesting place to spend many days! It has everything cruisers need for daily life: a produce market replete with spices, fruits and vegetables, good grocery stores, shops selling everything from duct tape to fabrics to shoes and paints. There are good machinists and parts stores for motors and pumps. And it's small enough to begin to get to be known at places like the internet cafe, the coffee shop, and the restaurants.
The best months to visit are December through May when the sugar cane is not being harvested. From June through November cane trains and trucks piled high with cut cane line the roads to the mill on the edge of Lautoka. When operating, the mill belches forth great columns of black soot which the wind carries out over the anchorage to be deposited on the boat decks. During these months we tried to keep our visits to Lautoka short and sought out other near-by anchorages like Saweni Bay. But that being said, the city is attractive with its palm-lined streets, the hills above making a dramatic back-drop, and the narrow-gauge railroad line that runs through town and out to the surrounding cane fields.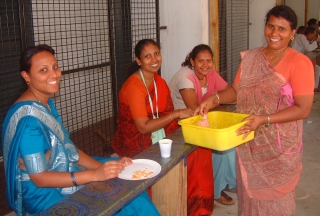 The Hari Krishnas serve a free lunch every Sun
Immersing ourselves fully in the Indian aspect part of Fijian life, we attended a service at the Hari Krishna Temple in Lautoka. Seated on mats on the floor we witnessed dancing, singing, prayers, and much waving of incense in front of the gilded and flower-bedecked statues of Krishna. The devotees did not dress in orange, or have shaved heads, as had the Hari Krishnas in the USA in the 1960's. There was not even any proselytizing. After the service we were invited to a free vegetarian lunch served every Sunday at noon. We expected there to be only the 60 or so people who had attended the service, but it is a huge event. Seated on long bench planks, with raised 2x12" planks for tables, several hundred Fijians and Indo-Fijians were served a delicious meal. The food was dished by ladles onto our paper plates: dahl (lentils), rice, crisp spicy mango slices, green veggies, and curried potatoes. Yum. The real trick was eating it entirely with our fingers! Luckily they served rotis (like tortillas) which we could use as spoons or to wipe up the rather liquid dahl.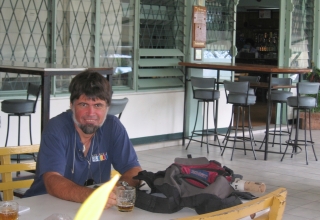 We had many nice lunches at the Northern Club
The Northern Club (turn right at the post office) is a private sports/drinking club that welcomes yachties for meals and is a favorite of ours for lunch. US$5 buys you a boneless curry of pork, chicken, fish or lamb with dahl, rotis, rice, and sometimes a plateful of chutneys. Pastas and other non-curry dishes are equally well-priced and beers are $1. Originally a club set up by ex-pats working in the sugar industry in the 1940's, the club has evolved to diverse membership with a welcoming spirit. It's fun to sit on the shaded verandah and watch the school kids take their swimming lessons, or local businessmen converse amongst themselves over mini-mugs of draft beer.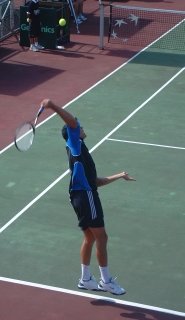 Brett Baudinet (Pacific
Oceania) smashes a serve
In March while reading the posters on the walls we learned that the 2005 Davis Cup was to be played in Lautoka for the next three days, with a start-off party at Bekana Island Resort that night. We joined the Bekana guests, and tennis teams for beer and kava and Rori and Amanda met the young tennis players who represented Pacific Oceania. Never having seen a world-class tennis tournament before we decided to give it a go one day at a time. Wow. Were we thrilled. The matches were played on courts just a ten-minute walk from Queen's Wharf. We got to sit (for free) above the courts and just above the service line so the view was great and there were only 15 to 20 other spectators. This match was between Lebanon (whose players lived all over the world), and the South Pacific Islands (excluding NZ and Australia). Amanda and her cousin Rori cheered on the men from Pacific Oceania, Chris cheered for the Lebanese (feeling that they needed some support) and Jon and Sue applauded good points won by either team. We had the fun of sitting next to the coaches for Oceania's #1 player. They were from Australia and gave us some great insights into great tennis. The psychological game is as important as the physical game, and we came away with some pointers, and some quotes: "You can have the pain of working hard or the despair of not working hard." - Daphne & Trevor (Wimbledon 1957). The Davis Cup coming to Lautoka is not an annual event: we were just lucky to be there when it was played.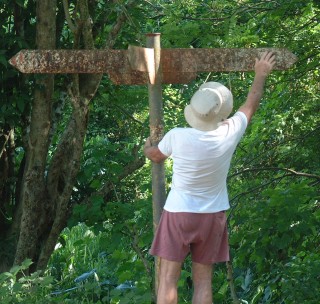 Thoroughly lost, miles from anywhere,
and no gas - a classic Hacking car trip!
(Jon) In January 2005 my father visited so we found a relatively inexpensive (US$45 per day) car rental and took off north from Lautoka to the small predominantly Moslem town of Ba. After a nice Chinese lunch we headed inland on an unpaved road past the picturesque (but touristy) village of Navala, which we decided to skip as they charge guests to enter. A bit too Disneyland-ish for us, I guess. A couple hours into the rolling hills with glorious views of high plateaus found us wishing we had filled the fuel tank in Ba. Oops. At the tiny village of Bekuya (which boasts only an intersecting road to Lautoka) we had to beg fuel from a villager. It arrived in leaky 1 liter plastic bottles (probably destined for his weed-eater). From there the road got wilder and more remote, with essentially no traffic. The lack of signs and landmarks had us guessing which way we had to go. Finally we dropped down into the Sigatoka River valley and made our way back to civilization. A classic Hacking Car Trip.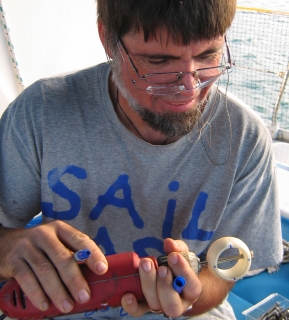 Hand-machining rudder bearings
In August 2005, my evil ex-Microsoft boss stole Amanda away for 6 weeks to help them drive a trawler around Desolation Sound in western Canada. They needed her nautical expertise to show them how to fillet a fresh-caught rock-fish, how to tell if their boat's sinking (it wasn't), and when things broke to explain patiently that "It's a boat - if it's not broken, it's breaking!" While Amanda was off being spoiled by fancy dinners out and sightseeing flights over the mountains, we decided to attack some big maintenance issues. (Sometimes life just isn't fair

)
One of these was new rudder-bearings for Ocelot. So we anchored in Saweni Bay, just south of Lautoka, where we could take the rudders out without risk of losing them in the deep waters off Lautoka. The Lautoka machine shop was friendly and reasonably well equipped, but didn't really know how to cut a spherical bearing, so several times a week I'd walk (or hitchhike) the mile out to the Queens Road to catch the bus into Lautoka to educate and encourage them. Sort of like trying to push a chain - or a puddle of water - but after several weeks (and with me doing all of the final finish work) our rudder bearings are now nice and snug.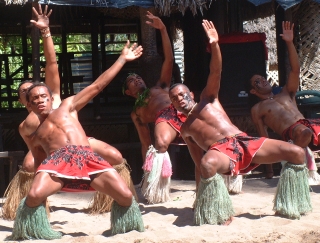 The rather lewd pig-dance at Robinson Crusoe
Saweni Bay is well protected from all but north winds, so lots of yachts stop in there, leading to lots of visiting, socializing, and parties on the beach. We also walked the narrow-gauge sugar-cane train tracks down to the marina at Vuda Point. This was a delightful 45 minute walk through cane fields and over sprawling lagoons.
Just before we left Fiji, we stopped into Robinson Crusoe (Likuri) Island, about 7 miles (12km) towards Suva from the main SW reef entrance to western Fiji. We'd heard they were friendly towards the yachts, but it hadn't been convenient to stop when we'd been that way before. We were very glad we took the time.
Robinson Crusoe Island is owned by 2 Australian couples, and they're actively trying to attract the yachting community. They've already made their money so now they're just looking for some fun and interesting conversation. On the island is a backpacker-style resort with little bures for the guests to sleep in, inexpensive meals (about US$4 for dinner), and an awesome staff of very friendly Fijians, many of whom were very talented dancers.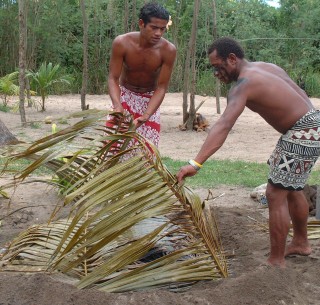 Uncovering the Lovo (ground oven) feast
(Amanda) Well. Not much more to write here; I think most of it's covered! We spent most of our time on the west coast off Bekana Island, near Lautoka. In a way, Lautoka became a bit of a base. After a trip out to the Mamanucas or Yasawas, coming back to town was kind of like coming home. Shopowners recognized us, if not by name, and the layout was so familiar it was slightly freaky.
We also spent a solid two weeks at Robinson Crusoe Resort on the coast, which was a lot of fun. The guest turn-over is usually a day or two, so we could tell the staff were happy to have some relatively constant faces around for so long. We had a great time there.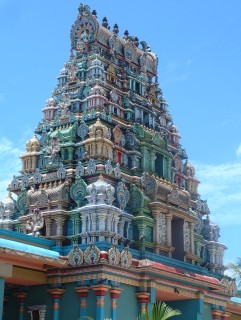 A very ornate Hindu temple in Nadi
Perhaps better-known to many people but less appealing to us was Nadi, Fiji's tourist capital. It's about 10 minutes from the airport, meaning most tourists pass through either coming or going, or stay there. We took the bus there from Lautoka several times (about 45 minutes each way) but it really wasn't convenient (or cheap) for us to take the boat there. The only harbor is on Denerau Island, which is hoity-toity and covered in five-star resorts. Walking down the streets of the city, although the cool blast of air conditioning coming through open store doors is enjoyable, the hawkers outside are not. A lot of the time when I'm shopping I just like to browse around, looking. I really dislike someone hanging onto me. "Oh, what are you looking for? This would be perfect. Very good price! And there's these ones over here..!" Nadi was a fun town to visit, but spending any length of time there would probably drive me crazy.
We took most of our visitors there, though, just to see what it's like. Right at the end of the main street is the most amazing Hindu temple we've seen anywhere. It's tall and colorful, with exquisite paintings on the inside and statues of idols in little shelters. It's a nice bit of culture in an otherwise upscale, touristy town.
Up | Fiji Map | S Vanua Levu | East Viti Levu | West Viti Levu | Mamanucas | Yasawas | Southern Islands
Ecuador | French Polynesia | Kingdom of Tonga | Fiji | New Caledonia | Australia | Fiji Newsletters | Fiji Diving
Top Level: Home | Destinations | Cruising Info | Underwater | Boat Guests | Ocelot | Sue | Jon | Amanda | Chris | Site Map | Make a Comment
---
Lifetime
Commodores
of the
Seven Seas
Cruising
Association

If our information is useful,
you can help by making a donation
Copyright © 2000‑ Contact: Jon and Sue Hacking -- HackingFamily.com, svOcelot.com. All rights reserved.