Diving Fiji
All of our scuba dives in Fiji were done in the Mamanuca (pronounced Mama-NU-tha) Island group of western Fiji. Click on one of the dive flags on Amanda's map below to go to a description of that dive.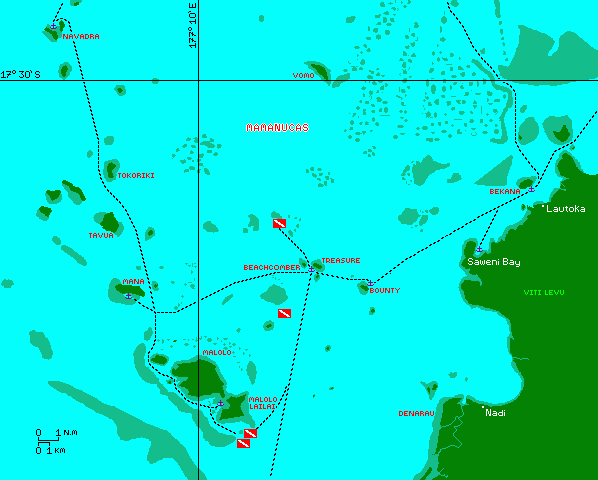 Map by Amanda Hacking
Christopher and Jon dove 4 different sites in the Mamanucas: The wreck of the Salamanda, a World War II B-26 Bomber (which they did twice), Sunflower Reef, and the Plantation Pinnacles. We've listed them here in north-to-south order rather than chronological order.
Many of the local dive shops are run by Sub-Surface (fijidiving.com), and they are located on several of the islands: Treasure, Beachcomber, Malolo Lailai, Denarau, and probably others that we did not visit. They seemed OK but we didn't use them for more than fills, as their dive prices were quite high. When we asked them to service a leaking Mares regulator, they said they didn't have the right tools. Their fills were nominally US$12 but Jon could usually talk them down to half that. Cheaper fills can be had in Lautoka at West Side Water Sports, right up by the traffic circle at the entrance to the Queen's Wharf. In Savusavu, see the ever jovial Curly Carswell at Eco-Divers. Lonely Planet has an excellent book, Diving & Snorkeling Fiji with lots of good information, although our 2000 version had some out-of-date contact info. Note that, like most of the South Pacific, fills were done in the open, not in water, so the bottles heat up. When they cool down you'll find they're less than full.
We did have Sub-Surface inspect our tanks at their one year anniversary but they came back without new stickers. When we questioned them about this, they said they don't care about inspection stickers, that they'll fill any tank! When I told them I wanted a sticker, they said they were out, but they gave me the inspection reports which I was able to use to get a valid sticker from another dive shop. Crazy.
---
Type:

Wreck dive

Access:

Good dive mooring NNE of wreck

Position:

17° 36.9'S, 177° 13.7'E

Depths:

50-75' (15-23m)

Date:

March, 2005

Visibility:

50' (15m)

Dive shop:

Yes, at Beachcomber or Treasure Islands

Snorkeling:

Yes, on the reef nearby to the NE

Features:

Wreck is whole but stripped, so very easy to penetrate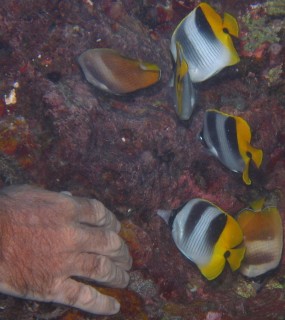 Friendly Double-Saddle Butterflyfish
(Jon) The Salamanda was a small cruise ship or a ferry - since the boat was stripped, it's a little difficult to tell. It seemed about 80' (25m) long, with 2 levels. It was purposely sunk by the local dive operations to provide a nice wreck-dive. The cabins are all open with the doors removed, so its a very easy penetration dive - you can poke your head in a door, see your exit on the other side, and easily drift from entrance to exit. Being a bit new to wreck dives, this was a great way for us to start.
We got the location of the Salamanda from the dive shop at Treasure Island. Our friends on Ilya were also anchored at Treasure, so we invited them to come along. Vivian and her boys just went snorkeling with Sue, but Christian joined me and Christopher for the dive.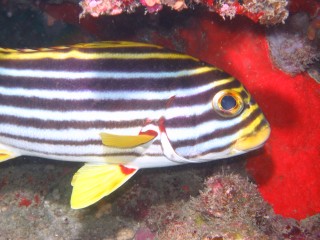 An Oriental Sweetlips
We took Ocelot to the dive site as it would have been a long dinghy ride and we were told the mooring there would hold Ocelot in the calm conditions we had that day. The mooring is not tied to the wreck (not sure why) so once we splashed in we had to hunt a bit to find the wreck. Luckily, we found it in the direction we first searched (SSW), which was lucky as the visibility was only about 50' (15m).
We started at the far (stern) end of the boat, on the main deck level. Poked our heads through the engine-room hatch, but didn't go in. Worked our way forward, zigzagging through all all of the cabins. From the bow we went up to the Bridge level and worked our way aft. The upper aft-deck was open, with supports for an awning, so there wasn't much to see except the hole down to the lower deck.
I don't know when the wreck was sunk but it was obviously pretty new, with no signs of coral growth and few fish hiding out. Presumably this will improve with time. Still, it was a fun dive and a good introduction to penetration diving. I never felt like my ganglia of hoses and tanks was going to impede me from getting out.
---
Type:

WW2 Plane wreck dive (scattered pieces)

Access:

Dive mooring at end, underwater buoy at beginning

Position:

Underwater start marker at 17° 39.910'S, 177° 14.946'E
Surface end marker at 17° 40.0'S, 177° 15.0'E

Depths:

75-30' (23-9m)

Date:

March, 2005

Visibility:

50' (15m)

Dive shop:

Yes, at Beachcomber or Treasure Islands

Snorkeling:

Yes, on the reef near the end marker

Features:

Old plane wreck from World War II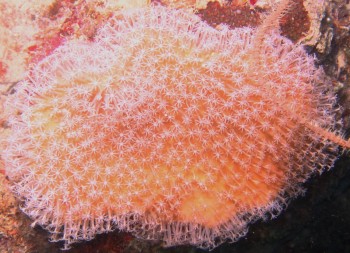 The corals at the end of the dive were spectacular
(Jon) The Allies built the Nadi airport during World War II so they could bomb Japanese positions in the Pacific Theater. The B-26 was a medium-range bomber with a pair of 2,000 horsepower radial engines. It carried an upper turret, waist, & nose gunners, and a crew of 6-7. The B-26 was made famous by Jimmy Doolittle as the first Allied bomber to attack Tokyo (that raid left from an aircraft carrier and was essentially a suicide/propaganda mission, as little damage was inflicted, none of the planes had enough fuel to land after making their bombing run, and many of the crew did not survive). The planes from Nadi apparently bombed Guadalcanal in the Solomon Islands, 1,100 miles to the NW. We were told that the wrecked plane was one that ran out of fuel before it could return home.
Chris and I actually did this dive twice as we missed the second half the first time. The start location is somewhat secret (which is why we took our GPS to get an accurate fix). In fact, the dive mooring is actually about 6' (2m) underwater! The idea seems to be to go in at the "start" marker but to have your surface support person tie the dinghy back at the end marker (which is well marked on the surface).

The nose-wheel is 1 of the more recognizable bits
The plane is scattered over quite a large area. Since visibility is often limited, the dive operators have connected bits of the plane together with a string on the bottom. What they didn't tell us the first time is that the string ends at the second engine but continues again about 20' (6m) off to the right. On our first dive we just continued on straight and never found the rest of the plane.
At the start-mooring, we splashed into 75' (23m) and started following the string at the bottom. We soon came to the nose-wheel, which is one of the more recognizable parts of the plane, followed by bits of the wing and/or tail. Then we found 2 big blobs of what we first thought were coral heads, but closer inspection showed them to be the huge radial engines, surprisingly close together. We found more bits of the wings and fuselage, but they weren't very recognizable.
The end of the dive gets to some big coral formations, which we (surprisingly) found more interesting than random hunks of old plane. The corals were bright and vibrant, with lots of fish. Since the coral climbed fairly close to the surface, we could easily make a pair of safety stops and still have interesting things to look at.
---
Type:

Bommie dive

Access:

Several good dive moorings

Position:

17° 47.9'S, 177° 11.8'E

Depths:

10-55' (3-17m)

Date:

February, 2005

Visibility:

80' (25m)

Dive shop:

Yes, at Musket Cove

Snorkeling:

Yes, on the inner reef

Features:

Lobsters, lots of nice coral on east side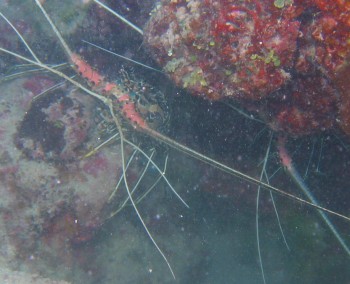 2 Lobsters come out to say hello
(Jon) Sunflower Reef is a very easy and pleasant dive. It's a big bommie right in the middle of the entrance to the yachty hang-out of Musket Cove (Malolo Lailai) and it has several good moorings that will even hold a yacht in settled conditions. If some folks in the party are not divers, they can easily snorkel on the shallower parts of Sunflower Reef.
Chris and I did this dive together. Since we did it privately (not with a dive company) we made 1 mistake in that we circumnavigated the bommie. This was not necessary as the western half of the bommie is barren sand with poor visibility. The eastern half is where you want to spend your time, especially the easternmost section.
The chief feature of this dive was all the corals - lots of vibrant, growing corals, even quite deep down. Most of it is fairly vertical, as the bommie rises very suddenly from the bottom, but there's also a nice shelf on the eastern side. In fact, we could have spent most of our dive there. We also saw a couple of lobsters hiding under a rock. We don't often see lobsters as they're often captured as soon as they're seen. We just took their pictures, thanked them, and moved on.
---
Type:

Bommie (pinnacle) dive

Access:

Good dive mooring

Position:

17° 47.9'S, 177° 11.8'E

Depths:

20-70' (6-21m)

Date:

January, 2005

Visibility:

80' (25m)

Dive shop:

Yes, at Musket Cove

Snorkeling:

Yes, on the reef nearby

Features:

Interesting underwater formations

We saw some great Moray eels
(Jon) Plantation Pinnacles is right next to Sunflower Reef. It's at the end of the first barrier reef outside Musket Cove (Malolo Lailai). We found 3 dive moorings nearby, none very big but two of them adequate for Ocelot in calm conditions. This dive is from the easternmost mooring, but the snorkeling is actually better at the other 2 moorings as they're closer to the reef.
Like all the dives on this page, I did this with Christopher. The mooring seems like it's in the middle of the ocean, but it's actually tied to a bit of a sea-mount. There are 4 of these in a vague line running NW-SE. We splashed into about 30' (9m) and started circling the sea-mount in a counter-clockwise direction. When we got to the end of the mount and could see the next, we'd swim over to that mount and start circling again. In this way we went down the southern side and came back up the northern side. The first 2 mounts were joined at about 50' (15m) but getting to the others required crossing a bit of fairly barren sea-floor.
When we got back to our start we still had air so we circled the first 2 mounts again at a shallower depth. There's supposed to be a swim-through on these mounts but we never found it. The coral on this dive was only so-so, but there were lots of fish and some nice moray eels to keep things interesting.
Up | Diving Bonaire | Diving Tahanea | Diving Fakarava | Diving Toau | Diving Tahiti | Diving Moorea | Tonga (commercial) | Tonga (private) | Diving Fiji | Diving Indonesia | Diving Thailand | Diving Maldives
Reef Animals | UW Photo How-to | Scuba Diving | Fiji Home | Fiji Newsletters | Fiji Cruising Info
Top Level: Home | Destinations | Cruising Info | Underwater | Boat Guests | Ocelot | Sue | Jon | Amanda | Chris | Site Map | Make a Comment
---
Lifetime
Commodores
of the
Seven Seas
Cruising
Association

If our information is useful,
you can help by making a donation
Copyright © 2000‑ Contact: Jon and Sue Hacking -- HackingFamily.com, svOcelot.com. All rights reserved.