Reef Animals
Destinations | Cruising Info | Underwater | Yacht Ocelot | Ocelot's Crew | Site Map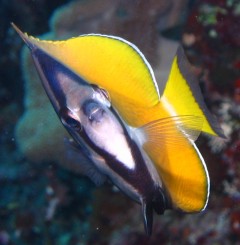 Face to face with the Blacklip
Butterflyfish. Kiss, anyone?
In addition to recording some of the various flora and fauna that we see on land, we have been accumulating thousands of underwater images taken in the South Pacific and Indian Oceans. Although we have written a bit on the luxuriant underwater world we sailed on before we got to the South Pacific (see West Indies Underwater), it is only since 2004 in the Society Islands of French Polynesia that we have been able to photograph some of the amazing life-forms over which we sail. The shots here represent only a fraction of those we've taken but we hope it gives an idea of the incredible variety of life in the tropical seas. The photos come from both snorkeling and diving excursions.
If you're interested in the specifics of where we went scuba diving, (and to see more photos) go to our Diving pages. To see what books we use as references for both diving and marine life ID, click here.
Underwater Photography
If you're serious about learning as much as possible about the underwater environment, an underwater camera is a must. Why? Because it's virtually impossible to retain an accurate mental image of the hundreds of creatures you're likely to see on any dive or snorkeling event. Even if you can remember the basic shape of the fish (for example), and can place it in a family, the complexities of pattern and color, the placement of bars, stripes or dots, is just too overwhelming. And when you look in your field guide and see that the difference between Fish A and Fish B is a tiny yellow mark on the base of the pectoral fin, well, chances are you didn't even notice that.
Want some tips on underwater photography? See the detailed how-to information published by our son, Chris, whose photos grace many pages of the website. Although the info was written in 2005, most of the photographic theory hasn't changed, just the cameras!
You don't need to spend a fortune on a camera that will help you ID the creatures. About $300 to $400 US will get you a GoPro, or a small rugged dedicated waterproof camera, good to 60ft/18m. You won't be the next Jacques Cousteau with this setup, but you'll get nice shots if the water is clear, if the sun is bright, and if you stay in the top few meters of water.
A 2017 update on our (not very expensive!) underwater camera equipment:
In the spring of 2015 our Canon G12 lens mechanism died, so we got a new all-weather Nikon AW130 which goes to 30 meters underwater. This small camera does not have all the bells and whistles of the Canon powershot series (as in there is not a custom white balance option), but it does do an automatic white balance change depending on depth. it displays your depth when underwater! It does a pretty good job of adjusting for color to about 15ft (5m) but after that it sees everything blue unless you use the small built-in flash or an external flash or light source. The best part of it is the 18 megapixels which means we can get sharp, detailed photos from cropped images, far batter than we could with the older cameras with only 12 megapixels. We still use an underwater video light to some good effect when shooting macro, such as for nudibranchs.
With Chris and Amanda due to visit in September and October 2014, we knew we needed a second underwater camera on the boat, just to keep the peace. The best choice in Manado, Indonesia, was a 12 megapixel Canon Powershot D30, which is one of the new generation of compact, tough little cameras that can go all the way to 82 ft or 25 meters. Awesome! It doesn't have the dynamic range of the Canon G12, but in many cases we can't tell which of the 2 cameras took the shot.
On a trip to the States in 2012 we purchased a 12 megapixel Canon G12, a compact, semipro camera, together with a dedicated underwater housing. It's been a great little tool, with fast autofocus (which we need with our aging eyes) and excellent color rendition at snorkeling depths. For diving we add an underwater video light that helps brighten those blue fish under blue coral. We retired the Olympus Tough 8010, and eventually sold it to fellow cruisers who wanted a small, cheap camera for their son.
How it All Started:
In the Caribbean, many is the time that we wished we had an underwater camera so we could share (and remember) what we experienced. This became even more important after we all got scuba certified in Bonaire. We wanted to go digital, but even poor digital underwater cameras were expensive. The more we researched them, the more we realized that this was research we would have to do ourselves, from the US. This meant that we had to wait until we went back home for a visit.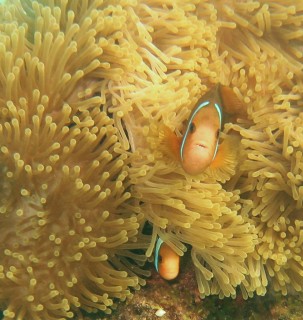 Anemonefish peek out from their living shelter
Luckily, this delay also meant that many more manufacturers had come out with either underwater digital cameras, or digital cameras with underwater housings. So in January 2004 we returned to Ocelot with a 4MP Canon A80 and a custom Canon underwater housing. The Canon's small 3x zoom lens was not as good as our Fuji Finepix (f2.8, 6x optical zoom) that took all of the out-of-water shots of our trip prior to December 2006, but it seems adequate for our underwater needs. Underwater shots are typically in the range of 1-20 feet (0.3-7m), and the Canon actually has a bigger CCD (the "film" of a digital camera) than the Fuji. This allows us to pick out a fish from a larger image and still have it be big enough for the web. The Canon A80, while physically small, has all the aperture, shutter speed, and other manual setting options that our Canon A-2 SLR's had when we used film cameras. And the underwater housing is dedicated to the camera, and so all those features are accessible even underwater!
The Canon A80 gave out (electronic problems) in late 2006, so we purchased a 7 megapixel Canon A710 IS, with a 6x optical zoom. Unfortunately, each camera has its own unique underwater housing, so we were up for a new housing as well. With our son Christopher off at college, Amanda has become our primary underwater photographer. (Our land camera, by the way, was changed from the Fuji to a much better 8 megapixel Canon Rebel digital SLR which takes our wonderful image stabilized telephoto lenses from our old Canon A-series film cameras.)
One problem we faced with underwater photography is that water quickly eats up all red light, so our earliest underwater pictures came out very blue. We can adjust this on the computer afterwards, but it takes a long time. We'd shot over 1,200 underwater pictures before Chris worked out that the Canon can store several different white-balances. So we adjusted the white-balance at about 12 ft deep, and now our shots come out much better - enough so that now we want to go back to all our previous snorkels and dives and re-shoot them! The Canon A710 has this feature as well, but less sophisticated than what we had on the A80.
In 2011 when the Canon A710IS died, we were in India, of all places, and about to sail off to the Maldives once again. Oh, no! No underwater camera! What we found in a camera shop in Chennai was the 8 megapixel Olympus Tough 8010, a small, rugged camera that could go snorkeling with us, but not scuba diving. It would have to do. Unfortunately, its mechanisms for determining white balance were not very sophisticated, so we got rather red images.
Nudibranchs | Coral Reef | Venomous Animals | Angelfish | Butterflyfish | Damselfish | Puffers | Sharks & Rays | Snappers & Breams | Surgeon/Rabbit Fish | Triggerfish | Wrasse & Parrotfish | Other Reef Fish
Up | Reef Animals | UW Photo How-to | Scuba Diving
Top Level: Home | Destinations | Cruising Info | Underwater | Boat Guests | Ocelot | Sue | Jon | Amanda | Chris | Site Map | Make a Comment
---
Lifetime
Commodores
of the
Seven Seas
Cruising
Association

If our information is useful,
you can help by making a donation
Copyright © 2000‑ Contact: Jon and Sue Hacking -- HackingFamily.com, svOcelot.com. All rights reserved.