Fiji Map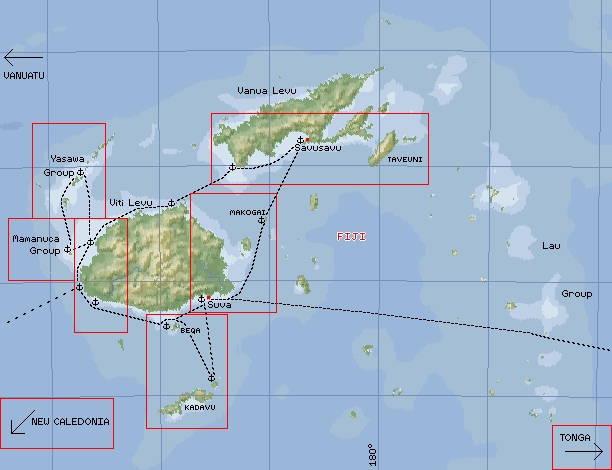 The Fijian Archipelago - Click on a marked area to go to a description of that area
Map scale is 60 nautical miles (69 statute miles or 111 km) per division
Fiji is composed of 2 main islands - smaller Vanua Levu to the NE and rounder Viti Levu to the SW - as well as several smaller island groups like the Lau (to the east), and the Mamanucas (ma-ma-NU-thas) and Yasawas to the west.
The big islands are much larger than any we saw in Tonga or even French Polynesia. For scale, the grid-lines are 60 miles apart. The sail from Suva to Makogai (MACK-ong-guy) is 70-odd miles, about the limit of what we'll do as a day sail if we have to navigate through reefs at the end.
We sailed through the Lau Group the morning of October 6th, 2004, and continued on to Suva so Chris could take his SAT (university entrance) exams at the International School there. Suva is the capitol of Fiji and the largest city in the oceanic South Pacific. A week or so later we headed north to meet friends in Makogai, cruising with them for about a week around Makogai and Naigani (too small to be pictured here, SW of Makogai) before we had to head up to Savusavu. Savusavu is the cruising-capitol of Fiji during cyclone season, with lots of cruising boats hanging on what they call cyclone moorings. We stayed a week before pulling away from the (somewhat strange) social scene and sailing two days (hard on the wind) back to Suva.
We stayed just outside of Suva for almost 6 weeks so Chris could finish his second set of SAT university entrance exams and apply to universities while the rest of us tucked into some boat maintenance jobs and went Christmas shopping in the big city. We sailed back up to Savusavu so we could have Christmas with friends, and enjoyed some snorkeling and land-tours on the northern island.
In early January 2005 we day-sailed for three glorious days around the top of Viti Levu to Lautoka, where we picked up Jon's father when he flew in. The next two months were spent cruising around the Mamanucas and Yasawas with Colin and later Rori (Jon's niece). At the time, we were virtually the only cruising boat moving around, so everyone got to know us. After Rori left, we got to work planning our two-month trip back to the States so Chris could look at universities. Although previous plans had us leaving Ocelot in Suva, we decided at the last moment to leave her in a safer cyclone-hole at Musket Cove in the Mamanucas.
A few weeks after we got back in June, Sue's niece Emilia came down for two weeks. We decided to take advantage of a few days of light wind, and headed for the southern islands of Beqa (BEN-ga) and Kadavu (kun-DA-voo) where we dove into some Fijian culture and villages. After that we were back up to Suva to show Emilia the city, tour the island, and drop Emmy off at the airport. We tried to sail to Vanuatu but the weather was uncomfortable and we ended up turning back into Lautoka. So Sue and Jon spent a month and a half around Lautoka and the Mamanucas while Amanda worked in the US. She flew back to Fiji in early September with yet another cousin, Tianna. There was a week of fun activities and festivities at the Musket Cove Regatta, and then two weeks at Likuri Island (including one more aborted passage to New Caledonia) waiting for a weather window. It finally opened up and we jumped off to New Caledonia in early October 2005.
Back to previous page | Up | Fiji Map | S Vanua Levu | East Viti Levu | West Viti Levu | Mamanucas | Yasawas | Southern Islands
Ecuador | French Polynesia | Kingdom of Tonga | Fiji | New Caledonia | Australia | Fiji Newsletters | Fiji Diving
Top Level: Home | Destinations | Cruising Info | Underwater | Boat Guests | Ocelot | Sue | Jon | Amanda | Chris | Site Map | Make a Comment
---
Lifetime
Commodores
of the
Seven Seas
Cruising
Association

If our information is useful,
you can help by making a donation
Copyright © 2000‑ Contact: Jon and Sue Hacking -- HackingFamily.com, svOcelot.com. All rights reserved.