13 Nov 05
Ocelot reaches Manly, Australia!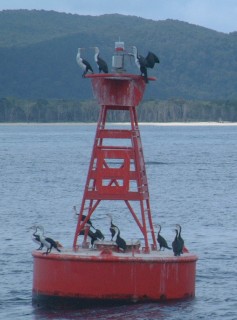 Pied cormorants on the buoy
in Moreton Bay, Australia
Dear Friends and Family,
G'day mates! Here we are 7 days out of New Caledonia and now anchored safely at the south end of Moreton Bay, Australia! We'll go through the officialdom of customs, immigration, and quarantine at Manly in the morning.
We left you last night with a beautiful calm night, lots of stars and Scud just a few miles west of us. As a foreshadowing of things to come Peter (Scud) radioed us at 9 pm to comment on all the boat traffic he was getting on his radar. He was seeing blips from big ships, all south-bound. Our conclusion was that they were using the strong East Australia Current to move briskly south. The strange thing was that he wasn't getting any visual on them. Too much haze, maybe?
By 2 am when Sue came up on watch Amanda pointed out lightning ahead and no less than 8 ships all around us. Whoa! Nothing like electricity and shipping lanes to give you a jolt of adrenalin. Better than a cuppa in the middle of the night. Sue and Amanda fired up the radar to track each of the (sometimes hazy) lights to be sure no one was on a collision course with Ocelot. Just when things were getting mellow and all the big guys had passed safely ahead or astern of us we got the first squall. Just a little rain, but no wind shift. Sue put on her foul weather gear then radioed Scud to ask if they had had much wind in the squall and Peter said they had passed through 2 of them with no wind problems.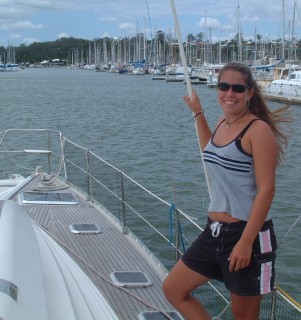 Mandy arriving in Manly Marina
(say that 5x fast) to clear OZ Customs
Sue looked at the black sky, and was just getting used to the idea of getting a little wetter when the wind died and shifted ahead. Within seconds the skies opened and the rain lashed down. Then the wind quickly built until it howled. Three am had all hands on deck rolling up the jib, dropping the main, securing the nav table from the incoming deluge, and Amanda hand-steering in 40 knots. We had a lightning strike about half a mile away but could barely hear the thunder over the noise of the rain! It only lasted about 15 minutes and when it was done we were happy to see we had no damage. In fact, we had sparkling clean decks glistening in the first morning light - the rain had washed off all the salt of the last 7 days.
With a new fresh breeze and land in sight we scooted the remaining 14 miles into the northern entrance to Moreton Bay, rounding a big red buoy on which perched a bevy of pied cormorants and brown boobies. Australia! Scud had awaited daybreak to join us going down the bay, and because the tide was running north against us, we pulled into a sandy anchorage on the west side of Moreton Island (which is forest-covered sand-dunes). We had to fly our yellow quarantine flags and have no contact with anyone else, but we did all jump in the cool, clear water. Oh, heaven. Of course, the tide was still running strongly so we had to tie lines behind our boats to keep from being swept away!
We had lunch, ran a load of wash and took a short siesta. When Peregrinata sailed by in the early afternoon we joined them sailing down the bay towards Manly. We got permission to anchor behind Green Island for the night and clear customs, etc. starting at 7 am. The best thing is that while we're not to contact anyone else, we've been given permission to intermingle between our boats, so there's a 3-boat, 11-person landfall celebration party happening tonight. Very decent of the Aussies, what? Welcome to Oz!
Thanks for all the email while on passage. We really appreciate it. Definitely a highlight of each evening at sea! And although Sue wrote this letter, most are written by Jon, the closet poet who is practical enough to know that computer engineering pays better than writing!
Fair winds (metaphorically and realistically) to all -- Sue, Jon and Amanda
Up | 7 Nov 05 | 8 Nov 05 | 9 Nov 05 | 10 Nov 05 | 11 Nov 05 | 12 Nov 05 | 13 Nov 05 | Ocelot in OZ | Great OZ Road Trip | Back in the Tropics | Great Barrier Reef | Gulf of Carpentaria | Darwin | Cruising Australia
Panama Letters | Ecuador Letters | Galapagos Letters | Marquesas Letters | Tuamotus Letters | Tonga Letters | Fiji Letters | New Caledonia Letters | Australia Letters
Top Level: Home | Destinations | Cruising Info | Underwater | Boat Guests | Ocelot | Sue | Jon | Amanda | Chris | Site Map | Make a Comment
---
Lifetime
Commodores
of the
Seven Seas
Cruising
Association

If our information is useful,
you can help by making a donation
Copyright © 2000‑ Contact: Jon and Sue Hacking -- HackingFamily.com, svOcelot.com. All rights reserved.