Australian Arrival
Arriving in Australia
Dear Cruisers,
The threat of South Pacific cyclones brings many vessels to Australia each November and December, but adventures in this land of kangaroos, cockatoos and crocodiles can begin with a bureaucratic nightmare if youíre caught unawares.
This information is from our personal experiences, circa 2005-6. Australia is becoming increasingly bureaucratic, so some things may have changed since then, but you still have to get your ducks lined up well in advance. Australian visas are necessary and can be obtained from the consulate above Suva, Fiji, or from the consulate in Noumea, New Caledonia, or even on-line if you only need 3 months. The consulate in Fiji is a fairly long taxi ride up to the top of the hill above Suva, and it's only open in the mornings. The consulate in Noumea, on the other hand, is a fairly long ... elevator ride to the 4th floor of an easily accessible downtown office building.
Our visa hassles are documented here, and we suggest you read them if you're sailing in. If we had it to do over, we'd probably try for the 1 year (or even 4 year) multiple entry visa. Even though we didn't have all of the correct paperwork on board, the Australian visa folks apparently don't need everything, and will issue visas even if you have gaps in your paperwork. We noticed this hard exterior image and softer interior reality several times in dealing with Australian bureaucracy. I suspect that what they're most interested in is proof of financial solvency, so you don't become a burden to their society. Fair enough.
Australia keeps one of the most vigilant border watches in the world. Concerned about illegal immigrants and drug trafficking, Customs Coast Watch planes over-flew us 450 miles offshore. They contacted us by VHF to record name, nationality, port of registry, registration number, destination, ETA and number of persons on board. 96 hours prior to arrival in Australia, each vessel is required to have communicated by email or fax the same particulars. Once in port, three branches of the government are dealt with: quarantine, customs and immigration.
When entering Australia, make sure you have no fresh foods - they'll get confiscated. Get a list of these from the consulate when you get your visa and plan accordingly. Forget about loading up with French cheeses in Noumea. The only dairy products allowed into Australia are unopened ones clearly labeled as originating in either New Zealand or Australia. This includes powered milk, UHT dairy products, cheeses and canned butter. No Danish hams, French pate or other canned meat products, popcorn, eggs, cake mixes or products with eggs in them, honey or dried beans that could sprout, fresh fruits or vegetables, fresh or frozen meat or poultry may enter the country. Canned fish products may be allowable or not, depending on country of origin. They do allow you to keep any fish caught on passage, and vessels over 25m are exempt from some of these regulations.
Australians are also concerned about the inadvertent importation of pests such as weevils, ants, moths etc. Even the most meticulous cooks can be plagued by weevils or moths that hatch in dry goods purchased in the South Pacific Islands where items sit too long on the shelves. So donít take offense at the idea, take action. Think of the Australian landfall as an excuse for a massive spring cleaning. We scrutinized our packages of rice, flour, pasta and cereals. We washed and dried all basketry and souvenir wooden carvings then placed them in large plastic bags into which we sprayed household insecticide, then left them sealed and set aside for inspection by quarantine officials. Seashells, shell jewelry, and plant/animal materials used in artwork are also subject to inspection and possible confiscation or costly fumigating. We packaged these items together ready to show the officials if asked.
Also, make sure you arrive on a weekday, during working hours, so you don't get charged overtime. When we crossed from New Caledonia, we sailed with 2 other cruisers, all of us heading for Brisbane. Upon arriving in Moreton Bay on Sunday morning, we anchored for a couple hours up against Moreton Island to wait for Peregrinata to catch up. Then all 3 of us continued to Green Island, just off the Manly Marina, ready to clear in the following morning. I contacted the Coast Guard (called the "Coasties") and was told this was fine. Then I told them that we'd all crossed together and had 5 teens between us, and asked if we could get together between just us arriving boats, without (obviously illegal) contact with boats already cleared in. To our surprise (and to the Coasties credit) they had no problem with this, so we had a giant party and ate all the fresh food we could find on board all 3 boats.
When clearing in, we put all our potentially problematic food, basketry, shells, etc. out on our saloon table for the quarantine officers to inspect. They seemed to appreciate this openness, and cleared us quickly for virtually everything (as they did for our 2 companion boats). However, some boats (that arrived elsewhere) had lots of problems, with drug-dogs tearing up the boat and lots of food and even souvenirs confiscated. Not sure if this is just the officials in Manly (which seems to be a training site for Brisbane Customs) or the attitude of the cruisers. Since the officials charge US$140/hr, and they decide how long they want to stay, it's a good idea to keep them happy and moving.
The last thing quarantine did was to ask about when and where we last antifouled the boat. As of October 2007 all vessels entering Australian waters must have written evidence (letter from a marina or itemized receipts) showing that the boat was antifouled (with non-TBT paint) within the previous 6 months. While this legislation was not yet in effect when we cleared in, they still used an underwater camera to look at our hull. If the antifouling is not up to spec, the boat must be hauled within 7 days after arrival in the country (at the owners expense, of course). However, the quarantine officials intimated that simply wiping off the hull prior to clearing in, even if in Australian waters, would be fine. Again, vessels over 25m are exempt from some of this.
Brisbane Central Business District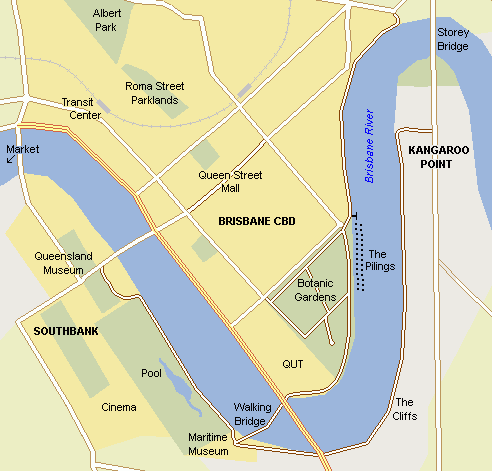 Map by Amanda Hacking
From Manly we motored up the Brisbane River, under the Storey Bridge (30m clearance) and tied between 2 pilings just off the Botanic Gardens. This was delightful and only A$200/month, which included hot showers, laundry room, dinghy dock, great walks, and a superb view. There's even (somewhat expensive) wireless internet available to your boat, although cheaper and faster options are only 3 blocks away. There's a Woolworth ("Woollies") grocery store about 4 blocks away but cheaper shopping centers require a bus. The Sunday (Jane Street) market is a few miles upriver - tie your dinghy to one of the 3 floating docks for the rowing club on the left - for handicrafts, fresh fruits, veggies, and even meats. There are 2 yacht-shops, Whitworths and GlasCraft Marine, about 1-2 miles away but in different directions. The free SouthBank Beach swimming pool is a delightful walk through the Botanic Gardens and across the walking bridge, as is the modern muti-screen movie theater.
If you're going to be on the pilings for a while, use some springy lines as your primary defense against surge from passing ferries. We went to local bicycle shops and asked them to put aside old dead inner-tubes for us, which they were glad to do. About 6 of these, wrapped in plastic bags to prevent them perishing in the sun and tied to each of our 4 10mm "spring" lines, took the vast majority of surge. We spliced thimbles into the ends of our 16mm 3 strand dock-lines, which we then shackled to the pilings and suspended from our spring lines so they'd stay out of the water. With 2 dock lines and 1 spring line from each corner, we felt safe leaving Ocelot on the pilings while we toured SE Australia by car.
Boats larger than 70-80' (about 23m) will not fit at the pilings, but brand-new RiverGate Marina and another marina further up the river and just southeast of the Storey Bridge, can both take larger yachts. Most mega-yachts make landfall in either Sydney or Cairns, although Mackay, near the Whitsunday Islands, now has facilities for larger yachts. Note that foreign flag vessels may no longer clear in at Scarborough. Customs ports on the east coast (north to south) include:
Town
Marina
Access depth
Feet Meters
Max length
Feet Meters
Cairns
Marlin Marina
10.5'
3.2 m
130'
40 m
Townsville
Breakwater Marina
10'
3.0 m
165'
50 m
Mackay
Mackay Marina
28'
8.5 m
Bundaberg
Port Marina
15'
4.5 m
150'
45 m
Manly
East Coast Marina
7'
2.1 m
80'
24 m
Coffs Harbor
No facilities for vessels over 20 m
Sydney
Many options
If you need rigging work done, there are 2 riggers in Lytton, at the far eastern end of Brisbane - David Lambourne, and AllYacht Spars (I corresponded with Joel Berg). Both seemed competent, but neither one responded well to emails or even phone calls. I finally had to drive down to talk to them personally, as my needs were non-standard. David is probably technically more competent, but he's also both more expensive and less responsive, so I went with AllYacht when we replaced our Cap-Shrouds and "Sea-Gull Striker" with 14mm Compak (a Dyform clone) wire. This non-responsiveness to business opportunities was something we noticed all over Australia - they're not at all the service-oriented business model we're used to in the USA, despite other similarities. Perhaps their low population density (only 5% of the US) makes them unused to competition.
While I'm on the subject of yacht services, we had good dealings with Sailmakers Colin & Debbie Quin in Mooloolaba (phone [07]5450 6889 or mobile 041 883 2615) who quickly repaired our spinnaker for us over a weekend and then charged us $50 less than their quote!
On the other hand, getting our life-raft serviced by Sunshine Liferaft, also in Mooloolaba, was not a pleasant experience. They charged us almost twice as much as their quote, and after hours of arguing only backed down a couple hundred dollars. If you have to use them, make sure they know you're not going to pay more than their quote.
Fair Winds and Calm Seas -- Jon, Sue and Amanda Hacking
Pacific Cruising Info: Up | South Pacific Weather | South Pacific Schedule | Panama Transit | Cruising Galapagos | Cruising Marquesas | Tonga-Fiji Hazards | Cruising Fiji | Australian Arrival | Cruising Australia | Cruising Solomons | Cruising PNG | Cruising Philippines
Cruising Info: General Cruising Info | Equipment | Pacific Ocean Cruising | Indian Ocean Cruising | Provisioning Food & Fuel | Cruising Recipes
Top Level: Home | Destinations | Cruising Info | Underwater | Boat Guests | Ocelot | Sue | Jon | Amanda | Chris | Site Map | Make a Comment
---
Lifetime
Commodores
of the
Seven Seas
Cruising
Association

If our information is useful,
you can help by making a donation
Copyright © 2000‑ Contact: Jon and Sue Hacking -- HackingFamily.com, svOcelot.com. All rights reserved.