Cruising Philippines
Why Cruise the Philippines? With over 6,000 islands, clear water, minimal pollution, great snorkeling and diving, plus tropical white sand beaches, this place is a Pacific cruising paradise. Like the rest of the western tropical Pacific, it does get hit by typhoons. It's quite populous, and has been largely fished out. To counter that, the Filipino people are friendly, courteous, and fun. And most speak English, the country's second official language.
Our Story: After returning to Indonesia from almost a year in PNG and the Solomons, we decided to head north into the Philippines to buy new solar panels and see what the "big city" of Davao had to offer. We didn't know if we would stay a few months or more, so we took it one week at a time. We soon realized that we could traverse the entire country from Davao, up to the Visayas, across to Palawan and then jump off for Borneo to find a good Malaysian marina to leave Ocelot in while we took a multi‑month sojourn to the States and beyond. We enjoyed our time in Samal (the marina near Davao), the convenience of shopping, the good prices of things (like solar panels) and the camaraderie. In January we found one of the last calm weather windows and headed north up the east coast of Mindanao. This 200nm journey can be rough, heading against both wind and current in the winter. But we were lucky with super‑light winds (yes, we had to motor a lot) and we found a counter‑current in close to shore. We spent February exploring the Visayas with family visitors who left from beautiful Coron, north of Palawan. In early Mach 2020 we were all ready to sail south to Puerto Princesa to clear for Malaysia when the COVID‑19 virus hit. We got as far as El Nido and were quarantined on the boat for 2 weeks before being able to participate in life under Enhanced Community Quarantine in Corong-Corong and El Nido municipalities. That story is on‑going. The country graciously suspended all visa extension requirements, and we have been made to feel part of the community as we all lockdown.
What you'll find here: This page provides information on Officialdom, Safety, Weather, Money, Provisioning, International Shipments, Fuel, Phones and Internet, Charts, and Downloadable Tracks.
Our Anchorages are below that, divided up into: SE (Mindanao), Central (Visayas), and Western (Coron/Palawan).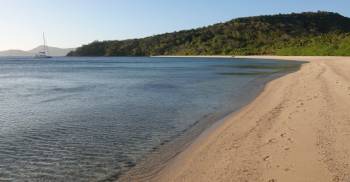 Lovely deserted long sandy beach anchorages
Officialdom: No visa is required ahead of time. On arrival and clearance with Immigration, cruisers receive a 30 day visa which can be extended several times, for 30‑60 days for about US$ 3/day. Clearance with the Customs office requires the normal last port clearance, boat papers, and crew list. We cleared in at Davao, with the boat in the Holiday Ocean View (HOV) Marina in Samal, and it was efficient and painless.
Safety: The Philippines gets a lot of bad press about the Abu Sayef Group (ASG), a terrorist organization based in the islands SW of Mindanao. The most infamous incident was the kidnapping of 4 cruisers from the HOV Marina in 2015, eventually resulting in the deaths of the 2 Canadians. This was a huge slap in the face to President Duterte, who was Mayor of Davao for many years, so he stepped up security in the Davao area (and especially at the marina, which is probably one of the most secure places to be in the Philippines) and went after the ASG with a vengeance. Unfortunately, while they've been knocked back, it's very hard to completely eradicate terrorist groups, so it's very unwise to sail anywhere near the SW corner of Mindanao or the south Sulu Sea. Boats rounding Malaysia's Borneo will be aware of the Malaysian organized Passage to the East escort by ESSCOM military forces due to the activity of ASG in that area. Isolated terrorist events have taken place in the central Visayas, but getting in the way of one of them is now very rare. Boats are now cruising through those areas continuously. Elsewhere in the Philippines, the people are welcoming and respectful of private property. We have heard of no boardings or petty theft from boats, nor theft of dinghies. The Philippine Coast Guard patrols most of the waters and our dealings with them have left us feeling welcome.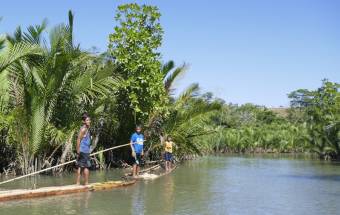 Rivers to explore with friendly locals
Weather: Philippine winds are influenced by the monsoons. The NE Pacific trade‑winds, called the Amihan, are prevalent from about December through April. November and May are shoulder months with variable winds, and the SW monsoon, called the Habagat, blows from about June through October. Typhoons do cross the Philippines so one must stay vigilant. Generally, Davao, in southern Mindanao is too far south for typhoon activity. Central Visayas and northern Palawan (El Nido and Coron) are sometimes hit with late season storms in November and December.
Money: In 2020, there were 50 Philippine Pesos to the US dollar, which made conversion pretty easy. Simply double the peso amount and knock off 2 digits to get US dollars. Bills come in denominations of 20, 50, 100, 500, and 1,000 pesos. The money all changed in 2010, so make sure you don't get stuck with an old bill, as they're worthless now. ATMs are everywhere, but they all charge P250 (US$5) per transaction, so you want to withdraw as much as possible. BPI (Bank of the Philippine Islands) lets you take out P20,000 ($400) but almost all other banks only let you take out P10,000 ($200). One exception is HSBC in Davao, near G‑Mall, which apparently gives up to P40,000 ($800) with no fee, but they're very few of them so they're hard to find.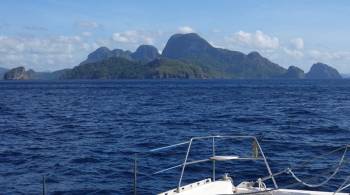 Stunning scenery near El Nido, Palawan
Provisioning: There is no doubt that the best selection of food stuffs will be found in the 3 major cities: Manila, Cebu and Davao. We didn't get to Manila, but in Davao City there are big malls with everything you could want. SM Lanang (the closet mall to the ferry from Samal Island) is well stocked and has shops like ACE hardware and many other up‑scale places. Abreeza Mall is also good (groceries on the bottom floor as usual), and the Costco‑like S&R membership store where things are imported from Australia and North America. The stock turns over fast, though, so if you see what you want, buy it. It may not be there in a couple of weeks. They sell liquor and wines, but nothing Philippine-made. For cheap, local Tanduay Rum, hit the liquor stores in the other malls, or even the convenience stores over on Samal. Word is that the fresh market in Chinatown, Davao, has the best prices, but it may help to have a local friend do the shopping. We bought all our fresh fruits and vegetables in Babak, the village near the marina. Many big supermarkets (in the malls) have an "imported" aisle where you'll find tortillas, pickles, wasabi, etc.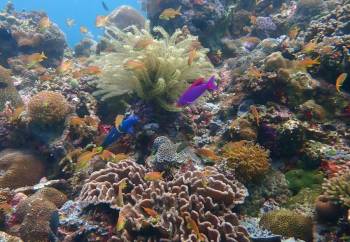 Wonderful snorkeling and diving
In Cebu we shopped at Robinson mall right by the Yacht Club, which was adequate but lacking things like wraps (tortillas) and some other western food. We didn't get over to Cebu proper where the mall supermarkets are at least as well provisioned as in Davao. You can get a taxi or jeepney to go south to the fresh market.
Both Coron and El Nido, despite being major tourist areas, had very poor shopping. The largest stores are about the size of a 7‑Eleven. The two main stores are Inggo Sari Sari in El Nido (closed Sat/Sun) and Mak in Corong Corong. The items we missed most were: cheese, yogurt and good powered milk (with no additives or sugar). Cheese can be found in Le Nido at La Tienda, a deli across from the El Nido Bakery. Their stock varies from week to week, and despite the very high prices of $10/pound, they do carry mild cheddar, mozzarella, cream cheese, and other hard cheeses. With the lack of good powdered milk, we sometimes bought UHT milk or UHT yogurt. All grocery prices in El Nido (and the market in Corong Corong) are the highest we've seen in the Philippines, presumably because they're used to catering to tourists.
International Shipments: Somewhat surprisingly, the Philippines does not seem to respect "In Transit for Foreign Yacht" on packages, and just about everything will get held up in Manila as it goes through Customs. Several boats have had to travel to Manila personally to (try to) recover their packages shipped in from overseas via DHL or FedEx. Clearly, this is not a good option.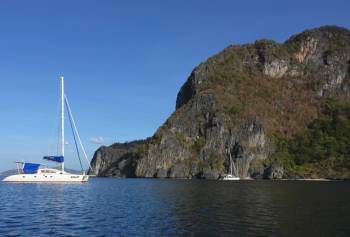 Magnificent anchorage at Corong Corong
However, there are other options. ShippingCart.com has locations in Hayward, California, and in England. You register with them and they give you an address and an account number. When you have things shipped to those addresses (with your account number in the address), they will aggregate them and then forward them on to whatever address you specify in either the Philippines or in Malaysia, and somehow the packages don't go through Customs! Note that there are restrictions on what you can ship, and they will open all packages and photograph the contents, both to verify them and to show you what has arrived. In the Philippines, they work with the LBC network, which has offices all over the country, and in theory they will deliver a package to your door. Air freight prices are about US$ 7/lb, or you can ship by boat, which is slower but much cheaper. In normal times, packages take about 10 days to arrive at an LBC office.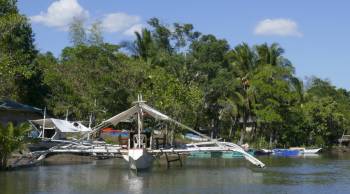 Some pretty wild fishing boats
Another option is Johnny Air, with offices in NY, San Francisco, and Los Angeles. They claim to ship in 7‑10 working days, but they only ship to their own offices in Manila, Davao or Cebu.
Fuel: Diesel is readily available and seems to be of good quality (clear, with a slight greenish tinge). But, at just under US$1/liter (in 2020) in the population centers, and more in the outer areas, it's expensive relative to neighboring Malaysia and Indonesia. Prices don't seem to be regulated, so stations can charge what they like, and there are many different companies selling fuel. There's not enough marine traffic to warrant many diesel docks, so we hire a vehicle to take our jugs to a station.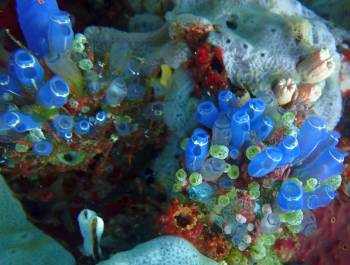 Colorful bouquets of tunicates
We came upon an interesting opportunity for Propane. Both the US/Oz/NZ (reverse thread) and the SE Asian (Malaysia, Indonesia) snap‑on fittings are common, so both types of tanks can be filled. But ECGas (in Davao, +63‑932‑122‑5884) sells fiberglass tanks (made in Germany) for P5,700 (US$114) filled and with a regulator. The tanks are clear enough that you can see the level of propane inside, and, of course, they don't rust. Unfortunately, they only sell them with the SE Asian snap‑on fitting, which can't easily be filled by decanting as it doesn't have a bleed‑screw. The tanks are slightly taller than our steel tanks, but they're the same diameter, so they fit in our same holders. They hold 24 lb (11Kg) of LPG, so they should last longer than our old 20 lb (9Kg) steel tanks. Our old tanks were starting to rust (again) so we removed their US/Oz fittings in the hopes that we can put them in the fiberglass tanks when they're empty.
Phones and Internet: There are 2 companies providing cell services in the Philippines: Globe and Smart. Each offers their own deals and have their own apps, of course. Most areas are covered by both carriers, and neither is significantly dominant, but sometimes one is better than the other, and we try to note that in our anchorage descriptions. We bought a SIM for each, and swapped between them depending on which had the best signal for where we were anchored. Calls and texts across carriers cost more than within your carrier, but when you're calling someone, it's difficult to know which system they're on. In 2020, both were offering a similar deal of 800MB/day for a month (up to 24GB total) for P1,000 ($20), which seemed like the best day to day deal. Once you run through your allowance, they throttle throughput until it's unusable. Sometimes they send a text to say you've gone over your limit, but not always. Coverage generally seemed pretty good.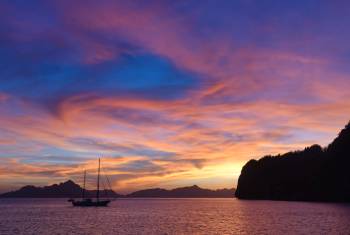 Stunning sunsets off Palawan
If you're going to be in the Philippines for long, then you might consider investing in a Globe‑at‑Home device. It's basically a WiFi router with a Globe SIM for the internet uplink. It provides much better speeds than we were able to get by tethering our phone. In 2020, the device was P1,000 ($20). Several data plans were available, the best (for us) being P1,000 ($20) for 60GB that lasts a month. The device can be powered directly from 12v, which saves running an inverter, and it uses a very common power plug. Given the cheaper cost of the data, break‑even occurs at about 2 months, assuming you use that much data.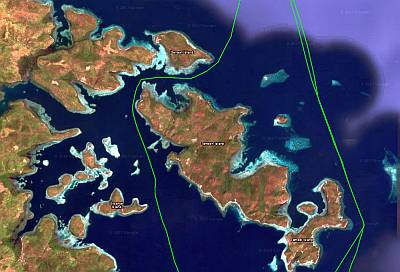 Philippine reefs really want good satellite imagery
Charts: Like all of SE Asia, the navigational charts for the Philippines are terrible - either displaced or low resolution or both. DO NOT TRUST YOUR CHARTS! We make our charts from Google Earth (GE) and SAS Planet. They're extremely accurate (maximum errors on the order of 10' or 3m) and very high resolution, as we make them at only 2000m elevation (for GE) or zoom level 18 (SAS) to get all the detail they have to offer. It's very comforting to know your charts are exactly correct. Making your own charts (KAPs or mbTiles) is very time and bandwidth consuming (we have a HUGE amount of time and effort invested in ours) but the tools are all free and we show you how on our KAP Files page. Or, we've posted our own KAPs for cruisers to download. These KAPs are huge, and we have to pay extra to provide this service, so we ask for a small donation (or make a large donation

). They cover the entire coastlines of most cruising areas from Micronesia and the Solomons in the east to the Maldives and Chagos. KAPs are a MapMedia format which most computer‑based navigation programs can display. We typically use OpenCPN, a free download, to display our KAPs and mbTiles, and we use a COM‑port splitter to feed our GPS signal to both OpenCPN and SAS. Displaying both programs side‑by‑side on a wide‑screen display gives the best of both worlds when dodging between coral‑heads. We've also posted our sailing tracks through the Philippines below, along with chart annotations and possible additional anchorages.
Note that OpenCPN now allows one to adjust CM93 charts to position them more accurately. This also positions depth readings more accurately:
With high resolution KAPs or mbTiles displayed, drop several marks on the tips of islands or peninsulas or other prominent features
Switch to CM93 charts, zoom in to the chart you want to adjust, and turn off chart quilting (F9, or in the Options window)
Right click on the chart and select CM93 Offset Dialog... (near the bottom, but it only appears when quilting is off)
Select the chart to adjust (should be only 1 or 2 listed). Adjust it so the features match the marks dropped in step 1 and click [OK]
Turn chart quilting back on (F9) and verify that CM93 and the KAPs agree (and clean up your dropped marks)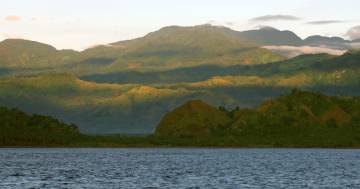 Impressive coastal mountains of Mindanao
Cruisers: We are now publishing Downloadable Track Files in OpenCPN (.gpx) format and in MaxSea (.ptf) format (not all tracks are available in all formats yet - we're still working on it and they take time). You can download the track files either by clicking on the links in the tables below, or by clicking on the track in the Google Map below the table. The MaxSea files are in native format but the OpenCPN files are zipped so they download faster, and they need unzipping after they've been downloaded (which most operating systems do natively). If 2 files are shown, the smaller one has been edited to remove redundant points from straight tracks. This improves the speed of the download as well as performance once the file is loaded. Sometimes MaxSea Track files are separated from the Mark (chart notations) files. Download instructions are provided if you need them.
These files are provided free and we are actively soliciting cruisers to send us your track files so we can post them for others to download. If you would like to to participate, please email us your track files (as attachments to our HackingFamily account, not our Winlink acct) along with your boat name and draft. If you include your website and boat details, we'll link back to you from our Cruising Links page.
Disclaimer: While we always try to provide useful information, we can take no responsibility for its accuracy or usefulness. Prudent mariners will always navigate using all means at their disposal, and will not rely solely on electronic navigation.
Philippines Tracks
| | | | | |
| --- | --- | --- | --- | --- |
| Boat | Draft | Year | Comments | OpenCPN |
| Ocelot | 4.6' (1.4m) | 2020 | Davao to Palawan | 100 KB |
| Ocelot | 4.6' (1.4m) | 2020 | Anchorages only (included in above) | 17 KB |
| Soggy Paws | 4.6 (1.4m) | 2018 | Davao to Palawan & back | 141 KB |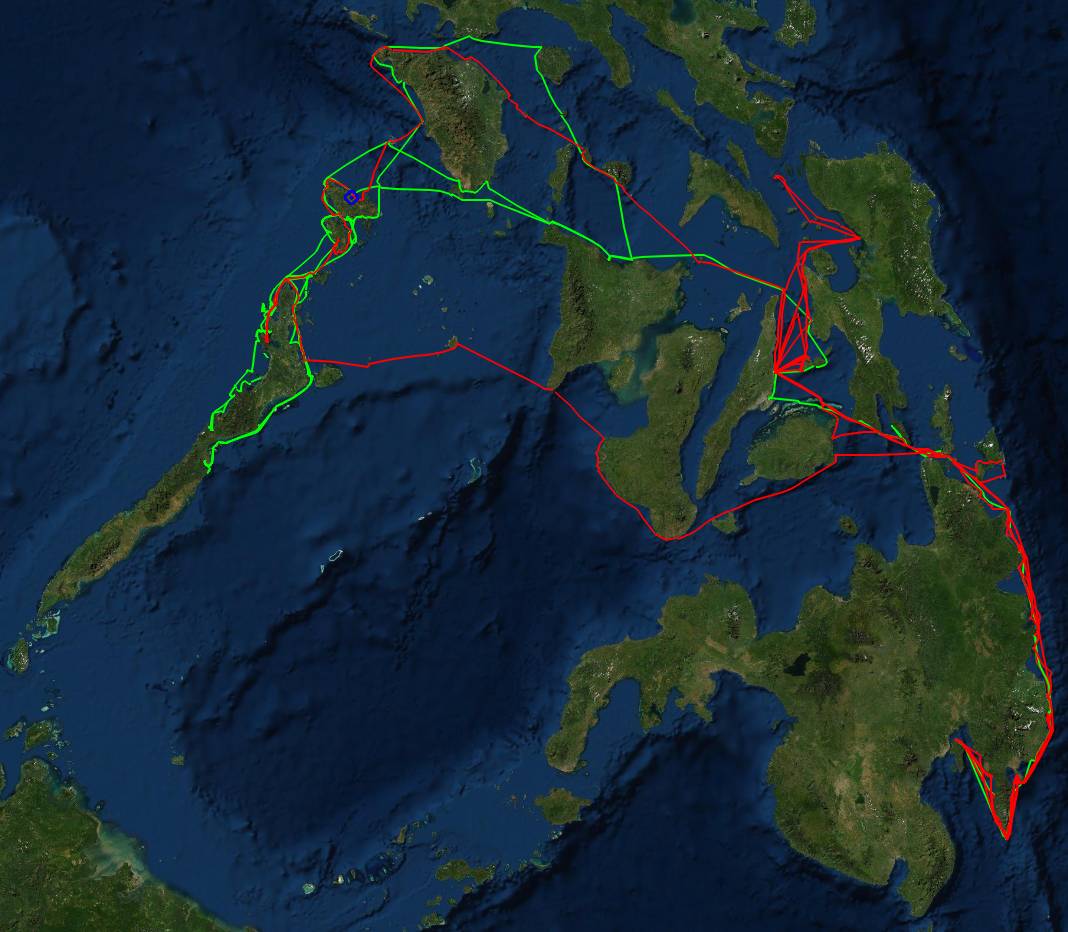 Tracks through the Philippines, Davao (lower right) to Palawan, Ocelot in green, Soggy Paws in red
Other Resources: Sherry McCampbell on Soggy Paws has amassed a huge amount of information from all over the web into her Philippines Compendium. She also has other publications you might find interesting on her Files page. Terry Sargent on Valhalla is also a long time Philippine cruiser, and his Terry's Topics page has lots of good resources, including a copy of the CM93v2 navigational charts and his list of Philippine anchorages in GPX format so it can be used with most navigation programs.
South-East Philippine (Mindanao) Anchorages
The table below, with the more in‑depth comments below that, lists all of the anchorages we visited on our way through the Philippines. The anchorage links go to the in‑depth comments below. We've now added satellite shots of each anchorage, with our track in and out (our anchorage is usually pretty obvious from the track). Our tracks are in Green, but other boat's (red) tracks are sometimes visible. These are much better than mud maps! Depths are in feet, distances are in nautical miles, latitudes are all north, and longitudes are all east. As always, if you have questions or comments, please contact us - we'd love to hear from you!
Month
Area
Anchorage
North
Latitude
East
Longitude
Depth
feet
Cell
Globe Smart
Comments
Jan
Davao Bay
Lavigan Inlet
6º18.16
126º11.21
32' mud
No
No
Lots of fishing boats
Nov
Davao Bay
Baksal Cove
6º40.71
126º05.23
51' mud
3G
3G
Exposed to the N and W
Jan
Davao
HOV Marina
7º11.89
125º42.62
Tie
4G
3G
Too nice, like Hotel California
Jan
E Mindanao
Lucatan
7º00.11
126º25.05
40' mud
No
3G
Headman Ri came to visit
Jan
E Mindanao
Baganga Bay
7º36.40
126º33.99
32' mud
3G
3G
Some swell comes in
Jan
E Mindanao
Barcelona
8º09.58
126º26.59
18' mud
Yes
Yes
Protected from NE, no swell
Jan
E Mindanao
Caguait Harbor
8º55.66
126º17.92
18' mud
3G
3G
Nice offshore breeze at night
Jan
NE Mindanao
General Island
9º24.80
126º00.14
63' sand
3G
4G
Very protected, but small
Jan
NE Mindanao
Kantiasay
9º51.02
125º35.07
35' sand
4G
3G
Protected in N winds
Jan
NE Mindanao
Mabua (Surigao)
9º47.83
125º26.30
20' mud
4G
4G
Swell can wrap into bay
| | |
| --- | --- |
| Is this useful? Buy us a beer! | |
---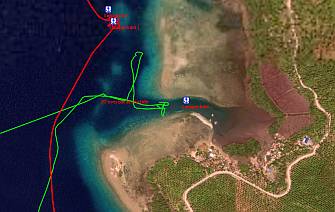 Lavigan Inlet anchorage and approaches
Lavigan Inlet, Davao Bay, 6º18.16'N 126º11.21'E 32' mud, no cell signal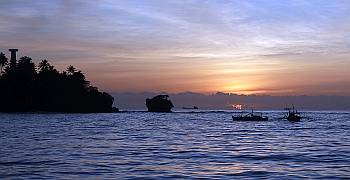 Lavigan fishing fleet in the early AM
We came into Lavington Inlet on a moonless night, which we wouldn't recommend, after running over a huge FAD in the dark (which we also don't recommend

). There's a series of small, round reefs just offshore that extend NNE from the end of the Lima Point reef, which don't show up on charts, so good light and satellite imagery are best. We had 20' (6m) where we came over the string of reefs (click on the satellite image at left for a bigger picture). We wanted to avoid anchoring in the middle of the channel, as there's an active fishing fleet based there, so we explored to the north a bit, but couldn't find a good place. In the end, we anchored in the channel and left our cockpit lights on all night. Note that currents can run strongly along this coast, which can be disorienting at night.
Lavigan is one of the closest anchorages to Cape St. Agustin, and offers good protection from all points except the west. It's a good jumping‑off point for rounding the Cape and starting up the east coast of Mindanao. It's 63nm to HOV Marina.
---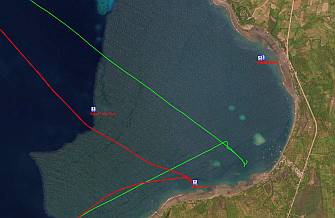 Baksal Cove anchorage and approaches
Baksal Cove, Davao Bay, 6º40.71'N 126º05.23'E, 51' mud, 3G cell signal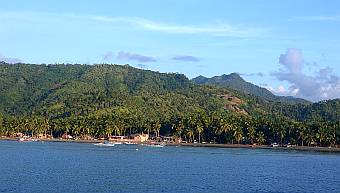 Baksal Cove, a typical sleepy village
Baksal Cove is one of about 4 anchorages along the eastern arm of Davao Bay that provides protection from the southerly winds that we had in November. There's only 1 small reef to avoid when approaching from the west, but to the NW are a sprinkled handful of reefs that extend for 6nm that need to be avoided. Our winds were light, so we anchored fairly far from shore, but in stronger winds there's probably better protection closer to shore and/or a bit further east, although there are lots of fishing boats to the east.
Otherwise, the anchorage is unremarkable. It's only 40nm to Holiday Ocean View Marina at the north end of Samal, so an easy day sail in either direction. Cell towers are visible from the anchorage, so there's good internet.
---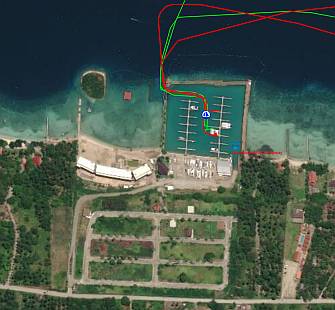 Holiday Ocean View Marina and approaches
Holiday Ocean View (HOV) Marina, Davao, entrance at 7º11.89'N 125º42.62'E, good cell signal (& free WiFi)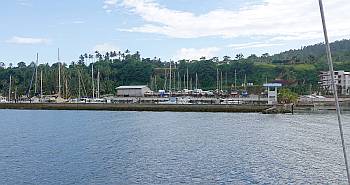 Approaching the HOV Marina entrance
There are at least 3 barriers to prevent unauthorized boats from entering the marina, so make sure to let the office know when you plan to arrive, as it can take several minutes for them to move the barriers. As of early 2020, they wanted boats to only use the right (eastern) set of slips. 220v 60Hz(!) power is available, with generator backup. Dock water is free, RO drinking water is $0.80/jug (20L).
In the photo to the left, the 3 big white buildings are the "condo‑tel" (mostly unoccupied) and to the right the black‑roofed marina clubhouse, hard‑stand, workshop, and haul‑out ramp. To the north of the clubhouse is now a small but pleasant open‑air restaurant. Up the steep hill is an area for housing, but there wasn't much happening there in 2020. The road at the bottom is the main road around Samal, left going to Babak and the ferries to Davao.
HOV Marina is a bit like Hotel California, in that it's so nice that it's difficult to leave. Cruisers organize potlucks, trips to local restaurants, singing nights, and exercise classes. The undeveloped property on the hill above the marina is part of the marina property and is a great place for walks and birding. A free shuttle runs to the ferries (and Babak, the local village) 3x/day, and another free shuttle takes people to the big Davao shopping malls & back every 2 weeks. Our 45' cat was charged $360/month, including electricity for our air‑conditioner. There's no charge for water, but the WiFi really only works at the clubhouse. Toilets and hot showers are in the clubhouse, along with laundry facilities, a TV and fridges with beer and sodas (honor system). Tata runs the workshop and can organize laborers for about $10/day. They can do wood, fiberglass, and some metalwork, including stainless steel welding. Unfortunately, the owner of the marina wants to turn the hard‑stand into more parking for the condo‑tel (which had very few patrons in 2020) so they're not allowing boats out for extended periods anymore, just for a quick bottom or repair job.
In 2015, the terrorist group Abu Sayef kidnapped 4 cruisers from the marina and eventually executed the 2 Canadians. But President Duterte was Mayor of Davao for many years, so it was a huge slap in his face, and he promptly improved security all over the area. Now a patrol boat lives in the marina, there are (very friendly) armed guards all over, a tower and guard post at the far corners of the breakwater, and no fewer than 3 floating barriers to entering the marina. While the satellite photo shows few boats there, it was taken shortly after the attack. Now more boats are there, and it feels very safe.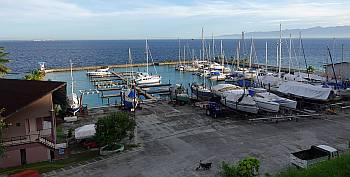 HOV Marina. Clubhouse left, workshop right
Babak is the town on Samal between HOV and the ferries. There are several shops, but quality and prices will probably be better in Davao. The public market on the water is generally very good for fresh fruits, veggies, and pork. There are several vendors selling spit‑roasted chickens, which are excellent and less than $4. We used Santos (get one stuffed with lemon‑grass).
Davao is a fairly amazing city, and much bigger than any city we've been to in SE Asia for a long time. Luckily, Google Maps seems to know where everything is. There are several shopping malls, for those so inclined, as well as a bustling (if cramped) Chinatown. Taxis are all metered and air‑conditioned, and were our preferred mode of getting around. They start at $0.80 to get in, and a 30 minute ride might cost $5. Jeepneys are much cheaper, but they stop much more often, aren't air‑conditioned, are usually very crowded, are difficult to see out of, and we didn't get around to figuring out where they went. Some Davao highlights:
Solastra sold Powitt 400W solar panels with a guarantee (12 years materials & workmanship, 30 years performance) for only $200 ($0.50/watt, credit cards OK) in 2020. They also sell several MPPT controllers (SRNE ML2430 for us), inverters, mounting hardware, and accessories. Nelson Fernandez (+63‑922‑869‑0042) is the branch manager and speaks excellent English, but he doesn't know boats and he's not a system designer. Mostly he supplies panels wholesale to building contractors (300/month). We replaced our 8x120W panels with 3x400W panels, each feeding its own MPPT.

ECGas (in Davao, +63‑932‑122‑5884) sells German made fiberglass LPG tanks (filled and with regulator) for $114 (cash only). They're the same diameter as our steel 20 lb (9Kg) tanks, but slightly taller, and they hold 11Kg. ECGas is just up the road from S&R (see below).

Jim Upholstery (+63‑823‑226‑263 or +63‑917‑165‑9459) was able to repair our big Stack‑Pack sail‑cover, replacing the entire top panel and moving the (25' long and new) zipper to the new panel. We supplied all materials, including Sunbrella and UV resistant thread, but this job was too much for our domestic machine, as some parts required sewing through thick webbing‑strap. They speak OK English, but didn't understand that the side‑flaps had to protect the zipper from UV, so we had to unpick the zipper and re‑sew it, but that was a minor part of the job. They also replaced the boat‑name on both sides, doing a nice job of copying our letter font. Job was on time at the quoted price.

Vikings all you can eat multicultural buffet, at the SM Lanang Mall. $13 for lunch includes beer(!) and soft drinks and the dessert bar. The menu changes daily, and the food was excellent.

S&R Membership Store, like a Costco. Membership costs $14/year. The shuttle from HOV comes here about once a month. The Swiss Deli across the street was also a favorite restaurant.

Dr. Bryan Guevara (+63‑927‑021‑8138) is a dermatologist in the building across from Brokenshire Hospital. He's young but seems very thorough, and he does his own pathology. He gave us both skin‑checks, which resulted in Jon having several bits of his favorite hide removed. If you need skin work, he's a good guy.
| | |
| --- | --- |
| Is this useful? Buy us a beer! | |
---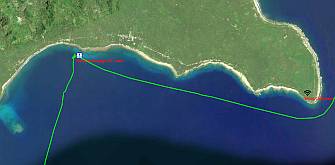 Lucatan anchorage and approaches
Lucatan, East Mindanao, 7º00.11'N 126º25.05'E, 40' mud, No Globe, 3G Smart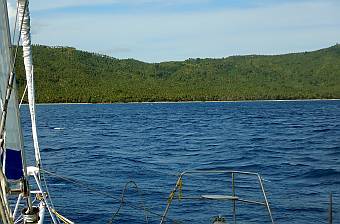 Sailing in towards Lucatan
Lucatan was the furthest north we could get once we rounded Cape San Agustin from Lavigan inlet, a 52nm day. There are no hazards to the approach. In the light NE winds we had at the time, it provided good protection and a quiet night. Looking at the satellite imagery, it's probably better to anchor about 80m to the east, up on the sand shelf, so the anchor isn't on such a slope.
We were a bit surprised to have the local headman, Ri (+63‑938‑853‑9708) come out to Ocelot (with an armed guard) to see what we were up to. After a gruff beginning, he realized we were no threat, and he became much more friendly, even offering to host us at his small home‑stay. He then contacted us several times as we went up the coast and cruised the Philippine interior, tracking our progress and praying for our safety.
There's a good Smart cell‑tower at the end of the point, but no Globe signal in early 2020. We had fairly strong (2.5 knot) southbound current against us just after rounding Cape San Agustin, but it soon turned into a positive counter‑current as we hugged the coast.
---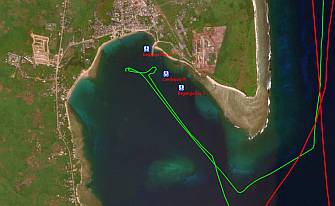 Baganga Bay anchorage and approaches
Baganga Bay, East Mindanao, 7º36.40'N 126º33.99'E, 32' mud, Good Globe & Smart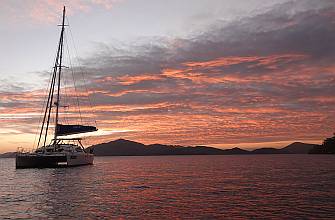 Some wonderful sunsets in the Philippines
Baganga Bay in one of a series of conveniently spaced anchorages along the east coast of Mindanao, just 44nm north of Lucatan. Unfortunately, it has a shallow reef smack in the center of the approach to the bay, and the reef from Lambajon Point extends south quite a ways (see satellite shot at left). You can go on either side of the central reef, but different charts have it positioned differently, so satellite imagery is best.
The town (Lambajon?) is actually quite big, with several fishing boats nestled at the north end of the bay, behind the dock. You can anchor just about anywhere along the eastern arm of the bay, but we chose to stay away from any potential shipping that might want to use the dock, so we anchored about in the middle but as far north as we could. Unfortunately, a swell sometimes works its way into the bay, and it can get uncomfortable if it catches you beam‑on. There was good cell coverage by both carriers.
---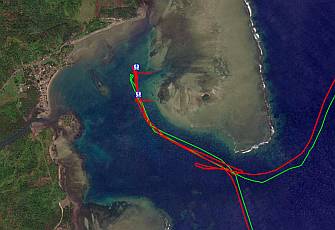 Barcelona anchorage and approaches
Barcelona, East Mindanao, 8º09.58'N 126º26.59'E, 18' mud, good cell signal

Only reef and this island protect the bay
Barcelona is another conveniently located protected bay, 38nm north of Baganga Bay. There are no hazards getting in or out, but the reefs extend quite far south when heading north. Although the waves can wash over the protecting reefs, the bay itself is remarkably protected, without any swell when we were there. Anchor as far in as you can, to get the most protection. The bottom becomes more sandy the further you go in.
Like in most other anchorages in the Philippines, we were pretty much ignored by the local fishermen. This was a somewhat strange, but relaxing change from the Indonesian "Hello Mistah!" that you get from passing children, or the quiet stares of villagers in the Solomons and parts of PNG.
---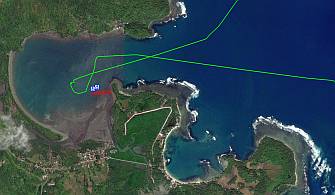 Caguait Harbor anchorage and approaches
Caguait Harbor, East Mindanao, 8º55.66'N 126º17.92'E, 18' mud, Good 3G cell signal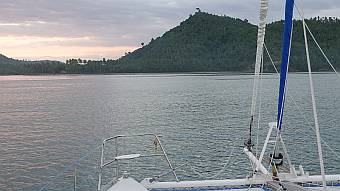 Approaching Caguait Harbor
Caguait Harbor is 53nm from Barcelona, so a relatively long day, but the other anchorages to the south all had issues. Bitogan Bay and Ayninian Island can both have strong currents. Caguait isn't as well protected from east sector winds, but it was relatively calm when we were there. A bit of swell came into the bay, but a lovely offshore breeze at night kept our stern to the swell and brought us cooler temperatures. There are no hazards when entering, but the bay shoals quickly if you try to go south. Also, there appeared to be small mooring lines sprinkled around the south side of the bay, possibly for tiny fishing boats, so we anchored more towards the middle of the bay. There were 2 big cell repeater stations on the hill to the north that we could just see from our anchorage, and another much smaller tower in the village. Staying in sight of those repeaters will probably give you a better cell signal.
There's a small village ashore, but we didn't go in and they didn't come out to say hello.
---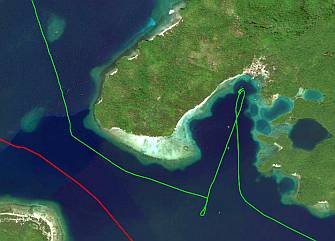 General Island anchorage and approaches
General Island, NE Mindanao, 9º24.80'N 126º00.14'E, 63' sand, Globe 3G, Smart 4G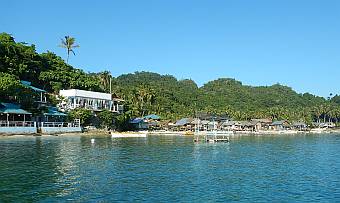 General Island village, with guest houses at left
There are no real hazards when approaching General Island from the east, but to the west is a small island (with a reef around it) as well as a shallow reef, both of which show in the satellite view to the left, and have to be avoided. The General Island bay is rather deep, so you really want to drop your anchor as close to the middle of the innermost bay as you can, as you'll swing quite close to the surrounding reefs.
There's a village at the head of the bay, with some nice looking guesthouses on the left (see photo at right), and some shallower bays to the east. Exploring those bays by dinghy brought us to a small resort. The owners were friendly enough, but since there were no overnight guests at the time, they weren't prepared to give us a meal. Locals often use the picnic facilities at the resort, for which they're charged a small fee.
---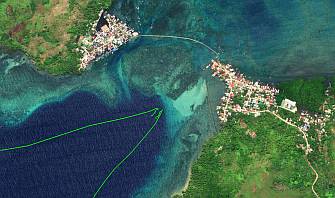 Kantiasay anchorage and approaches
Kantiasay, Nonoc Island (south end of Dinagat), 9º51.02'N 125º35.07'E, 35' sand, 4G Globe, 3G Smart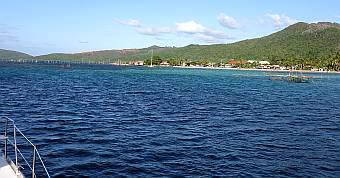 Approaching the Kantiasay sand-patch
Kantiasay is actually the village on the right, and San Pedro (shown as Hamgad in CM93) is on the left. There are no approach hazards except a green float in the middle of the bay, but it's pretty deep until you get quite close, and the shallow areas usually have fish traps (or pens) on them. Favor the east side to take advantage of the big sand flat. We had strong NE winds that kept us off the shallows.
There's a 1/4nm long footbridge that joins the two villages, and also blocks boats from entering the big lagoon, but the bridge has a high spot where dinghies can get under if you want to explore. A local ferry (with outriggers!) leaves from San Pedro at 7am to go to Surigao, and returns about noon. There's a tiny cell‑tower in Kantiasay. Smart reported the stronger signal, but we got better performance from Globe.
Although we were headed for Surigao, Kantiasay provided shelter in the NE winds before we returned to the coast of Mindanao and the west side of the peninsula that houses Surigao town.
---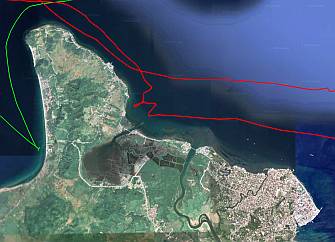 Mabua (Surigao) anchorage and approaches
Mabua (Surigao), NE Mindanao, 9º47.83'N 125º26.30'E, 20' mud, 4G Globe & Smart

Cute island north of Surigao
There are no hazards to approaching Mabua. Come as far into the bay as you can, and anchor as convenient. It's all shallow, gently sloping mud.
In the NE season, the entire coastline off Surigao is a lee shore, with no protection at all. Therefore, we decided to sail around the northern peninsula and anchor off Mabua, thinking we could take a bus or jeepney to Surigao. Several other boats have reported that this works well. There are no docks, but there are several small resorts along the beach who will apparently watch your dinghy.
However, a swell can come around the point and down into the bay, making life uncomfortable. We moved our bridle around to our side, to keep us bow into the swell, but sometimes there wasn't enough wind to keep us pointed correctly. In the end, we gave up and continued NW without ever going ashore.
---
Mid-Philippine Visayas Anchorages
The table below, with the more in‑depth comments below that, lists all of the anchorages we visited on our way through the middle of the Philippines, primarily Leyte, Cebu, and Panay Islands. The anchorage links go to the in‑depth comments below. Our tracks are in Green, but other boat's (red) tracks are sometimes visible in the satellite shots on the left. Depths are in feet, distances are in nautical miles, latitudes are all north, and longitudes are all east. As always, if you have questions or comments, please contact us - we'd love to hear from you!
Month
Area
Anchorage
North
Latitude
East
Longitude
Depth
feet
Cell
Globe Smart
Comments
Jan
Panaon
Santa Paz
10º05.54
125º07.40
18' sand
Good
Good
Nice walking/birding ashore
Jan
Panaon
San Antonio
9º57.65
125º14.20
40' mud
Good
Good
Swimming with whale‑sharks!
Jan
Leyte
Maasin
10º07.66
124º50.04
28' sand
Good
Good
Nice public market and fuel
Jan
Bohol
Hingotanan
10º14.54
124º28.70
42' rubble
Good
Good
Huge tidal reefs system
Jan
Cebu
Mactan
10º19.65
123º58.30
27' mud
4G
4G
Good airport access
Feb
Cebu
Port Carmen
10º34.07
124º01.83
15' mud
Good
Good
Protected, marinas nearby
Feb
Leyte
Poro Island
10º37.65
124º24.20
30' rubble
Good
Good
Settled weather only
Feb
Leyte
Palompon
11º02.70
124º22.85
30' mud
Good
Good
Excellent protection
Feb
Cebu
Malapascua
11º19.77
124º06.57
28' sand
Good
Good
VERY touristy
Feb
Panay
Roxas
11º36.13
122º42.66
20' mud
Good
Good
Very protected, shoals quickly
Feb
Panay
Port Batan
11º35.80
122º28.72
30' mud
Good
Good
Protected, easy fuel
Feb
Panay
Caticlan
11º55.40
121º56.73
26' mud
Good
Good
Good airport access (Borocay)
Feb
Mindoro
Ambulong E
12º11.81
121º01.86
60' sand
No
No
Exposed, better inside
Feb
Mindoro
Ambulong S
12º12.00
121º00.44
30' sand
No
No
Protected in NE winds
| | |
| --- | --- |
| Is this useful? Buy us a beer! | |
---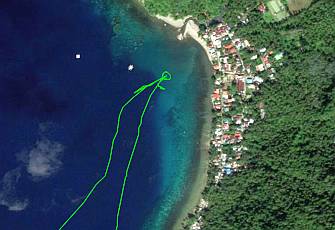 Santa Paz anchorage and approaches
Santa Paz, Panaon, 10º05.54'N 125º07.40'E, 18' sand, Good Globe, Good Smart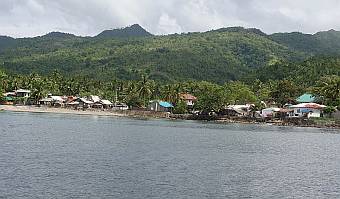 Santa Paz Village from water level
Santa Paz was a bit out of the way for us, but we had friends there we wanted to reconnect with. There are no real obstacles to entering, but the reef comes up pretty quickly, and the shallows extend out from shore by as much as 100m (330').
Our friend, Isabelle on s/v Manta, took a mooring a bit NW of us, very near a coral outcropping. So the next morning we did an easy dive around the reeflet where the coral was very healthy and sported many colorful tunicates and small fish.
The town is small and the people very friendly when Isabelle and Sue when ashore for a walk. But our goal on Panaon was to hunt for the wild and elusive ... whale shark! (see below)
---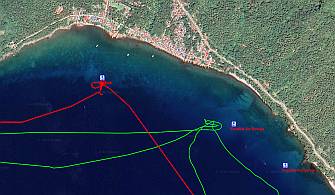 San Antonio anchorage and approaches
San Antonio, Panaon, 9º57.65'N 125º14.20'E, 40' mud, Good Globe, Good Smart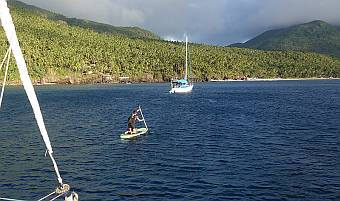 s/v Manta in San Antonio, looking west
San Antonio is on a fairly open bay that faces SSW, and is often referd to as Sonok Point. There are no hazards when approaching or leaving. There are actually 2 good anchorages just SE of town on small sand‑fans that you can see from satellite images. The anchorage just off the town has more coral and we don't recommend it.
At the southern tip of Panaon is a shallow bay where one can often see whale‑sharks, which was our mission when we were there with our friend Isabelle on s/v Manta. We went into town and asked for a whale‑shark guide, and were directed to a small shop where we signed in and paid our money. In 2020, we paid $4/person, plus $6 for a guide and $4 each for 2 spotters, which is about what we'd pay in Triton Bay. They arrived the next morning and we loaded 3 people into each of our dinghies, and we towed one of their spider‑boats. It's over 4nm to the southern bay, but each dinghy could plane so it went pretty quickly.
Once there, we milled around the bay with several other small craft, with our spotters spotting as best they could. When someone shouted, we zoomed over and jumped in, leaving our spotter to look after the dinghy. The whale‑sharks are not fed, so they're always moving. They don't swim very fast, but it's a good workout to keep up with them as they cruise around the bay.
---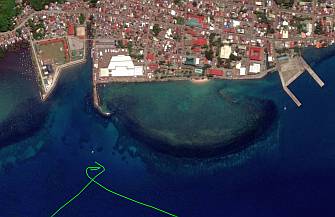 Maasin anchorage and approaches
Maasin, Leyte, 10º07.66'N 124º50.04'E, 28' sand, Good Globe, Good Smart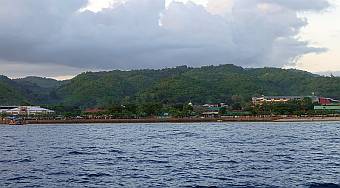 Approaching Maasin
There are no hazards when approaching Maasin, and our anchorage is in a lovely sandy patch. You can anchor closer in, but then you get more rocks. There's another somewhat more protected bay about 4nm to the east (Ichon) and we saw some boats anchored there, but the town is much smaller, and we wanted to shop.
One problem with Maasin is where to put the dinghy. Going around the semicircular reef, you can approach the tiny sandy beach (middle of the photo) from the west. It's quite shallow, but you can pull your dinghy up on the beach there if you want. We ended up going due north from our anchorage to the near corner of the area with the white‑roofed building. The concrete wall and road are quite high there, but you can walk or wade on some rocks to get around the corner and up to road level, where you can tie your dinghy to some structures.
Maasin has a nice public market, and friendly people. We took our fuel‑jugs ashore here and a tricycle took us to the fuel‑station and back, then the driver helped lower our jugs 7' (2m) into our dinghy with a rope.
---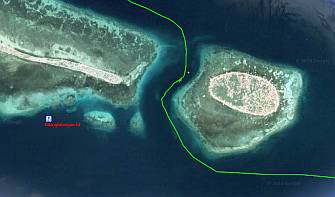 Hingotanat anchorage and approaches
Hingotanan, Bohol, 10º14.54'N 124º28.70'E, 42' rubble, Good Globe, Good Smart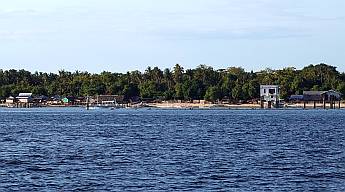 Hingotanan Island over the extensive reef
As you can see from the satellite photo, the reefs extend out for over 1/4nm from the islands, and you need to know where they are as you approach, so satellite imagery is useful. And it's almost essential for safe navigation inside the lagoon, as there are several reefs.
I think a better anchorage can be had either NE or SW of ours, as the bottom was smoother, so it's probably sand instead of the coral rubble we dropped onto. There's room for many boats to anchor.
Both islands are essentially covered in village, but we didn't go ashore, and nobody came out to talk to us.
---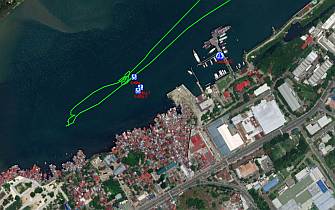 Mactan (Cebu) anchorage and approaches
Mactan, Cebu, 10º19.65'N 123º58.30'E, 27' mud, 4G Globe, 4G Smart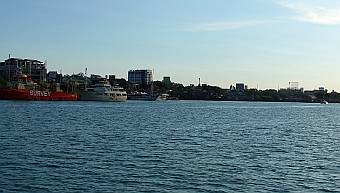 Approaching the Mactan anchorage
There are no real hazards when approaching, but the shallows extend NE of Mactan Island for a fair way. The rectangular area just west of the yacht club is a ferry landing, and the ferry comes several times a day. If you anchor too close, he'll honk at you.
The YC wants P200 ($4) per day to leave your dinghy on their dock, but it's the best game in town, as other places are more expensive. The YC has a restaurant (small red roof) and a small chandlery, & there's another chandlery (larger red roof) just to the east. Going out the guard gate and down to the corner brings you to Robinson mall, which is quite up‑scale, with a good grocery store. There's another big grocery store diagonally across the main road. The public market is a jeepney ride to the west, past the second bridge. There are other malls as well. We did not get into Cebu proper.
This is a great anchorage if you have people flying in, as you can walk to the airport. Then you can negotiate with a jeepney (or taxi) for the trip back to the YC. And, of course, all of Cebu City is just across the bridges, if you need stuff for projects.
---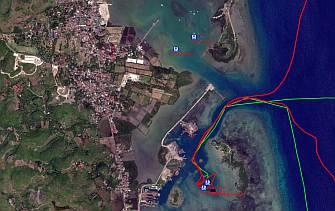 Port Carmen anchorage and approaches
Port Carmen, Cebu, 10º34.07'N 124º01.83'E, 15' mud, Good Globe, Good Smart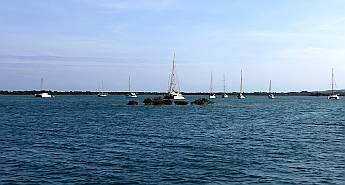 The little pond off Port Carmen can get crowded
The approach to Port Carmen is tricky, as big ships are also using the narrow channels. There were floating buoys to mark the entrance, but not subsequent turns or passages, so satellite imagery is useful. The common anchorage is to the south, in a small, shallow pond that can hold about 15 boats.
There are many ships being loaded with gravel (or something) just across from the southern anchorage. Unfortunately, the breeze often turns at night to come from shore, so the dust and grit of the loading operations gets all over the boat. You can anchor in the northern bay, and this puts you closer to town, but there have been (unverified) reports of thefts there.
Further south (at the bottom of the photo) are some small marina‑ish things, with several (somewhat derelict) boats. But Zeke's is apparently not a bad place to work on your boat, and Jeepneys and taxis can get you into Cebu city for whatever you need. Some cruisers do their Cebu port clearances and visa renewal from here.
---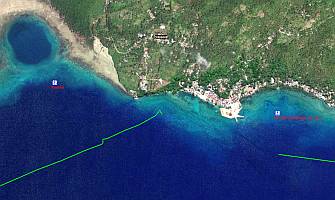 Poro Island anchorage and approaches
Poro Island, Leyte, 10º37.65'N 124º24.20'E, 30' rubble, Good Globe, Good Smart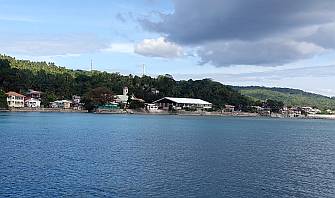 Poro Town from our anchorage
There are no hazards to avoid when approaching this anchorage, but it's not as good as it looks. We thought we'd be anchoring on sand, but it turned out to be coral rubble. Scrutinizing the satellite imagery, it looks like the anchorage in the next bay to the east offered a better bottom. We had some rain here, and something caused the wind to wrap around Poro and come from the east, which gave us a bumpy night. Not sure how common that is in the NE season.
By going around the docks we could load and unload passengers at the ramps that the ferries use, and perhaps we could have left the dinghy tied to the side of those ramps. We rented some scooters ashore and set out around the island, but the roads are pretty poor, so progress was slower than anticipated. The town itself is cute, and the people very friendly, so walking around town was fun. Our visiting family said the snorkeling was good, but we didn't go ourselves.
| | |
| --- | --- |
| Is this useful? Buy us a beer! | |
---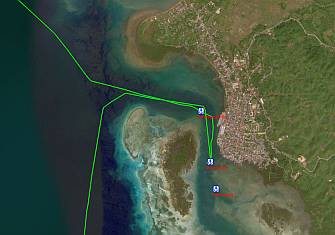 Palompon anchorage and approaches
Palompon, Leyte, 11º02.70'N 124º22.85'E, 30' mud, Good Globe, Good Smart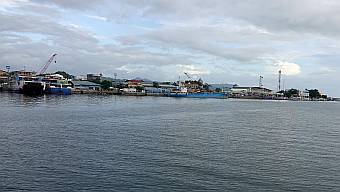 Anchorage is on the far side of Palompon
There are no real hazards when approaching Palompon, but the reefs extend out quite far, and they're often covered by muddy water, so you can't see them well. Satellite imagery would be a help here. Proceed past town and anchor as convenient. The estuary is quite large.
There are some interesting viewing towers SW of the anchorage, and that whole area is a nature preserve. Unfortunately, the dock and walkways are falling into disrepair, so judge for yourself if they're safe enough. The tower itself is concrete, and quite strong. It gives some wonderful views, but the local cyclone damage hasn't been repaired since 2014.
The estuary south of the anchorage is large and invites exploration by dinghy. The town looks large and vibrant, but we'd had a rather sleepless night at Poro Island, so we didn't go into Palompon town.
---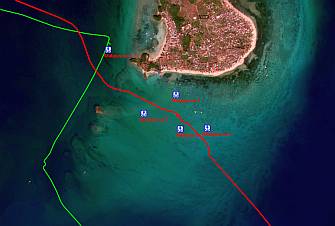 Malapascua anchorage and approaches
Malapascua, Cebu, 11º19.77'N 124º06.57'E, 28' sand, Good Globe, Good Smart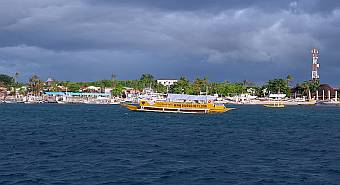 Crowded Malapascua from our anchorage
There are no hazards when approaching Malapascua except for the extensive shallows to the south, but given Soggy Paws' track (red) you can probably sail over that if necessary. The best anchorage changes depending on the season. We were there in February, with NE winds, so we anchored in the SW.
Malapascua is quite a tourist island, with lots of diving opportunities. There's an interesting dock with car tires embedded in the concrete as bumpers. It makes a good place to tie the dinghy, but make sure it doesn't slip under the dock to get squashed by a rising tide, and leave room for the "spider" work‑boats to load and unload.
Ashore there are lots of bars, restaurants, and resort accommodations to fit any pocketbook. There are a few tiny shops, but apparently most companies import their own needs, so very little is actually sold on the island. The people are friendly and we enjoyed walking around the south end of the island.
---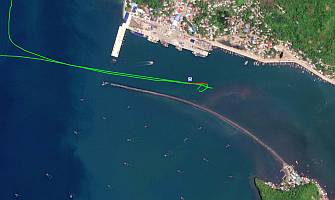 Roxas anchorage and approaches
Roxas, Panay, 11º36.13'N 122º42.66'E, 20' mud, Good Globe, Good Smart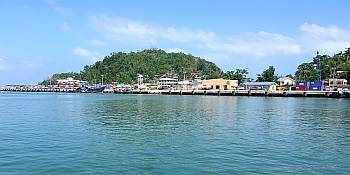 Anchor as far past the dock as you can
There are no hazards approaching Roxas (pronounced Ro‑hass). You can even come in at night, as both sides of the entrance are marked with flashing lights. Note that the Philippines seems to use the US buoyage system (Red Right Returning, or Red Left Port). Ships use the dock to the north, so make sure you give them room to turn around.
Do not go further in than we did, or if you do, anchor further north, as that's where the channel is. If you click the image at left to bring up the larger version, you'll see a faint line extending in a curve from the lower breakwater up and to the right, just in front of where we anchored. That's a mud‑bank that dries at low tide.
We arrived in Roxas after an 88nm sail, so we were fairly thrashed and didn't go ashore. But the bay is quite extensive, and invites some serious dinghy exploration.
---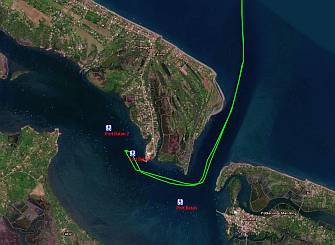 Port Batan anchorage and approaches
Port Batan, Panay, 11º35.80'N 122º28.72'E, 30' mud, Good Globe, Good Smart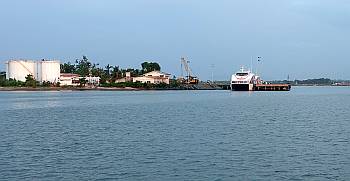 Docks, with Port Batan in the distance
The entrance to Port Batan is over 20' (7m) deep, contrary to some postings. However, the channel is not marked, it's quite long, and it can be difficult to see even with satellite imagery. It's probably best to follow our track, but you can also use these waypoints: 11º38.0 122º29.9, 11º36.6 122º29.8, 11º36.2 122º29.7, 11º35.5 122º29.4, then curl to the right and anchor behind the docks.
Port Batan is actually the town on the SE side of the bay. There are steps down into the water and some railings you can tie your dinghy to. There's a pretty good fruit and veg market about a 5 minute walk into town. There's also a fuel station near the steps, but the diesel is much cheaper on the other side, near the anchorage. Take your dinghy past the big docks and around to the small ferry landing (also steps into the water). The station is 200m down the road, so we hired a tricycle to carry our jugs (50p or $1). This was shorter, easier, and cheaper than going all the way to Port Batan.
The estuary system is huge, with lots of opportunities for dinghy exploration.
---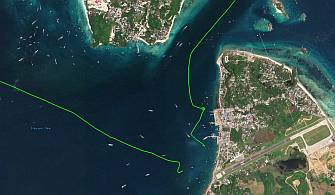 Caticlan anchorage and approaches
Caticlan, Panay, 11º55.40'N 121º56.73'E, 26' mud, Good Globe, Good Smart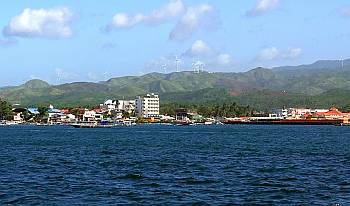 Approaching Caticlan from the north
There are some rocks off the tip of Panay when arriving from the north or east, but they're easy to see and avoid. There's a tremendous amount of traffic going between Caticlan and Boracay to the NW, so anchor as far south as you can to avoid their wakes. Stay offshore until you can see the runway, and anchor on either side of it. It can shoal quickly, so you'll probably be fairly far from shore. The anchorage above is at the end of the lower green track‑line. We had 20 knot NE winds, but very little swell came into the anchorage.
Unfortunately, there's no good place to leave a dinghy except pulled up on the beach by the runway. There are lots of docks with steel steps leading down to the water, but they're all used by the local Borocay ferries. The proximity to the airport makes Caticlan an excellent place to pick up or drop off guests. Departures is a 2 minute walk from the beach, but arrivals is at the far end of the runway, a $2 tricycle ride. There's no public market, but there's a busy street with lots of fruit and veg shops.
Boracay Island is the #1 tourist island of the Visayas, and might be fun to explore if you like that sort of thing. Lots of speed boats, parasails, etc.
---

Ambulong East anchorage and approaches
Ambulong East, Mindoro, 12º11.81'N 121º01.86'E, 60' sand, No Globe, No Smart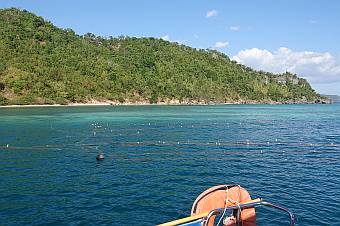 Seaweed farming in channel at Ambulong East
There are several reefs to watch out for when approaching. Even worse, there's LOTS of seaweed farming. We thought we couldn't get into the inner bay, but it turns out the resort needs boats to be able to get in and out, so there's a good channel. Inside the bay is completely protected, and we should have moved there once we found that we could.
As it was, we anchored in the outer bay, as it was flat calm. But at midnight, a strong NE wind came up and pushed us into shallow water over the reef, so we roused all hands and motored off to Ambulong South, which has excellent protection from the NE. Thank goodness for satellite imagery!

The resort is unfriendly, and is also falling apart. There were no guests when we were there, but there seemed to be about a dozen locals around. They wanted $4/person to go ashore. We declined.
---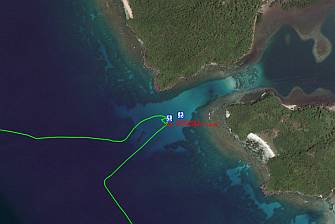 Ambulong South anchorage and approaches
Ambulong South, Mindoro, 12º12.00'N 121º00.44'E, 30' sand, No Globe, No Smart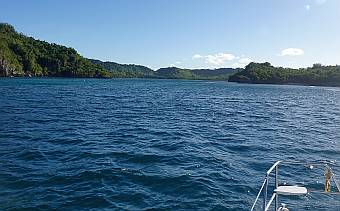 We could have gone further into the bay
As the satellite image shows, this anchorage is a lovely big sand‑fan extending out from a lagoon. There are no hazards to avoid, which is lucky for us as we came in just after midnight. We anchored in 30', but we could have gone in further if we wanted more protection. In 2020 there was a small seaweed farm on the left side, further in. The anchorage is well protected from the 20 knot NE winds that were blowing, and we had no swell at all.
At high tide, you should be able to get over the bar and into the lagoon for some dinghy exploration. We had a fishing boat anchor behind us, but he left before morning. There are no villages nearby, so no supplies.
---
Western (Coron-Palawan) Philippine Anchorages
The table below, with the more in‑depth comments below that, describes all of the anchorages we visited on our way through the western Philippines, primarily Coron and Palawan. The anchorage links go to the in‑depth comments below. Our tracks are in Green, but other boat's (red) tracks are sometimes visible in teh satellite shots on the left. Depths are in feet, distances are in nautical miles, latitudes are all north, and longitudes are all east. As always, if you have questions or comments, please contact us - we'd love to hear from you!
Month
Area
Anchorage
North
Latitude
East
Longitude
Depth
feet
Cell
Globe Smart
Comments
Feb
Busuanga
Tara Island
12º16.57
120º21.63
55' sand
Weak
Weak
Glorious little island
Feb
Busuanga
Coron Town
11º59.68
120º11.73
44' mud
3G
4G
Only place to provision
Feb
Busuanga
Apo Is West
11º58.83
120º04.85
64' sand
2G
No
Dinghy access to sub‑chaser wreck
Mar
Busuanga
N Tangat Is
12º00.14
120º03.78
50' mud
Edge
3G
Good wreck diving
Mar
Busuanga
Busuanga Bay
12º01.05
119º58.78
54' mud
4G
2G
Protected, lots of resorts and cruisers
Feb
Busuanga
Bulalacao Is
11º45.71
120º08.27
57' sand
3G
4G
Pretty, but can get lots of tour boats
Feb
Busuanga
Ditaytayan Is
11º43.89
120º06.13
52' sand
4G
2G
Pretty, isolated
Mar
Palawan
Linapacan Is
11º28.44
119º45.73
48' sand
No
No
Protected from north and east
Mar
Palawan
Corong Corong
11º09.93
119º23.56
55' mud
4G
3G
Nice COVID19 quarantine
| | |
| --- | --- |
| Is this useful? Buy us a beer! | |
---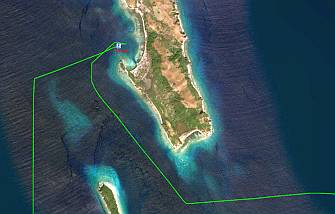 Tara Island anchorage and approaches
Tara Island, Busuanga, 12º16.57'N 120º21.63'E, 55' sand, Globe Weak, Smart Weak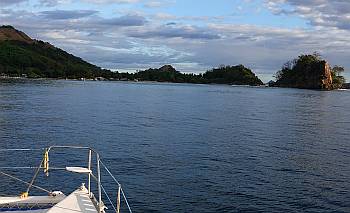 The village SE of the anchorage
As the satellite image at left shows, there's a reef a bit SW of the anchorage bay, and the south end of Tara Island has reefs that extend south for over half a mile, so don't cut the bottom of Tara Island too close. The bay itself looks big, but don't go in too far, as there are reefs closer to shore. There's a reef on the south side of the bay that often breaks, but it shouldn't effect entering the bay.
The village ashore seemed friendly, but nobody came out to our boat. Apparently there's good snorkeling and/or diving nearby, but we didn't explore very far. Exploring to the north looked like it could be fun. After our harrowing night at Ambulong Island, Tara was lovely and protected from the NE winds, with essentially no swell getting into the bay.
---

Coron Town anchorage and approaches
Coron Town, Busuanga, 11º59.68'N 120º11.73'E, 44' mud, Globe 3G, Smart 4G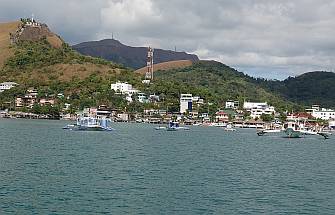 Coron Town from our anchorage
Approaching Coron Town from the east is interesting, as the route is marked with many buoys equipped with AIS transmitters that tell you if they're left or right‑hand buoys. There are several reefs to avoid, so best if you have some satellite imagery. We anchored off La Sirenetta restaurant, and tied our dinghy near them, but this might not last. The image at left is old, as they're filling in the bay near the restaurant, and the shoreline is changing.
Coron town is the center of commerce for the area. There are nice restaurants, massage centers ($12/hour), gelato and latte stands, etc. But we did not find a very good grocery store, just convenience stores. There's a public market about in the middle of town, by the water. Diesel was about $1/liter in 2020.
Scooters can be rented for under $10/day, and the roads are good. There are waterfalls to visit in the wet season, but we were here in the dry season. There are LOTS of dive boats, and even more day‑tour boats speeding around. Lots of booking offices ashore, and there's lots to see, especially east at steeply sided Coron Island. we took an all-day boat tour to snorkeling places, beaches, Twin Lagoons and Kayangan Lake for $24 including lunch.
---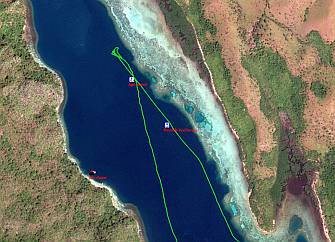 Apo Island West anchorage and approaches
Apo Island West, Busuanga, 11º58.83'N 120º04.85'E, 64' sand, Globe 2G, Smart No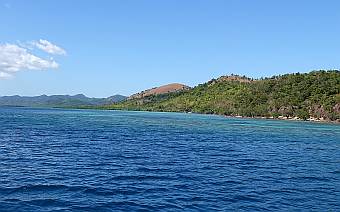 Our Apo Is anchorage, looking north
There are no hazards when approaching this anchorage, but the channel is fairly deep, even quite close to the reef. We decided to anchor a bit further north than previous boats had anchored, mainly because the bottom was flat and sandy, while further south had more coral.
About 0.4nm south of this anchorage (and across the channel) is a sign on the beach, with a couple of small moorings just offshore (the moorings are not suitable for cruising boats). The sign says that on 24 September 1944, the allies launched quite an air‑raid against Japanese shipping and sank several ships. One of them was a submarine‑chaser, which is just off the beach. The front of the ship is quite close to the surface, and you can see it easily just snorkeling, but the back is in much deeper water and requires scuba gear. It looks like a fun wreck to dive, but the guests we had on board at the time were not divers. Since it's only 9nm from Coron, local tour‑boats often come to the moorings so their guests can swim over the wreck.
---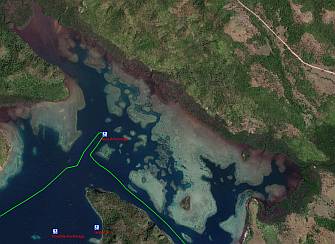 N Tangat Island anchorage and approaches
North Tangat Island, Busuanga, 12º00.14'N 120º03.78'E, 50' mud, Globe Edge, Smart 3G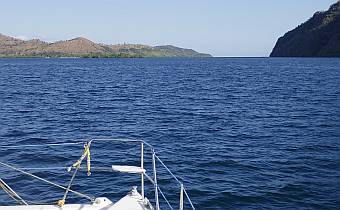 Looking SE over the reef towards Apo West
Most charts of the area do not show the extensive reefs shown in our photo at left, so satellite imagery will help to get in. You'll also need a sharp eye to avoid the many pearl‑farms in the area. If strong southerlies make the anchorage uncomfortable, you can go further into the bay to the north, or into the bay to the east, behind the tip of Tangat Island.
Wrecks in the bay to the south
(usually with a mooring line on each end):
Dist
Name
Depth
Lat (N)
Lon (E)
1.7
Ekkai Maru
60-90
11º59.25'
120º02.26'
1.9
Kogyo Maru
60-90
11º58.80'
120º02.39'
1.9
Olympia Maru
60-90
11º58.25'
120º03.68'
2.5
Irako
90-140
11º58.07'
120º02.41'
On 24 September 1944, the allied air forces attacked Japanese shipping that was sheltering in the area, sinking several ships. Several of those ships were anchored in the bay just to the south of this anchorage, and we wanted to explore them. This anchorage provides reasonable protection from most directions, and allows dinghy access to 4‑5 shipwrecks. The Irako is only 2.5nm south, and several others are somewhat closer.
The ships all have strong ropes at each end, going up to mooring balls. The moorings are strong enough for cruising boats if the winds are light, but you may end up with dive boats hanging off your stern. We would not spend a night on these moorings.
---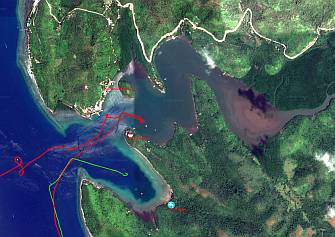 Busuanga Bay anchorage and approaches
Busuanga Bay, Busuanga, 12º01.05'N 119º58.78'E, 54' mud, 4G Globe, 2G Smart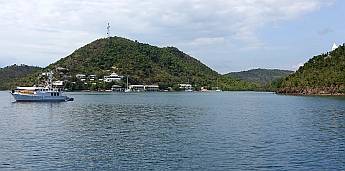 BBL from our anchorage, Al Faro far right
The entrance to Busuanga Bay is wide, but don't cut the corners when coming in. The reef on the south side of the entrance extends north by 150m, and the reef on the north protrudes south almost 300m, so best to aim for the middle of the entrance. Satellite imagery is best for avoiding the reefs near shore, as they can stick out quite far.
We anchored in the outer ("Sunset" or "Pearl") bay, but there are LOTS of places to anchor. If there's a strong west wind, it's possible for a chop to come into the outer bay, but the rest of Busuanga bay is convoluted enough that it's doubtful that any chop would get further. The next bay in has many public moorings available from the Marina Del Sol YC just to the north, at the end of the sharp peninsula. Some moorings are free if you patronize the local resorts. The next bay in is shallower and even more protected. The furthest in bay has a big reef taking up the middle, but most boats should be able to hug the shore to get around the central reef and go up the river, which is a fun dinghy ride even if you don't take the big boat. The river looks like it has several ideal places to tie to mangroves in the event of a typhoon.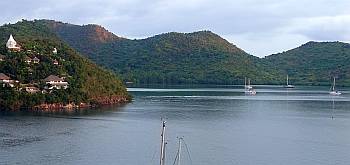 Sunset Bay from BBL, Al Faro left, Ocelot right
Busuanga Bay is a lovely spot, well protected from all weather and usually inhabited by many cruising boats. Busuanga Bay Lodge (BBL) to the north of our anchorage is very posh, with upscale bar, restaurants, and pool. To access BBL, you're supposed to pay P5,000 (US$ 100) per month for permission to tie to their floating dock, get water, and use the pool. If you're going to use them every day, then $3/day isn't much. Just west of BBL is a much smaller but also fairly upscale restaurant that will also do take‑away. Al Faro (means lighthouse), north of our anchorage but across the water from BBL is not as fancy but also has a nice bar, restaurant, and pool at the top of the hill, all with lovely views and cheaper prices (and no fee to use their dinghy dock).
There's a big Globe relay tower above BBL, so Globe internet is usually excellent. There are dive shops and a Japanese wreck to dive just outside the bay. Just SE of our anchorage is a lovely spring for filling water jugs. Poke around with the dinghy at high tide, looking for a gap through the mangroves to a small concrete wall with a pipe coming out one side. The higher the tide, the further you'll be able to get your dinghy in. A bit past BBL is a dock where you can go ashore to meet Damian, who is a diesel and outboard mechanic. Limited groceries are available in Concepcion, about 45 min walk north, or at a small sari-sari store at the nnorthern‑most bit of the bay, where it gets close to the road. Transportation is available to Coron Town or the airport.
| | |
| --- | --- |
| Is this useful? Buy us a beer! | |
---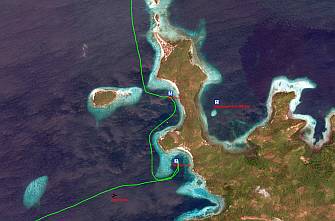 Bulalacao Island anchorage and approaches
Bulalacao Island, Busuanga, 11º45.71'N 120º08.27'E, 57' sand, Globe 3G, Smart 4G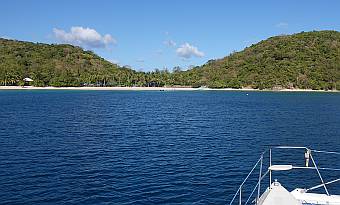 Beautiful Bulalacao Island beach
The reef extends south of the headland for a long way when coming into the anchorage. The bay itself is fairly small and relatively deep. Check the bottom to make sure you're not anchoring on coral. The gap between tiny Dicalubuan Island and Bulalacao is about 30m wide, and was marked by floating white blocks on each side in 2020. The anchorage is very well protected from north and east sector winds, but exposed to the SW and west.
The northern tip of Bulalacao Island is a long sand‑spit, and local boats like to bring their guests there. There's at least 1 resort at the northern end, so be prepared to pay an entrance fee to go ashore there. The beach at the anchorage is private to the north, but a friendly family runs the south side of the beach, selling cool drinks and renting kayaks to the tourists who come ashore from the daily tour‑boats. There are lots of other exploration possibilities, as well as nice snorkeling along the edge of the reef.
---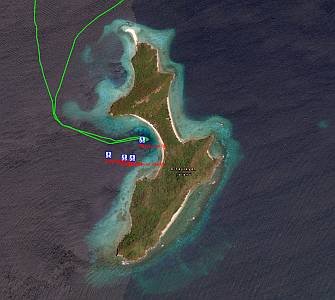 Ditaytayan Island anchorage and approaches
Ditaytayan Island, Busuanga, 11º43.89'N 120º06.13'E, 52' sand, Globe 4G, Smart 2G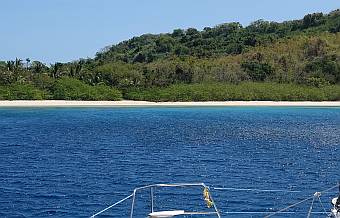 Even more deserted Ditaytayan Island beach
The reef protrudes west from the island a long way, so be careful coming in from the north. Also, it can't be seen easily even with satellite imagery, but there's a 20' (7m) deep reef west of the anchorage. Stay on the north side as you approach the anchorage to get around the reef. There's one point where the bottom may come up to about 15' (5m) as you approach, but then it drops back down again. You can anchor slightly north of our position, but don't go too far west, or you'll end up over the reef and might damage some coral. Like Bulalacao, this anchorage is exposed to SW and west winds, but well protected from all north and east sector winds.
The beach is lovely, and provided good birding. There's a trail past a derelict house to the beach on the far side. There's also a sand‑spit at the north tip of the island, which is fun to walk on. We dinghied over early, to avoid the crowds that come there for lunch. There was a local woman sweeping the beach, but she did not ask us for an entrance fee. The reef behind the anchorage is a bit deep for snorkeling, but it made a nice scuba dive. All the fish were less than 30' (10m) deep. The edges of the visible reefs offered better snorkeling.
Ditaytayan Island is remote enough that the only light we saw at night was the light at the top of the cell‑relay‑tower on the top of Culion Island, 7nm behind us. One or 2 local boats may come into the bay for lunch, but they don't stay long. It's a delightful bit of magic.
---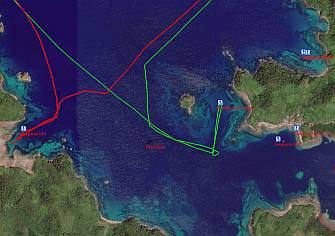 Linapacan Island anchorage and approaches
Linapacan Island, Palawan, 11º28.44'N 119º45.73'E, 48' sand, Globe No, Smart No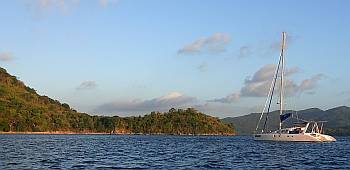 Ocelot at Linapacan Island
Getting into this anchorage is a bit tricky, as the little island just to the west has quite a big reef around it. You must enter from the south, from 11º28.0'N 119º45.6'E, ideally with satellite imagery to guide you. But the anchorage is in good sand with reef all around it, and it's big enough for a few boats.
There are actually several good sandy anchorages on this end of Linapacan Island: 2 small bays just 1nm to the NE of ours (at 11º29.14'N 119º46.44'E and 11º28.0'N 119º46.5'E) are easier to get into and arguably provide better NE protection. We chose ours as we were hoping the village just to the east had some cell signal, but there doesn't appear to be any cell service to the island at all. The anchorage just 1.8nm to the west of ours provides good protection from south and west winds. Deeper into the southern or eastern arms of the bay are more anchorages that will provide better protection if there's a swell running, but they appear to be rather deep, with unknown bottoms.
---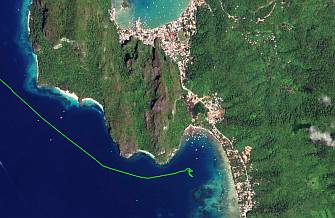 Corong Corong anchorage and approaches
Corong Corong Bay, El Nido, Palawan, 11º09.93'N 119º23.56'E, 55' mud, Globe 4G, Smart 3G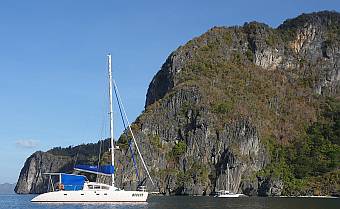 Magnificent cliffs in Corong Corong
There are no hazards to avoid when entering Corong Corong bay, but the area is a tourist center, so there are usually LOTS of tour‑boats scurrying around. Unfortunately, there are no very good places to land a dinghy. You can pull it up on the beach, which is gently sloping, or you can tie it off to a spider‑boat if it's obviously laid up for work. We usually used the beach just north of the anchorage, and then walked to the concrete jetty and turned left up the path to the road, but that area is pretty thick with local boats. Another area is to the east, in front of the Bella Vita restaurant, but that gets rocky offshore. All beaches shoal very gradually.
We were here during the great COVID‑19 lock‑down, so many shops and businesses were closed. We never found a good grocery store, but there was plenty of food if you're not too picky. The main items we could not find are powdered milk (without added sugar) and good cheese. At the road, turn left (north) towards El Nido. On the right is the MAK store, which sometimes has unfortified (the good stuff) Birch Tree powdered milk. Across the street is a BPI ATM, but it's inside an office, so not always accessible. Further up on the left is the public market, with good fruits, veggies, pork, chicken, and somewhat skanky looking beef. Further up the road, on the right, just before the 2 petrol stations, is a combination pharmacy and grocery store called Drugman. There are other grocery stores in El Nido, as well as a specialty shop (La Tienda, across from the bakery) that has very expensive cheese, yogurt, and other delicacies. There's a BPI bank (with ATM outside) in El Nido. Go almost down to the water, turn left on the last street, and it's on the left about 200m down the road.
Being a tourist area, there are several relatively expensive restaurants around, but many were closed due to the lock‑down. The area is beautiful, with magnificent cliffs and lovely beaches. When we were here in March and April, the red "Tomato" jellyfish were blooming, so swimming was inadvisable.
---
Pacific Cruising Info: Up | South Pacific Weather | South Pacific Schedule | Panama Transit | Cruising Galapagos | Cruising Marquesas | Tonga-Fiji Hazards | Cruising Fiji | Australian Arrival | Cruising Australia | Cruising Solomons | Cruising PNG | Cruising Philippines
Cruising Info: General Cruising Info | Equipment | Pacific Ocean Cruising | Indian Ocean Cruising | Provisioning Food & Fuel | Cruising Recipes
Top Level: Home | Destinations | Cruising Info | Underwater | Boat Guests | Ocelot | Sue | Jon | Amanda | Chris | Site Map | Make a Comment
---
If our information is useful,
you can help by making a donation
Copyright © 2000‑2020 Contact: Jon and Sue Hacking -- HackingFamily.com, svOcelot.com. All rights reserved.