Cruising PNG
Why Cruise Papua New Guinea?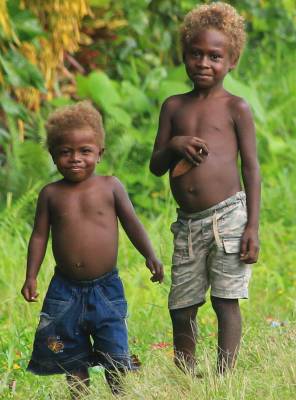 PNG kids, always with a smile
The NW wind that blows from Dec‑April makes it easy to get to from Indonesia (or Vanuatu from May‑Nov).
It's a country rich in culture with hundreds of languages and customs, which could be daunting, but the people are welcoming and friendly, and in the islands, almost everyone speaks pretty good English.
It's rich in history from the Germans and Scots in the Bismarck Islands to the stories that came out of World War II.
There are wrecks to dive and museums to explore.
It's rimmed with islands that are unique in their isolation and long history of welcoming yachts into their lives.
Very few yachts get here, so you get a chance to see things rarely seen or experienced.
It's got magnificent volcanoes, jungles, rivers, and mangroves to explore.
It's in the coral-triangle, so it's rich in bio-diversity underwater, as well as boasting awesome bird life above water.
In Kavieng and Rabaul there are supermarkets with more than the basics. You can find cheese, meat, wonderful ice cream, and beer.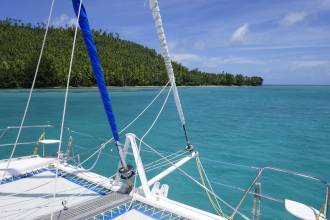 Small islands, clear water in northern PNG
Our Story: There's a NW wind that blows over the top of PNG from about December‑April, which makes cruising the outer islands fun. We've wanted to do this trip ever since we first heard about it in 2007, but it's remote enough that we wanted to do it with buddy boats. We finally put that together in January 2019, coming from Indonesia on the NW winds, in company with 3 other cruising boats, 2 of whom were headed for New Zealand. We sailed through the northern islands of PNG and SE into the Solomon Islands. When the SE Trades began blowing in May, Berserker and Indigo II continued south while we and Soggy Paws headed north again, back into PNG. Coming from Indonesia, we sailed through the outer Bismarck Islands of the Ninigos and Hermits, then to Kavieng (New Ireland), Rabaul (New Britain), and down the coast of Bougainville. Coming back, we again visited Bougainville and Rabaul, then went over the top of New Britain to Kimbe to do some diving before heading back via Manus, Hermits, and the Ninigos. We have not gone to the mainland as the "rascals" (criminals) there make it dangerous.
For this article, we provide information on the following subjects:
Officialdom: We tried to get PNG visas from Jayapura, but the people there could never give us definitive information about how long it would take, so we arrived without visas. Friends at the dive shop in Kavieng made inquiries for us, and sent us contact information so that we could arrive without visas in Kavieng, and we can now provide that info for you. First, download the "Form4 Small Craft Manifest" Excel spreadsheet, fill it out with your particulars, and email it to Dennis Badi at PNG Immigration, with a short blurb about who you are and what your plans are. Dennis should get back to you with the information you need. For us, he notified Customs in Kavieng that we were coming, and authorized them to handle the immigration clearance as well. Dennis was a huge help for us, and we're hoping that other arriving cruisers will have similar experiences. Please treat him well (and send him our greetings!

).
We checked in with Customs in the 3 story building in Kavieng and did the paper work and were given 60 days in our passports. Later we went to NAQIA, the national quarantine office on the waterfront, where we declared no pets, no plants, paid the 56 Kina ($17) and were good to go. There was no charge from customs. We cleared out at Rabaul, with the Customs man on the waterfront stamping us out for immigration, again with Dennis Badi's blessing.
Returning to PNG in September, we contacted Dennis Badi again and cleared in at Rabaul, with customs women coming 1-hour to the Rabaul Yacht Club by bus from Kokopo to do the clearance. Quarantine and health officials also met us at the Yacht Club. We again paid the 56 Kina ($17) for NAQIA and there was a 120 Kina ($36) fee for Health clearance.
Inner‑port clearance is apparently necessary within Papua New Guinea (although nobody complained when we didn't do it from Kavieng to Rabaul). So when we sailed from Rabaul to Kimbe in September, we had to stop in at customs in Rabaul for a clearance form. Ditto for going from Kimbe to Manus. A bit of a pain, but free and easy.
Note that if you're going from PNG to Indonesia, the main Indonesian consulate is in Port Moresby. For those going over the top of PNG, if you want an Indonesian visa, you have to get it (and clear out of PNG) in Vanimo, on the Indonesian border.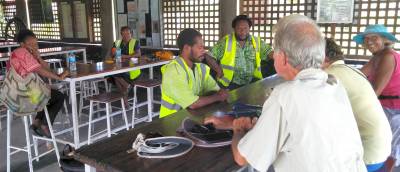 Customs, Quarantine & Health officials met us Rabaul YC
Safety: PNG is plagued by "rascals" who are simply criminals in boats. They've been known to tie up crews and trash their boats looking for valuables, but recently they've actually killed other locals who were transporting (running?) betel‑nut from the mainland to Manus. At this time (2019) they're limited to the mainland and possibly Manus island (where the Australians have put up a detention center) so we avoided those areas. Boats that went to Vanimo (usually to get Indonesian visas) sometimes timed their arrival for day‑break, so they could do their business during the day and leave before nightfall, but others have reported no problems when anchored for several days. Bougainville also has a bad reputation, as they want to secede from PNG, although we had no problems at Buka. But at Cape Torokina, one of our flotilla awoke around midnight to a drunk local waving a machete in their cockpit and demanding to be let in. They called us on their VHF, triggered their loud siren, and turned on their cockpit lights, and he left, but our friends were shaken by the incident. Other friends who anchored alone off NW Shortland Island (technically part of the Solomons, but just SE of Bougainville) were harassed by belligerent (and drunk) locals, some of whom were apparently from Bougainville (and one was a local chief's son). They managed to extort about US$25 before they left. Pictures were taken and turned over to the Solomons Police, who recognized most of them. We strongly recommend traveling in a group, and anchoring off a village to avoid problems. Find the village head‑man and ask for permission to stay (and maybe bring them a gift) so the village is responsible for your stay.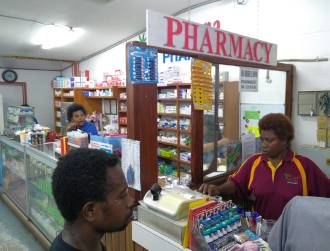 Pharmacy in Tropicana market, Rabaul, PNG
Health: Beware of small cuts or abrasions from coral, or plants if you go hiking. Clean them immediately and watch for infection. All 8 of us adults got multiple tropical ulcers (usually on feet or legs) that required oral antibiotics to clear them up. There are pharmacies in Kavieng, Rabaul, Kokopo and Kimbe, and antibiotics are available with advice from the pharmacist. A final recourse is to visit the hospitals in the towns. Although PNG warns of malaria we found very few mosquitoes at any of our anchorages, or even when hiking. We did, however, use repellent when hiking or going ashore at dusk. Flies were more of a problem than mosquitoes, and sometimes we would have dozens on board when anchored near a village. Be extra careful hiking or diving. PNG is very isolated and help could be many hours away, if not days. Always carry evacuation insurance like with Nomads or DAN. Bring your own needed prescriptions or those you might need in case of illness or infection.
Weather: The winds over PNG tend to blow from the SE (a continuation of the South Pacific trade‑winds) from about June‑October. What makes coming to PNG from Indonesia fun is that there's a NW(!) wind that blows over the top of PNG from about Dec‑April, one of the very few NW winds in the tropics. This makes getting from Indo to QLD or NZ much easier (and more fun) than bashing into the trades to get to Gove or the York Peninsula, as you can spend Oct‑Dec enjoying the pleasures of Raja Ampat and then have a leisurely downwind(!) cruise down the outer islands of PNG to the Solomons. Once cyclone season ends (usually May) you can continue to Vanuatu, New Caledonia, and Down Under. Or, when the SE trades come in, simply turn around and sail back to Indonesia, which is what we did in 2019. The NW season is also the nominally wet season, and we experienced some 40 knot squalls, but not many and they didn't last for long. SE of Kavieng the winds tended to go light, so we ended up motoring much of the way from Kavieng to the Solomons.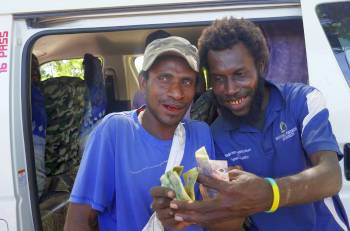 Bus helper hams it up with fistful of Kina, PNG
Money: PNG uses the Kina. In 2019, there were K3.2/US$, so K1 was about 30 cents. We only saw ATMs in Kavieng, Rabaul, and Kimbe, and we had problems with several of them, probably because they tend to run out over the weekend. They usually charge K15 (almost $5) per transaction, and they only let you take out K500 ($150) at a time, so the fee is at least 3%. In the end, it was often easier (and cheaper) in Rabaul to buy something at one of the big grocery stores and ask for cash back(!!), as they charge less than the ATMs (2% if they charge anything at all) and we were able to take out larger amounts if they had the cash. Somewhat surprisingly, many shops in PNG accepted credit cards.
Supplies: In the outer islands north of the mainland there is essentially nothing to buy. But trading clothing, glasses, sugar, or just about anything is worthwhile and will get you some lovely fresh fruits and vegetables! In Kavieng you can buy all the basics, plus sometimes some cheese, and the locally made ice cream is great. In Rabaul/Kokopo there are more supermarkets with many imported items such as lamb, veal, cheeses, etc. And there are lots of hardware stores, including some that sell epoxy, but there's no real boat gear available. See our page on Provisioning in the Solomons and PNG.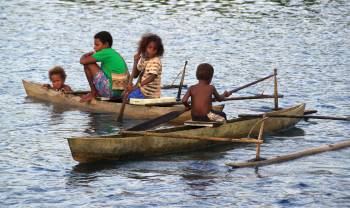 Not everyone needs petrol in PNG
Fuel: In the outer islands, we only found diesel in Kavieng, Rabaul, Manus, and Kimbe. Although prices are set, they're not the same all over the country. In March 2019, diesel in Rabaul was K3.12 (~US$1) per liter, while in Kavieng it was K4.55 ($1.42) or 40% more, and it was a bit higher in September. This is significantly more than in Indonesian "solar", but the fuel is also of much better quality, being almost transparent, with a slight greenish tinge, like in Malaysia. In Rabaul we hired a bus for the morning for K40 or $12.50 (split between 4 boats). He made a couple of trips from the yacht club to the fuel station in town, which allowed all 4 boats to top off diesel, petrol, and cooking gas. They use the US/Oz/Kiwi reverse‑thread fittings for cooking gas, which makes things easy. Our tanks were taken away, filled, and returned to us in about an hour. In Kavieng the anchorage is actually across the bay from town, so first the jugs/tanks have to be ferried 3/4nm to the market and then taken up the hill to the filling station. An alternative is to go to the (rather dilapidated) dock next to Scuba‑Venture and talk to Julius (+675‑7248‑9945). He usually stocks only pre‑mixed outboard fuel, but he can get diesel and straight petrol with some advance notice. He's more convenient, but his prices are about the same as the station and his measures are inexact, as it's all hand dipped. In Kimbe, we anchored off the friendly Liamo Reef Resort, and their drivers were happy to take us to the fuel station if they weren't doing anything else. In Manus, anchor between the old military docks and contact the Port Manager (Philbert Nadi +675‑7123‑4157 or +675‑7578‑1805). Phil can arrange for a huge diesel truck to deliver diesel (only) right to the dock for an excellent price. We didn't try to refill our LPG tanks anywhere except Rabaul.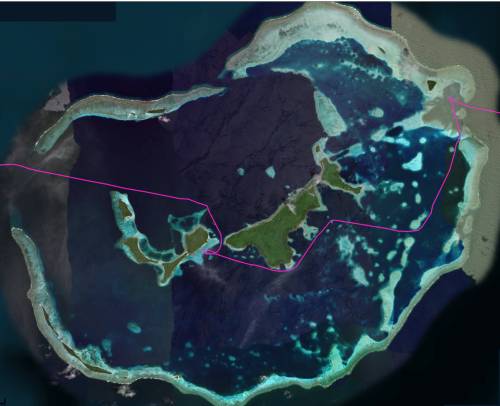 Hermit Archipelago - Safe navigation requires satellite imagery
Phones and Internet: SIMs are reasonably easy to get in larger population centers like Kavieng or Rabaul, but they should be registered (which requires a passport) if you're going to be in PNG more than a month or so. PNG tends to use satellite links for its phone system, rather than undersea cables. This has huge implications, as every packet of data (or voice) has to go up to a satellite and back down again, a distance of almost 50,000 miles or 80,000Km, and the reply packet has to do the same. This results in a delay (latency) of half a second to get a reply for every packet. So high‑bandwidth websites like Facebook, Gmail, or any other secure (https:) sites are excruciatingly slow (we go to some trouble to make this site low‑bandwidth, so the pages download quickly). Long distance voice calls experience similar delays, which makes conversations difficult. To make matters worse, buying data packages is much more expensive than elsewhere in SE Asia, and their data‑counters seem to run extremely quickly. We didn't check coverage on the mainland, but in the outer islands, coverage drops off pretty quickly once you get away from population centers like Rabaul, Kavieng, or Buka Town. There was a hint of signal along New Hanover, and in Manus, but none at all in the Ninigo or Hermit Islands. Note that if you have a US SIM from T‑Mobile, it has free data‑roaming in PNG, but speeds are limited to 2G, which is enough for email, but not much more.
Charts: Like all of SE Asia, the navigational charts for PNG are terrible - either displaced or low resolution or both. DO NOT TRUST YOUR CHARTS! We make our charts from Google Earth (GE) and SAS Planet. They're extremely accurate (maximum errors on the order of 10' or 3m) and very high resolution, as we make them at only 2000m elevation (for GE) or zoom level 18 (SAS) to get all the detail they have to offer. It's very comforting to know your charts are exactly correct. Making your own charts (KAPs or mbTiles) is very time and bandwidth consuming (we have a HUGE amount of time and effort invested in ours) but the tools are all free and we show you how on our KAP Files page. Or, we've posted our own KAPs for cruisers to download. These KAPs are huge, and we have to pay extra to provide this service, so we ask for a small donation (or make a large donation

). They cover the entire coastlines of most cruising areas from Micronesia and the Solomons in the east to the Maldives and Chagos. KAPs are a MapMedia format which most computer‑based navigation programs can display. We typically use OpenCPN, a free download, to display our KAPs and mbTiles, and we use a COM‑port splitter to feed our GPS signal to both OpenCPN and SAS (usually displaying ArcGIS or Bing imagery). Displaying both programs side‑by‑side on a wide‑screen display gives the best of both worlds when dodging between coral‑heads. We've also posted our sailing tracks through PNG below, along with chart annotations and possible additional anchorages.
Note that OpenCPN now allows one to adjust CM93 charts to position them more accurately. This also positions depth readings more accurately:
With high resolution KAPs or mbTiles displayed, drop several marks on the tips of islands or peninsulas or other prominent features
Switch to CM93 charts, zoom in to the chart you want to adjust, and turn off chart quilting (F9, or in the Options window)
Right click on the chart and select CM93 Offset Dialog... (near the bottom, but it only appears when quilting is off)
Select the chart to adjust (should be only 1 or 2 listed). Adjust it so the features match the marks dropped in step 1 and click [OK]
Turn chart quilting back on (F9) and verify that CM93 and the KAPs agree (and clean up your dropped marks)
Cruisers: We are now publishing Downloadable Track Files in OpenCPN (.gpx) format and in MaxSea (.ptf) format (not all tracks are available in all formats yet - we're still working on it and they take time). You can download the track files either by clicking on the links in the tables below, or by clicking on the track in the Google Map below the table. The MaxSea files are in native format but the OpenCPN files are zipped so they download faster, and they need unzipping after they've been downloaded (which most operating systems do natively). If 2 files are shown, the smaller one has been edited to remove redundant points from straight tracks. This improves the speed of the download as well as performance once the file is loaded. Sometimes MaxSea Track files are separated from the Mark (chart notations) files. Download instructions are provided if you need them.
These files are provided free and we are actively soliciting cruisers to send us your track files so we can post them for others to download. If you would like to to participate, please email us your track files (as attachments to our HackingFamily account, not our Winlink acct) along with your boat name and draft. If you include your website and boat details, we'll link back to you from our Cruising Links page.
Disclaimer: While we always try to provide useful information, we can take no responsibility for its accuracy or usefulness. Prudent mariners will always navigate using all means at their disposal, and will not rely solely on electronic navigation.
Papua New Guinea Tracks
| | | | | |
| --- | --- | --- | --- | --- |
| Boat | Draft | Year | Comments | OpenCPN |
| Ocelot | 4.6' (1.4m) | 2019 | Northern islands only | 113 KB |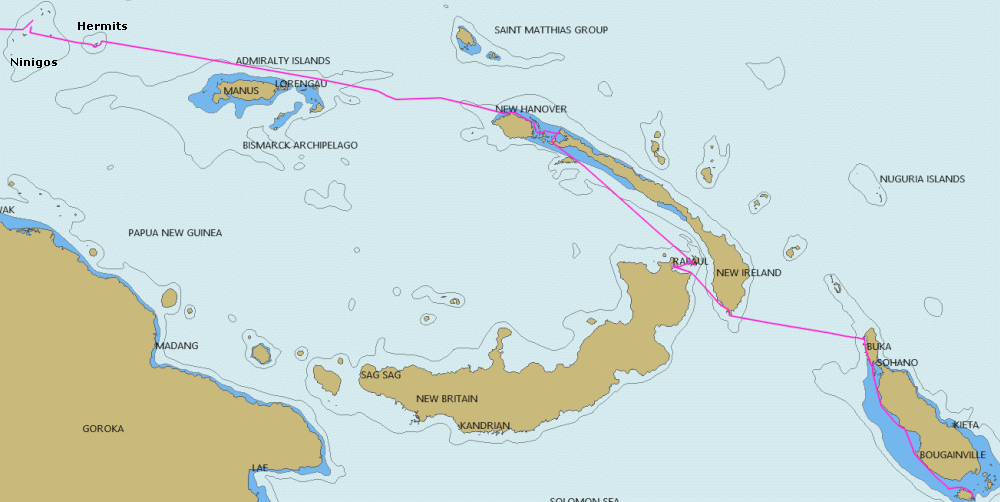 Ocelot's 2019 track through northern Papua New Guinea, from the Ninigos (upper left) through Bougainville
Anchorages: The table below, with the more in‑depth comments below that, lists all of the anchorages we visited on our way through Papua New Guinea, arranged basically from NW to SE. The anchorage links go to the in‑depth comments below. We've now added satellite shots of each anchorage, with our track in and out (our anchorage is usually pretty obvious from the track). These are much better than mud maps! Depths are in feet, distances are in nautical miles, latitudes are all south, and longitudes are all east. As always, if you have questions or comments, please contact us - we'd love to hear from you!
Date
2019
Anchorage
Area
South
Latitude
East
Longitude
Depth
feet
Cell
Comments
Jan/Oct
Longan Island
Ninigos
1º13.37'
144º17.90'
45' sand
No
Wonderful friendly people
Oct
NE Ninigos
Ninigos
1º10.88'
144º22.07'
20' sand
No
Delightfully isolated, good diving
Oct
Mal Island
Ninigos
1º24.05'
144º11.58'
27' sand
No
Very friendly
5 Feb
Maron Island
Hermits
1º32.52'
145º01.94'
12' sand
No
Shallow, new school
3 Oct
SW Hermits
Hermits
1º35.32'
145º00.32'
18' sand
No
Many beautiful anchorages
8 Feb
Alacrity Bay
Hermits
1º28.81'
145º07.89'
32' sand
No
Beautiful
30 Sept
Lombrum
Manus
2º02.63'
147º22.39'
35' mud
Yes
Secure
15 Feb
Duning Island
New Hanover
2º22.24'
150º07.30'
25' sand
Weak
Freighter & mini sub wreck dives
18 Feb
Analava Island
New Hanover
2º35.00'
150º29.31'
50' mud
Weak
Japanese bomber wreck dive
19 Feb
Kavieng
New Ireland
2º35.07'
150º46.89'
44' sand
Yes
Lots of wrecks, friendly officials
4 Mar
Albatross Channel
New Ireland
2º44.66'
150º43.02'
45' mud
No
Good diving off reef wall
6 Mar
Mioko
Duke of York
4º13.84'
152º27.19'
40' sand
Yes
Wanted $$ to anchor
25 Sept
Garove Island
New Britain
4º40.76'
149º30.40'
40' sand
No
Quieter than the village anchorage
24 Sept
Tuare Islet
New Britain
5º05.27'
150º11.52'
57' mud
No
Several anchoring possibilities
19 Sept
Walindi Dive
New Britain
5º26.19'
150º05.35'
Mooring
Yes
Dive resort very friendly to yachts
17 Sept
Kimbe
New Britain
5º33.01'
150º09.74'
35' sand
Yes
Liamo Resort very friendly
15 Sept
Commodore Bay
New Britain
5º32.29'
150º40.24'
26' sand
Weak
Kepiua River fun to explore
13 Sept
Planet Bay
New Britain
5º29.04'
150º50.27'
43' mud
Weak
Fun rivers to explore
12 Sept
SE Lolobau Is
New Britain
4º56.31'
151º12.70'
43' mud
No
Nicely calm when we were there
12 Sept
NW Lolobau Is
New Britain
4º54.24'
151º07.87'
25' sand
No
Protected from S & E
12 Sept
N Lolobau Is
New Britain
4º52.85'
151º10.53'
60' sand
No
Only reef protection
11 Sept
Pandi River
New Britain
4º55.83'
151º25.86'
20' mud
Weak
Well protected
10 Sept
Plantation
New Britain
4º11.92'
151º35.79'
25' mud
Weak
Rather open
10 Sept
Tokussup Bay
New Britain
4º11.60'
151º32.36'
45' sand
Weak
Protected
9 Sept
Natava
New Britain
4º11.46'
151º59.39'
25' sand
Weak
Lovely, with a new resort ashore
8 Mar
Rabaul
New Britain
4º12.43'
152º10.59'
Mooring
Yes
Very friendly yacht club
29 Aug
Cape Waum
New Ireland
4º43.57'
152º48.08'
25' mud
No
Very protected
14 Mar
English Cove
New Ireland
4º46.25'
152º51.44'
23' mud
No
Protected, Curious locals
17 Mar
Queen Corola Bay
North Buka
5º07.14'
154º32.20'
35' mud
Weak
OK anchorage, didn't spend the night
17 Mar
Ramun Bay
South Buka
5º25.57'
154º38.73'
45' mud
Yes
Protected, Watch for reefs
18 Mar
Cape Torokina
Bougainville
6º14.59'
155º02.02'
45' mud
No
Protected, friendly
| | |
| --- | --- |
| Is this useful? Buy us a beer! | |
---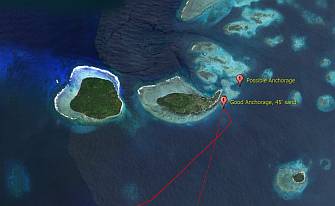 Longan Island anchorage and approaches
Longan Island, Ninigos, 1º13.37'S 144º17.90'E, 45 feet, sand, no cell signal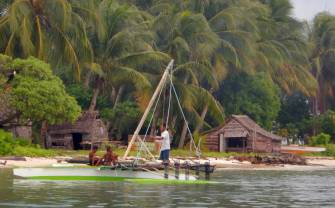 A Ninigoan sailing canoe partially rigged
We first entered the Ninigo Archipelago from the west, just south of Ahu Island, and sailed 10nm NE to reach Longan. Entrance can also be made just north of Longan - the pass is narrower (275m) but easy to navigate. The SE pass has a wreck on the northern reef, but is otherwise unmarked. The NW and SE passes should only be attempted with good satellite imagery &/or good sunlight. To come in from the east, proceed to the pass entrance at 1º22.22 S, 144º15.22 E, then turn ENE (013ºMag) to enter the atoll. We found no obstacles approaching Longan from the south or east, but good imagery &/or sunlight will show the shallows, some of which should probably be avoided. We anchored off the east end of the island proper, but apparently there are other anchorages: NE in a reef enclosed bay (we anchored at 1º13.07'S 144º18.16'E), south of Longan, or in the narrow bay north of Longan during the SE season (about June‑Oct).
A note on sailing from Indonesia to the Ninigos: The Mamberamo River that flows out of the very northern tip of the Papuan mainland (108nm east of Biak) has LOTS of logs, which flow out into the ocean. Some of these are quite big, and one of the boats in our flotilla damaged a rudder on one of these logs. We recommend staying at least 20nm off the coast to avoid the worst of these logs.
The Ninigoans are extremely friendly, and gave us a wonderful welcome to PNG. They fed all 4 boats of our flotilla 4 huge meals over the course of a week, but it's very expensive for them to motor to Manus or the mainland for supplies. The supply ships no longer call at the Ninigos, so they're desperate for any supplies: toiletries, clothing, fishing gear, snorkeling gear, eyeglasses, sugar, salt, spices, herbs, peanut butter, etc. They also need bigger ticket items like handheld GPSs, solar panels, batteries, charge controllers, inverters, 12v USB chargers, and LED lights. They wanted us to give our goods to the head‑man (Oscar) who then put (rather low) prices on them, sold them, gave us the money, and then we ritually gave it back for use on the school and community, although it was expected that we'd keep the money for big ticket items.
Jon spent a lot of time repairing solar installations with his powerful soldering gun, and gave Oscar a document on good solar installation practices. Unfortunately, nobody in the archipelago really knows how to take care of batteries, and none of them have the instrumentation for it anyway, so most of the batteries no longer hold much of a charge.
The Ninigoans LOVE sailing, and they race their canoes every Sunday, which is good fun. But they have to dismantle the entire rig, reassemble it at the other end of the canoe, and re‑hoist their sail (about 5 minutes of frenzied activity) just to tack, as their canoes are rigged as Proas, with the ama always to windward. Since there are no big trees in the archipelago, they depend on logs floating ashore to build their dugouts.
---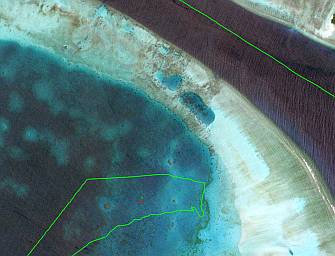 NE Ninigos anchorage and approaches
NE Ninigo Atoll, Ninigos, 1º10.88'S 144º22.07'E, 20 feet, sand, no cell signal

Approaching Xahaihon Island
This is really a settled weather anchorage, as there's no protection anywhere nearby. As the image at left shows, the area is full of coral heads, so satellite imagery is very useful, but most of our track is in at least 20' (6m) of water. The trick is to find an area free enough of coral heads to give you as large a swinging circle as possible. We were here in the SE season, so we anchored on the east side of our little sand hole, but there are certainly other sand holes nearby.
The joy of this anchorage (besides its remoteness) is the diving. We had a spectacular drift‑dive along the NE edge of the barrier reef, but the south side of the reef on the other side of the channel should also be nice. Getting across the barrier reef can be tricky, especially at low tide. At the very top of the image at left is a sand‑fan, and that area, all the way across the reef, is deep enough for a dinghy, even on the plane at neap tide. That fan is easy to see from the channel side, but harder to find from the lagoon side without a portable GPS (although we just winged it, setting off NW from our anchorage in the dinghy, and did OK).
We also took the dinghy 1.2nm SSE to long, skinny Xaheihon Island (closest to the anchorage) to look for birds Xahaihon means "turtle footprints" in the local language, but we didn't see any. We didn't find many birds either, but we did find the remains of a wrecked yacht, the aft area of the main hull of a Farrier Trimaran. Apparently it washed up on the beach about 2016, but it was actually wrecked somewhere else, probably to the east.
---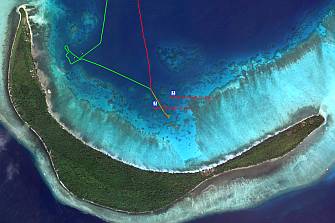 Mal Island anchorage and approaches
Mal Island, Ninigos, 1º24.05'S 144º11.58'E, 27 feet, sand, no cell signal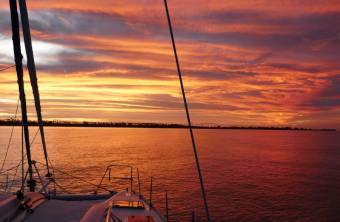 Tropical sunset from Mal, southern Ninigos
There are several possible anchorages off Mal, all of them relatively protected as long as the winds don't have any north in them. Approach from the NW and slip between the coral heads towards the point given above. Shallow draft boats can probably come closer to shore if they want a shorter dinghy ride (our anchorage is over 0.5nm from shore) but it means dodging more coral reefs. Our anchorage is in a sand pond that's about 500 feet (160m) across, so big enough for 2‑3 boats if they're friendly. There's another sand pond on the way in that should make a good anchorage, centered at 1º23.92'S 144º11.46'E. It's about 650' (200m) across so big enough for several boats, and it's still only 40' (12m) deep in sand.
There are 2 main clusters of houses on Mal. The smaller one is closest to the anchorage, just to the SSE. The larger one, where the school and the health‑center are, is about 2.5nm to the NW. Thomas and Elizabeth preside over the SE village, with their children and grandchildren around them. They're very welcoming, of course, with a guestbook that goes back several years. All the villages are immaculately swept, with a wide path (almost a road) joining the houses.
That path actually links the whole island. It's about 3nm long, and makes a delightful walk. It's cleared for a couple of meters on each side, pleasantly shaded the whole way, and when it gets close to houses it's bordered by decorative plants. The larger NW village has a well stocked health‑center that has both an SSB radio (5,814 KHz) and a (single) phone (+675‑276‑4544) connected to a satellite dish. The radio and the phone are right next to each other, in a window of the medical‑supplies building, but nobody is assigned to answer them. They're answered by whomever happens to be nearby at the time. Apparently several of the other islands had similar setups, but lightning zorched their satellite decoders, so the phones don't work anymore. Not sure why the phone company hasn't put in a cell‑tower, as a single tower could cover the entire archipelago.
---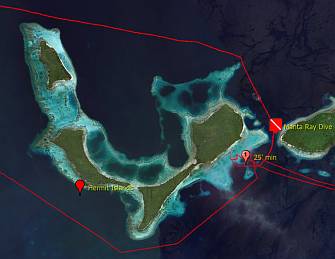 Maron Island anchorage and approaches
Maron Island, Hermits, 1º32.52'S, 145º01.94'E, 12' sand, no cell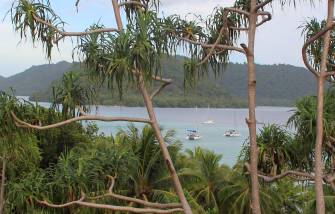 Our shallow Maron Island anchorage
The western pass into the Hermits is wide and easy, but there can be a pretty good current rip there (which also means good fishing!) The other 3 passes are much narrower, and really need good satellite imagery for safe navigation. The SE pass, especially, winds quite a bit, though there are some poles marking the reefs around it.
Most of the SE Maron Bay anchorage is covered in coral, so we came up on the sand‑flats, which have 9‑12 feet of crystal‑clear water. This requires navigating through and between coral heads, but once on the flats there are only isolated coral heads. Make sure your swinging circle is clear, as winds can come from any direction.
There's a small settlement on the west side of the gap between the islands. Bob, who lives there, is the semi‑official yacht‑greeter and keeper of the logbook of visiting yachts. He will also, for a small fee, take you swimming with mantas in the gap between the 2 islands. Good fun!
There's an interesting residential high school for academically gifted students being built on western ridge of Maron Island. Several of the students showed us around. We're not sure why they didn't build the school on Manus, since most of the students were from Manus. There was no cell service when we were here in 2019, but the school apparently has Wi‑Fi connected to a private satellite link for internet access.
---

SW Hermits anchorages and approaches
SW Hermits Anchorages
Latitude
Longitude
1º35.30'S
145º00.40'E
1º35.09'S
144º59.49'E
1º34.73'S
144º58.81'E
1º34.55'S
144º58.75'E
1º33.72'S
144º58.39'E
1º33.32'S
144º58.31'E
SW Hermits, Hermits, 01º35.32'S 145º00.32'E, 18' sand, no cell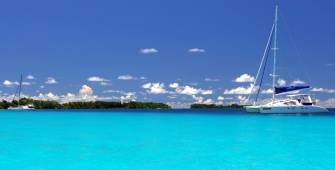 Ocelot & Soggy Paws anchored at SE Hermits
We came to this anchorage from Manus, so we came in the southern‑most of the 2 SE entrances. There's a pole marking the south end of the small reef between the 2 entrances, and another pole marking the north side of the inner channel, but obviously, these haven't been maintained in years. Currents in these entrances can be strong, as the water doesn't have many places to escape the lagoon. Water is generally coming into the lagoon from waves crashing over the barrier reef, so currents in the passes are flowing out more than in.
One thing we noticed when we got into the lagoon is how stunningly beautiful the archipelago is. I guess we haven't been in a South Pacific atoll in a while...
There are actually several lovely anchorages along the inside of the Hermits barrier reef on the SW side (see table under the satellite photo at left). All of them are probably better than our Maron Island anchorage (above) but they're more remote. They're all on clear sand, and less than 40' (12m) deep. If you click on the satellite image to the left, you can see them sprinkled along the inside of the reef. You can download a small GPX file of these anchorages by clicking here.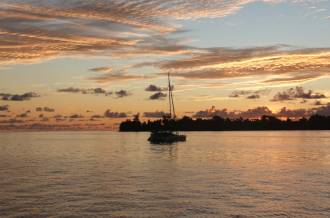 Sunset in the Hermit Islands paradise
Approaching any of these anchorages is relatively easy, but the Hermit Archipelago is FULL of coral heads and shallows. You can usually see them if the sun is high and behind you, but good satellite imagery is extremely useful. The picture to the right of our Charts section above is a satellite image of the Hermits.
All of these anchorages are on sand flats. The approaches are all relatively deep, but once you get to the sand the bottom comes up quite sharply, sometimes to only 20' or 6m. Make sure you're well onto the flat, as you don't want your anchor to fall down the slope. In bright sunlight, these anchorages look quite shallow because of the sand, but any cruising boat should have no problem, and most will even give you a full swinging circle.
Note that we only anchored at the location listed above, but we did visit all of these locations in the dinghy, to make sure they were suitable. The last one listed is only 2nm from the west entrance to the Hermits, the closest anchorage we've found to that entrance. It's also the smallest of the lot, but it's still 600' (180m) across, which should be big enough for 2‑3 boats. All the others are big enough for many boats to anchor comfortably.
The long, skinny island (Pianau) has a tiny village on the SE end, but the other nearby islands appear to be deserted (aside from temporary fishing‑camps). There are literally hundreds of Red‑footed Boobies and Black Noddies nesting on the 3 southern islands. On a 30 minute dinghy exploration trip we saw 4 turtles. Some of the coral looked to be in nice shape, but other places had obviously been abused.
---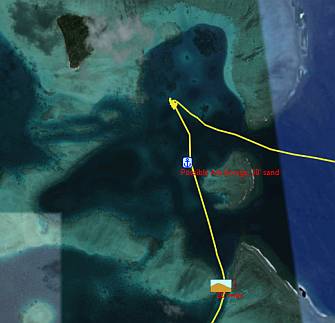 Alacrity Bay anchorage and approaches
Alacrity Bay, Hermits, 1º28.81'S, 145º07.89'E, 32' sand, no cell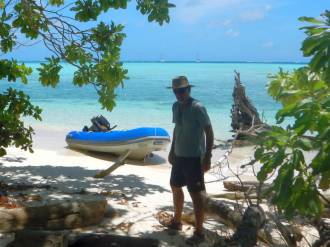 Ya gotta love these types of anchorages
We opted to go have a look at Alacrity Bay, and ended up spending several days there as the weather closed in. The channel to the south is 250' (75m) wide and 20' (6m) deep. It offers relatively easy access if the light's good. At high tide, a small chop comes over the reef, but we found the anchorage generally comfortable in the NW season (about Dec‑April) despite some ugly weather. The 2 big eastern passes are easy to navigate. There's also a western channel that we investigated by dinghy and found to be navigable. Once in the bay there are numerous anchorages in good holding sand.
The island appears to have been used as a fishing camp at times, but nobody was there when we visited. There are some wells on the island if you need water. These use the "water lens" under most islands, with the fresh rainwater floating on the saltwater. Such water is usually not salty, but we don't know about biologics that might be in the water.
There are dozens of snorkeling opportunities all over the bay, and we had good fun swimming in the clear water. Beware of strong outward flowing currents if you snorkel near the pass.
---

Lombrum (Manus) anchorage and approaches
Lombrum, Manus, 2º02.63'S 147º22.39'E, 35' mud, good cell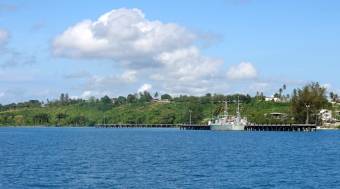 Approaching Lombrum, 2 docks visible
Manus got a bad reputation from some attacks a few years ago, that were blamed largely on the presence of the Australian Refugee camp here. But the refugee camp closed at the end of 2017 (and we're not convinced they were much of a problem anyway). We have been promised that this anchorage, between the military docks, was very safe. The approach is strewn with shallows, but they're deep enough that most cruising boats won't have to worry about them. Still, we kept an eye on our satellite imagery. Lombrum Bay is big, with room for many boats, and shoals gracefully the deeper one goes in. The bottom is mostly mud, but there are a few small coral patches here and there, with more deeper into the bay. Make sure you anchor out of the way of any shipping at the docks.
The Port Manager is Philbert Nadi (+675‑7123‑4157 or +675‑7578‑1805). If you contact him before (or when) you arrive, he will arrange for Customs to clear you in. He can also arrange for the (HUGE) diesel truck to deliver diesel right to the docks. This was actually cheaper than what's available in town, although you'll have to go to to town for petrol. In 2019 the charge was K3.8/L plus 10% tax, but we were able to talk our way out of the tax (possibly because we didn't have any Kina left). Measurements seemed very accurate, and the diesel seemed clean despite the truck having no filters. For boats heading west, this is the last opportunity for diesel before Vanimo (380nm), Jayapura (400nm), or Biak (680nm).
The Australian military base that housed the refugees is slowly being taken apart. Huge diesel generators, water desalinators, modular housing units, and even industrial washers & dryers are all quietly rotting away. Apparently the US will be building a bigger base here Real Soon Now. There were 2 PNG patrol boats (gifts from Oz) at the dock when we arrived, both with engine issues. The Customs folks took us into Lorengau, which takes over 30 minutes, although the roads were in good shape. There's a big, reasonably supplied local market and a Papindo grocery store, but the supply boat only comes 1/month, and many shelves were bare. In theory they'll take credit cards, but they couldn't process ours. The BSP bank has 3 ATMs. The Lorengau Harbourside Hotel is right downtown and has nice hamburgers, fish & chips, or chicken meals for about US$11 (K35).
---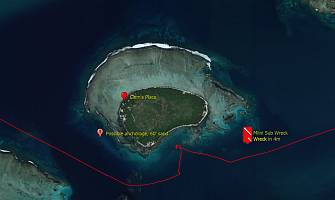 Duning Island anchorage and approaches
Duning (Dunung) Island, New Hanover, 2º22.24'S, 150º07.30'E, 25' sand, weak cell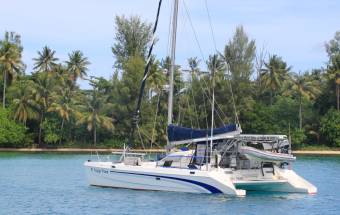 Soggy Paws anchored at Duning Island
Duning Island is part of a chain of islands off the NW coast of New Hanover. When we were sailing east, we decided not to stop (or even go near) Manus, so we sailed directly from the Hermits to Duning Island. The approach was easy in the NW season, and the anchorage south of the island, in its lee, is delightful. In the SE season there may be a protected anchorage west of the island, off Clem's Place, but it's reputed to be 60' deep.
Clem (+675‑7022‑2776, ClementAnton24@gmail.com) owns a backpacker place on the west side. He's a fountain of information and very helpful. We gave them a bunch of fixings and they turned them into 4 big pizzas for us. They have beers and a pleasant dining area.
There are 2 Japanese wrecks just SE of the island, a freighter lying on its side in only 4m, so easily seen from the surface. It's cracked in half with bits littering the sea floor. From the aft towers is a rope on the bottom leading just east of north that takes one to a virtually intact Japanese mini‑sub. Bottom is about 60' for both wrecks.
Another fun activity is to go 45 minutes up the river 3nm SSW of Dunning to a friendly village that will build you bamboo rafts to take back down. Clem can organize everything. Take school supplies as the village school gets no support from the government, and the one teacher, Anna, is doing the best she can for her 50 students (grades kindergarten, 1, & 2).
---

Analava Island anchorage and approaches
Analava (Anelaua) Island, New Hanover, 2º35.00'S, 150º29.31'E, 50' mud, weak cell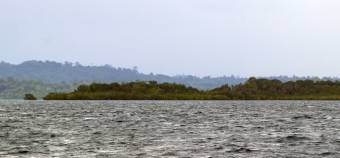 Approaching our Analava Island anchorage
Ysabel Pass, which goes between Duning and Analava Islands, is pretty unencumbered to the NW, but there are lots of little reefs at its SE end, so one must pay attention. But ships transit the Pass, and safe shipping lanes are marked. There are large shallows north of Analava, and smaller shallows to the south, but they're easily avoided and there are no other hazards when approaching.
The southern end of Analava is home to a residential technical school. The students often walk the path from the school to the small jetty at the south end of the bay. They're very friendly and desperate for reading matter.
Just around the tip of the island, in the shallow channel between the island and the reef to the east, is a Japanese Kate bomber in only 25' (8m) of water. Its outline can be made out from the surface, and it's in pretty good shape. The prop isn't bent, so it wasn't spinning when the plane went in.
---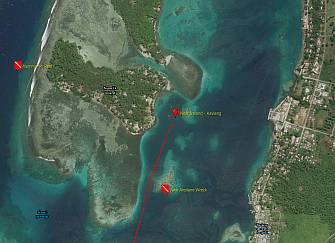 Kavieng anchorage and approaches
Kavieng, New Ireland, 2º35.07'S, 150º46.89'E, 44' sand, good cell
Most folks anchor across the bay from Kavieng, off Nusalik and the Nusa Island Retreat (VHF 69, +675‑7231‑8302). Getting in there requires good light (or good satellite imagery) as there are lots of reefs around, but it's well protected. We came in from the south, as the bar has 20' (6m) over it, but most folks enter and leave through the (sort of) marked channel to the east. Don't go too far north, as the bay shallows there, and the winds can blow strongly from any direction.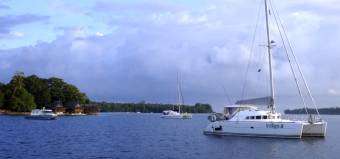 Indigo II & Soggy Paws at our Kavieng anchorage
Unfortunately, there are no good places to leave a dinghy on the Kavieng side of the bay. Scuba‑Venture may let you tie off at their dock, if you ask politely and you're careful to keep your dinghy away from their operations. There's a rather dilapidated fuel‑dock just next to Scuba‑Venture that may also let you tie up - talk to Julius (+675‑7248‑9945) but it's less protected. Most of the time we left our dinghies at Nusa Island Retreat and paid them to ferry us across ($3/person, or $15/boat‑load, round trip). If you let them know ahead of time, you can have a buffet dinner at Nusa Island Retreat for K88 (US$27) each.
Shopping: From the open market on the waterfront, go up the hill to the main part of town. There's a bank of ATMs on the left as you arrive (Bank South Pacific). There are at least 3 big‑ish grocery stores, but things like good cheese, cereal, and fresh meats are hard to find. If you turn left and go past the petrol station to Joe Tong's, they've got excellent ice cream and probably the best selection. Kavieng Meats has good frozen meats, and Kavieng Deli has imported specialty items. Several places will sell you phone SIMs, but if you'll be in PNG more than a month, you should get them registered.
Diving: There are lots of WWII wrecks and other beautiful dives in the Kavieng area. Jason and Jolene (+675‑7489‑0588) run Scuba‑Venture, and they're very good (and cruisers themselves) but their boss doesn't let them give any breaks to other cruisers, so they're the same price as everyone else (expensive). They'll fill tanks for $10 if they've been hydro‑tested in the last 5 years (and they can hydro‑test them if you'd like). There's another dive operation, Lissenung (Dietmar, +675‑7234‑5834) on an island 5.5nm SSW of the anchorage (marked Lisseno on the CM93 charts) but it offered no advantages unless you're anchored there. We hired a private, free‑lance dive‑master, Angi (+675‑7003‑2254, AngiDong0@gmail.com, $60+fuel for Angi and boat for a half day). Angi's nice and knowledgeable, but he doesn't have his own gear.
---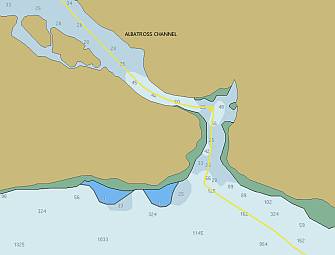 Albatross Channel anchorage and approaches
Albatross Channel, New Ireland, 2º44.66'S, 150º43.02'E, 45' mud, no cell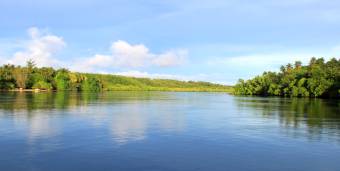 Going down Albatross Channel
Albatross Channel cuts between NW New Ireland and Binnesem (Baudissin) Island. Half a mile north of the southern opening, the channel widens into a little cove where boats diving the wall off Albatross like to anchor. There are no hazards to entry or exit, but the CM93 charts are displaced by 400‑500 meters. There's room for several boats.
This was our jumping off point for Rabaul and the Duke of York Islands, so we only spent the night, but many boats spend several days here, diving the wall outside the channel. Underwater currents can apparently be quite strong, so dives should be timed with the tides. But strong currents usually make for awesome corals and magnificent dives.
---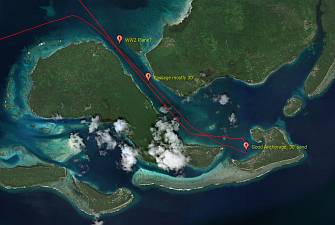 Mioko Is, Duke of York anchorage & approaches
Mioko, Duke of York, 4º13.84'S, 152º27.19'E, 40' sand, good cell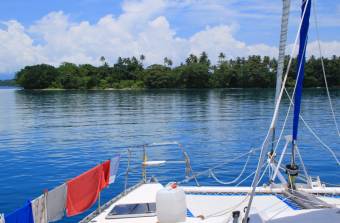 Our Mioko Island anchorage on laundry day
The Duke of York islands are beautiful, with a well protected anchorage in good sand. The channel in from the NW is wide and about 30' (9m) deep. The only hazards are a reef in the middle of the bay, and staying off the coral when anchoring. We preferred to anchor 1/3nm from the village, for some privacy, but they asked us to move closer to the village, for "safety". OK.
But our welcome was anything but welcoming. The first visitors to come out to us demanded money for anchoring. At first they asked for US$15/hr, which was ridiculous (and very different from, say, the Ninigos). The first boat of our flotilla to arrive eventually negotiated a price of K20 ($6) per boat, but they did so without discussing it with the rest of us. We should have told them we'd go and see the head‑man ourselves to negotiate an anchoring fee. We've found that bringing a small gift usually gets the fee waived, and makes the whole engagement much more friendly.
There's good cell coverage over all of Mioko Harbor. We were told there were Dugongs, but the folks who took us out to see them never found any. There's also supposed to be a sunken plane off Ruruan Island, but again, we never found it. There are some Japanese tanks and a sunken landing craft off the very northern tip of Duke of York island, but that's 9nm from the anchorage.
---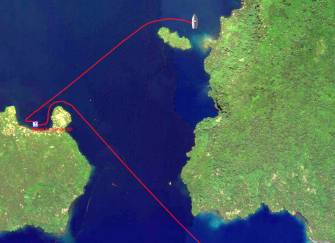 Garove Island anchorages and approaches
Garove Island, New Britain, 4º40.76'S, 149º30.40'E, 40' sand, No cell as of 2019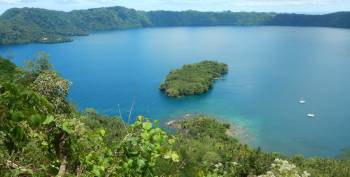 Ocelot and Soggy Paws at Garove
Garove (ga‑RO‑vay) proved to be a delightful stop! And there are at least 4 good anchorages here: 2 inside the caldera, and 1 on each (E‑W) end of the island. Coming into the caldera, there's a rock on the eastern side of the channel, but otherwise there are no hazards when approaching. The rock is unlit, but it does have a cross on it. Come around behind the oblong island and nose around until you find an area you like. There's room for many boats on the gently shoaling shelf behind the island. The bottom is apparently sand, but there are patches of coral now and then, which would be good to avoid. The anchorage is protected from all directions, and is very secure. We were told there were NO crocodiles here, and snorkeling between the island and the crater wall is apparently good.
There are actually 2 good anchorages in the Garove caldera. The one above is our preferred anchorage, and probably the best one in the NW season (Dec‑April) but it's quite possible to anchor off the village at about 4º41.49S, 149º29.20E, in 60', sand (left side of each photo). This point is 80m from land, but the winds should never be very strong in here, so you can probably cheat a bit on scope.
Blaise Tubunota (+675‑7003‑0326) is the local guide, and he will probably paddle out to say hello. He's trying hard to make Garove a tourist destination. There's a fun walk up to the rim of the caldera for hardy souls (take lots of water). The trail goes up steeply enough that he's fixed ropes in 4 places to make it easier. Blaise (and his kids) do the walk barefoot, but wimpy westerners will want good shoes. The top is at 1,200' (360m) and the trail can be muddy if it's been raining. At the top is a Japanese 20mm cannon, a Japanese cave, and what appears to be a WWII water catch‑basin. Blaise also has (live) rounds from this cannon, as well as smaller 7.7mm rounds (also live), a Japanese hand‑grenade, and lots of morphine(?) vials from the war. Blaise and his wife Decla are clearing land at the top for a coconut plantation so they can make copra.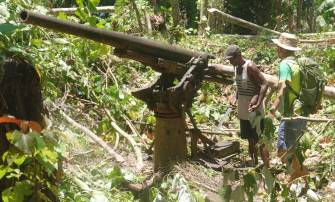 Japanese 75mm anti-aircraft gun (& shell in arm)
There are tours of the village, and walks along the road that goes all around the island. If you can provide 20 liters of fuel, he can also take you in his fiberglass launch around to Peter Haven, where there are more WWII relics. Peter Haven also has a possible anchorage at about 4º40.03S, 149º32.23E, in about 50'. This point is only about 50m from land, so again, a bit close, but the center of the bay is deep. There are three Japanese 75mm AA‑guns on top of a ridge you can walk to.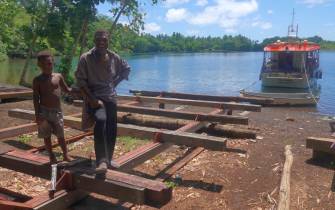 Peter Haven haul-out yard
Peter Haven has built a frame to haul out boats. They haul boats out with a tractor, using coconut logs under the frame for wheels. All rather ... crude and creative, but apparently they've built and launched a 60' (18m) power boat there, and they were preparing to haul out a 40' trawler when we were there. Their frame is currently 15' (5m) wide.
We didn't visit the 4th anchorage at Widu Harbor, but the charts say it should be protected from all easterly winds, and the reefs almost enclose it. It's at 4º41.15S, 149º26.11E, off the old (abandoned) airstrip, in about 20', probably black sand like the rest of the island. Actually, anywhere in that big bay looks good, although there's a 12' patch a bit south of the above location, and a much smaller 13' patch a bit north of it. There's an extensive reef system off the south end of the bay, which will need to be avoided if you come from that direction, but otherwise there are no approach hazards. This end of Garove is much flatter, so the farms are more extensive. The old airstrip appears to have been converted into gardens, so no planes come there anymore.
The Garove villagers support themselves with Copra, and the boat comes around every week or so to take the 100Kg sacks to Kimbe for processing. There's a prominent cell‑tower on the ridge, but after the system was running for 5 years, some idiots stole the solar panels and batteries that drive the tower, and the phone company says they're not going to fix it until the equipment is returned and the people promise not to steal it again. There are several primary schools on the island, and at least 3 churches (Catholic, SDA, and AOG) but the original missionaries, who set up some innovative and useful systems, have left, and those systems have not been maintained. The island is extremely poor, and would appreciate any donations of medications, toiletries, clothes, food, fuel, money, etc.
---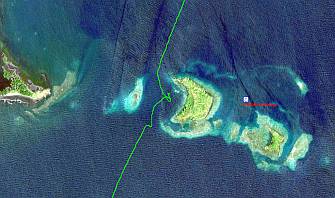 Tuare Islet anchorage and approaches
Tuare Islet, New Britain, 5º05.27'S, 150º11.52'E, 57' mud, No cell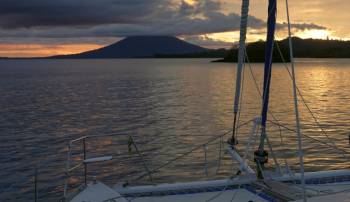 Sunset at our Tuare Islets anchorage
There are actually several anchoring possibilities here, with varying hazards on the approach. When we arrived, the wind was out of the east, as it had been all afternoon, so we anchored where we'd have the most protection from that quarter. But as the sun set, the breeze turned to the south, which let a bit of chop in, but we were still comfortable. You can apparently also anchor between the 2 islands (where our anchoring mark is) or up against the mainland, behind the reef that sticks out to the NE, although that second one looks like it could get shallow. We were also told that we could anchor south of these islands, but that looks a bit deep (and it was a big dive boat that gave us that information).
This was just an overnight stop for us, to reduce the distance to Garove Island the next day, so we didn't go ashore. Sue reports that birding was quite good, even from the boat.
---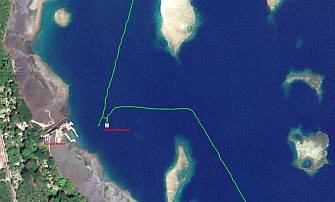 Walindi moorings and approaches
Walindi Dive, New Britain, 5º26.19'S, 150º05.35'E, Mooring, Good cell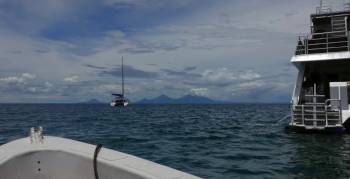 Ocelot on Walindi's mooring
As can be seen from the satellite shot, there are numerous reefs around Walindi, and very few of them are marked, so satellite imagery is very useful. There were 2 good moorings when we were here in September of 2019. Each had a strong rope with a reinforced loop at the end, and they're regularly checked. The dive resort uses them for their own boats, of course, so you should contact the resort ahead of time if you'd like to use them (Walindi Plantation Resort, +675‑983‑5441, Max and Cecily run the show). The second mooring was just a bit NW of our mooring. Although there are reefs around, they didn't seem to break up much of the chop. At the change of tide (especially) we had some small but uncomfortable slop coming onto our beam. At one point we actually rotated ourselves around so we were hanging broadside to the mooring, to keep our bows into the wavelets.
Walindi is a very up‑scale dive resort. If they have space available on their boats, cruisers are sometimes welcome to go diving with them. There's lots to see, and the guides we had were very professional. Their published rates are much higher than we're used to paying, but we were able to negotiate a much better rate ahead of time, promising to do at least 6 dives with them. The grounds are beautiful, and the bar is friendly, with a nice view of the ocean. Sue did a nice bird‑watching hike. Folks can sign up for their K88 (US$25) buffet dinners if you give them a day's notice. Sunday night is their carnivore night, with chicken, lamb, beef, and pork all available (followed by ice cream and fruit salad!

)
---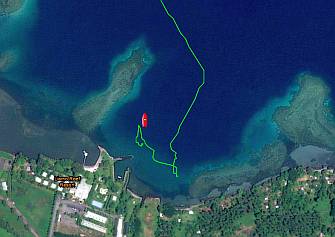 Kimbe anchorage and approaches
Kimbe, New Britain, 5º33.01'S 150º09.74'E, 35' sand, Good cell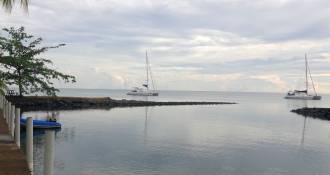 Ocelot and Soggy Paws off Liamo Reef Resort
This anchorage presents no real problems on approach, but there are several reefs offshore that need to be avoided. We found satellite imagery to be very useful. Boats should anchor close to the reef to the west. If you anchor too far to the east, the village may come out to demand anchoring fees, as they claim that side of the bay. But there's still room for several boats to anchor on the resort's side of the bay.
Kimbe is delightful. The Liamo Reef Resort was very friendly, which certainly helped. Tupari & Ramona, who manage the resort, were very welcoming, and allowed us to use their boat basin as a protected dinghy dock, and to use their drivers when they didn't have other duties. However, there are sharp rusty points sticking out of the concrete basin, so beware (one of them punctured our dinghy). The 8 night‑watchmen will keep an eye on your boat, so we felt quite safe.
There's apparently another anchorage off a tiny wanna‑be marina at about 5º32.69'S 150º08.72'E, but we didn't check it out.
Kimbe is fairly upscale, as there's a lot of palm oil and mining money around. There are good grocery stores in town, good fuel, and several good hardware stores. The Andersen's grocery store that used to be here seems to have been bought up by Welcome, but they still had good cheese, fresh & frozen meat, broccoli(!), butter, etc. More info on Sue's PNG Provisions page. Diesel here was cheaper than Rabaul. The public market was well stocked. We were able to get several fan‑belts for US$5‑8, but alternators were very expensive (over US$300 for 80A).
---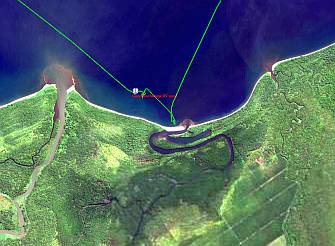 Commodore Bay anchorage and approaches
Commodore Bay, New Britain, 5º32.29'S 150º40.24'E, 26' sand, Weak cell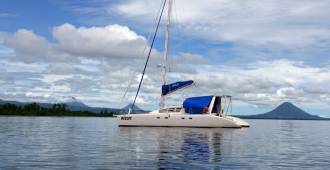 There are volcanoes around Commodore Bay
A huge bay with black sand beaches sloping into deeper water. There are no obstacles to the approach. Our track shows that we first anchored near the serpentine river (it's actually a lagoon) but the bottom sloped too rapidly for comfort, and left us too close to shore. Moving west (to the Lat/Lon above) we found a more gently sloping bottom, with excellent holding, and comfortably far from both reef and shore.
There are no facilities, but we had a lot of fun exploring 3 rivers here: the Kapura to the west of the anchorage, which was easily entered by dinghy over a 4.5' (1.5m) bar. Inside, the river is wide and deep with very few log jams. We traveled more than 13nm inland, against a 1.5 knot current.
The serpentine "river" in the middle of the satellite image is actually an estuary fully enclosed by tall mangrove trees. Very beautiful, but only a short exploration of about 2nm in total. To the east of the anchorage we went up the Bolumi River about 3nm until we were stopped by a log jam across the rapidly flowing current.
---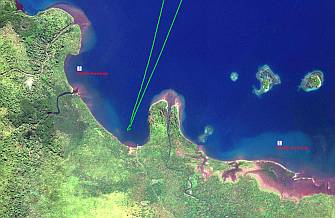 Planet Bay anchorage and approaches
Planet Bay, New Britain, 5º29.04'S 150º50.27'E, 43' mud, Weak cell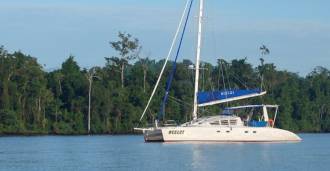 Ocelot anchored at Lasibo, Planet Bay
The locals call this Lisabo, but our charts show the bay as Planet Bay. There are no hazards when entering. If the winds are offshore, you'll get more protection by staying close to the peninsula and going further in. Protected from the south, east, and west, it was a nice place to spend a couple days.
Charles owns the land in the crook of the anchorage, just beside the logging wharf, and he was friendly and interested in visiting with us.
We took the dinghies up the rivers for some fun exploration and birding. The bars to the rivers were never less than 2.5 feet, even at low tide, and once inside the rivers deepened to over 8 feet (2.5m) and often much more. We went up Ala river, just to the east of the anchorage, for 3nm.
---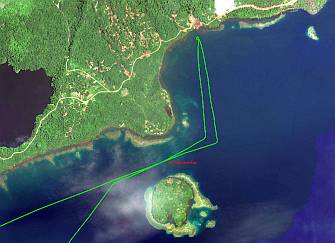 SE Lolobau Island anchorage and approaches
SE Lolobau Island, New Britain, 4º56.31'S 151º12.70'E, 43' mud, No cell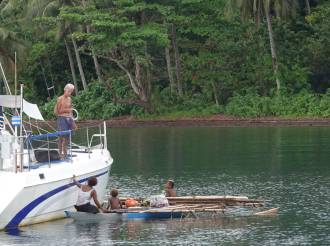 There are lots of local boats at SE Lolobau
We circumnavigated Lolobau Island (to check out some other potential anchorages) so ended up coming into this anchorage from the west and south. You can go between Tiwongo and Lolobau Islands easily; the minimum depth we saw was 20' or 6m. Although we were there in the nominal SE season, we had very little wind, so felt very secure.
There are apparently lots of small villages a bit south of the anchorage, so we had several interested locals around in their outrigger canoes. Everyone was very friendly, and we were able to trade for some fruits and vegetables. But there's not a lot to do here, so we left the next day.
---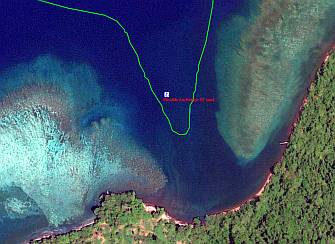 NW Lolobau Island anchorage and approaches
NW Lolobau Island, New Britain, 4º54.24'S 151º07.87'E, 25' sand, No cell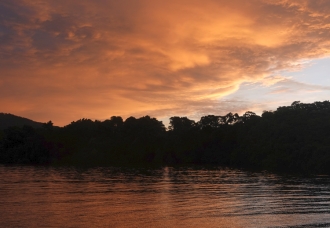 Another glorious PNG sunset
We didn't anchor here, but explored the bay between the coral reefs, checking depths and bottom. We found 25 feet (8m) with smooth sand, and had we not been concerned about winds from the north, would have put the hook down. The bay is well protected from the south and east, but it's wide open to the NW. There's room for 2‑3 boats.
There's a tiny village about 0.7nm to the SW, and a track of some sort goes past the bay, but otherwise it's pretty isolated. The reefs on the sides looked like they might offer some nice snorkeling.
---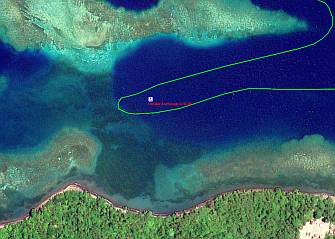 North Lolobau Island anchorage and approaches
North Lolobau Island, New Britain, 4º52.85'S 151º10.53'E, 60' sand, No cell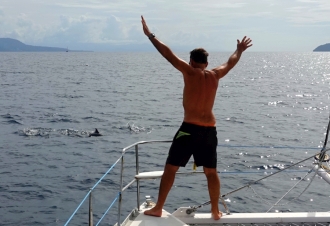 Jon waving to dolphins swimming off our bows
We didn't anchor here, but explored the bay deep into the clear water between the coral reefs, checking depths and bottom. We found 50‑80 feet (15‑25m) with smooth sand, and had we not had plans to join our cruising buddies, would have put the hook down. In settled weather it would be a glorious reef-enclosed anchorage.
There are no real hazards on the approach, but the bottom shoals rather suddenly at the end of the bay, so satellite imagery (and a good depth sounder) are helpful. The bay is protected from the north by the reef, but the reef to the west is deep enough to let some chop come over if it's blowing from that direction (as it was when we arrived). But we suspect that night time winds would come from shore, as the cooler air falls down the mountain.
There's a village SE of the anchorage, and several locals lined the shore to wave to us.
---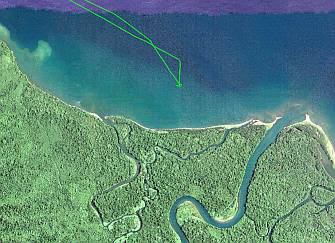 Hixon Bay (Pani River) anchorage and approaches
Hixon Bay, Pandi River, New Britain, 4º55.83'S 151º25.86'E, 20' mud, Weak cell

Approaching our Pandi River anchorage
We'd originally planned to anchor somewhere around Kakolan Island, 5nm WNW, but we didn't like it there. The anchorage was too deep, and the local villagers (mostly volcano refugees) looked a bit too desperate, so we came here.
A black sand beach slopes gently into the sea and offers good holding in mud/sand. There are a few reefs 3‑5nm to the NE, but no real hazards to avoid on the approach. Come in until you find an anchoring depth you like.
Depending on where you anchor, the Pandi River is only about 1nm to the east. Taking your dinghy up the river is good fun! We went up for about 6nm, enjoying the scenery and the birds (and giving the outboard a fresh‑water rinse!). Be careful going over the bar at the entrance, but after that it's all pretty deep as long as you stay on the outsides of the curves and don't try to cut the corners. This was the first of several rivers we had fun exploring on our way around from Rabaul to Kimbe.
---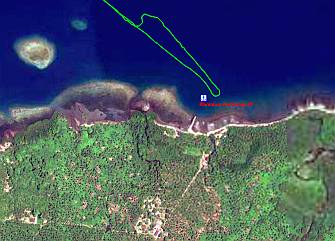 Plantation anchorage and approaches
Plantation, New Britain, 4º11.92'S 151º35.79'E, 25' mud, Weak cell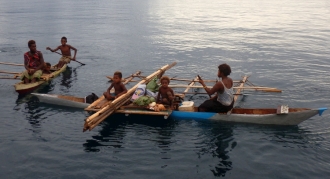 The family station wagon
Another anchorage that we explored but didn't actually anchor at. The bottom is flat and relatively shallow. There are many small reefs offshore, so satellite imagery is almost necessary for the approach. The anchorage is completely exposed to the north, but most of the time the night winds blow from the land once the land cools down from the heat of the day.
There's a good dock and a plantation about 0.3nm inland. It's managed by Tony Stouts, an Aussi ex‑pat who's been around for many years, and is apparently an interesting fountain of information and stories. Unfortunately, he wasn't around when we came by, or we would have anchored here (and probably plied him with beer...

).
| | |
| --- | --- |
| Is this useful? Buy us a beer! | |
---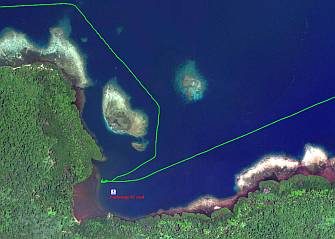 Tokussup Bay anchorage and approaches
Tokussup Bay, New Britain, 4º11.60'S 151º32.36'E, 45' sand, Weak cell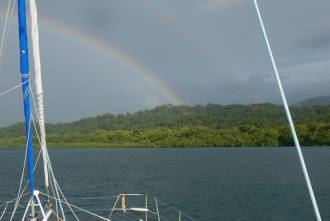 Rainbow as we approached Tokussup Bay
The winds at Plantation were blowing onshore when we got there, so we sought out an anchorage with better protection, and Tokussup Bay was only 3.5nm further west. There are lots of reefs offshore, including an entire barrier reef system to the north and west of the Gazelle Peninsula, and the poorly charted Talele Islands to the NE, so good satellite imagery will be very useful. The anchorage is protected to the south and west, and to the north (mostly) by reefs. At night, the cooling land usually brings an offshore breeze, which is very comfortable. Anchor before you get to the shallow mud‑banks shown in the satellite image.
There's not much to do ashore. There are enough mangroves providing cover for crocodiles that snorkeling didn't sound appealing. This was more of a convenient place to stop for the night on our way around the Gazelle Peninsula from Rabaul to Kimbe.
---

Natava Bay anchorage and approaches
Natava, New Britain, 4º11.46'S 151º59.39'E, 25' sand, Weak cell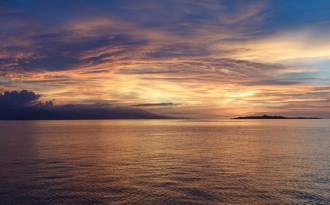 Our peaceful and protected Natava anchorage
Natava seems to be the village to the east of Cape Liguan, the western‑most point of the Rabaul Peninsula. Here we found a delightful anchorage that doesn't really show on any of our nautical charts, only on satellite imagery.
You have to dodge a shallow reef when you enter. You can go on either side of it, as your sunlight and visibility allow, but the channel to the east is 40' deep, while the western passage is only about 20' deep. Once inside, head south and anchor as convenient. We were in 25' (8m) and still almost 1/4nm offshore.
There's a little resort‑ish thing to the SW you can dinghy to, but watch out for shallow reefs. It wasn't really open to the public, but the caretakers were friendly and happy to show us around. The restaurant wasn't really open, but there was a small shop with ice cream. You could even buy (rather expensive) fuel if you wanted. There's a small boat‑pond, with a dock and a university research vessel quietly rusting its way to the bottom. We could have spent several days here exploring the extensive reefs, but we were anxious to get to Kimbe to do some diving.
---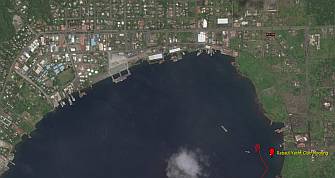 Rabaul Yacht Club mooring and approaches
Rabaul, New Britain, 4º12.43'S, 152º10.59'E, Mooring, good cell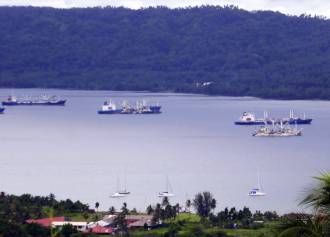 RYC & our fleet on moorings (Ocelot far right)
Rabaul was a major base for the Japanese during WWII, so the bottom is littered with wrecks. Rather than anchoring, we chose to pick up one of the 5 moorings outside the Rabaul Yacht Club. These moorings are actually difficult to use, as there's no easy loop to bring to deck level. Eventually we had to drop the dinghy and feed a rope through the (very small) float‑loop. But watch out for stinging hydroids on the rope.
The YC is friendly, but the floor is sunken, so it fills up with water whenever it rains. Drinks and WiFi are available, but meals are only served on Friday night. There's a good dinghy dock. To get to town, walk out to the (gravel) road and wait for a bus (van, K1 in 2019).
The Customs officer is on the waterfront (if he's not out fishing) with a clear view of the YC moorings. He actually came looking for us when we arrived, and he was able to stamp us out of PNG (usually Immigration's job) when we left. All very friendly, efficient and convenient.
Rabaul has a lively market, several good grocery stores, fuel, cooking gas, and we even found good epoxy resin in the hardware stores. Since so many villagers want small solar systems, several places will sell complete systems (panel, battery, charge controller, and maybe a light or 2) for quite reasonable prices. Rigid framed solar panels were under US$1/watt in 2019.
We were able to negotiate an all‑day tour to Kokopo for K200 ($65) for the van and driver. Rob, a very talkative fixture at the YC, came along as guide and we tipped him another K200. Since the coast road was washed out, we took the inland road through the mountains. We visited an excellent grocery store (good cheese!), a WWII museum with lots of equipment, a war cemetery, Japanese tunnels, some big guns, the Volcano observatory, the Japanese peace memorial, and some viewpoints. We also visited the museum in Rabaul and Yamamoto's bunker, both an easy walk from the YC.
---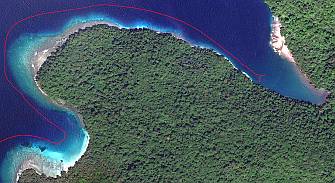 Cape Waum anchorage and approaches
Cape Waum, West, New Ireland, 4º43.57'S 152º48.08'E OR 4º43.76'S 152º47.50'E, 25', No cell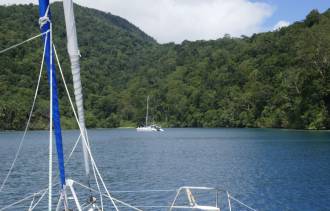 Coming into the inner Cape Waum anchorage
There are actually 2 anchorable bays here, one at the base of the Waum penninsula and one on its NW edge. Both are somewhat exposed to the NW. The inner bay offers far more protection (and apparently several crocodiles) but the outer bay looks much nicer, with clear water and nice sand and nearby reefs for snorkeling. Both are about 25' (8m) deep, with room for 2‑3 boats. The main thing to look out for on the approach is Watarea Rock, just west of the peninsula, but it's easy to see. You can actually sail inside the rock, as it's 20' (6m) deep between the rock and the cape. You can also easily sail between Ningin and Lamassa Islands, but watch out for the reef that sticks SE from Reef Point at the south end of Lamassa Island.
There are apparently a few villages NW of the cape, and villagers often come to the bays to fish, tend their gardens, and collect fresh water from the stream NE of the inner anchorage (white area in the photo). Wesley can show you to a WWII airplane wreck that's apparently an easy walk from the inner anchorage, but after promising to guide us, it rained for the next couple of days and he never showed up. This tip of New Ireland seems to attract rain in the SE season (May‑Oct).
---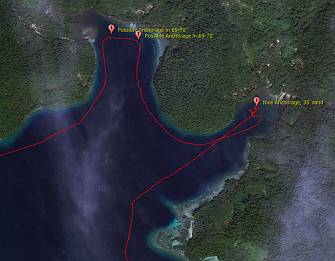 English Cove anchorage and approaches
English Cove, New Ireland, 4º46.25'S, 152º51.44'E, 23' mud, no cell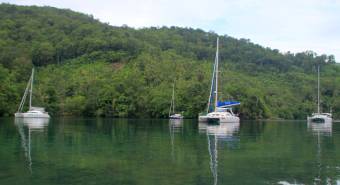 Our fleet at anchor in peaceful English Cove
English Cove is a convenient jumping off point for boats heading SE from Rabaul. It's a longish 57nm from Rabaul, but most boats should be able to do that as a day sail with an early start. The entrance is pretty easy, and there was enough room for our whole 4 boat flotilla. Protection is pretty good from all directions, but it might get a bit lumpy with westerlies. It's possible to anchor in the northerly lobe of the bay, but it's much deeper. When leaving, there's a reef that sticks out from the southern headland that needs to be avoided.
There are a couple of villages sprinkled around, and apparently there's a source of fresh water somewhere nearby. In the afternoons, the bay can be flooded with kids out to bring water back to their homes. They're understandably curious of these spaceships that have landed in their back yard, and they like to practice their English. Letting them know early that your boat is your home and please not to come on board unless invited will solve several issues.
---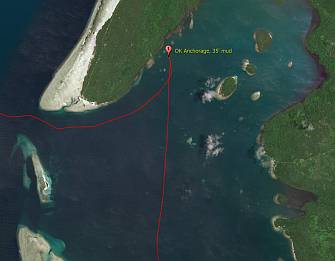 Queen Corola Bay anchorage and approaches
Queen Corola Bay, N Buka, 5º07.14'S, 154º32.20'E, 35' mud, weak cell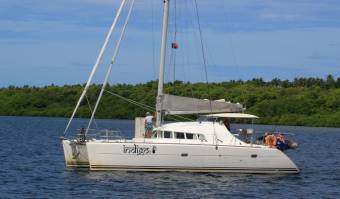 Indigo II in Queen Corola Bay
This was just a lunch stop for us, after an overnight passage from southern New Ireland. The approach presents no issues after transiting the pass to the SW. The anchorage provides good protection from most winds, although the fetch to the SSW is a bit long. The bottom is all soft mud, although there are a few coral heads here & there.
Queen Corola should provide good privacy, as there's not many people around, but there's not much to do. The fringing mangroves suggest crocodiles, and the water's too muddy to invite swimming. We stopped because we were asked to look up someone here, but in the end we couldn't find them, so we continued on to Ramun Bay in southern Buka. There was essentially no wind, so we motored down between the island and the fringing reef to the west. It's a pleasant passage, but there are a few coral outcroppings that need good eyes or good satellite imagery (or both).
---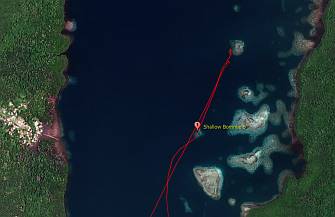 Ramun Bay anchorage and approaches
Ramun Bay, S Buka, 5º25.57'S, 154º38.73'E, 45' mud, good cell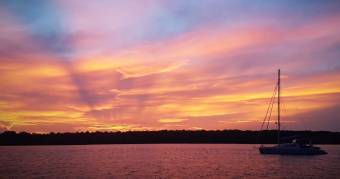 Ocelot silhouetted against the Ramun Bay sunrise
Ramun is a large shallow bay at the south end of Buka Island. Buka Town is just to the east, and it's big enough that there's good cell coverage, with another tower on the west side of the bay to cover the village there.
The CM93 charts are reasonably accurate once they've been corrected, but satellite imagery is always best. Go up the middle of the bay and anchor as convenient in 35‑65' (10‑20m) as there are bommies on the sides. One at 05º25.83 S, 154º38.63 E now has a light coast of Ocelot's bottom paint (oops!)
There's a large‑ish village to the west which we didn't visit, as we arrived late and left early the next morning. But the kids came out to ogle the strange spaceships that landed in their front yard. One group of 4 young women came out to ask us about our life, and to practice their English, all very politely.
---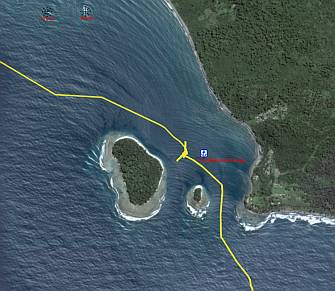 Cape Torokina anchorage and approaches
Cape Torokina, Bougainville, 6º14.59'S, 155º02.02'E, 45' mud, no cell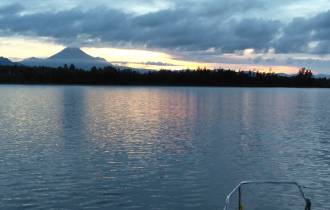 Torokina Bay sunrise. Mt Bagana is still erupting
We were a bit concerned about anchoring anywhere along Bougainville, but Cape Torokina was delightful! There are 2 rocks just NW of the anchorage (upper left corner of the satellite view) but they're easy to avoid if you don't hug the coast. The whole bay seems to be 40‑50' (12‑15m) deep, but the mud is quite soft, so let the anchor settle a bit before pulling too hard to set it. We had no significant wind, but even in west winds one can tuck up behind the island.
From the south, you can come through either side of the small island as it's all about 40' (12m) deep, but the eastern gap is slightly wider. There's a shallow just south of the eastern gap, and we kept clear of it, but it's probably deep enough to go over.
There are several villages ashore but we didn't go ashore. There were lots of people out in dugouts, fishing, and it seemed that most of the rest of the village came out to the beach to play sports or to just watch the sunset. Only a few boats stopped by to say hello, probably because others didn't speak much English.
This was such a nice anchorage that we stopped here again in August, as we were coming north, and spent 2 nights, as the weather had closed in. On the 2nd night, our buddy‑boat, Soggy Paws, woke up at midnight to find a drunken, knife‑wielding local in their cockpit (their entryway was locked, as was ours). They triggered their loud siren, called us on the VHF, and turned on their cockpit lights, which scared him away. Nothing was taken, but it left a bad impression (and scared us all). But we feel this guy was just trying to get more alcohol. We should probably have reported it to the local chief, but it's a long way to the next tenable anchorage, so we decided to leave early (and Soggy still arrived after dark).
---
Pacific Cruising Info: Up | South Pacific Weather | South Pacific Schedule | Panama Transit | Cruising Galapagos | Cruising Marquesas | Tonga-Fiji Hazards | Cruising Fiji | Australian Arrival | Cruising Australia | Cruising Solomons | Cruising PNG | Cruising Philippines
Cruising Info: General Cruising Info | Equipment | Pacific Ocean Cruising | Indian Ocean Cruising | Provisioning Food & Fuel | Cruising Recipes
Top Level: Home | Destinations | Cruising Info | Underwater | Boat Guests | Ocelot | Sue | Jon | Amanda | Chris | Site Map | Make a Comment
---
Lifetime
Commodores
of the
Seven Seas
Cruising
Association

If our information is useful,
you can help by making a donation
Copyright © 2000‑ Contact: Jon and Sue Hacking -- HackingFamily.com, svOcelot.com. All rights reserved.