Cruising N&E Indonesia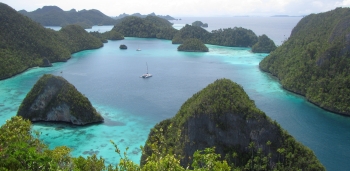 Magnificent Wayag archipelago in Raja Ampat
These pages comprise a short Cruising Guide to Indonesia, split into pages on Cruising North and East Indonesia (109 anchorages) and Cruising South and West Indonesia (58 anchorages). Thinking of sailing through Indonesia? You'll find information on clearance requirements, money, fuel, and detailed information (lat/lon, satellite images, photos, entry/exit routes, details, and descriptions) on over 150 anchorages that we have used over several cruises through Indonesia:
2006 (Aug‑Oct) Sail Indonesia rally through southwestern Indonesia
2014 (Sep‑Dec) Raja Ampat rally
2015 (Jan‑May) Our cruise to Triton Bay and out to Dili, East Timor
2015 (Aug‑Oct) Sail Indonesia rally through southwestern Indonesia
2016 (Sep‑Dec) Raja Ampat rally
2017 (Mar‑June) Triton Bay, SE Indonesia, Dili (East Timor)
2017 (Aug‑Oct) Sail Indonesia rally through SW Indonesia
2018 (Aug‑Dec) Return to Down Under/Raja Ampat rally
Cruising Indonesia was a treat, but not much like any other cruising we've done. Few boats have gone to some of the places we went, so we often got an enthusiastic greeting. There are few, if any, yacht services. Even ATMs and diesel can be difficult to find. Sue's put together a document on SE Asia Provisioning which includes recommendations on what to be sure to buy before heading into Indonesia. For instance, beer is $1.50‑$2/can in the store, when you can find it at all. Remember, Indonesia is a Muslim state, and the Koran forbids the consumption of alcohol, so not much is available. Good cheese and meats are very difficult to find. Check it out!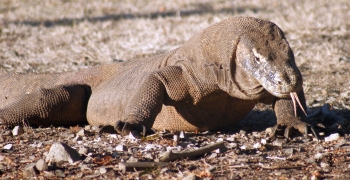 8-foot Komodo Dragon advances, sniffing the air
Visas: At the beginning of 2016, Indonesia finally got rid of their requirement that cruising boats carry their expensive Cruising Permit (CAIT) and Temporary Import Permit (TIP). This made cruising Indonesia much easier and more affordable. The only fees (as of 2017) are for a visa, and visa extensions. The free visa‑on‑arrival (available to folks from almost all countries) is only good for 30 days, and cannot be extended. You can buy a 1‑month visa‑on‑arrival for about $35 that's extendable for another month only. If you can get to an Indonesian Consulate before you arrive, you can apply for a single entry visa (good for up to 60 days) or a "Social Visa" (called a 211/60 at the embassy and costs about $50) which is good for 2‑months initially, and then it can be extended every month (for about $30) up to a maximum of 6‑months. Basically, visas cost about US$1/day. Social Visas, which is what we've always used, have required a sponsor letter from an Indonesian national in the past, but now it's possible to get one by simply showing sufficient finances (bank statement). There are several agents around who will provide sponsor letters, like Raymond Lesmana (+6281‑112‑4574, $75/boat for your entire stay). As of 2018, Raymond runs most of the rallies through Indonesia, so if you join any of them he will email you all necessary paperwork. Raymond can also email you the extension letters when you ask. All you have to do is print them off and present them to the officials with your passport.
Clearance Ports: There are currently about 20 places boats can clear into or out of Indonesia (CIQP ports). From east to west (2017): Jayapura (NE Indo), Biak, Tual (Kai Group), Saumlaki (Tanimbars), Sorong, Ambon, Ternate (W Halmahera), Tahuna (Sangihe), Manado or Bitung (both NE Sulawesi), Kupang (SW Timor), Bali (Dempasar or Singaraja), Nunukan or Tarakan (both NE Kalimantan), Kumai (S Kalimantan), Jakarta, Belitung, Bangka, Nongsa Point (Batam), and Sabang (NW Sumatra). Note that this list changes now and then. There are more places where visas can be extended. The full list can be found on the Indonesian Immigration website. The first extension involves photos and fingerprints, so it generally costs $4 more (Rp355,000 vs. Rp300,000, or $27 vs. $23) and takes a bit longer. We tend to clear in and out with various rallies, which is MUCH easier than doing it on your own.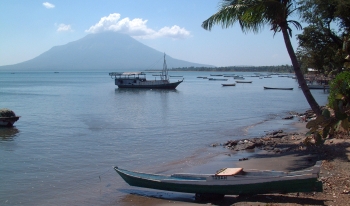 Typical village waterfront with volcano
Corruption: Some of the immigration offices are better than others. The immigration officials at Ambon and Tual in the Kai Group were wonderful, and could usually process an extension that same day, but in Maumere they have been known to stick in unnecessary delays in the hopes that folks will pay more for them to expedite the process. Sorong used to be terrible, but in 2017 they suddenly turned helpful. To assist efforts to eliminate illegal kickbacks, immigration officials are now asking the public to deal directly with immigration offices and not to engage the services of middlemen or agents. In 2016 the Bali Chief of Police, Ronny Sompie, became the Director General of Immigration for Indonesia. He ordered a crackdown on corruption which includes the posting of banners in Immigration offices. They translate to say:
The Minister of Justice and Human Rights has declared war on kickbacks. Are you encountering difficulties? Are there illegal levies? Report this to the Director General of Immigration by SMS or WhatsApp to number 081‑1804‑7000 or by Twitter to @RONNFSOMPIE.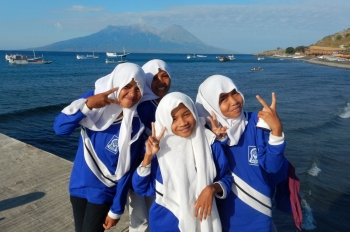 The Indonesian kids are so much fun
We've also found that taking a picture of an official, with their name tag if possible, tends to make them back down on unreasonable demands, especially if you show them that you have the above name and number in your phonebook.
Other Documentation Needed: There is documentation necessary for your boat to enter Indonesia, which, if you are not with a rally, can be found on Noonsite's Indonesia pages and at https://yachters-indonesia.id/ and http://yacht.beacukai.go.id/yachtbc/index.html. Unfortunately, these sites have been down a lot recently, so don't leave it to the last minute. The forms (a Vessel Declaration and a Temporary Import form) are free and can be downloaded and filled out before entering the country. You have to chose one of the officially approved CIQP entry ports as your port of entry into Indonesia. Your newly filled out paper work will be checked, copied and stamped by the Customs and Port Authorities on arrival. Note that your boat can stay a total of 3 years in Indonesian waters, but you must report to customs every 6 months to show that the boat is still in the country. As of 2018, only 6 month visas are available for cruisers, but you can sail into Timor Leste, or fly out to Singapore or Kuala Lumpur, get a new visa, and return immediately, thereby beginning a new 6 months (we've had to do both of these). Note that the Bangkok consulate currently doesn't allow a new visa immediately after leaving Indonesia.
Raymond Lesmana is trying to get longer and better visas for cruising boats, but he needs our help, in the form of emails. If you want to help, you can use the following sample:
Dear Pak Raymond, [DATE], [LOCATION]

The current 211/60 "Social Visa" is limiting cruisers who would like to spend more time (and money) in Indonesia. Visiting Indonesia by boat is the ideal way to experience this fantastic island nation, but our boats are slow, and having to extend our visas every month is often difficult. It would be very nice if Indonesia could offer cruising boats 1 to 2-year visas that don't require extensions, or at least the ability to pay for (and obtain) all extensions necessary at one time. Now that technology allows officials to track our boat's locations at all times (via AIS) we should not need to check in with officials in person.

Thank you -- [YOUR NAME], s/v [BOAT NAME]
Entry Formalities: We have only ever cleared into Indonesia at Kupang (SW tip of Timor, just north of Australia) and at Tarakan and Nunukan (NE tip of Kalimantan). All of these clearances were organized by various rallies, which meant that the officials all came to us rather than us having to track them down (which is an all‑day affair in Kupang). They will generally come to the boat to fill out initial paperwork and to do an inspection, but then more paperwork will need to be done ashore. If you admit to having a copier on board, they will ask for multiple copies of all documents, but otherwise they'll simply take a picture of the documents with their phones.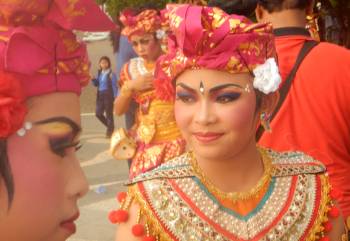 Dancers in costume perform at many rally stops
Cruising Guides: For several years after 2006, these web pages, constructed by our daughter Amanda, were pretty much all that was available for cruising Indonesia. Our friends on Calypso JJ released a book called 101 Anchorages in Indonesia, but they didn't actually go to those anchorages (we have personally been to every anchorage we list here). They asked other folks on the 2006 Rally to send in mud‑maps of their favorite anchorages, and some of our anchorages are in there, but there are also some glaring errors. Since 2014, Andy Scott's Cruising Guide to Indonesia has been the best Indonesian cruising guide (by far). The first edition has 270 pages and describes over 320 anchorages, with good mud‑maps and stunning photographs. The second edition, released in 2017, has 300 pages and describes over 400 anchorages, including 25 that we contributed. Andy's cruising guide has it's own website where electronic copies and waypoints can be downloaded (once you agree to the terms and conditions) as well as a Facebook page.
Money: As of 2018, there were about Rp15,000/US$. ATMs are pretty ubiquitous, but they're not all equal. We have found that only BNI and Mandiri ATMs will take our US cards. Most ATMs will only dispense 20‑25 bills, so ATMs that dispense Rp100,000 notes will let you take out more money for each transaction than ATMs that only dispense Rp50,000 notes. This is useful if your bank charges a transaction fee. Most ATMs are marked with which bills they dispense, but you have to know to look.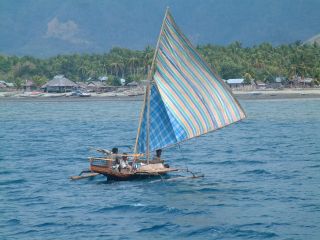 The pretty local fishing boats are very active
Fuel: There's often not much wind in most of coastal Indonesia, so you'll probably burn a lot of diesel. Indonesia has a 2‑tier pricing scheme for diesel (called "solar"). In 2018, diesel was only about Rp5,200/liter (US$0.35/L or $1.30/US gallon) at the pump for the locals, but it was hard for us to get that price unless accompanied by military officials. Rp7,000/liter ($0.50/L or $2/gal) was supposedly the foreigner ("unsubsidized") price, but retailers often charge over Rp10,000/L.
There are also several waterfront resellers who will hand dip diesel from their big drums, but there are problems with this. The fuel is of unknown purity or parentage, it's usually much darker than what comes from the station, and they dip it out with their own measurement cans, which are ALWAYS 10‑20% short of real liters. We call these "Indo‑liters." We've been unable to fight this - we just buy 15% more than we usually do, or mark our jugs with a known volume and tell them to fill it to the mark. But we've had to throw out one whole tank (130 liters) that went milky on us. If you can bring some good Diesel Biocide with you (it's not available in Indonesia) and treat your tanks at every fill, that will probably help. We actually pour biocide into our jugs as soon as we empty them, so it's always in there.
The diesel sold in Indonesia is of poor quality, and has a high sulfur content. There are actually 3 grades of diesel sold by Pertamina (the government fuel company) but none of them are as good a quality as what you can get in neighboring countries:
Solar is the cheap stuff, but what's most easily available. It's quite dark, and has a very high sulfur content, leading to sulfuric acid forming in your oil, necessitating more frequent oil changes.

DexLite is the mid‑grade. Lower sulfur content, and more expensive. It claims to be lighter in color, but we haven't really noticed this. DexLite is apparently unsubsidized, so we should be able to buy it, but it's not available everywhere. In 2018, DexLite was Rp10,700/L in Raja Ampat (Sorong and Waisai) and Rp9,200/L elsewhere, so almost twice the price of solar.

Pertamina Dex is apparently the highest quality diesel available in Indonesia. It has even less sulfur, and of course, it's the most expensive. It's apparently somewhat clearer, but it's not as clear as good diesel sold elsewhere. Dex is apparently what Pertamina expects folks to put in cars. We've only recently found out about it, so haven't tried it yet. But given the problems we've had with Indonesian diesel in the past (necessitating the installation of a full fuel‑polishing system) we'll be trying it the next time we're in Indonesia.
As of 2018, all grades of diesel sold in Indonesia are blended with dreaded palm‑oil. We try to boycott palm‑oil whenever we can, but there's no avoiding it in diesel when that's all you can buy.
It's probably best to hire a car or a small flatbed truck, and take your jugs to a real Pertamina station where they can be filled with reasonable fuel in correct amounts. Some stations will let you get away with this, and some won't (or they may ask for a surcharge). Some cities have special stations that sell "unsubsidized" fuel, which is what we're supposed to buy. In northern Bali, we'd hired a car for the day but there was still an hour of daylight after we got back, so we threw the jugs into the back of the car and filled them at the local station without any problems at all, and we even paid the local rate. This certainly increases the value of a rented car - the savings on those 200 liters of fuel almost paid for the car all by itself!
Gasoline (called "benzine") is easily available at Pertamina stations for about Rp6,500 (US$0.43 in 2018) per liter and was usually available at the waterfront resellers as well (with the above caveats).
| | |
| --- | --- |
| Is this useful? Buy us a beer! | |
Cooking gas is more of a problem. It's essentially impossible to fill tanks with US or Aussi/NZ (reverse thread) fittings, despite the fact that the larger (50kg) Indonesian tanks use this fitting. Cruisers who need their tanks filled should get a decanting setup, with their own fitting on one end and a local fitting (without the regulator) on the other, but these fittings are very difficult to find. In Indonesia, the regulators are always integral with the tank fitting, so one option is to buy a regulator that has a pressure gauge, then remove the pressure gauge and connect your decanting hose to that hole (which will pass liquid LPG, which can't go through the regulator, but the hole is often very small). The normal regulated output will, of course, have to be blocked off. Victor, in Sorong, sometimes has decanting setups to sell, but it's probably easier to put one together in Malaysia, where the parts are often available, as Malaysia uses the same fitting.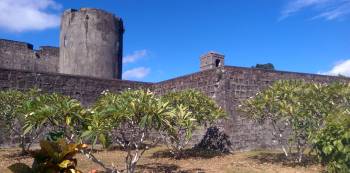 The old Dutch forts are fun to explore
To decant from a full LPG bottle to an empty, it's handy to have a short length of rope, a long, flat screwdriver, a wrench for your gas fitting, a scale, a bit of ice and perhaps a rag in addition to your decanting setup. Having someone who's done it before is comforting, but not strictly necessary. Turn the full bottle upside down and hoist it up as high as your decanting hose allows (in the sun if possible) with the rope and secure it. Connect your decanting hose to the empty tank. It's important to weigh the empty tank, so you know how much you've put into it. Extinguish all cigarettes and work in a well ventilated area away from any sparks or motors. Open the valve on the empty tank first, then connect the Indonesian fitting to the (upside‑down) full bottle, which should start the liquid propane flowing. The expanding and compressing gas of the decanting process will tend to make the full bottle cooler (decreasing its pressure) and the empty bottle warmer (increasing its pressure) which is the opposite of what you want. Hanging the full bottle in the sun will help keep it warm, and putting a wet rag and some ice around the top of the tank being filled will reduce its pressure and help the process go faster, but neither are necessary. Also, some of the liquid will turn to gas in the tank being filled, and venting this gas at intervals will also help things go faster (there's a vent‑screw on the side of the fill‑valve). Weigh the tank being filled every few minutes to track progress. We've found a 20 lb (9kg) tank usually takes about 20 minutes to fill this way (about 1 lb/min). When the tank is full, quickly disconnect the upper regulator and close the valve on the tank being filled. Be careful removing the fill‑hose, as it may still have some liquid propane in it. Voila!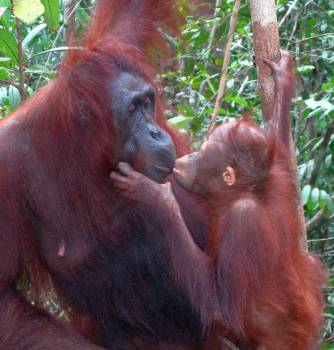 Mother & baby orangutan share a tender moment
Charts: Virtually all charts of Indonesia are displaced and/or too low resolution for reliable navigation, especially if you get off the beaten track a bit. We've seen errors of over 1 nautical mile. In our opinion, all charts for Indonesia should be augmented with some form of satellite‑derived charting like Google Earth (via Ovital or KAP Files, as even iSailor has bad inaccuracies). We have made (and freely distribute if you bring us a hard drive) over 140,000 Google Earth derived navigational KAP files that cover most of the Indonesian coastline in extremely high resolution. Unfortunately, these consume over 130GB, so hosting them on the web costs us money, but we've had so many requests for them that we've now posted them on our new KAP Downloads page. If you download our KAPs, please help us by making a donation via PayPal. If you want to make your own GE derived KAPs, check out our GE‑to‑KAP How‑To page. All the tools are free on the web, but it takes LOTS of time (and internet bandwidth).
Google Earth used to be our go‑to source for satellite imagery, but now a Russian program, SAS Planet, provides not only GE imagery, but ArcGIS & Bing (Microsoft) satellite imagery as well, both of which are often better quality than GE. SAS also has access to Navionics and C‑Map charts, and SAS can produce mbTiles, which are higher quality than KAPs (more colors) and they're easier for OpenCPN to deal with.
Making mbTiles is very similar to making KAPs:
Download and install SAS Planet and Sat2Chart (the new GE2KAP) off the web (both are free)
Create routes along the coasts you plan to cruise, in either OpenCPN, SAS, or GE
Export those routes and feed them to Sat2Chart, which will use them to drive SAS (or GE) to download the imagery and make the charts
There are more details, of course, but that's the gist of it. Sat2Chart has pointers to tutorial videos for making it all work.
Chart Terms: Here's a quick lesson in Bahasa Indonesia for the various terms used on nautical charts:
| | |
| --- | --- |
| Indonesian | English |
| Tg (Tanjung): | Point or Cape |
| Tk (Teluk): | Bay |
| Sg (Sungai): | River |
| P (Pulau): | Island |
| Gili: | Small island |
| Selat: | Pass (between islands) |
| Pantai: | Beach |
| Laut: | Sea |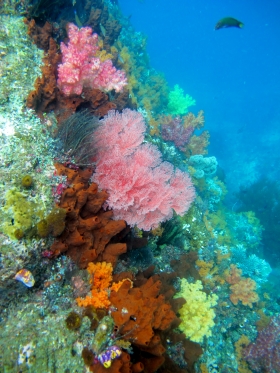 Underwater biodiversity is fantastic
Fishing: Much of Indonesia has a pretty severe overfishing problem. Some of the rural villages don't really know how to do anything else, and they have to feed their families somehow. Many fishing villages we visited didn't even have a "kitchen garden" of fruits or vegetables to supplement their diets. As their populations grow, the pressure on the fish gets intense. Some fishermen have adopted techniques like bombing the reefs with dynamite and collecting the fish when they surface. We've even heard of some using cyanide to poison the reefs. They don't seem to know that this kills all the juveniles which would normally form the next generation, so they're killing their stocks. There doesn't seem to be a fisheries management group to make sure fish are taken in a sustainable way, so fish populations are extremely depleted, and it's getting worse. If we're sailing past populated areas, we don't even bother throwing a line in the water.
There are some bright spots. Komodo is a national park, and fishing is supposedly only allowed in one bay. The local rangers don't really have the resources (or inclination?) to police this much, but the commercial dive operators depend on the fish to bring customers, so they do some policing which seems to be working, as the fish in Komodo are plentiful. The whole Triton Bay area has such a low population density that there are still plenty of fish around. The environmentalists at the Misool Eco‑Resort are working out deals with local villages to limit fishing to sustainable levels. Raja Ampat also has a low population density, but they've gone one better. Environmentalists have gotten several villages there to build overwater bungalows over their reefs. These are fairly basic affairs, but they're clean, with a big bed and usually a sitting area out front, and bathrooms and a cooking area ashore. The Tourism department has put up a website to book people into these "home‑stays" so all the villagers have to do is feed and entertain their guests. This is teaching the villagers that their reefs have commercial value other than fishing, and it's giving them another way to support themselves. We hope this effort succeeds and continues.
Engine Repairs: We have, unfortunately, had to do some engine work in Indonesia, but this has given us some good information to share:
Hasta Bramsovia (+628‑133‑871‑9088) is actually a mechanic but he's also an excellent source for Yanmar or Volvo engine parts. He's based in the south end of Bali, with a workshop near Dempasar, but he can get parts from Jakarta and send them by courier to anywhere in Indonesia in only a few days. His prices were on a par with Singapore (cheaper than the US) and his parts supplier(s) seem to have pretty good stock, as he was able to get us several gaskets (including head‑gaskets) quickly. To pay him, you currently need to deposit money in either of 2 common Indonesian banks (BNI or Mandiri) but we're trying to convince him to get a PayPal account. We've talked to Hasta many times on the phone and he seems like a good guy - businesslike, helpful, and we never felt he was trying to take advantage of us. He speaks excellent English and he seems to know his engines. If we needed engine work done in Bali, he's the first person we'd go to. But he usually can't get sail‑drive parts, as they're not used much in Indonesia.

The nominal Yanmar agent in Indonesia is Pioneer‑Trading (+62‑212‑312‑312) in Jakarta. We dealt with Wulan (extension 124) who speaks passable English. Although Pioneer‑Trading seems big and professional with a fancy website, they don't seem to have a good stock of parts. The parts we needed had to come from Singapore, with a delay of at least a week coming through Indo customs.
Rallies: We're not normally rally people, but Indonesian rallies can be good fun! They usually put on many more cultural shows (dances, meals, bus tours, etc) than we could possibly organize ourselves. Even better, the local tourism departments usually pay for everything(!) so the rallies are very reasonably priced. Every year there are usually several rallies going through Indonesia. This is complicated a bit because some of the rallies are run in parallel by competing companies. The Sail Indonesia rally that leaves Darwin in late July and runs for 3 months through southern Indonesia to Singapore/Malaysia has run since 2001. We did this rally in 2006 and again in 2015 and 2017, and we quite enjoy it. In 2013 it was taken over by Dr. Aji Sularso of ASWINDO, but now it's being run by Raymond Lesmana.
Raymond Lesmana (+6281‑112‑4574) apparently originated the Darwin rally and he now runs the Sail 2 Indonesia rally as well from Cairns, Australia to Singapore. It usually goes up through the Kai Group and Ambon before curling south through Wakatobi (SE Sulawesi) and the southern chain of islands. He also sometimes runs a rally through the Anambas to Natuna and a West Borneo rally -- Please contact him directly for more info on those. Ray's a good guy who tries hard to help everyone and keep them happy.
Ray also usually runs a rally from Borneo (Kalimantan) to Raja Ampat in August. Some boats use this rally to get back to Australia. This rally is designed as a continuation rally from the Malaysian Passage to the East that goes over the top of Borneo, and is a good way to get past the Philippine Abu Sayyaf terrorists in Mindanao. We've done this rally 3x now. There have also been rallies down from Davao (Philippines) to Raja Ampat, but the timing of these is still evolving.
Cruisers: We are now publishing Downloadable Track Files in OpenCPN (.gpx) format and in MaxSea (.ptf) format (not all tracks are available in all formats yet - we're still working on it and they take time). You can download the track files either by clicking on the links in the tables below, or by clicking on the track in the Google Map below the table. The MaxSea files are in native format but the OpenCPN files are zipped so they download faster, and they need unzipping after they've been downloaded (which most operating systems do natively). If 2 files are shown, the smaller one has been edited to remove redundant points from straight tracks. This improves the speed of the download as well as performance once the file is loaded. Sometimes MaxSea Track files are separated from the Mark (chart notations) files. Download instructions are provided if you need them.
These files are provided free and we are actively soliciting cruisers to send us your track files so we can post them for others to download. If you would like to to participate, please email us your track files (as attachments to our HackingFamily account, not our Winlink acct) along with your boat name and draft. If you include your website and boat details, we'll link back to you from our Cruising Links page.
Disclaimer: While we always try to provide useful information, we can take no responsibility for its accuracy or usefulness. Prudent mariners will always navigate using all means at their disposal, and will not rely solely on electronic navigation.
Indonesia Tracks
Boat
Draft
Year
Comments
MaxSea
OpenCPN
Ocelot
4.6' (1.4m)
2019
Biak to Philippines
88 KB
Ocelot
4.6' (1.4m)
2018
Indonesia North & East
415 KB
Ocelot
4.6' (1.4m)
2017
Indonesia North & East
104 KB
Ocelot
4.6' (1.4m)
2014
Indonesia North & East
158 KB
Ocelot
4.6' (1.4m)
2015
Sail Indonesia Rally, South islands
57 KB
Ocelot
4.6' (1.4m)
2006
Sail Indonesia Rally, South islands
32 KB
37 KB


See Ocelot's Indonesia Sailing Tracks in a larger map.


Note that these track files show many "Possible Anchorages." These are places that look like they should be good anchorages, but we didn't actually visit them, so we don't write them up below. Most of them were found by scrutinizing Google Earth. Other anchorages are marked by the boat that told us about them, like "BH Anchorage" for Brick House. These anchorages were actually used by the boats indicated, but not by us, so we don't write them up below.

The following pages are organized roughly from NE Kalimantan to NE Indonesia, then south, and finally west to Timor, as that's a fairly normal sailing route. Clicking on the satellite images (much better than "mud maps") to the left of the descriptions will bring up a larger and more detailed version. For this North And East Indonesia Cruising Information page, we've divided our anchorage descriptions into the following 11 areas:
---
Borneo is owned mostly by Indonesia, where it's called Kalimantan, to distinguish it from Malaysian Borneo to the NW, and Brunei. Boats usually get to NE Kalimantan after crossing over the top of Malaysian Borneo. After travelling down the NE coast of Kalimantan, boats usually continue east towards Raja Ampat or possibly Australia, or they go south between Sulawesi and Kalimantan, often to join up with one of the Sail Indonesia rallies and circle round back towards Singapore.
| | | | | | |
| --- | --- | --- | --- | --- | --- |
| Date | Town or Bay | Depth | N Latitude | E Longitude | Comments |
| Aug 2018 | Nunukan | 33' mud | 4°08.46 | 117°38.13 | New clearance port! |
| Aug 2016 | NE Bunyu Is | 18' mud | 3°34.84 | 117°49.23 | Lots of nearby anchorages |
| Aug 2016 | Tarakan | 45' sand | 3°17.29 | 117°34.94 | Fouled anchor, read write-up |
| Aug 2016 | Off coast | any, mud | 2°37.98 | 117°49.53 | Worse internet further south |
| Aug 2016 | Derawan | 16' sand | 2°17.17 | 118°14.17 | Sand & coral |
| Aug 2014 | Tanjung Batu | 35' mud | 2°16.30 | 118°05.91 | Rally stop |
| Aug 2014 | Maratua Atoll | 40' sand | 2°14.74 | 118°37.73 | Wonderful diving & snorkeling |
---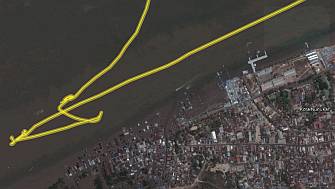 Nunukan anchorage and approaches
Nunukan, 4°08.46'N 117°38.13'E, 33', mud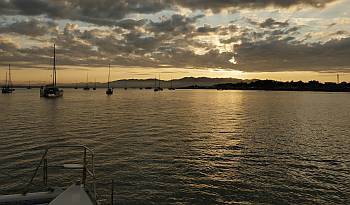 Looking east into the Nunukan sunrise
Nunukan is a new CIQP clearance port for Indonesia! Given the foul bottom at Tarakan, this is a welcome new anchorage, and it's only 21nm from Tawau! There can be strong currents in the channel from Tawau, so timing your passage will help. There's LOTS of seaweed farms when approaching Nunukan from Tawau. It's best to keep outside (west) of them, rather than cutting the corner. The anchorage has room for more than 25 boats strung out along the north coast of Nunukan Island, but the currents can run quite strongly, so give your neighbors plenty of room. We were one of the last boats to arrive, so we ended up anchoring at the extreme west end of the anchorage, but there's lots of anchoring space east of the location given. The harbormaster doesn't like boats anchoring close to the fuel barge. There are 3 somewhat dilapidated floating docks for ferries. We used the middle one, sometimes tying our dinghy to the bridge if we were going to be gone when the tide changed. There are ATMs on the left as you leave the dock complex. You can get some fruits and veggies in town, but don't count on much - it's a small place. The main industry is farming seaweed, and they have some interesting products for sale that you'd never guess were made from seaweed. We left via the NE channel even though we were going south, mainly because we didn't know how far the western shallows extended.
---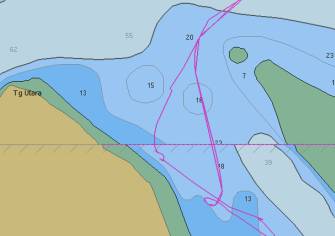 Our Bunyu Island anchorage and approaches
NE Bunyu Island, 3°34.84'N 117°49.23'E, 18', mud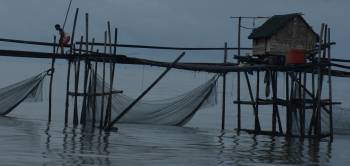 Fishing platforms on the NE approach to Bunyu Is
There's nothing very remarkable about Bunyu Island - it's just a convenient place to stop between Tawau (clearance port for Malaysia) and Tarakan (clearance port for Indonesia). We entered from the NE and left to the south. Note that the "reef" shown on some charts just to the NE of Bunyu (the green bit) is actually a fair sized island, with trees. The bottom seems to go up and down quite a bit as you approach, so choose a convenient depth to anchor in. The area NW of Bunyu looks inviting, but friends who went there said it was very shallow. While we normally publish satellite shots of our entry/exit, the chartlet at left actually has better information. There appears to be a coal terminal at the south end of Bunyu, so watch for tugs towing loaded coal barges. Indonesian tugs generally don't carry AIS.
---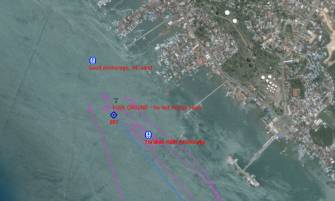 Tarakan anchorage and approaches
Tarakan, 3°17.29'N 117°34.94'E, 45', sand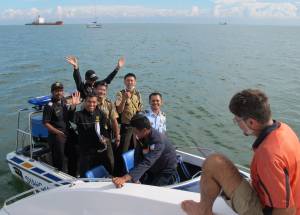 Jon welcoming the Tarakan officials
Tarakan is the old Indonesian clearance port of entry when coming from the top of Malaysian Borneo. The anchorage given is on a bit of a sandy knoll, so somewhat shallower than the surrounding bottom. But the bottom in all of Tarakan is a problem. To the west there are a few rocks, and friends had to dive their chain out from under a rock shelf. To the SE, near 3°17.16'N 117°35.09'E, is very foul ground, with lots of heavy steel bits on the bottom. Since the (considerable) current changes 4x/day, your chain can collect a lot of this garbage. We spent a full day (and $400) getting divers to free our chain and anchor. It's the harbormaster's responsibility to keep the bottom clean, but he gets a big cut from all the divers, so he's got a vested interest in keeping the bottom foul. There's no dinghy dock but the second pier to the SW (past the oil jetty) is the main jetty. There's usually a police boat tied up on the inside of the jetty, and everyone has left their dinghy tied to the back of the police boat. On arrival, fly your yellow flag, and notify the port captain by radio. If no answer, you may have to go ashore, and then return to your boat for customs and quarantine inspection. Customs, Harbor Master and immigration are in the big building at the head of the main dock. Town doesn't offer much, and it's a long way from the main jetty. There are a couple of unremarkable grocery stores, and across the street are BNI and Mandiri ATMs. The public market is always interesting, but we didn't explore much further. Tours are available to some WW2 gun emplacements, and there's a proboscis monkey sanctuary in town.
---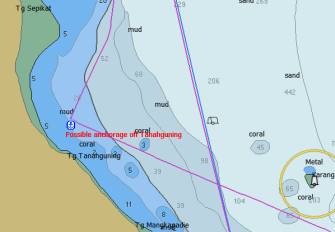 Coastal anchorage and approaches
Coastal anchorage (no name), 2°37.98'N 117°49.53'E, any depth you want, soft mud
This was just a convenient place to anchor for the night between Tarakan and Derawan. It's quite exposed to the east, but the sea breeze usually dies at night, to be replaced by an offshore breeze, making life much more comfortable. The bottom shoals very gradually and you can anchor wherever's convenient. The position shown is only 22' deep, and it's still 1.5nm from shore. There might be better protection at the south end of the long beach, but the internet was poorer there as well.
---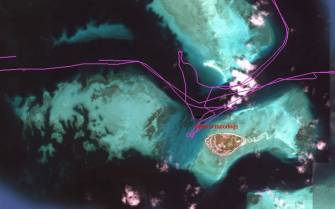 Derawan anchorage and approaches
Derawan, 2°16.30'N 118°37.73'E, 16', Sand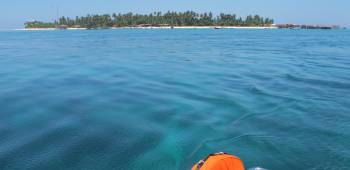 Derawan Island and anchorage (2014)
Derawan is a resort island surrounded by beautiful water. If approaching from the east (open water) then look for the gap in the reef, which shows up well. Approaching from Tanjung Batu means navigating through a series of reefs but again, they show up well in good light and shouldn't be a problem. The anchorage shown is the least corrally that we found, but since the current changes twice a day, your chain will probably catch some coral chunks. Several boats have also anchored in the shallows to the north (where our track explores) but that area seemed to have more coral. There are several small restaurants ashore, and some more upscale ones out over the water. Some limited supplies, like fruits or vegetables, are available. Cell coverage is good.
---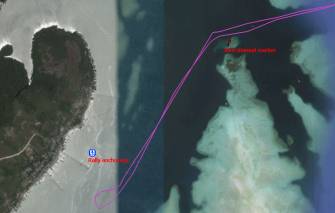 Tanjung Batu anchorage and approaches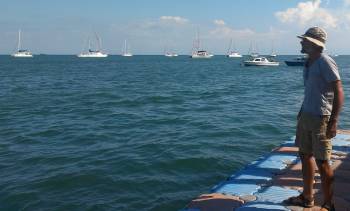 Jon watching boats in the Tanjung Batu anchorage
Tanjung Batu, 2°16.30'N 118°37.73'E, 35', Mud
The town of Tanjung Batu was a rally stop, but otherwise doesn't have much to recommend it, so we skipped it in 2016. The holding is good but the water isn't clear enough for swimming. There is usually a floating dock for dinghies. Getting to Tangung Batu can be difficult, as not only are the charts incorrect, but Google (2016) didn't show good imagery of the surrounding reefs, which are quite extensive (note the "Google fog" creeping in to the right of the photo). Several boats successfully came down from the north, and even more negotiated the reefs in from Derawan. Coming from Derawan is probably easier, as the reefs can easily be seen in good light, and there are a few reef markers to help. The rally events here included a day trip by boat to the jellyfish lake on a nearby island. This lake is filled with 4 species of stingless jellies, and you can swim amongst them. According to folks who have visited both Palau's famous jellyfish lake and this one, they are on a par. Cell coverage is good.
---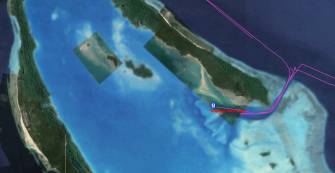 Maratua anchorage and approaches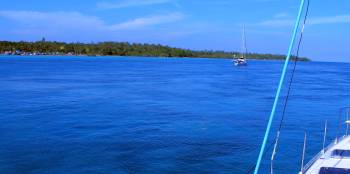 Ocelot anchored with Zorana in Maratua atoll
Maratua Atoll, 2°14.74'N 118°37.73'E, 40', Sand
Maratua is a beautiful atoll, with excellent scuba diving on the outer eastern wall. Snorkeling is also possible, but the current often sets strongly south along the wall, so be prepared. Getting into Maratua can be a challenge, as the gap in the reef is narrow, can be difficult to find, and the current can run very strongly through the cut (like 5+ knots). The anchorage shown is from 2016, but there were several other boats anchored here, so our choices were limited. Anchoring is somewhat better a bit to the north and a bit further in, to avoid the worst of the currents. The nearby village doesn't have much, but the road out of town makes a nice walk in the afternoon. The village to the SW is almost 3nm away, but it's somewhat bigger. There was no cell coverage in 2018. The dive resort south of the anchorage was happy to fill tanks for us.
---
Our trip across the top of Sulawesi in 2014 was really just to get to Manado and Morotai. Our trips in 2016 and 2018 had several rally stops, with tours and local guides, and was much more fun. Also, those trips took longer, which gave the strong southerly winds that plagued us in September 2014 a chance to die down. It's strongly recommended that boats not attempt overnight sails near Sulawesi, as there are too many Fish Attracting Devices (FADs). These are often big steel drums that might be 10' (3m) long and 6' (2m) in diameter. They're generally unlit and, although their positions are supposed to be registered, we've been unable to obtain a list of their locations. They're unlikely to hurt freighters much, but cruising boats can be hurt badly, especially if a multihull catches one between the hulls. In our opinion, they're a HUGE hazard to navigation. FADs can be found in extremely deep water, so just being deep doesn't mean you're safe. Our track files have noted all the FADs that we know about, but we're sure there are many more around, and we've noticed they're particularly abundant around Sulawesi.
| | | | | | |
| --- | --- | --- | --- | --- | --- |
| Date | Town or Bay | Depth | N Latitude | E Longitude | Comments |
| Sept 2018 | Buol | 24' mud | 1°11.27 | 121°25.44 | Friendly folks |
| Aug 2014 | Lonu | 20' mud | 1°03.57 | 121°36.23 | Overnight stop only |
| Sept 2018 | Balantia | 25' mud | 0°59.64 | 122°24.91 | Overnight stop only |
| Sept 2014 | Sumalata | 27' mud | 0°59.27 | 122°30.39 | Overnight stop only |
| Sept 2016 | Saronde | Mooring | 0°55.45 | 122°52.05 | Lovely island, good snorkeling |
| Sept 2018 | Kwandang | 25' mud | 0°51.73 | 122°54.10 | Rally stop |
| Sept 2016 | Tonton | 35' mud | 0°54.54 | 123°11.19 | Rally stop |
| Sept 2014 | Kuhanga | 27' mud | 0°53.35 | 123°32.59 | Overnight stop only |
| Sept 2018 | Impodnya Bay | 40' mud | 0°51.96 | 123°41.93 | Overnight stop only, protected |
| Sept 2014 | Bolaangmuki | 55' mud | 0°50.40 | 123°56.33 | Overnight stop only, protected |
| Sept 2014 | Majaan | 20' mud | 1°11.23 | 124°24.25 | Grotty village, overnight only |
| Sept 2014 | Tetapaan Pt | 50' mud | 1°17.86 | 124°31.08 | Small bay, overnight only |
| Sept 2014 | Manado | 50' mud | 1°29.29 | 124°50.00 | Exposed, close to wall |
| Sept 2014 | Kina Badjo | 35' mud | 1°36.18 | 124°51.92 | Off stream |
| Sept 2014 | Bangka Is N | 22' mud | 1°49.37 | 125°07.76 | Up narrow inlet |
| Sept 2016 | Bangka Is S | 45' sand | 1°44.80 | 125°09.39 | Big sandy bowl with ok snorkeling |
| Sept 2018 | Petimati Bay | 50' sand | 1°40.90 | 125°09.31 | Overnight stop only |
| Sept 2018 | Bitung | 62' mud | 1°26.44 | 125°13.69 | Rally stop, great diving |
---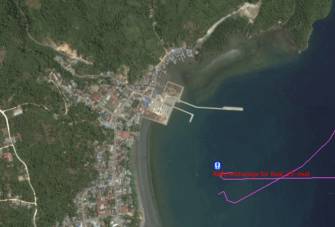 Buol anchorage and approaches
Buol, 1°11.27'N 121°25.44'E, 24', mud


Rally fleet anchored off Buol
Buol has 2 big jetties at the north end of town, and the anchorage is a bit south of them. Good depth can be found even 400m offshore. Buol was a new rally stop in 2016 (and a repeat in 2018), and the tourism officials there went all out for us. They put together a small floating dinghy dock just south of the flat area at the base of the big commercial jetties. Much food, music, and merriment happened in that big flat area. The main town is almost 3nm long along the waterfront, with many shops. We filled our fuel jugs here (at the local price!) but that may have been because we were with locals. There were a surprising number of police around, but they were very helpful. Rally events included an introduction to the local king and queen, snorkeling, dances and a picnic at a small island, several school visits (where we were mobbed like movie stars) and a trip to a village experimenting with growing fish in ponds. Each boat had 2 English‑speaking guides assigned to us, which is always wonderful. Cell coverage was good.
---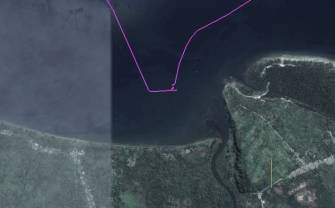 Lonu anchorage and approaches
Lonu, 1°03.57'N 121°36.23'E, 20', mud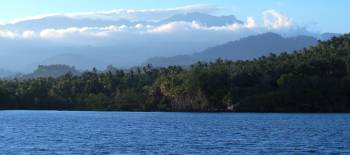 Lovely Sulawesi scenery from the Lonu anchorage
Lonu was our landfall after our passage from Maratua in 2014, just an overnight stop on our sojourn east across the top of Sulawesi. The anchorage is pleasant enough, with 20' to be found almost 1/4nm from the river‑mouth. But there's no town ashore. If we'd known how friendly the folks were in Buol, we certainly would have stopped there instead.
---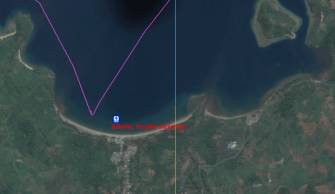 Balantia anchorage and approaches
Balantia, 0°59.64'N 122°24.91'E, 25', mud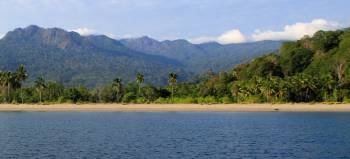 The long beach and pretty hills above Balantia
Balantia has a long beach in between 2 peninsulas. It's open to the north, but well protected from other directions. There's a small village that mostly follows the road about 1/4nm inland, but not much of it comes out to the shore. The anchorage was fine, with 25' available 200m off the beach, and there's room for lots of boats. There are streams coming out at either end of the beach where it's probably shallower. Cell coverage is better at the east side of the bay, where you can see the cell tower on the hill to the west. This was just an overnight stop for us as we were sailing east in 2016 and 2018, and we did not explore ashore.
---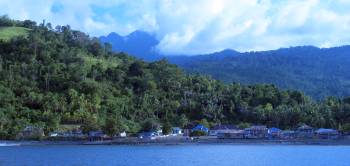 Sumlata village, with the Sulawesi hills behind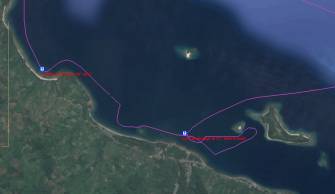 Sumalata anchorage and approaches
Sumalata, 0°59.27'N 122°30.39'E, 27', mud
As our track shows, we nosed around quite a bit before we found good anchoring depth off a couple of small streams. Sumalata is a pretty anchorage, with several offshore islands forming a nice backdrop. There's a small town slightly inland, following the road as usual, but we didn't go ashore to check it out. This was just a pleasant overnight stop on our way east in 2014.
---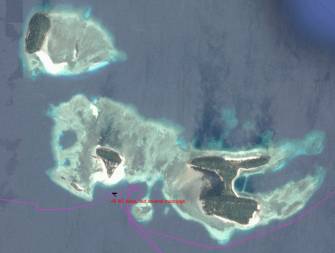 Saronde anchorage and approaches
Saronde, 0°55.45'N 122°52.05'E, Moorings in 90' of sand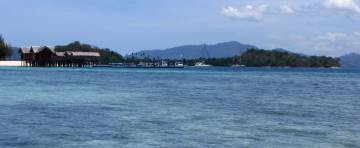 Snorkelers eye view of the rally boats in Saronde
Saronde is a delightful bit of magic. It's a small island (that doesn't even show up on the CM93 charts) surrounded by clear water, with about 12 moorings available for pickup, and a large floating dock for dinghies. But the moorings are only a pair of 55 gallon (200 liter) drums filled with concrete. They're pretty heavy out of the water, but they don't provide much resistance to dragging when they're in the water. Some moorings are better than others, but all can probably be dragged with engines, and they're unsafe in more than 14 knots of wind. There are bungalows ashore, and a nice dining area supplied by a kitchen, so meals can usually be ordered. Local tourists are ferried from the mainland for the day. The snorkeling is OK on the reef surrounding the mooring field, but it's even better just to the west, around the rocky islands just offshore (make sure you get out to the drop‑off). The manager, Mia, speaks excellent English, as does her husband, and both are interesting to talk to. They had big plans for Saronde in 2016, including a small marina(!) in the east bay, and a 700m walkway connecting the 2 islands, but a local chief has stopped all development, and now the dock and buildings are suffering from lack of maintenance. Cell coverage was iffy.
---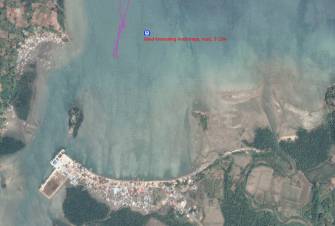 Kwandang anchorage and approaches
Kwandang, 0°51.73'N 122°54.10'E, 25', mud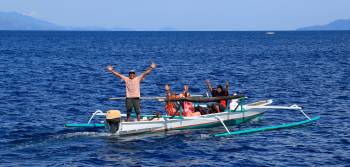 The Indonesians we met were very friendly
Kwandang was the shore rally stop for Saronde. Nobody was very happy with the Saronde moorings, as they were undersized for our vessels, so the tourism folks moved the rally events to the mainland at Kwandang. The anchorage is big and you can choose what depth you want to anchor in, but favor the left side, as the right (Kwandang Island) side is the shipping channel. There's no floating dock but the main dock is SW of a small island, and there was usually a convenient boat there that we could tie to. The town is somewhat spread out, with some by the water and a bigger part of town about 1.3nm inland. We didn't get to explore much of the town, as the tourism folks took us an hour south across the peninsula to Gorontalo, the local capital. It's big enough that Sue was able to replace her dead underwater Nikon at the mall there for cheaper than what she'd paid in Australia 1.5 years earlier. Even better, one can swim with whale‑sharks only 40m offshore, just south of Gorontalo. Cell coverage was good.
---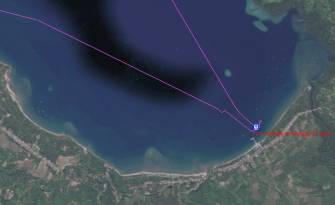 Tonton anchorage and approaches
Tonton, 0°54.54'N 123°11.19'E, 35', mud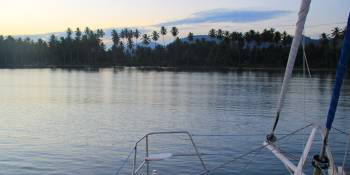 Tonton Beach anchorage at first light
Tonton was the rally stop for Boroko in 2016. Boroko itself is actually ~4nm further east, on the other side of a peninsula, but the officials wanted us to stop here. The anchorage didn't have much to recommend it. The bottom comes up fairly quickly, but there's ample room for several boats on the shelf in 35'. There's a big concrete jetty which had an old tramp steamer unloading bags of concrete when we were there. There's only a beach to land the dinghy on, but there were lots of helpful locals to pull the dinghy up above the tide line. The local tourism officials took us to 3 days of good meals and interesting spectacles, like how they make palm sugar and ginger coffee. The local Pertamina station filled our jugs for us without any permits. Cell coverage was good.
---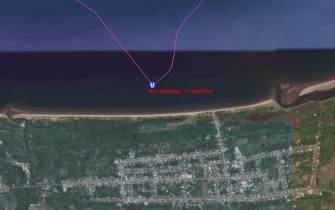 Kuhanga anchorage and approaches
Kuhanga, 0°53.35'N 123°32.59'E, 27', mud
This is off a big, open beach. There's a village about 1/4nm inshore, but not many signs of it are visible. This was just an overnight stop for us on our way towards Manado, but it's a comfortable enough anchorage.
---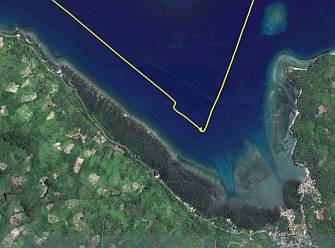 Impodyna anchorage and approaches
Impodnya Hame Bay, 0°51.96'N 123°41.93'E, 40', mud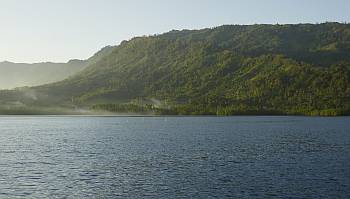 Leaving Impodnya Hame Bay in the morning
I could not find a name for this bay, or the village at its head. Google shows Impodyna Hame at the tip of the peninsula to the east. The bay is surprisingly shallow, so there's lots of room to anchor. No problems approaching except to watch out for the shallows at the head of the bay. There are good sand patches on either side of the central shallows, but we didn't even bother going in that far. There are some fishing platforms, but they're pretty easy to avoid. The bay is open to the north, but otherwise well protected. Holding is good, although we had only a gentle offshore breeze. We didn't go ashore, as it had been a long day. There was some cell coverage.
---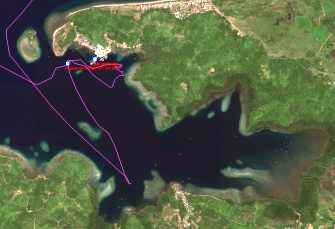 Bolaangmuki anchorage and approaches
Bolaangmuki, 0°50.40'N 123°56.33'E, 55' mud

Bolaangmuki docks were too deep to anchor near
This is a large, protected bay, but it's all quite deep. Coming in, we found an area of ~30', but it was near a wreck on our charts so we didn't try to anchor there. The bay on the SE side of the main dock looks inviting, but we found it too shallow, shoaling very quickly. In the end we just went deep into the bay to find anchorable depth. I'm sure the east‑most extreme of the bay would also provide good anchoring, but then it's further to leave in the morning. The bay has several (coral?) reefs, so best to navigate with satellite imagery close by. The bay was covered by usable cell signals.
---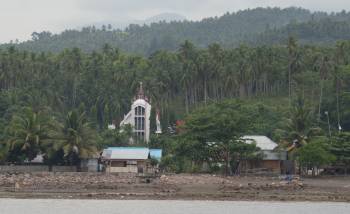 Christian end of Majaan village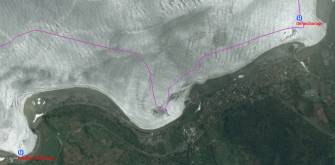 Majaan anchorage and approaches
Majaan, 1°11.23'N 124°24.25'E, 20', mud
This is a small bay that's completely open to the west, but the evening offshore breezes should make it fine for a night. We did not go ashore, but we noticed lots of garbage around. The north end of the village sports a mosque, while the south end has a church.
---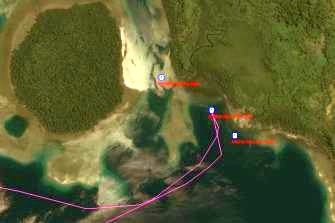 Tetapaan anchorage and approaches
Tetapaan Pt, 1°17.86'N 124°31.08'E, 50', OR 1°17.79'S 124°31.15'E, 32', both mud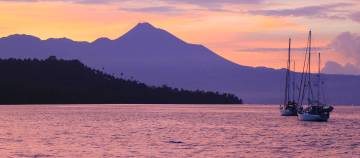 Sunset at Tetapaan with Nefertiti and Kokomo
Also known as Batutindung, this is a small bay behind a point of land. In close one can anchor in 12' or so, but we elected to anchor further out as one of the rally boats didn't have an anchor winch. But there's arguably a better anchorage further out and a bit to the east, on a 32' shelf (second point, above). Both offer good protection, but there are 7 miles of fetch to the SE. The nighttime offshore winds tend to blow one into the bay, but they're seldom strong enough to cause concern. There are many shallow reefs around, so satellite imagery is a must. Most of the reefs are marked with fishing traps. When leaving to go north, we had a strong boost from the current, followed quickly by adverse current (and unsettled water). There was no cell coverage in 2018.
---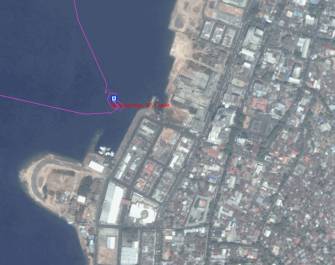 Manado anchorage and approaches
Manado, 1°29.29'N 124°50.00'E, 50', mud
This Manado anchorage is a bit dodgy, as the bottom is very deep until quite close to shore. The anchorage is on a small shelf just north of a tiny peninsula. The first boat can anchor in about 35' right off the small local dock, but the rest will be in deeper water, further away. Still, we had 7 boats here comfortably enough. But there may be better anchorages further north, near some breakwaters. During the day, the winds blow onshore, creating a bit of chop in the anchorage, but at night the breezes blow offshore, making it more comfortable. The big problems are NW swells from storms offshore. They were apparently pretty bad before we got to Manado, then they settled down while we were there. But after several days the swells came back, giving us a sleepless night and forcing several boats (including us) to leave the next morning. Other boats found a better anchorage north of the suspension bridge (about 2 miles north), where they were free from the swells, but the dingy ride back to the malls (and our anchorage) can be quite long and wet. Near the mall anchorage, many of the boats in the small dock aren't being used, so we tied our dinghies off to them for the day. There's a burn pile for garbage next to the big youth center, which opened in 2016. Nearby are several upscale malls, and some nice restaurants. Visas can be extended here in a few days at the immigration office, and we saw no signs of corruption. Google knows about the Imigrasi department and can guide you there. It's a 40 minute walk, or you can walk inland, cross the northbound big street, cross the southbound big street, and catch a blue #45 bemo which goes right to Kantor Imigrasi. Cost for a bemo in 2018 was Rp4000/per, or about 30˘. There are grocery stores in the 3 close malls, with a reasonable selection. There's a nearby IT Center mall with lots of computer and related equipment, and we were able to find common engine parts like belts and oil. Cell coverage was 4G in 2016.
---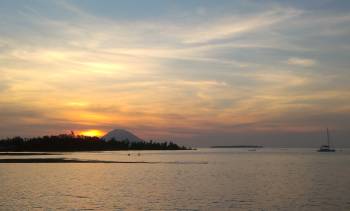 Ocelot anchored in a swirling Kina Badjo sunset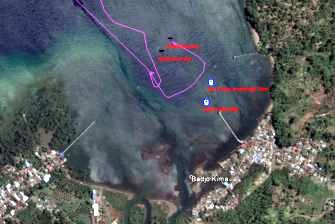 Kina Badjo anchorage and approaches
Kina Badjo, 1°36.18'N 124°51.92'E, 35', mud
Kina Badjo was a lovely stop, off a fancy dive resort. The bay is large but it's mostly pretty deep. The best anchorage we found was off the small stream, presumably in its alluvial mud fan. There may be a few moorings, but we found they weren't strong enough for Ocelot. There's a long dock where dinghies can be tied, but keep them clear of the dive boats. The resort staff were friendly and they were happy with us using the pool and WiFi, especially since we spent some money at the bar and restaurant. They organized taxis for us to go to the airport, as well as scooter rentals (from just across the street) for the day. Manado is about an hour's fun drive away. There was no cell coverage in the bay, just the WiFi at the resort.
---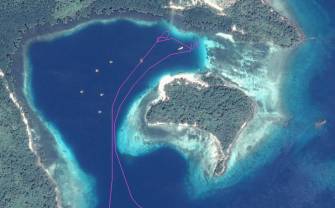 Bangka Island, South Anchorage
Bangka Island, 1°44.80'N 125°09.39'E in 45', sand OR 1°49.37'N 125°07.76'E, 22', mud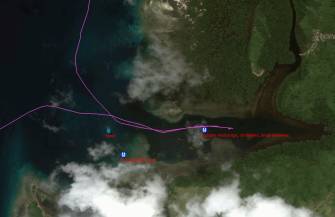 Bangka Island, North Anchorage
The northern anchorage (right) was just an overnight stop in 2014 on our way from Manado to Morotai. It was pleasant enough, and had good protection, but the water wasn't clear enough for snorkeling. Be careful on the approach, as the shoals at the entrance and on the sides are sometimes difficult to see.
The southern anchorage (left) is much nicer. The anchoring is best in the NE corner of the bay. It's north of a resort island in a nice sand bowl with small coral heads sprinkled around the edges. There's room for 2‑3 boats, or more if you don't mind anchoring deep. The bay has several fishing platforms, and several moorings, which are apparently for visiting live‑aboard dive‑boats. The resort island is run by Germans, who unfortunately aren't very friendly. If you try to anchor too close to their island, they'll come out and harass you, and if you come ashore there, even to spend money, you'll be asked to leave immediately. The snorkeling in the shallows was fun, but the snorkeling (and diving) on both sides of the entrance are reported to be excellent, although the currents can run quite strongly in the Lembeh Strait. There was cell coverage, but it depended on where you anchored.
---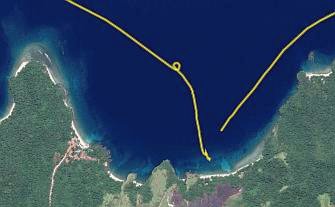 Petimati Bay anchorage and approaches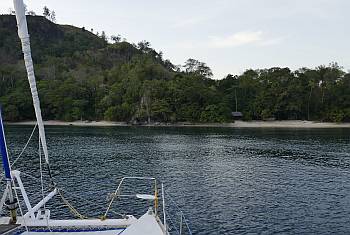 Approaching Petimati Bay, N tip of Sulawesi
Petimati Bay, 1°40.90'N 125°09.31'E in 50', sand
Petimati Bay was just a place to drop the hook on our way to Bitung. It's a bit deep, and the reef ashore comes up quickly, but it's very protected from the southerly winds that were blowing while we were there. We had 4 boats here, but it's wide enough to handle a few more. There are no obstacles to entry or exit, but it's remote enough that cell signals were weak and feeble. There's a bit of beach ashore, but not much else. It's main attraction is that it's only 18nm to Bitung.
---

Bitung anchorage and approaches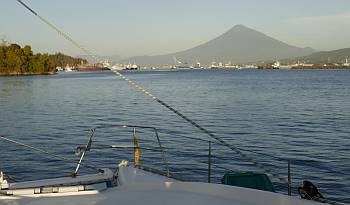 Bitung across the Lembah Straits from Mawali
Bitung, 1°26.44'N 125°13.69'E in 62', mud
Andy Scott's excellent Indonesian Cruising Guide shows 2 anchorages for Bitung, one between the 2 islands in the middle of the bay (which looked exposed) and the other by the fishing harbor (marked as Champaign Charlie Anchorage in our photo). Bitung was a rally stop for us, so we knew they'd organize transport across the Lembah Straits for us, and we needed room for several boats, so we anchored in the bay off the village of Mawali. The approach from the north goes under some power lines (at the top of our left photo) but they're well over our 21m high mast. Bitung Port Control appreciates a call on VHF 16 when you enter or leave, but few boats checked in with them. The bay itself is relatively deep, but not excessively so. There are some coral rubble shallows further into the bay, and several boats anchored on them with no problems. We extended our visas in Bitung, but the officials dragged their feet unless we pestered them. There are surprisingly few groceries in Bitung, but there are lots of busses to Manado, which has better selections (but still some strange holes). We did some lovely diving here. Clear water and black sand bottom and lots of lovely little critters.

---
| | |
| --- | --- |
| Is this useful? Buy us a beer! | |
Morotai is where General Douglas McArthur landed in WW2 to push the Japanese off Halmahera. There's a fair amount of military history around, and a nice (if not quite finished) museum. The tourism folks are friendly, but very few boats come to Morotai, so they don't tend to look for them. There are extensive reefs just to the west of Morotai which offer some lovely snorkeling and diving possibilities.
| | | | | | |
| --- | --- | --- | --- | --- | --- |
| Date | Town or Bay | Depth | N Latitude | E Longitude | Comments |
| Sept 2016 | Supa, Halmahera | 27' sand | 2°11.00 | 127°59.04 | Very nice, curious locals |
| Sept 2014 | Ketchus Anchorage | 38' mud | 2°12.77 | 128°14.29 | Chain was rubbing on coral |
| Sept 2014 | Galogalo Island | 30' sand | 2°07.58 | 128°12.64 | Awesome, but tricky entry |
| Sept 2014 | Dodola Island N | 22' sand | 2°05.57 | 128°11.70 | Very nice, nearby snorkeling |
| Sept 2016 | Dodola Island S | 25' sand | 2°05.00 | 128°11.76 | Very nice, off pier |
| Sept 2014 | Doruba, Morotai | 26' mud | 2°03.12 | 128°17.31 | Rally anchorage, off town |
| Sept 2014 | Tobelo, Halmahera | 40' mud | 1°43.72 | 128°01.19 | Off small island to get fuel |
| Sept 2014 | Bobola | 90' mooring | 1°32.94 | 128°32.41 | A bit close to reef |
| Sept 2014 | Petak Point | 24' sand | 1°24.11 | 128°44.40 | Good refuge from S winds |
| Sept 2014 | Yiew Island | 40' coral | 0°43.72 | 129°08.20 | Small sand patch |
---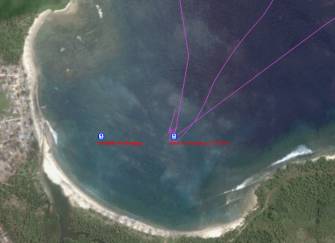 Supa anchorage and approaches
Supa, Halmahera, 2°11.00'N 127°59.04'E, 27', sand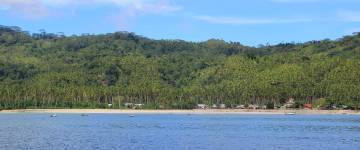 Supa village, on the west side of the bay
Conveniently placed on the northern tip of Halmahera, Supa makes a good stop when coming over from Sulawesi, especially if you don't have time or daylight to make it closer to Morotai. The anchorage is protected from all but north winds and there are no obstructions if you have to enter in the dark. There can apparently be a surf break along the west coast, so anchor more towards the middle of the bay, off the river mouth. The locals apparently surf the break with homemade wooden boards. They were curious about the "spaceships" that had landed in their bay, of course, but they politely kept their distance until invited closer. The town is cute and friendly in a local way, and remote enough that there was not even a cell signal in 2016.
---

Kechus anchorage and approaches
Kechus Anchorage, 2°12.77'N 128°14.29'E, 38', mud
So named (after one of the 2014 rally boats) because Kechus got here first, and invited several other boats to join them. This was our landfall after a very boisterous crossing from the tip of Sulawesi in 2014. The bottom appeared to be just mud, but at night we could hear our chain dragging against coral, so we decided to leave the next day. The anchorage is unremarkable, with a large reef to the south and a small village just ashore, and it provided needed shelter from the strong southerly winds blowing at the time.
---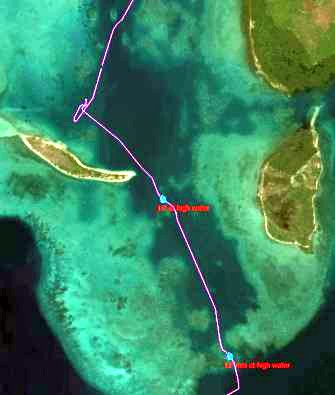 Galogalo anchorage and approaches
Galogalo Island, 2°07.58'N 128°12.64'E, 30', sand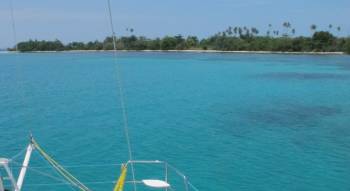 The beautiful waters around Galogalo Island
Galogalo is part of an extensive reef system that stretches for over 8nm and includes at least 6 islands. There are many anchorages sprinkled around it, and we could easily have spent weeks exploring around here. This particular anchorage is a bit dodgy to get into (and even dodgier to get out of). We strongly recommend that you have some form of satellite derived charts and/or our track file to get in here. We approached from the north, crossing one 20' patch coming in. The anchorage itself is gorgeous, in a sandy bowl with Galogalo Island nearby. It is, of course, completely protected from all winds. We left to the south, which meant that we had to cross a 12' and a 10' patch to get out. Maneuvering through coral reefs like this should always be done with polarized glasses when the sun is high so you can see into the water well.
---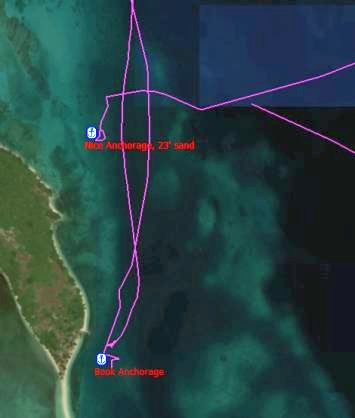 Dodola anchorages and approaches
Dodola Island, 2°05.57'N 128°11.70'E, 22', sand, OR 2°05.00'N 128°11.76'E, 25', sand


The long beach & sand-spit at Dodola
Dodola is one of 3 islands in a 6nm long reef system that must hold many good anchorages. The northern anchorage is off the NE side of Dodola, while the South anchorage is off the pier, where the small ferries bring folks from Doruba. Approaching (or leaving) the anchorage is a bit dodgy, as there are several reefs, but most of them are actually deep enough to sail over.
Dodola has no accommodation, but the locals like to come out for the day, as it's a pretty island. Snorkeling was fun nearby, and the islands looked fun to explore by dinghy as well. We could have spent more days here, diving and exploring in the clear water. In the evening scores of fruit bats circle above the island. There was a weak cell signal here in 2016.
---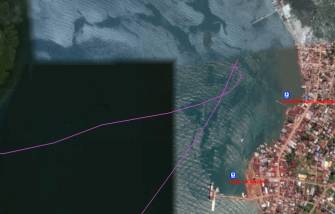 Doruba anchorage and approaches
Doruba, Morotai, 2°03.12'N 128°17.31'E, 26', mud


Doruba now sports a small marina
Doruba is the only real town on Morotai, and therefore the rally stop. They'd built a nice blue floating dinghy dock at the extreme north end of town (that was a bit difficult to get to at low tide) for the 2014 rally. That dock was still there in 2016, but they'd since built a new mini‑marina with floating pontoons at 2°03.06'N 128°17.40'E, which is a bit more convenient to town. The docks are quite flexible and there's no breakwater at all, so probably not suitable for cruising boats. It seems to be used more by the small ferries that take folks to the outer islands to play for the day. The anchorage given is just off this new marina, in good holding mud. There's room for many boats and there's a strong cell and data signal.
Morotai is where General McArthur landed to push the Japanese off Halmahera. There's an interesting WW2 museum and you can still see the remains of the 4 runways near the airport (they're now only using 1). Morotai is apparently trying to promote its tourism, but in 2014 none of the ATMs would take any of our cards, and even the banks wouldn't change our crisp, new US$100 bills. So we couldn't go on the dive excursions, or even buy any diesel. In 2016 a new BNI bank and ATM was just opening.
---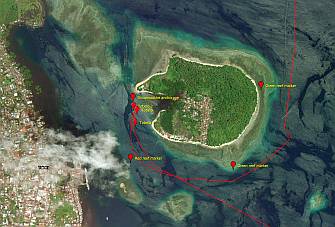 Tobelo anchorage and approaches
Tobelo, Halmahera, 1°43.72'N 128°01.19'E, 40', mud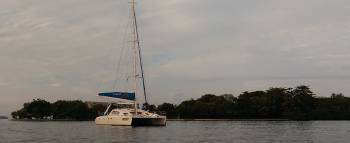 Ocelot anchored off Tobelo, Halmahera
It may be possible to enter this anchorage from the north (we saw boats leaving that way) but our GE charts of the area have a lot of reflections off the water, so we couldn't see the (many) reefs very well. Prudence dictated going around the island to make a southerly approach. With no way to get money (and therefore, fuel) in Morotai in 2014, we decided to try our luck at Tobelo.
This was a cute anchorage in a small bay off a resort island off the main town. There were lots of spider boats going back and forth, and it was easy to flag one down when we needed a ride. The spider boats drop you off in the harbor area, on some concrete blocks. Walking inland apparently takes you past the harbormaster's office, and he would probably appreciate a visit from any visiting boats. Just past his office is an arch denoting the end of the harbor area. Continuing up the main road to the T and turning left will soon bring you to some ATMs and some small grocery stores. Going back to the harbor area and turning into the alleyway on your left just before the arch are any number of fuel merchants who will gladly hand‑dip you some "solar" out of their 200 liter drums. The diesel is quite dark in color, and they only sell you "Indo‑liters" but it seems to be the only game in town. Unfortunately, when we were there the local volcano was erupting and we were getting a fine ash covering our decks. While we would have liked to stay longer to explore both the town and the many outlying islands and their reefs, we decided to leave the next day. Tobelo is apparently getting 4G cell soon.
---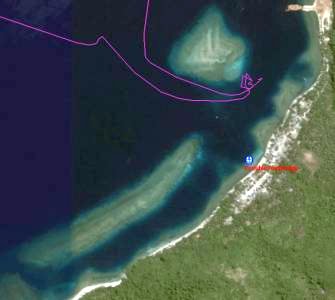 Bobola anchorage and approaches
Bobola, 1°32.94'N 128°32.41'E, Mooring (90' deep)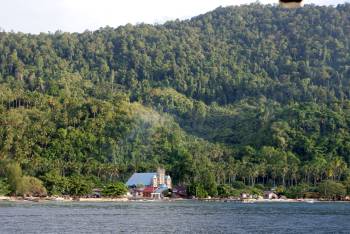 Bobola village and its huge church
Bobola was just where we were at the end of the day, so we tried to anchor there. There are potential anchorages west of town, and a big sandy beach off the middle of town that looked promising, but we ended up taking an unoccupied mooring for the night, and leaving early the next morning. There were a couple of other moorings around as well, but some of them were rather closer to the reef than we liked. The upshot is that anchoring in this area is probably possible, especially with some help from Google Earth, but you'd have to nose around a bit. There's a cute little village here, but we didn't go ashore to explore.
---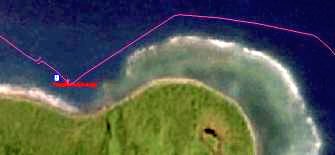 Petak Point anchorage and approaches
Petak Point, 1°24.11'N 128°44.40'E, 24', Sand


Petak Point anchorage, protected from southerlies
Petak Point was one of those lovely anchorages that's just where you need it to be. The wind was howling out of the south when we came down the coast of Halmahera, so we were very glad to find such a protected anchorage. The bottom shoals gradually and predictably, so simply proceed into the bay and anchor when you get to a comfortable depth. A couple of local mother‑ships with lots of little spider boats on board were also sheltering from the winds. The anchorage is big and can hold many boats comfortably. The reef off the point extends somewhat north of the anchorage, so it cuts a lot of the southerly swell. We could see no habitation nearby and we did not go ashore, but we could see some dim lights at night.
---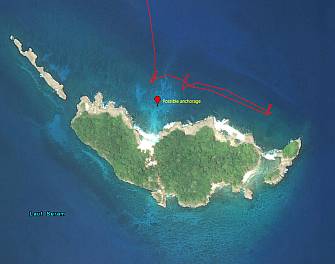 Yiew Island anchorage and approaches
Yiew Island, 0°43.72'N 129°08.20'E, 34', sand and coral


Tiny Yiew Island, with 5 boats already anchored
Yiew is a tiny island out in the middle of the channel between Halmahera and Raja Ampat. It's about 50nm SSE of the Petak Point anchorage. As such, it provides a welcome anchorage so the trip to Raja Ampat can be done as (long) day‑sails. Wayag is about 64nm away at ~120M, so a long but doable day‑sail. There's a tiny bay on the north side of Yiew, with some sand patches (but mostly coral) with clearer but deeper sand just a bit further north. The winds were howling out of the south when we were here in 2014, but the anchorage was fairly protected, even though we were the last of 7 boats here at the time. The exact spot above is actually on a patch of sand. If you get here in good light, put on your polarized sunglasses and try to anchor in one of the few patches of sand, otherwise you'll be in coral. There also appears to be an anchorage in clear sand just SW of the island, but we haven't tried it.
There's a (non-functional) light on the island, and a small beach just in front of the anchorage. If the swells aren't too bad, take a dinghy up to the beach to explore the island. The water is crystal clear, so snorkeling is fun.
---
There are MANY more anchorages available in the Raja Ampat area than we list here. We only talk about our favorites. Our track file shows lots of "Possible Anchorages" as well as anchorages from other boats. Also, we've put our southern Raja Ampat anchorages (Boo, Kofiau, and Misool) lower down, in their own section. Raja Ampat has gotten a reputation for very deep anchorages, and while there are some deep anchorages and awkward mangrove or rock cliff tie‑ups necessary, there are many more normal anchorages of 20 meters or less. Having 200m or so of extra line on board for tying up in Penemu, Yangello and Balbulol is a good idea, but those places are not the only beautiful spots in Raja Ampat. These anchorages are arranged roughly north to south, and west to east. There's no point in talking about cell coverage -- There isn't any except near Waisai and Sorong, the only 2 towns in the region. Note that only Wayag is north of the equator - all the others are South latitude.
| | | | | |
| --- | --- | --- | --- | --- |
| Town or Bay | Depth | N/S Latitude | E Longitude | Comments |
| Wayag | 38' sand | 0°09.74'N | 130°02.00' | Do not miss Wayag |
| Minyaifun | 61' mud | 0°19.43'S | 130°12.15' | Big anchoring area |
| S Penemu | Wall tie | 0°35.51'S | 130°17.16' | Beautiful, protected, dive base |
| Pam (Fam) | 20' sand | 0°39.10'S | 130°17.10' | Very protected in S winds |
| Kabui Pass E | 47' mud | 0°25.42'S | 130°34.26' | Very protected |
| Tg Warparim | 35' ?? | 0°26.11'S | 130°30.00' | Excellent dinghy exploring |
| Yangello | Wall tie | 0°30.72'S | 130°27.28' | Protected, good snorkeling |
| Christmas Bay | 35' sand | 0°30.42'S | 130°33.68' | Protected, dinghy exploring |
| Frewin | 85' sand | 0°28.24'S | 130°41.43' | Nice snorkeling/diving |
| Waisai Marina | 25' mud | 0°26.00'S | 130°48.40' | Small marina now available |
| Waisai Town | 36' Sand | 0°25.85'S | 130°49.35' | Completely exposed to the south |
| East Waigeo | 37' mud | 0°18.56'S | 131°18.99' | Nice, but exposed to the south |
| NE Batanta | 70' mud | 0°46.71'S | 130°53.36' | Protected, good stop to/from Sorong |
| Cockatoo Bay | 55' mud | 0°55.24'S | 130°47.70' | Lovely, but tricky getting in |
| W Salawati | 60' coral | 0°57.19'S | 130°39.68' | Nice snorkeling nearby |
| Yefman Is | 45' sand | 0°54.80'S | 131°07.32' | Nice sandy anchorage |
| Sorong, Bintang Marina | 50' mud | 0°52.88'S | 131°15.14' | Sorong, Dinghy dock, not a marina |
| Sorong, Fishing Dock | 60' mud | 0°53.14'S | 131°15.74' | Sorong, Off the fishing jetty |
| Sorong, Tampa Garam | 12' mud | 0°50.44'S | 131°14.32' | North Sorong, Wick's "Duck Pond" new 2019 |
| Sorong, Helena Base | Dock | 0°56.60'S | 131°18.88' | South Sorong, boat storage and haul out |
| Seget | 36' mud | 1°23.50'S | 130°58.40' | Curious villagers |
| Teleme Island | 48' mud | 1°23.37'S | 130°59.03' | Better protection |
---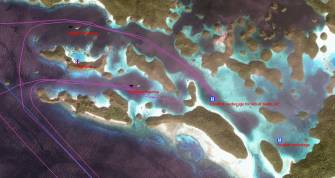 Wayag anchorages and approaches
Wayag, 0°09.74'N 130°02.00'E, 38' sand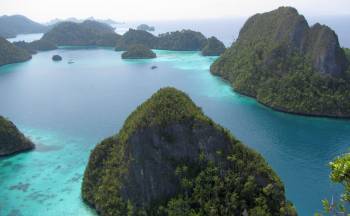 Ocelot anchored in the stunning beauty of Wayag
Wayag is the epitome of Raja Ampat - columns of green‑clad rock rising out of crystal clear water, surrounded by sand and coral. The classic pictures of Raja Ampat are usually shot at Wayag. The CM93 chart database shows Wayag as a solid island, but as Google shows, it's a maze of tiny islands and clear pools. The entrance is fairly straightforward from the west, but most folks will want to come in the northern of the 2 entrances. There are moorings near both entrances, big barrels covered in soft foam, but we didn't bother picking one up. Instead we proceeded to the anchorage above, which is large enough to hold 8‑10 boats and is completely protected from all winds. On the way in, keep a sharp lookout, as there are reefs that come close to the surface. There are several other places to anchor if you nose around a bit.
Dinghy exploration is good fun, and can last several days if you've got the fuel. There is a ranger station east of the anchorages, outside the main archipelago, and sometimes the rangers will come by to say hello, but there are no other services. There is a steep trail to a stunning viewpoint on Mt Pindito. Take your dinghy to the beach at 0°09.97'N 130°01.22'E and walk inland to the park sign and the clearing under the trees. The trail starts at the back of the clearing. At one point, if it looks like you're going up an impossibly steep gully, you missed a right turn. Go back down to the last flat bit and look to the side to see the trail. Scuba diving is reputed to be excellent along the outer walls, but there can be strong currents.
Recently, a village fairly far away has claimed ownership of Wayag and has started demanding payment for anchoring. Unfortunately, the dive charter boats pay these sometimes exorbitant fees. If they ask for Rp100,000, then we usually pay it, but if they ask for Rp1M, then we politely tell them we're not a charter boat (they can't seem to tell the difference) and don't have that sort of money. Or sometimes we ask if we can pay by credit card since we don't have that much cash with us. All you seem to miss out on by not paying is the opportunity to visit the pearl farm several miles to the SSE.
---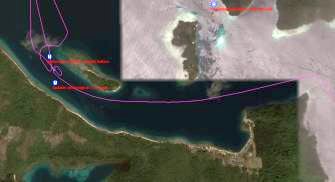 Minyaifun anchorage and approaches
Minyaifun, 0°19.43'S 130°12.15'E, 61' mud


Minyaifun, looking towards the east entrance
The anchorage lies between the islands of Batang Pele and Minyaifun, in a channel. It's relatively deep, but the holding is good. You can approach from the NW or the East. Tuck in behind the little island and anchor as convenient. Depths change gradually within the channel, but rapidly when approaching the reefy island to the north. This is a large anchorage, and despite its depth, it can hold many boats. There's a small village at the east end of the island that seemed to like visitors. There are no shops, other than those selling chips, rice, tea, and instant coffee. We did walk to a swamp where our hosts harvested water spinach (kankung) for us to buy.
---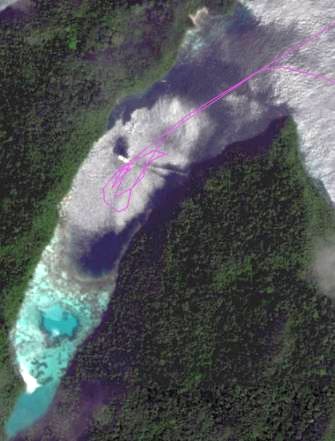 South Penemu anchorage and approaches
South Penemu, 0°35.51'S 130°17.16'E, too deep, Tie to rock walls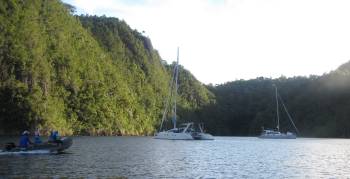 Ocelot and Nalukai tied up in the South Penemu cut
This "anchorage" is one of 3 we have listed that is too deep for actual anchoring, but the bay is narrow enough that you can tie off to the walls, and many boats do. In the case of Penemu, the walls are sharp rock, so it's best to use a loop of old line for the very end, or use one of the many lines left there by previous boats. The walls have lots of holes, so there's no problem finding places to tie up. The walls are almost 150m apart, so make sure you have enough line. Like Yangello and Balbulol, it's easiest if a friend takes your lines by dinghy and ties them off for you, but the bay is protected enough that your boat won't drift far in the time it takes to tie your own lines ashore.
The snorkeling on the reef around the edge of the bay is wonderful, even without launching a dinghy. This is a good spot from which to base some dinghy exploration up to the extensive archipelago, Mini Wayag (with 2 viewpoints!) further north on Penemu, or the hollow island (Star Lagoon) with another viewpoint 1.7nm due north of the anchorage, or to go snorkeling or diving at Melissa's Garden 1.7nm east of the anchorage. Penemu has lots of interesting things to explore, but very few anchorages.
---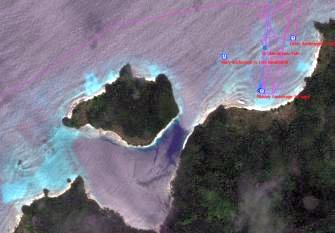 Pam anchorage and approaches
Pam (Fam) 0°39.10'S 130°17.10'E, 20' sand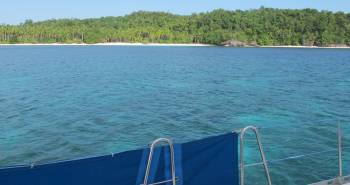 Beautiful clear water of the Fam anchorage
Pam (which is erroneously labeled Fam on some charts) was a lovely find when the winds were howling out of the south. There's an 11' (3.3m at low tide) reef to go over, then a big sandy bowl that starts 80' deep but soon comes up to more friendly depths. We hosted Thanksgiving for 6 other boats here in 2014, although some anchored further out. There's coral to snorkel, although the water wasn't crystal clear. There's a sandy beach to walk, and a big lagoon to explore to the SW. Folks at Pam village at the east end of the island make coconut oil products to sell.
---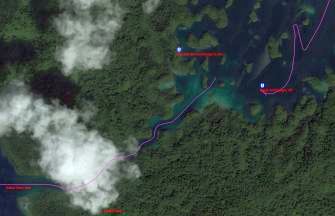 Kabui Pass East anchorage and approaches
Kabui Pass East, 0°25.42'S 130°34.26'E, 47' mud


Brick House & Heather May at Kabui Cut anchorage
Nestled amongst the karst islets and the north shore of Gam Island, this anchorage is secure from both winds and swell. There is room for several boats. A strong current flows through the Kabui Cut, but is not felt at this anchorage. The water here is green with poor viz, so care must be taken to pick one's way through the islets and the underwater bommies. The safest approach is from the northeast, parallel to the north coast of Gam Island. If you enter from the west, via the Cut, continue NE past the anchorage and the little islands, then turn right and circle back. While not as clear as other waters in Raja Ampat, this cut offers an exciting view of colorful soft corals, plus a bounty of fish and turtles. As the current can change rapidly, it is essential to maintain contact with the dinghy when swimming through. Exploring the cut this way is good fun, and there's a hidden cave on the south side, towards the east end. There is also good snorkeling on the bommies near the anchorage. More dinghy exploration into Teluk Kabui to the north is rewarding as you weave between green and rocky karst islets.
Transiting the Cut: The Kabui Cut extends for a mile between Gam and Waigeo islands. Yachts can easily transit the cut, preferably against the current. The bar at the west end is 10' (3m) deep at low tide and there may be a bommie about mid‑channel with slightly less depth. Transiting east to west is easiest, as you can explore the cut by dinghy or even snorkeling first, and choose your transit time based on the current. Anchoring on the west side of the cut is problematic, as there are steeply rising reefs, coral bottom on the deeper patches and poor holding.
---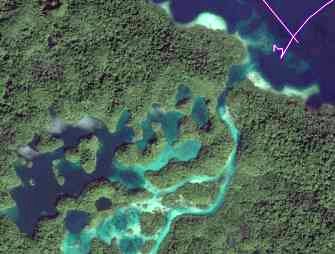 Tanjung Warparim anchorage and approaches
Tanjung Warparim, 0°26.11'S 130°30.00'E, 35' ??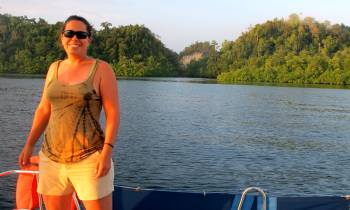 Amanda at Warparim, with the hidden bay entrance
Warparim was an interesting find when we were looking for an anchorage on the west side of the Kabui Cut. I think it's actually on top of a bommie or something, but the bottom was flat and the anchor held well, although we would class this as a fair weather only anchorage. The interesting part is the intricate and extensive network of waterways and islands up the "stream" SW of the anchorage. We explored it by dinghy for almost an hour and realized that since we didn't have a GPS with us, we could easily get lost! Taking a tablet with a GPS and a tracking program while exploring would be good fun! We think this is what some dive resorts call "Hidden Bay".
---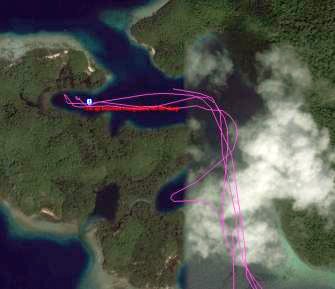 Yangello anchorages and approaches
Yangello, 0°30.72'S 130°27.28'E, too deep, tie to mangroves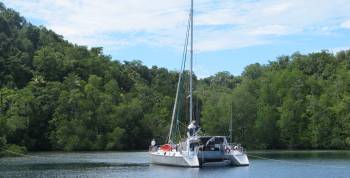 Nalukai tied between the mangroves in Yangello
There is a channel between Pulau Yangello (aka Yangeffo) and the extreme west end of Gam Island, and this anchorage is in a bay off the west side at the north end of this channel. The whole area is too deep to anchor safely, but tying up between the mangroves is very secure ("I think that I shall never see, an anchor lovely as a tree..."). 3‑4 boats can tie up in the main bay, and another one can tie in a little side‑bay to the south. It's easiest if you have friends in there already who can meet you with their dinghy to take your lines and tie them off, but the anchorage is so protected that doing it yourself while the big boat sits (drifts) in the middle of the bay is pretty easy. The mangroves are ~120m apart at the entrance to the bay, and ~100m apart further in. Obviously, boats that are leaving first should have the outer positions.
In 2018 there were a pair of moorings on the east side of the channel, but they weren't very heavy and they're both quite close to the fringing reefs. In fact, I think we dragged the southern one a bit in only 15 knots of wind.
The snorkeling just north of the bay, on both sides of the channel, is rewarding with octopus, many snappers and groupers and abundant hard and soft corals. Currents can be strong in the channel, but towing a dinghy while snorkeling is usually a safe option. The whole area is fun to explore by dinghy. The bay on the south side has a small jetty that faces the new cell tower on Arborek Island, but internet elsewhere is problematical.
---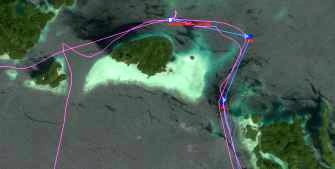 Christmas Bay anchorage and approaches
Christmas Bay, 0°30.42'S 130°33.68'E, 35', sand


Part of the Xmas fleet at Christmas Bay in 2014
So named because we spent Christmas 2014 and 2018 here with several other boats, this is a lovely big anchorage in a huge bay on the south side of Gam Island. There are 3‑4 entrance channels, which are each about 200m wide. They're not marked, but the channels are easy to see. This is a good rendezvous point for boats, from which they can snorkel, explore, and socialize. There are no villages nearby, and no facilities, just a dock where someone started to build a homestay. The convoluted coastline just east of the anchorage offers wonderful dinghy exploration. Some boats like to go out to Manta Sandy from here, then return for the night, as Manta Sandy is too exposed to be a good overnight anchorage. The new cell tower on Arborek Island means there's usually a usable cell signal (put your phone in a bag and hoist it up the mast for better reception). There's a trail to a new view point to the west of the anchorage.
---

Frewin anchorage and approaches
Frewin, 0°28.24'S 130°41.43'E, 80', sand
Frewin is a snorkeling and diving Mecca, as there are lots of sites nearby. The anchorage is between the island and the mainland, not between the 2 small Frewin islands. Watch out for the shallows that extend east and a bit north of the island. Anchor just NE of the small village in 75‑80'. The bottom is mostly good holding sand with some coral. It looks a bit exposed, but it's actually fairly protected from most directions. We weathered several squalls there, and the winds never got very strong. There is a current that changes directions with the tide. The tower on Saonek Besar gives a useable signal to the east end of the anchorage.


Frewin Village, just north of the anchorage
The wonderful Biodiversity Eco‑Resort is 1nm further north, at the top of the photo (click on a photo for a bigger version). You can see their green‑roofed shelter at the end of their dock from the anchorage. The owners, Rey and Patricia, (phone/SMS/WhatsApp: +628 124 881 3677 or +628 218 922 2577) are friendly, but remember that their guests are their main priority. If you ask to come ashore or use their dock or snorkel their house reef, they're happy to oblige, but they don't like people assuming that their facilities are for public use. If you ask them ahead of time, you can often get excellent meals there. Snorkeling their house reef is delightful, and their English speaking staff are quite interesting and knowledgeable. If they have room in their boat, cruisers can sometimes join their dive trips, and their prices are very reasonable.
The nearby village on Frewin is friendly. There are lots of fish under their dock, but if they're fishing off the dock then they don't like snorkelers there scaring the fish. The village of Yenbeser, on the mainland (actually, Gam Island) is also friendly, but there's a shallow reef between the anchorage and that village. Best to go west until you can approach the village from due south. NE of Yenbeser, just before the small headland, is a fun river to explore by dinghy, but you need mid‑to‑high tide to get over the entrance reef. Simon, in Yenbeser, can take you to see the Red or Wilson's Birds of Paradise.
We found the snorkeling between the 2 islands of Frewin and Frewin Banda to be a bit fish deprived. But the snorkeling (and diving) around Batu Lima (just east of Biodiversity, and at the very top of the photo) is excellent. Lots of fish, hard and soft corals, and several fun swim‑throughs. This is quite a famous dive site as well. We dove Batu Lima and then finished at the Biodiversity dock, swimming the edge of their excellent house reef.
---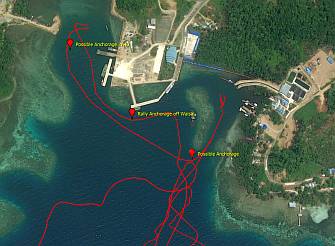 Waisai Marina anchorage and approaches
Waisai (marina anchorage) 0°26.00'S 130°48.40'E, 25', mud, or marina berth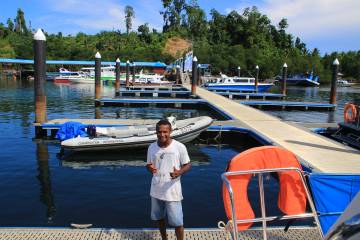 The new Waisai marina was free in 2016
Getting into this basin at night is tricky, as the entrance channel over the reef is only marked with sticks. The basin is very protected, even when the south winds howl. The small marina (with 10m long pontoons) is now finished (but rather expensive, and doesn't show in the old photo at left) but anchoring is still possible for 1‑2 boats. Best to take rat precautions at the marina. There's a water tap at the head of the marina, but no power. Fuel can be had.
Waisai is the capital of Raja Ampat, but the town is spread out and doesn't have much to offer. The big fresh market is a dog‑trotting distance out of town, and more easily accessible by boat than by land, but there's a smaller veggie market in town. Cars for hire (with driver) charge about $10 for half a day, which allows you to get to the wet market, ATMs, and grocery stores in town. Diesel can be bought at the marina but there are lots of surcharges for delivery and filtering. Obligatory Tourist Conservation Medallions (valid for 1 year) are available at the Tourism Office in town. Cell coverage is good. There are high‑speed ferries running the 40nm to Sorong once or twice a day. The ferry dock is the big cleared area near the top of the photo. There's a nice covered walkway from the marina to the ferry dock.
The tourism folks can be quite helpful, and can organize snorkel/diving trips to Yanbuba, Frewin and Kri. They organized a car to take us to see the Bird‑of‑Paradise, which showed up at 4am, as promised. They also organized 2 all‑day boat tours, as well as a nice dinner with school kids in costumes performing a dance showing how they were protecting their reefs. In 2016 we enjoyed the Festival Raja Ampat for 4 days, with dancing, tours and meals. The water around Waisai and the main island of Weigeo is not very inviting. Best to do any bottom checking or other salt-water activities elsewhere, as there are crocs in these waters, and people have been taken near the fish market. There is nice snorkeling and a clean beach 1 mile west at Saonek Kecil, which you can get to by dinghy.
---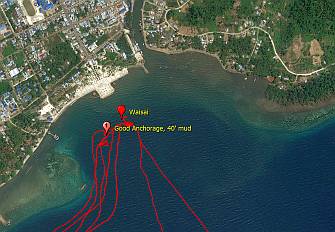 Waisai Town anchorage and approaches
Waisai Town, 0°25.85'S 130°49.35, 36', Sand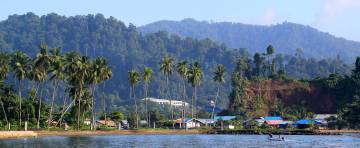 Waisai town from the anchorage
This anchorage is completely open to the south and untenable when the south winds are blowing, but it's fine in settled weather once the seasons change (usually October through April). It offers much easier access to Waisai town, and stronger cell signals than the marina anchorage. The main approach hazard is a string of shallow reefs about 3nm offshore. In 2017 these reefs sported navigational lights and even a small fishing platform, so avoiding them shouldn't be a problem. Once past them, enter the bay and anchor as convenient.
The satellite shot of Waisai to the left shows the reef to the west, as well as the river and the pavilion area. The reef to the west is slowly being expanded into more of a breakwater, so there's more protection and shallower water on that side of the bay. Lots of local boats come in and out of the stream, so it's probably best not to anchor directly off the mouth. There's now a fairground of sorts (white area just north of the anchorage) with over water walkways on either side that are easily visible.
The fruit and veggie market is on the west side of the stream. Saga is apparently coming to Waisai, but it wasn't open in 2019. There are no fancy grocery stores, but basic supplies are available, including frozen chickens, from the white‑roofed building just north of the fairgrounds. There are several modest but nice restaurants in town. To get ashore either go up the river (at high tide) or use the steps next to the anchorage and tie your dinghy to one of the walkways. There's now a Pertamina fuel station on the east side of the river, a bit past the local market (near the top of the photo). They sell DexLite and petrol from their pump for the same price as Sorong (Rp9200/L and Rp8000/L in 2018) and pre‑mixed 2‑cycle outboard fuel for Rp9000/L, hand dipped out of a barrel but reasonably accurate. This is the cheapest fuel in Raja Ampat, and easy to get from your boat.
---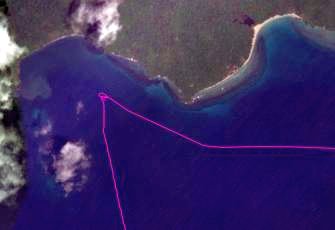 East Waigeo anchorage and approaches
East Waigeo 0°18.56'S 131°18.99'E, 37', mud, cell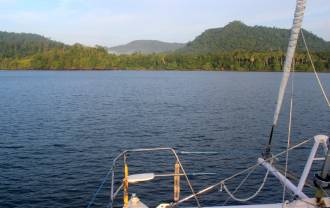 Approaching the East Waigeo anchorage
There are actually 2 anchorages at the east end of Waigeo. Both are open to the SE, so are probably only tenable from Oct‑May, or in settled conditions. We anchored in the larger, western bay because it offers better protection from a northerly swell, and because it's bigger (we were 4 boats) but the eastern bay should also provide a pleasant anchorage in settled or northerly winds. There's a reef about 1.5nm south of the anchorage that needs to be avoided, but otherwise there are no approach obstacles. The bay is big and open and the bottom slopes gently, so proceed in until you reach a comfortable anchoring depth. There's room for many boats.
There are no villages nearby, so it should be very quiet. Exploring the bay to the east or the reef 1.5nm to the south could be interesting. Snorkeling the reef in settled conditions might be fun. There are no supplies, of course. There's a cell tower 7nm to the WSW that will provide a usable signal if you don't go too far into the bay.
---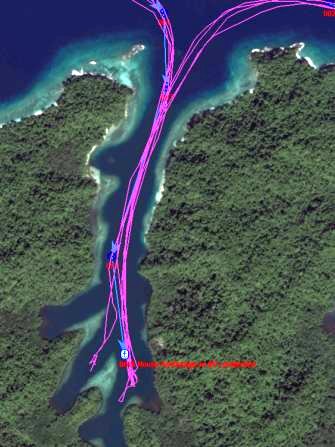 NE Batanta anchorages and approaches
NE Batanta, West: 0°46.65'S 130°53.26'E in 45', mud; OR East: 0°46.71'S 130°53.36'E, in 70' mud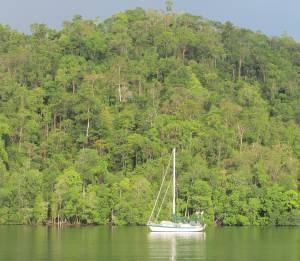 Brick House in the NE Batanta anchorage
These 2 anchorages are about 25nm from Sorong, so they make a good stopping point when going between Raja Ampat and Sorong for supplies, crew changes, or visa extensions. There are no particular hazards approaching, except to note that there's a rock on the reef between the 2 anchorages that gets hard to see at high tide. The western anchorage is shallower, but it's also much smaller, so care must be taken to be in the middle of the anchorage. The eastern anchorage can hold 2‑3 boats. It's on the deep side of what we like to anchor in, but the channel is long and the hills rise up sharply all around to protect both anchorages from any strong winds, so you can cheat a bit on scope as it never blows very hard. Nothing to do ashore here, but the bird listening and bird watching can be lovely, with flocks of cockatoos and pairs of Blythe's Hornbills flapping noisily overhead.
---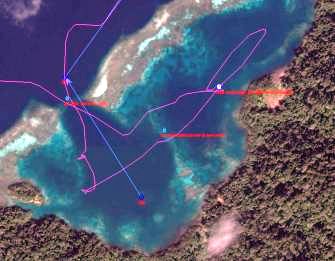 Cockatoo Bay anchorage and approaches
Cockatoo Bay, 0°55.24'S 130°47.70'E, 55', mud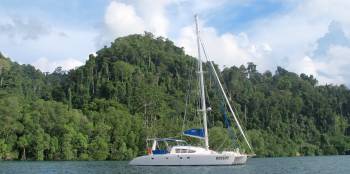 Ocelot anchored at beautiful Cockatoo Bay
Cockatoo Bay (so named by us, for its amazing flock of Sulfur Crested Cockatoos that frolic in the forest branches) is a delightful respite from the winds that can come roaring up the channel. We found it quite by accident while we were scrutinizing Google Earth, as you can not easily see the bay when sailing past. Entrance should only be attempted when the sun is high so the reefs are visible. The entrance bar is about 200' (60m) wide and 20' (6m) deep, so pretty easy. The outer bay is a bit deep for anchoring but there's a 10' (3m) deep section to get over to get to the inner bay. There is one small fishing settlement with 1‑2 families ashore. Fresh water (not for drinking unless treated) can be taken from their stream. The snorkeling on the reef can be rewarding, though the water may be clearer outside. The anchorage is completely protected from all weather and delightfully remote.
---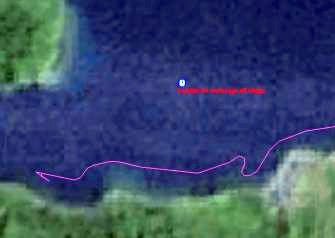 West Salawati anchorage and approaches
West Salawati, 0°57.19'S 130°39.68'E, 60', coral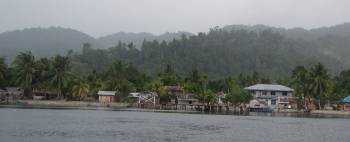 Village at the west end of the Salawati cut
This is not a very good anchorage as it's deep with some coral. We almost didn't include it, but the water is clear and the snorkeling nearby, especially off the east end of Sagewin Island, is quite good. We'd heard that it was possible to see a different species of Bird of Paradise, so we asked the local villagers. They offered to guide us, but our guides didn't even show up until well after sun up (we'd been waiting an hour). They led us on a nice walk, but it soon became apparent that there were no Birds of Paradise anywhere nearby.
---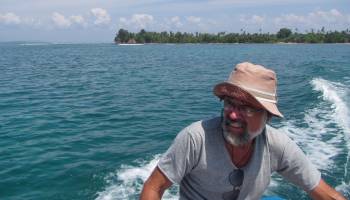 Yefman and its reefs are fun to explore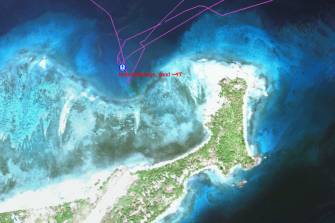 Yefman Island anchorage and approaches
Yefman Island, 0°54.80'S 131°07.32, 45', sand
Yefman is less than 10nm from Sorong, so a nice place for a day sail. The anchorage is on white sand, surrounded by coral reefs, a pretty idyllic setting. The bay offers good protection from south winds, but is open to the north. Going ashore is easy enough at high tide, but it gets shallow at low tide. There's a runway ashore, but we never saw any planes using it. The village on the south side of the island has a concrete jetty. There are several snorkeling possibilities on the many reefs surrounding Yefman Island.
---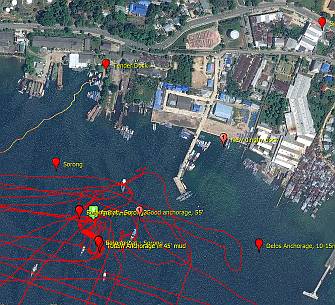 Bintang Marina anchorage and approaches
Sorong, Bintang Marina, 0°52.88'S 131°15.14'E, 50', mud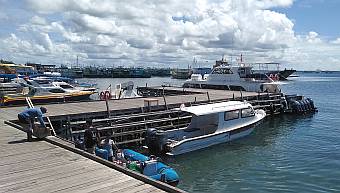 The new Bintang Marina dinghy docks
We describe 4 good anchorage situations near Sorong, and there are more further offshore, in the big open areas south and east of Doom Island. They're less noisy and less subject to theft, but they're also quite deep, it's a LONG dinghy ride to and from town, and the waters can be rough with strong winds. We list our anchorages here in order of increasing distance from Saga, the main grocery store in Sorong.
First is off the new (2018) dinghy dock and the Bintang Marina complex. Unfortunately, the area's new enough that the satellite photo at left is sadly out of date. The military dock in the lower right is now longer. The dock in the middle of the photo is what you anchor SW of. The shallows just to the right (east) of the dock now have several derelict ships on them settling slowly into the mud. The photo shows 2 bare areas at the head of the dock, but they're not bare now. To the left (west) of the dock is a small Pertamina petrol station (that wouldn't sell solar in 2019, but would sell petrol). To the right (east) is a covered eating and meeting area, a small but well stocked convenience store, and an upscale restaurant, with several docks for small boats out front in the water. Behind the restaurant is a booth where you can fill your jugs with filtered water. The red pin in the upper right (click on the photo for a larger image) is the Saga Grocery store, with its bank of ATMs outside.
We've recently heard that the officials prefer boats to anchor out by Doom Island, but that's silly. It's at least 75' (23m) deep out there. It's a long dinghy ride, even with a fast dinghy, and it's unreasonable if you're rowing. An onshore breeze often comes up during the day, bringing a short chop and making getting from town back to your boat a wet adventure, even when you're anchored close to town. We'd suggest pushing back on this one if you're approached by officious officials, as Doom Island is pretty deep for most cruising boats, and many cruising boats don't have big outboards, which the harbormaster may not realize.
There are no issues approaching the anchorage, but there is an underwater ridge that runs roughly east/west just SW of the end of the dock. The ridge comes up to about 20' or 6m, and does not appear to be coral. When the wind is blowing onshore, as it often does during the day, we generally drop our anchor just offshore of the ridge in about 50' (15m) so any strong winds will tend to pull the anchor up the ridge (the winds generally blow lightly offshore at night, making the anchorage much more comfortable). There's room for several boats here.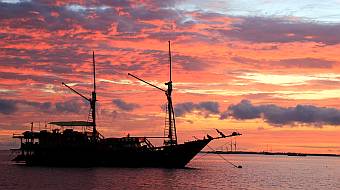 Phinisi dive boats anchored off Sorong
Sorong is the biggest town in the area. It's technically not part of Raja Ampat, but everyone coming into or out of Raja Ampat has to fly through Sorong. The many live‑aboard dive‑boats in the area resupply in Sorong, so the 2 main supermarkets, Saga and Ramayana, are relatively well stocked, including bacon and cold cuts. But there's an extra tax on beer, which costs close to US$2.50/can.
There's a gated arch at the end of the road that forms the dock. Left will take you to customs (cross the busy 4‑lane road, go under the metal arch, and take the steep driveway up the hill) and right takes you to the rest of Sorong. The road that Saga is on is the main road through town, but the road you come to first, just to the right of the gated entrance to the dock, is the other (and much smaller) main road. Both have bemos (small yellow micro‑busses) running pretty continuously. In 2019 they were Rp5,000/person (about US36˘). About 300m east of Saga and on the same side of the road is a reasonable hospital for emergency care, with a pretty good pharmacy. Further on is Immigration. If you tell your bemo driver you're going to "Immigrasi" he'll show you where to get off (just past the big mosque) and will sometimes take you right to the building, which is about .2nm off the main road.
One of the joys of visiting Sorong is meeting Victor (ph: +62‑812‑483‑3831) a Chinese Singaporean who runs the family heavy earth‑moving equipment business. Victor's quite busy but enjoys meeting cruisers and helping them with any problems they may have. He can receive and hold equipment shipments, or tell you the best place to get something, like a good meal. He has bought land south of Sorong to build a marina, but construction hadn't started in 2019. Victor has an older copy of our KAP navigational charts on a hard drive if you want to copy them. He can also supply cooking gas decanting fittings, which are very hard to find in Indonesia.
---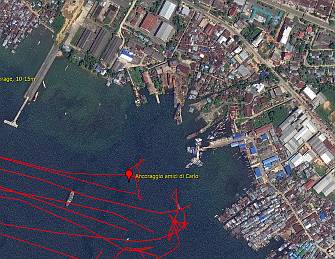 Sorong Fishing Dock anchorage and approaches
Sorong, Fishing Dock, 0°53.14'S 131°15.74'E, 60', mud
About half a mile SE of the Bintang Marina anchorage, and on the other side of the Navy dock, is the fishing dock. This was the first anchorage that we used when visiting Sorong in 2014. There are no obstacles when approaching this anchorage, but the charts have significant errors. This anchorage is pretty grotty, but it's close to the fishing jetty. Theft can be a problem off Sorong, so make sure everything on board is secure, and lift your dinghy out of the water every night. We've never had a problem here, but others did in 2015. The anchorage is open and exposed to the southwest, but most squalls and strong winds from that quarter die off fairly quickly. For the anchor‑chain challenged, there are shallows just to the right (east) of the navy dock. There's a nav‑beacon in the middle of that area and it gets quite shallow, but one might be able to anchor there.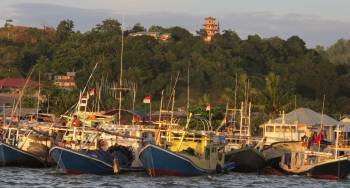 The bustling Sorong fishing fleet at the dock
In the photo to the left (click on it for a larger version) the Navy dock is on the left and the fishing dock is the crowded dock in the middle. The longish dock sticking down from the north and pointing a bit to the left of the fishing dock is part of a marine slipway shipyard, and we locked our dinghy on the left (seaward) side of that dock, usually to the fuel barge that tends to live there.
The shipyard has a guarded gate, so your dinghy should be pretty safe. Walk out the gate, turn right, and the (small) road T's into one of the main roads after a few hundred meters. Immediately on your right is the Bintang Jaya machine‑shop, which we've used a couple of times. They can test and adjust diesel injectors, as well as other machining work. They don't speak much English, so best to have a good drawing of what you want done or made, &/or be good at pantomime.
At the fishing pier NE of the anchorage there's a dock, but it's difficult to get to at low tide. Still, at the head of the dock is a light‑blue‑roofed building on the right that sells solar (diesel) out of drums. Amounts are "Indo‑liters" and the fuel is of unknown parentage, but it's convenient. Also, the photo is old and doesn't show that much of the area around the fuel building is now filled in, with a concrete wall. There are steps coming down at intervals, but it's not a good place to leave dinghies for very long, as it's exposed to wind and waves. Opposite the fuel there's a veggie market to the left (darker blue roof) and a fish market a little further on the right. The road kinks to the right at the mosque, goes past some fish drying racks on the left, then comes to an intersection. Just ahead on the right (brown roof, not the blue roof) is a cold‑store with good frozen meats from down‑under. They'll also let you decant cooking gas from one of their tanks for Rp300,000. If you turn left at the intersection you eventually hit one of the main roads, next to a nice hardware shop (Multi Mart) and across the street from the busy Pertamina petrol station. There are several typically Chinese hardware shops to the right (SE) including the local Yanmar dealer about 2 doors down (look for the Yanmar sign on their facade). They speak passable English and are quite helpful. We were able to get new tips for our injectors there, as well as other goodies.
On the street, Bemos heading right (SE) can take you past the immigration office to extend visas (ask for "imagrasi" - the office is ~300m off the main road, just past a big mosque). This office has improved tremendously since 2015, and in 2017 they were accommodating and efficient. Bemos going left (NW) can take you to the main grocery store, Saga, and its nearby ATMs. Bemos were Rp5,000/person in 2019, or about US40˘.
---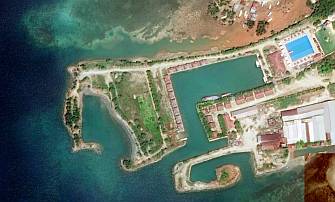 Wick's Duck Pond anchorage and approaches
Sorong, Tampa Garam (AKA Wick's Duck Pond), 0°50.44'S 131°14.32'E, 12', mud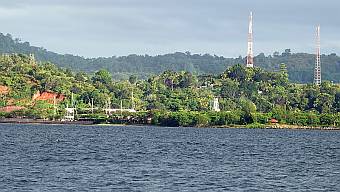 Approaching Tampa Garam from the north
Warwick (Wick) Alliston (+6281‑148‑5371) is an ex‑pat Australian who's settled down in Sorong. He's very helpful, and is becoming quite a resource for cruisers in Raja Ampat. He's recently leased Tampa Garam, with its entrance at the above location.
Getting in is a bit tricky the first time, as the charts are hopeless and even most satellite imagery doesn't show it correctly (our image at left is correct as of late 2019). There's an outer bay, the narrow entrance, then a sharp left turn. Best to make the turn a bit wide, as the corner is a bit shallow. Then turn right and go down the right (south) side of the pond, past the impounded tanker, drop your anchor and reverse towards the north wall. If you've let people know you're coming, somebody should be there to catch your 2 stern lines to tie them around posts set in the ground for the purpose.
The area appears to have originally been built as a resort, as there are several small bungalows, but none were occupied in 2019. Wick has leased the area, but he doesn't want to develop it until all the legal issues are resolved. Meanwhile, the concrete walls around the pond are falling apart, as are the bungalows. It's sad, as it could be a lovely little resort and marina.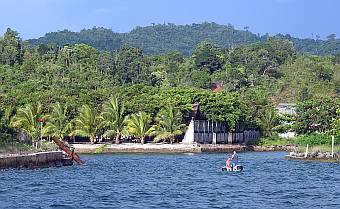 Approaching the entrance to Tampa Garam
There's a huge swimming pool (the blue in the upper right of the satellite photo) and a huge but surprisingly inexpensive restaurant just to the left (west) of the pool. It mostly serves various flavors of fried rice or fried noodles, but they sometimes do annoying Karaoke at night. There are stairs from the restaurant into the pond, where one can tie a dinghy, but there are no floating pontoons (yet). The first (easternmost) bungalow on the north side has its key above the door so cruisers can use its bathroom and shower, but the power usually isn't on and the water pressure is often very low, so the shower is more of a dribble. There's a tap near that bungalow with a short hose on it for (non‑potable) water, but there's no electricity available as of late 2019.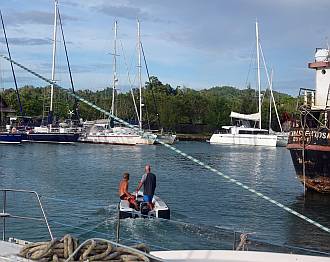 Being led into Tampa Garam pond
Tampa Garam is a good option if the anchorages off Sorong are too windy, or you're worried about theft. The Sorong anchorages used to have a bit of a bad reputation, but we haven't heard of any problems in recent years. If other cruisers are in the pond then the camaraderie and social atmosphere can be fun. But it's a long way to town (3nm to Saga), and the bemos don't come out that far, so taxis are required to get to town and back (about $8 each way) as there's no shuttle (yet). Prices for us in late 2019 were US$ 23/night, which seemed a bit stiff for what is really little more than an anchorage, where we have to use our own anchor and dinghy. But it's safe, protected from all weather, easy to get to and from shore, and other cruisers can make it fun.
Wick has considerable resources to help cruisers. He (&/or his workers) at EON Engineering can:
Test and certify scuba tanks (US$ 50 each for hydro‑testing)
Fitting, turning, welding, and light fabrication of aluminum, stainless steel, and mild steel
Supply fuel, water, and cooking gas decanting fittings
Install &/or repair electrical systems, instruments, batteries, and wiring looms (new expat technician)
Repair fiberglass and some inflatable dinghies
Make &/or repair awnings and dinghy covers, light sail repairs
Repair &/or service dive compressors
Install saildrive seals, repair slipping clutches on SD40/SD50 (not permanent repair, but gets you going)
Help get parts from Jakarta (service charges apply, even if nothing is bought)
Assist importing goods into Indonesia duty‑free (service charges apply). Note that it's important to consult WIck before ordering as the duty‑free status can only apply to certain components, and must be submitted in writing at the beginning of the process.
Unfortunately, there is NO alternator repair shop in Sorong.
Wick's a good resource, and working hard to develop Sorong into a better destination for cruisers. Now, if we can just convince him to put in some floating docks, a shuttle into town, and an alternator repair shop...

---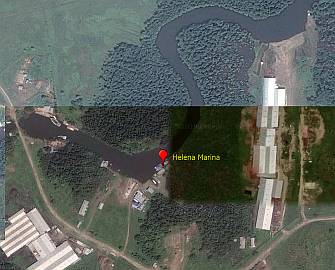 Helena Base Marina and approaches
Sorong, Helena Base, 0°56.60'S 131°18.88'E, dock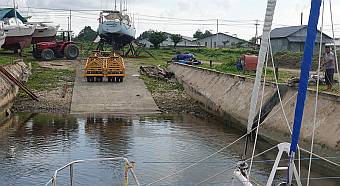 Approaching Helena Base slipway and trailer
Some time ago, Warwick (Wick) Alliston (+6281‑148‑5371) acquired a phinisi (big local boat) and its dock. The phinisi is long gone, but the dock remains, and Wick is using it as a safe storage dock for cruising boats. It's up a river south of Sorong, and he can supply a (free the first time) pilot when you want to come in. The approach gets a bit shallow, but the bottom is soft, sandy mud, and we're told that boats drawing up to 3m go in on Spring Tides. Coming from a Sorong anchorage at high tide you can use the waypoints: 0°54'S 131°16.2'E, 0°54'S 131°16.6'E, 0°54.6'S 131°17'E, and then curl SE into the river mouth. Helena Base is about 4nm up the river. The river itself is deep, but keep to the outsides of the turns for the deepest water. At 0°55.86'S 131°18.92'E the river splits. Although the left fork looks bigger, take the right (straight ahead) fork. As you approach Helena Base, you'll see a very fancy dock (often with a very fancy mega‑yacht) on the right, but that's an ex‑governor's dock. Helena Base is a bit further up the river, and on the left. Several cruisers have left their boats unattended at Helena Base for over a month, and reported no significant problems.
The satellite photo at left (click on it for a larger image) shows the winding river approach, the driveway in (past the boat‑building operation on the right and the ramp being constructed on the left) to Helena Base itself, although few boats show in this photo.
Wick can fit about 14 monohulls (rafted two deep) or about 7 catamarans (or various combinations) at present, but he's planning to extend the dock so he can accommodate more boats, as his dock is often pretty full these days. Call or email as early as possible if you want to use the dock. There was patchy cell signal in 2019, but Wick has now installed a WiFi router so his customers can get better internet.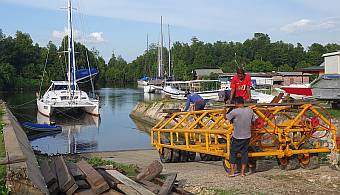 Preparing the trailer to haul Ocelot out
In late 2019, Wick expanded his operation by building a concrete ramp into the water (visible in the satellite photo) and a steel trailer that can haul out both monohulls and catamarans. The trailer is innovative, but very basic, with 8 truck tires at the back and 4 somewhat steerable tires at the front. Catamarans are lifted from their bridge‑decks, by building up blocks of wood on top of the trailer. Cushioning is provided by pieces of heavy foam. An 85hp tractor does the grunt work on a 2:1 pulley to the trailer. Monohulls are taken out by moving the 2 longitudinal arms of the trailer apart and stringing lifting straps between them that go under the keel. Boats that only want to be out for a few days are left on the trailer, on the ramp. The front wheels of the trailer are slightly smaller than the back wheels, so boats come out fairly level. Boats wanting to stay out for longer are blocked up on the green field south of the ramp at present (see the 2 upper photos).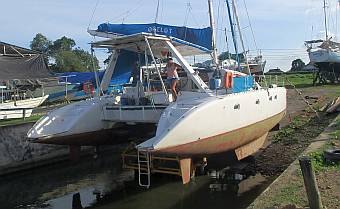 Waiting for the tide to go out (Photo: Wick)
The yard itself is still evolving, but it's a going concern. There were 3 boats out of the water there at the end of 2019. A small boat‑building operation rents some land from Wick and is on the premises (to the right of the driveway in the satellite photo) but there are no other supplies or facilities nearby. A toilet and shower are available, as are electricity and non‑potable water. A power‑wash and semi‑skilled laborers are available for a fee.
There are 2 main issues with Helena Base. The first is that it's a LONG way from town and there's no shuttle service. Wick can arrange a taxi, but it's US$20 each way. And the roads are dirt, so in the rainy season, vehicles sometimes can't get in or out.
The other issue is cost. Wick has the only small‑boat haul‑out for several hundred miles, and prices are significantly higher than other SE Asia yards, despite the rudimentary facilities and services. We hauled out there at the end of 2019 for emergency work on our saildrive. We were out of the water (but sitting on the ramp, so we could only work at low tide) for 24 hours, and were charged US$900, or almost twice as much as Malaysian yards charge. 2016 in the water boat storage prices were US$420‑520/month, depending on length, with multihulls charged 30‑40% more, even if they take no more dock space. So it's relatively expensive, but it IS available. While Sorong has several very expensive marine railways for big ships, and even a proper dry‑dock on Pertamina Island, Helena Base is one of the very few small‑boat storage or haul‑out facilities in all of eastern Indonesia.
---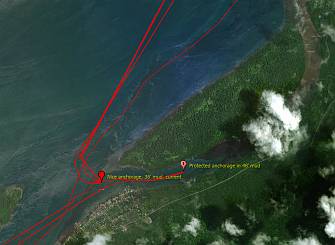 Seget anchorages and approaches
Seget, 1°23.50'S 130°58.40'E in 37' mud, OR 1°23.37'S 130°59.03'E in 48' mud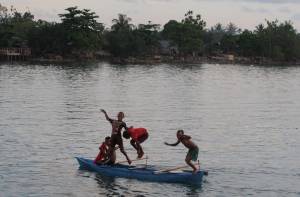 Kids hamming it up off Seget village
There are actually 2 anchorages near Seget/Teleme Island. The first is just off the village and is somewhat shallower, but it's more exposed to any westerly swell. The main issue here is to give the end of the island a wide berth, as the rocks extend out quite far to the SW. The second anchorage is up behind Teleme Island and a bit deeper, but it's completely protected from any swell. It's also further from the prying eyes and curious canoes of Seget. It's perfectly safe to enter the channel behind Teleme Island from the NE, and it also doesn't advertise your presence to the locals.
This area makes an ideal stop between Sorong and Misool, turning the voyage into a pair of day sails. Note that the current in the channel floods south, so when heading to Misool, try to leave Sorong on a rising tide. Similarly, when returning to Sorong, best to leave Seget on a falling tide. We were unable to get any sort of cell/internet signal when off Seget, but at the northern anchorage we could just pick up the tower 5.5nm NNE. Friends who landed their dinghy at Seget for a look around returned to find their dinghy scribbled on with a permanent marker. Since there's little to see at Seget, maybe better to leave the locals in peace.
---
This is a new area for us. We sailed through NE Indonesia in January of 2019, heading from Raja Ampat towards northern Papua New Guinea and the Solomon Islands. There's a NW wind that blows over PNG from about Dec/Jan through April/May. Then the SE trade‑winds kick in. This makes it easy to sail down to PNG and the Solomons in January, and then to turn around and come back once the winds have turned. Very convenient. But one does have to be disciplined and keep moving, as you don't want to be late and have the winds turn against you.
Unfortunately, there aren't many anchorages between Sorong and Manokwari that offer protection from the northerly winds in the early part of the year. If the winds are strong, you might consider sailing overnight to either Manokwari or even Biak. And we were moving pretty quickly through this area, and didn't stop to explore much except in Biak. We've heard that Cenderwasih Bay offers some nice cruising, including swimming with whale‑sharks, and we're looking forward to expanding this section when we get the chance.
| | | | | | | |
| --- | --- | --- | --- | --- | --- | --- |
| Date | Town or Bay | Depth | S Latitude | E Longitude | Cell | Comments |
| Oct 2019 | Mega | 35' sand | 0°40.10' | 131°53.63' | No | Protected by reefs |
| Jan 2019 | Miossu | 42' sand | 0°21.12' | 132°10.46' | No | Behind island |
| Oct 2019 | Wermandi | 26' sand | 0°21.89' | 132°38.86' | No | Open to N & W |
| Jan 2019 | Saukris | 30' mud | 0°28.54' | 132°57.83' | No | Can be rolly |
| Oct 2019 | Sidey (Boropen) | 27' sand | 0°43.98' | 133°33.95' | No | Open to NW |
| Jan 2019 | Maseni E | 40' sand | 0°43.54' | 133°45.72' | No | Can be rolly |
| Jan 2019 | Manokwari | 50' mud | 0°51.69' | 134°04.18' | Yes | Grubby bottom |
| Oct 2019 | Mansinam Island | 60' sand | 0°53.47' | 134°05.40' | Yes | Clean water, wreck nearby |
| Jan 2019 | Numfoor | 35' coral | 1°08.14' | 134°52.50' | Yes | Too much coral |
| Jan 2019 | Miosnum | 75' mud | 1°30.19' | 135°14.56' | No | Deep, but protected |
| Jan 2019 | Biak | 25' rubble | 1°10.53' | 136°02.92' | Yes | Clearance port |
| Jan 2019 | Mioswundi Atoll | 20' sand | 1°18.54' | 136°22.70' | Weak | Cat careenage |
| Jan 2019 | Nyampun Island | 30' sand | 1°17.71' | 136°36.28' | No | Very protected |
---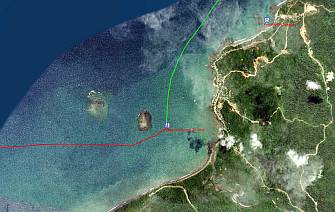 Mega anchorage and approaches
Mega, 35' sand, 0°40.10'S 131°53.63'E, No cell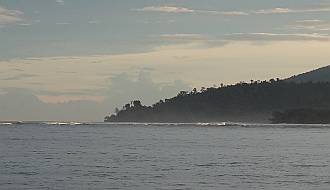 The reefs off Mega protect the anchorage
Getting into Mega from the north presents no real problems once you clear the reef just off the northern point of land. From the WSW (Sorong), there are several reefs to avoid, mostly associated with the Makebon Peninsula, 25nm to the west of Mega. Then you need to avoid the 2 reefs just offshore of Mega.
Mega is only 45nm ENE of Sorong, so a good first night's stop when heading over the top of Papua. The 2 offshore reefs should break up any swell coming from that direction. If the wind is from the north, then you might want to snuggle up closer to shore than we did, but we had winds and swells from 300°M, so we anchored such that the reefs would protect us. At night, the winds usually come from land, making most anchorages along the Papua coast better.
There are other possible anchorages in the area that we didn't check out. Teluk Dorehum (Bay) 25nm west of Mega looks like it would be well sheltered from all winds. There's also a tiny bay just north of Mega, at the top of our photo (0°38.72'S 131°54.9'E) that's protected from all but NW winds.
---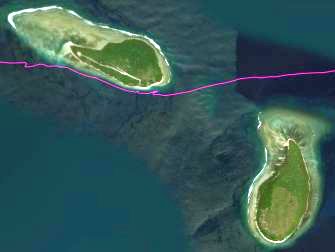 Miossu anchorage and approaches
Miossu, 42' sand, 0°21.12'S 132°10.46'E, No cell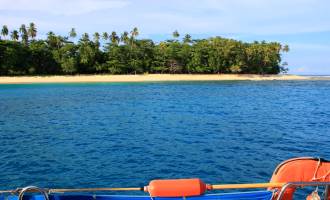 Our Miossu anchorage, at the east end
Miossu (or Mios Su) is the NW island of a pair just off the Papua coast. The best anchorage is off the SE corner of the island, but several boats can anchor along the coast. Most of the coast is quite deep, but there's a sandy shelf that sticks out from the SE corner. The island offers reasonable protection in northerly winds, but if it's blowing hard, some swell can wrap around the island. We would class this a settled‑weather only anchorage.
There's a road ashore and a few houses, but no supplies. The coral reef along the south coast looked like it might be interesting. We only spent the night, so didn't explore ashore.
---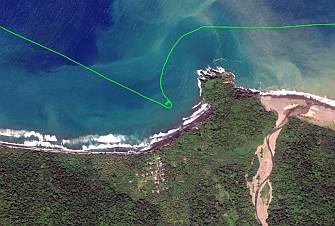 Wermandi anchorage and approaches
Wermandi, 26' sand, 0°21.89'S 132°38.86'E, No cell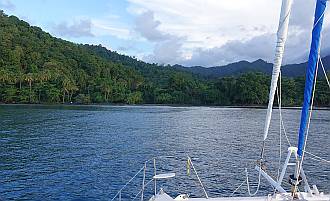 Approaching our Wermandi anchorage
Wermandi is definitely a settled‑weather only anchorage, as it's wide open to the north and east. But in the SE season (about June‑Oct) it should provide a convenient anchorage. There are no obstacles getting in or out, but we had fairly big northerly swells, presumably from some distant storm, so we didn't anchor very close to land. At night, we had a nice cool breeze falling off the mountains to the south, which kept us cool and pointed towards shore.
---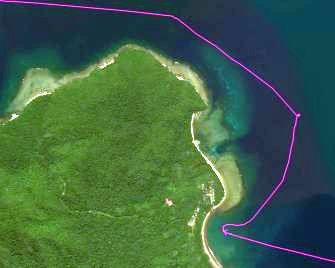 Saukris anchorage and approaches
Saukris, 30' mud, 0°28.54'S 132°57.83'E, No cell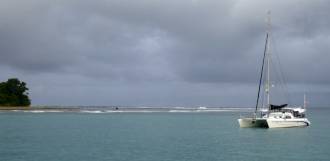 Soggy Paws at our Saukris anchorage
There are no obstacles to approaching Saukris, as long as you avoid the reef that sticks north from the headland. Proceed into the bay as far as you feel comfortable, and anchor as convenient.
We prefer to day‑sail if we can, rather than doing overnight passages, but this northern coast of Papua doesn't offer many protected anchorages during the northerly season (Oct‑April) and we were here in December. The bay at Saukris offers protection from the south and west, but only scant protection from the north. Even tucked in as far as we dared, the northerly swell worked its way into the bay. While we were still able to sleep at night, it wasn't very comfortable, and we moved on the next morning.
There's a village to the west, and another to the south, but we didn't try going ashore as the breakers looked a bit daunting.
---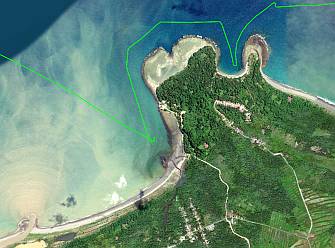 Sidey anchorage and approaches
Sidey (Tg Boropen), 27' sand, 0°43.98'S 133°33.95'E, No cell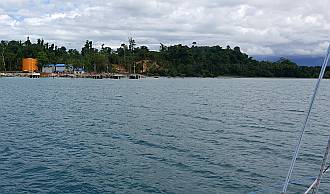 Fuel dock being built at our Sidey anchorage
Sidey is another settled‑weather‑only anchorage, as it's wide open to the northwest. But it should be fine in the SE trades season (about June‑Oct, and it was fine when we were here in early November) which is when most boats are heading towards Raja Ampat. It appears that they're building a small dock as you enter, possibly for tankers, as there's a pretty big tank ashore. Go in past the dock and anchor as convenient. We found no obstacles.
The tiny bay at the end of the peninsula can also be used as an anchorage. It's 260m across, so should be big enough for a few boats, but we wanted the better elbow room of the bigger bay, since we had little wind and a NNE swell when we were there. The bottom shoals slowly and predictably, and the bottom appears to be clear sand. There appears to be a public beach or something on the east side, and a few small houses at the head of the bay.
---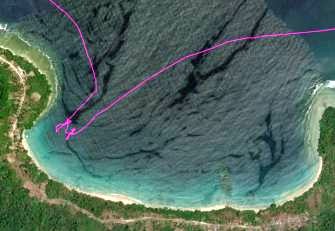 Maseni East anchorage and approaches
Maseni E, 40' sand, 0°43.54'S 133°45.72'E, No cell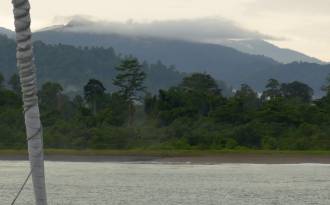 Our rolly Maseni anchorage
Maseni Bay is another of those bays that looks like it should offer some protection from northerly winds, but those winds better be pretty light or a swell will come into the bay. It would probably be an excellent anchorage in the southerly season (May‑Sept) but we were here in December. There are no obstacles to avoid when approaching. The eastern end of the bay offers better protection from northerlies, as the headland sticks out to the east a bit. The bottom was good‑holding sand
There's a road ashore, with sparse settlement along both sides, but no village per se. It appears that a logging company has moved in and is cutting the local trees. Note that floating logs are a hazard along this coast. One of our buddy‑boats damaged their rudder on one, requiring several days of fiberglass work when we got to Kavieng, PNG.
---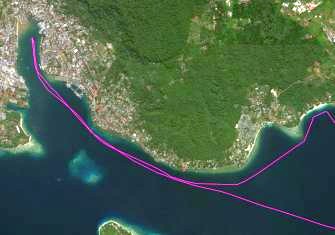 Manokwari anchorage and approaches
Manokwari, 50' mud, 0°51.69'S 134°04.18'E, Good cell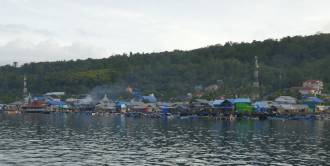 The busy Manokwari waterfront
There are no real obstacles to entering Manokwari except avoiding the big reef in the middle of the bay, but that's easy. We just nosed our way into the inner harbor until we found anchoring depth and dropped the hook.
Manokwari is a vibrant, bustling city, and we wished we could have spent more time exploring it. One problem is that there are very few places to get ashore. We had to ask some of the owners of "stilt‑houses" built out over the water if we could tie up. They were generally friendly and accommodating, but we never found anywhere we'd recommend.
There are lots of eateries ashore, from tiny warongs to more upscale restaurants. There's also a fairly upscale shopping mall in the big building directly north of the anchorage, with a pretty good grocery store that even had cheese.
While we were in Manokwari we organized a birding trip out to the Arfak Mountains through guide Zeth Wonggor (+62‑8525‑405‑3754). There are hundreds of species of birds there, including 3 types of Bird of Paradise. We organized people (who we didn't know) to sleep in the cockpits of our boats, to keep an eye on them. Zeth organized 4WD transportation for Rp1.5M each way for the vehicle (all prices as of late 2019). The trip into the mountains is on well paved and reasonably flat roads for the first hour, and then gets into some gnarly dirt roads for the second hour. We stayed at Zeth's bungalows in Syobri for Rp200K/person/night, but we had to bring all our own food (Zeth's daughter cooked for us). We had private rooms (with very thin walls) with private bathroom and (cold) bucket showers. There's electricity from a small hydro‑plant in the next village most evenings. Zeth's guiding service is Rp800K/day and he's setup some birding blinds for guests (bring something soft to sit on). Our planned trip further to a mountain lake had to be aborted when a village decided to charge tolls to passing vehicles, and murdered 2 people who wouldn't pay.
---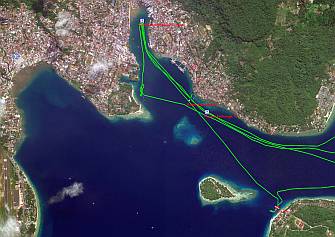 Mansinam anchorage and approaches
Mansinam Island, 60' sand, 0°53.47'S 134°05.40'E, Good cell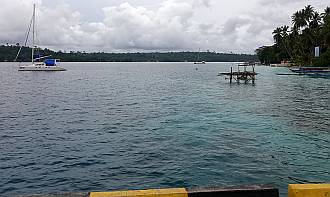 Ocelot and Soggy Paws anchored off Mansinam
Manokwari is very protected, but it's also rather public and grotty, and we decided we wanted some cleaner water, closer to good diving. Mansinam Island is less than 3nm SE of our Manokwari anchorage, with beautiful clear water. Be careful of the shallows off the east end of Lemon Island (Mioswappi) as they extend out quite far. Also, just NE of our anchorage is a floating plastic marker for a sunken ship, known locally as the Cross Wreck since it's just offshore of a huge cross. Soggy Paws anchored just NE of the wreck and reported shallower depths but more current and exposure.
There's another wrecked ship about 0.5nm south of our anchorage, around the corner of the island. It's unmarked, but visible from the surface as long sheets of steel, since it's mostly upside down. This wreck is dangerous to go into, as it looks very close to collapsing. We did our diving through La‑Abidin (+62‑8134‑402‑2986) for quite reasonable rates (US$25/dive?).
Going ashore at the big dock is a bit challenging. There are steps down to the water on the NW side, but the winds tend to blow your dinghy under the dock. We went at high tide and tied up on the inside of the dock, so the wind blew our dinghy away from the dock, but it's a high scramble to get onto the dock. There are many paved roads and trails to walk, and several eateries on the beach catering to tourists coming out from Manokwari. We walked up to the big statue of Jesus at the top of the hill. It's a nice walk, but the area's been a bit neglected. The view from the big church a bit lower down is better. There's a museum (with a lookout) in the small village, but it was closed when we were there.
---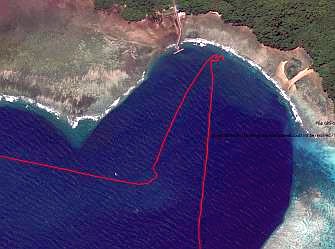 Numfoor anchorage and approaches
Numfoor, 35' coral, 1°08.14'S 134°52.50'E, cell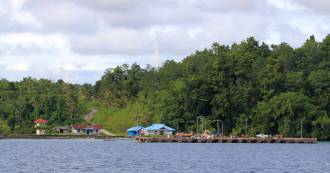 Pelni dock at Numfoor, next to anchorage
We almost didn't include Numfoor, as it's a miserable anchorage because you almost have to anchor on coral. We nosed around and eventually found a patch of sand, but it was small, and we suspect our chain was rubbing on coral. When entering, make sure you avoid the reef that extends out from the NW side of the bay. There's also a huge reef that sticks out south of the island, east of the anchorage. The anchorage is open to the SW. We were there in December, so it was fairly protected.
The main saving grace of Numfoor is that it allows the trip from Manokwari to Biak to be broken up into 3 day‑sails, instead of having to do an overnight passage. But neither Numfoor nor Miosnum are very good anchorages.
Shortly after we arrived, one of the Pelni ferries pulled up to the big dock. This produced a frenzy of activity, as the ferries also haul cargo. There's a cell tower immediately above the bay, but it sometimes didn't seem to be working.
---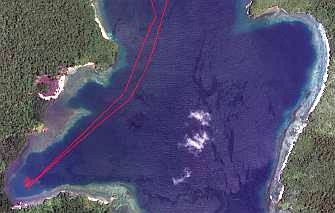 Miosnum anchorage and approaches
Miosnum, 75' mud, 1°30.19'S 135°14.56'E, No cell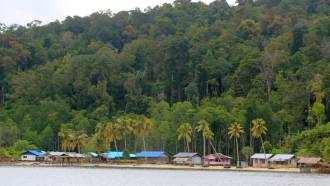 Cute village on the right approaching Miosnum
This anchorage, at 75' (23m) deep, is certainly not ideal, but it cuts the trip from Numfoor to Biak about in half, making it 2 longish day‑sails (33nm and 58nm) instead of an overnight passage. There are no real obstacles when entering except for the reefs that stick out from shore. The anchorage is very protected, which lets you cheat a bit on anchoring scope.
There's not much to do here. The shoreline is convoluted enough to provide some interesting dinghy exploration, and there's a small village on your right as you enter. Snorkeling on the coral fringing the island should be nice, but you should inquire about crocodiles.
---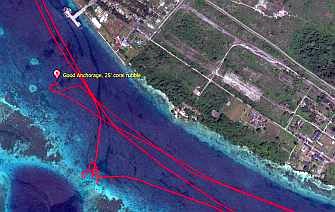 Biak anchorage and approaches
Biak, 25' rubble, 1°10.53'S 136°02.92'E, Good cell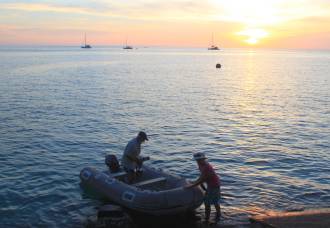 Our Biak anchorage, from the hotel ramp
The entrance through the Biak reef is somewhat east of town, just south of the airport. There's a floating buoy marking the end of the reef, although good satellite imagery will let you poke through small gaps in the reef without going all the way around. Once inside, proceed NW past the town. Most boats anchor somewhere NW of town, but that makes a fairly long dinghy ride (or walk) to get back to town. The anchorage given seemed to be on coral rubble, with no live coral nearby.
Biak is not a big place, but it is a clearance port. Customs, Immigration, and Quarantine all wanted to visit the boats, but mostly to take selfies, as only Customs had a legitimate reason. We were anchored over a mile from the main dock, so ferrying officials took a long time.
We took several excursions from Biak to some interesting Japanese caves and a historical museum (which was permanently closed, but had some guns outside). We also did 2 dives, one on the barrier reef (where several munitions seem to have been dumped) and another to a reasonably intact PBY float‑plane. Restaurant 69 was air conditioned and had a good selection of dishes. Further up the main street is the grocery store, which had basics but nothing exotic. Diesel is available, of course, but there's no good dinghy dock, so getting it back out to the boat can be a challenge.
---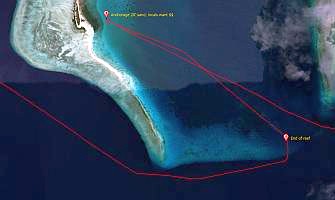 Mioswundi Atoll anchorage and approaches
Mioswundi Atoll, 20' sand, 1°18.54'S 136°22.70'E, Weak cell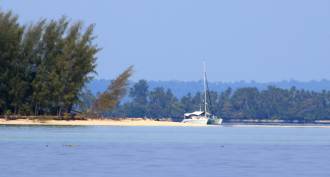 Soggy Paws anchored shallow at Miswundi
The only opening to Mioswundi Atoll is at the south. There's a reef just 3nm west of the entrance which isn't well charted. Also, the reef at the SW end of the atoll extends east for over 1nm. But once inside the atoll we found no coral‑heads to dodge, although there's lots of coral around the edges.
We anchored here primarily to help one of our buddy‑boats who was getting water into their sail‑drive oil, past the seal between the upper and lower parts of the drive. Just east of Mansurbabo Island is a flat, grassy shelf where they could beach themselves just before the tide ran out, allowing all of us to help remove and replace each sail‑drive leg (from 11pm‑4am!).
Unfortunately, the next morning a villager came by demanding money for us to anchor, even though we'd cleared our activities with the locals on the island. While we could have done many things, our group decided to up anchor and go to Nyampun Island, just 17nm to the east, which was much more friendly.
---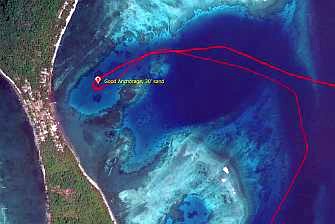 Nyampun anchorage and approaches
Nyampun Island, 30' sand, 1°17.71'S 136°36.28'E, No cell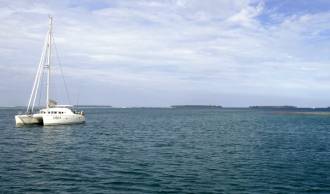 Indigo II anchored at Nyampun Island
Nyampun is a delightful anchorage, but it's a bit tricky to get into. You can approach from the north, but most boats will probably approach from the south. We came in from the west, which involves dodging a reef to the west, and then sailing north between Nyampun and Kebori Islands, with reefs on both sides. The final approach involves going over some shallows at the NE end of a reef system (click on the satellite photo to the left for a larger image) but there's plenty of water for even deep draft boats. Still, satellite imagery is almost a necessity. The inner lagoon is delightfully protected. There's a small village ashore, but no services.
---
The Boo and Kofiau Islands are more closely related, geographically and politically, to the Mulukas, than to Raja Ampat, but due to their proximity to both Misool (to the south) and Batanta and Salawati (to the east) they offer a white sand beach alternative to the high, forested hills of much of Raja Ampat. Both archipelagos have numerous low islands, with fringing reefs and clear water. Due to strong currents and steeply rising reefs, a night approach is not recommended.
Frigate birds roost in the low trees ashore and the evening sky can be filled with hundreds of circling birds. Mantas are known to frequent the southern islands and the fishing and snorkeling can be very rewarding. A fishing village with a prominent church occupies the NE corner of Eftorobi Island, to the west of Kofiau Island. Several small fishing settlements dot the shores and it may be possible to barter sugar, coffee or clothing for fish. Due to the clear water, with easily discernible reefs, there are numerous other anchorages to be explored.
| | | | | | |
| --- | --- | --- | --- | --- | --- |
| Date | Town or Bay | Depth | S Latitude | E Longitude | Comments |
| Nov 2014 | Misool East | 35' mud | 1°52.60 | 130°26.23 | Calm & protected |
| Jan 2015 | Balbulol | Wall tie | 2°01.51 | 130°40.47 | Fabulous! |
| Nov 2014 | Yilliet | mooring | 2°11.29 | 130°35.93 | Sometimes used by water barge |
| Nov 2014 | Eco Resort | mooring | 2°14.76 | 130°33.48 | Friendly, great talks, will fill tanks |
| Nov 2014 | Bat Bay E | 52' mud | 1°53.71 | 129°44.32 | Very protected |
| Jan 2015 | Bat Bay W | 22' mud | 1°53.45 | 129°43.98 | Shallower, better anchorage |
| Nov 2014 | Frigate Is, Boo | 36' sand | 1°11.00 | 129°24.77 | Lots of fun dinghy exploring |
| Nov 2014 | Walo Is N, Kofiau | 50' ?? | 1°15.90 | 129°40.11 | Nice, but lots of current |
| Feb 2017 | Walo Is E, Kofiau | 50' sand | 1°15.59 | 129°39.92 | Nice, less current, good diving |
| Feb 2017 | Tabek Is, Kofiau | 39' sand | 1°16.02 | 129°43.21 | Shallow and protected, nice snorkeling |
| Nov 2014 | Tredau Is, Kofiau | 48' sand | 1°15.84 | 129°44.09 | Manta Rays seen here! |
| Feb 2017 | SW Kofiau Island | 27' sand | 1°13.20 | 129°45.64 | Very protected. |
---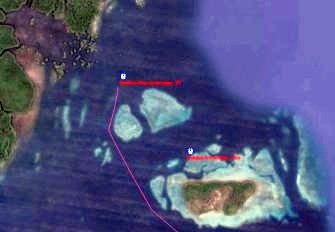 Misool East anchorage and approaches
Misool East, 1°52.60'S 130°26.23'E, 35', mud


Looking south, over the reef, from Misool East
This is really just an anchorage of convenience, but it's well protected, it's an easy 44nm day sail from Seget, and it's shallow relative to the majority of Misool's anchorages. Approach from the NE. The bottom shoals gradually and you can choose your anchoring depth. There are 2 large reef systems to the SE for dinghy exploration, and an archipelago of small islands just 1/2nm to the west that also looks fun to explore. One can exit to the south, but only if you have good satellite imagery, as there are several reefs to dodge. Goa Cave is about 6nm to the south but requires a good chart or local knowledge to approach, and is reportedly not worth the hassle of dodging through all the pearl farms to get to the anchorage.
---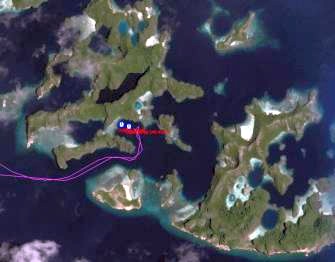 Balbulol anchorage and approaches
Balbulol, 2°01.51'S 130°40.47'E, Wall tie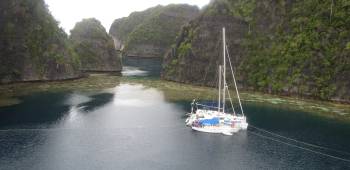 Sophie, Per Ardua & magnificent scenery at Balbulol
Balbulol is one of the gems of Southern Raja Ampat, and should not be missed. It's easiest to approach from the SW. It's in a tiny bay that's much too deep for anchoring, so one must tie to the walls. This should only be attempted when the tide has covered the extensive fringing reef, to prevent damage to the coral. The rock walls are about 130m apart, so make sure you've got enough rope. There are lots of tie‑points, but the rock is sharp, so ropes should be protected. There's room for about 3 boats, or possibly more if they raft up. It's quite protected, but sometimes strong winds can come through the gap in the rocks to the west.
The joy of Balbulol is, of course, water activities. The convoluted network of islands could be explored by dinghy for days without seeing it all. Snorkeling over the fringing reef at high tide is wonderful, and at low tide the inner walls can be snorkeled or scuba'd. We were sometimes able to get enough of a data signal (from a tower 18nm away) for email (only).
---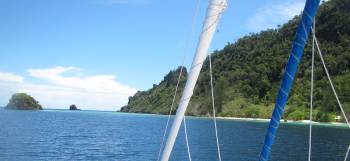 Yilliet Island and shallows from the mooring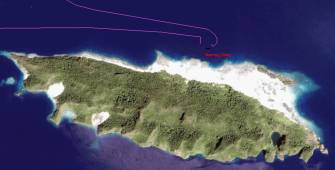 Yilliet anchorage and approaches
Yilliet, 2°11.29'S 130°35.93'E, mooring
Yilliet is where the Misool Eco‑Resort gets its fresh water from. They've put in a mooring for their water‑barge but they didn't seem to mind us using it for a few days, as it's too deep for anchoring. There are several small islands nearby, several with nice looking beaches. The surrounding reefs and walls are gardens of soft corals and can be explored when the winds are down. As with all moorings in Raja Ampat, it's important to get permission to use them, and important to realize that they may not be strong enough for your boat! The Yilliet mooring was gone when we passed by here the second time.
---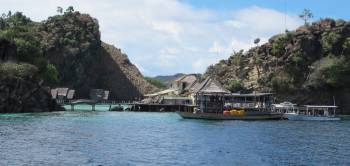 Misool Eco-Resort dock from their mooring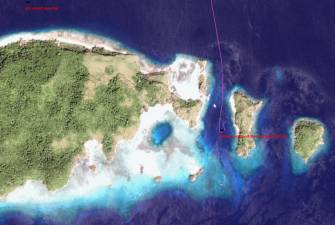 Misool Eco-Resort anchorage and approaches
Misool Eco-Resort, 2°14.76'S 130°33.48'E, mooring
The Misool Eco‑Resort is quite up‑scale, but was friendly towards yachts. Call them on VHF 06 before arriving and ask if there's a mooring you can use, as it's too deep for anchoring. They're very involved in preserving the local ecosystem, and have negotiated contracts with the local villages to limit fishing in certain areas. They're also extremely active in preserving Manta Rays, which are under pressure from Chinese "medical practitioners" who believe their filters are beneficial. Such a shame to see these wonderful animals slaughtered just for their filters. The evening talks at the resort are quite interesting. The resort does a lot of dive trips, and outsiders can pay to join if there's space. They will also fill your scuba tanks. Meals can be had if you give them advance notice.
---

Bat Bay anchorages and approaches
Bat Bay, 1°53.71'S 129°44.32'E, 52' mud, OR 1°53.45'S 129°43.98'E, 22' mud


Entering Bat Bay, note reefs left and center
This is our name for the bay, because of the bat shape it makes on the satellite image! There are 2 anchorages in this protected bay at the extreme west end of Misool. The edges of the entrance channel come up quickly, so they should be transited in good light. The NW arm of the bay is probably the better anchorage as it's shallower, but the NE arm is also well protected. We've seen the wing‑tips of big rays protruding above the water as we entered. Bat Bay's main claim to fame is that it makes a good jumping off point for the Boo or Kofiau archipelagos, 40‑45nm to the north, or to Ambon, an overnight sail to the SW. There appear to be several more possible anchorages in the island groups just 8nm to the NNW.
---

Jon and Ocelot (and Tomcat) at Frigate Island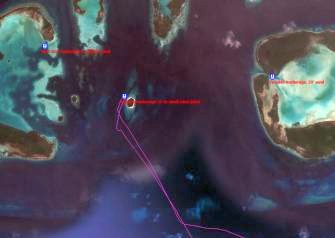 Frigate Island anchorage and approaches
Frigate Island, Boo, 1°11.00'S 129°24.77'E, 36', sand
The Boo Archipelago seems to have more reefs and shallows than actual land. There's a sunken sheltering reef to the south of the archipelago, so entrance from the south should be made in good light. We used a waypoint of: 01°12.70'S 128°25.53'E but the barrier reef is very incomplete, so a safe entrance can be made at several points. The anchorage above is nice and has room for several boats on the sand patch, but there are several other good possibilities nearby. The island just south of the anchorage is apparently a frigate‑bird rookery, as thousands of them can be seen circling the island in the morning and evening, which is why we dubbed it "Frigate Island". There are extensive shallows on 5 of the 6 major islands that make up the Boo Archipelago, and exploring them by dinghy can be fun when the light lets you see the reefs.
---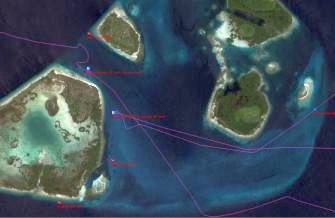 Walo Island anchorages and approaches
Walo Island North, Kofiau, 1°15.59'S 129°39.92'E, 50', sand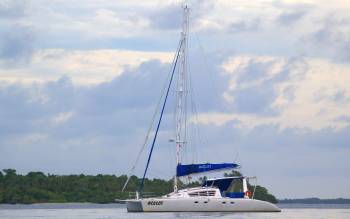 Walo Island East anchorage, Kofiau, looking north
Just 20nm east of the Boo Archipelago is the Kofiau Archipelago, which is more than twice as big as Boo. In 2014 we entered at the SW corner, and found a nice anchorage off the north side of Walo Island. The approach is easy from the NW, but a bit trickier from the south, as the low point in the barrier reef can only be seen with good satellite imagery (but the reef seems to have 25' or 8m of water over it, so it should be OK to sail over). Currents can run quite strongly here, so make sure the hook is well dug in.
Walo Island East, Kofiau, 1°15.90'S 129°40.11'E, 50', sand
This may actually be the better anchorage, as it doesn't get the strong currents of the northern anchorage. We approached from the east, and had no problems sailing over the barrier reef. We did several delightful scuba dives while anchored here in 2017 (click on the image at left to see the blowup with the dives marked). Walo Island is actually hollow, with a big lagoon interior. There appear to be entrances into the lagoon through the south and the east walls, but they're only suitable for dinghy exploration, and the lagoon is very shallow, even for the dinghy. This SW corner of the Kofiau Archipelago is actually a mini‑archipelago in its own right, with several other islands and reefs in the same reef‑system, all within easy dinghy exploration range.
---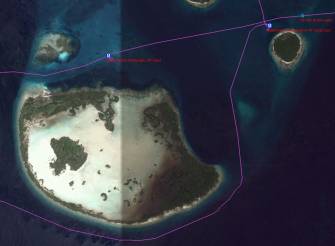 Tabek Island anchorage and approaches
Tabek Island, Kofiau, 1°16.02'S 129°43.21'E, 39', sand


View NE from our Tabek Island anchorage
Tabek Island sticks down between the Walo Island group to the west, and Mangimangi Island to the west, but geographically Tabek is part of the main Kofiau group, and it's on the Kofiau reef system, which the others aren't. There can be strong currents to the east, south, and west, but the north is relatively shallow and protected. There are several shallows shown on Google Earth, but they're actually deep enough to sail over easily. We entered from the west, between Tabek and its little reef to the north, and exited to the east, all with no problem. There may be a somewhat better protected anchorage a bit west of ours, between Tabek and its reef, but there's also more coral there, which we don't like to anchor near. There's good snorkeling on the northern reef. At high tide one can explore the Tabek Lagoon, but it's very shallow and there's a reef across the entrance.
---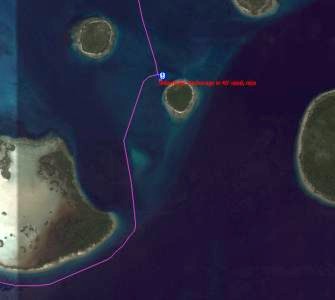 Tredau Island anchorage and approaches
Tredau Island, Kofiau, 1°15.84'S 129°44.09'E, 48', sand


Tredau Island from our anchorage
Like the Boo Archipelago, the Kofiau Archipelago has a barrier reef system along its south side. It can be penetrated in several places, but this is much easier with good satellite imagery. As always, when navigating through reefs, the sun should be high and ideally slightly behind you. Good polarized sunglasses will cut surface reflections to help seeing into the water.
We approached Tredau Island by following the south side of Tabek Island and then turning NNW to avoid a small reef. The anchorage is on the NW side of the island. It's deep‑ish, but the sand patch is big enough to hold several boats. The island is uninhabited except for transient fishermen. Mantas have been seen in this area, so keep your eyes out.
---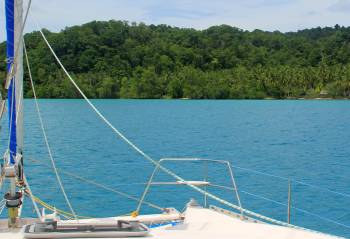 SW Kofiau Island from our anchorage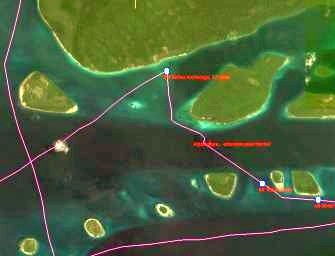 SW Kofiau anchorage and approaches
SW Kofiau Island, 1°13.20'S 129°45.64'E, 27' sand
This anchorage is extremely protected during the northerly season (Oct‑April) but doesn't have much else to say for itself. The approach from the east involves running along the south side of the southerly chain of islands and then turning NW to go over the barrier reef. Be careful off the SW end of Panjang Island, as there is extensive aquaculture (pearl farms?) with lots of ropes and buoys. We went around them to the east and north. Then go around the shallows off the tip of Panjang Island and north to the anchorage. The anchorage is on a bit of a sand‑spit, so quite shallow in good holding sand. The approach from the SW is somewhat easier, although one must watch out for the small reef SW of the anchorage.
There's a small settlement to the NE of the anchorage, which looks like it might be the processing camp for the pearl farm. These places are often fun to visit, as they'll show how they do whatever they're doing. Exploring the big bay to the east by dinghy (or even with the big boat) looks like it should be fun.
---
| | |
| --- | --- |
| Is this useful? Buy us a beer! | |
If you can get into the inner bay at Ambon, then it's a nice place to spend some time. Ambon is fairly upscale, with full CIQP facilities for extending visas or clearing in/out, and good grocery and hardware stores. However, the inner bay may have recently been taken over by the military. Banda is a wonderful group of islands, and apparently the original Spice Islands. The Dutch (and the Portuguese before them) controlled the islands for many years and thereby had a monopoly on the nutmeg (and mace) spice trade until the British were able to smuggle some seedlings out to other islands like Grenada in the Caribbean.
| | | | | | |
| --- | --- | --- | --- | --- | --- |
| Date | Town or Bay | Depth | S Latitude | E Longitude | Comments |
| Jan 2015 | Ceram Cut | 45' sand | 3°09.51 | 127°48.81 | Protected |
| Jan 2015 | Inner Ambon | 60' mud | 3°38.33 | 128°14.24 | May not be available now |
| Feb 2015 | Bagwala Bay | 25' sand | 3°37.61 | 128°16.80 | Nice |
| Feb 2015 | Banda Neira | mooring | 4°31.12 | 129°53.57 | 1 of 4 moorings |
---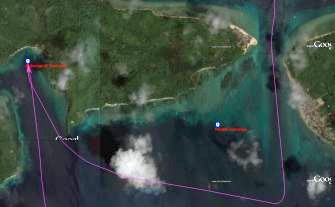 Ceram Cut anchorage and approaches
Ceram Cut, 3°09.51'S 127°48.81'E, 45', hard sand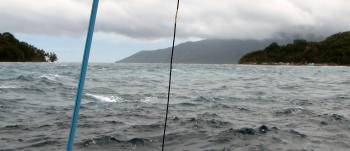 Approaching Ceram cut - strong currents!
When sailing north from Ambon, or south to Ambon, you can cut off several miles by taking a narrow cut at the west end of Ceram. The cut is not quite a mile long and oriented roughly N/S, with the northern entrance at 3°09.14'S 127°50.19'E and the southern entrance at 3°10.00'S 127°50.25'E. There's usually a fair current flowing through this cut, which can create some chop but it's easily navigable. There's another cut almost 4nm further west, but we didn't check that one out. Between these 2 cuts are several anchorage possibilities. The anchorage listed was big and inviting and we spent a delightfully relaxing night there after a rather harrowing sail down from Misool in January 2015. There's a small village across the way, and a bay extending further west that might hold more anchoring possibilities, especially in southerly winds.
---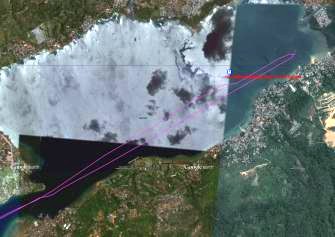 Inner Ambon anchorage and approaches
Inner Ambon, 3°38.33'S 128°14.24'E, 60' mud


New bridge construction (finished now)
We're not sure if this anchorage is still available. Ambon's inner bay is 3nm long and almost 1.5nm wide at it's widest. It's completely protected, but they recently built a bridge over the narrows at the head of the bay, and we don't know the controlling height of the bridge. Worse, friends who went in there in 2016 got under the bridge easily but were escorted out by the police (or military) so the entire inner bay may have been claimed by the military, which would be too bad, as the outer bay is both deep and exposed. But other friends spent several nights in there with no problems, so perhaps it was only a temporary thing.
There's a good dinghy dock at 3°38.66'S 128°14.04'E, attached to a very nice fish restaurant named Dua Ikan (2 Fish). The meals were good and some of the staff can help get good diesel from the local Pertamina station. Bemos run both ways along the water. There's a good grocery store just to the east of the anchorage, and lots of stuff in town to the west. Warning: There is an ACE Hardware store in town...
There's another, shallower anchorage just to the left as you come under the bridge, which is much closer to town, and may actually be a better anchorage. Just under the south side of the bridge is an old ferry dock that can be used by dinghies. Just across the street is a Pertamina station, and friends filled their jugs there with no problems in 2016.
Fun story: We left Ocelot in the inner bay for about 2 weeks in January 2015, so we could fly to Singapore to get new visas. While we were gone, Google snapped our photo! If you open Google Earth, search for Ambon, and zoom in on the extreme eastern corner of the bay, and then turn on History and move the slider to Jan 2015, you'll see 2 catamarans, with a monohull just to the west. Ocelot is the easternmost cat, the other cat is Sophie, and the monohull is Per Ardua!
---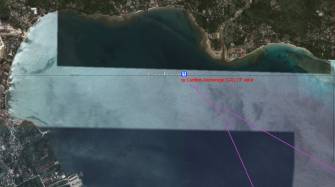 Bagwala Bay anchorage and approaches
Bagwala Bay, 3°37.61'S 128°16.80'E, 25' sand


Ambon mountains from Bagwala Bay anchorage
Bagwala is a big, shallow, somewhat open bay on the SE side of Ambon island. It would be very exposed in any SE winds but should be protected in any other winds. Bagwala is quite shallow, especially on the western side, even a fair distance from shore, so watch your depth sounder. There's a nice beach just north of the anchorage where dinghies can be pulled up, and where you can get Rojak, a sweet/spicy cup of fresh fruit with a peanut sauce. We didn't look for a dinghy dock, but there might be something to the SW. We only spent 1 night here before jumping off for Banda, an overnight sail away.
---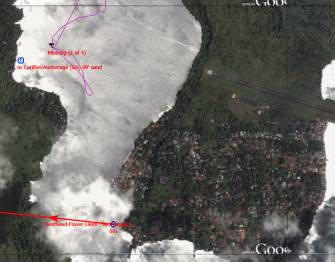 Banda Neira Anchorage and approaches
Banda Neira, 4°31.12'S 129°53.57'E, mooring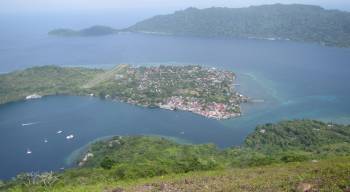 Mooring location from Gunung Api, Banda Neira
The first thing to mention here is that it's no longer possible to sail between the northern and southern bays. There are now overhead power lines between the 2 northern islands, down at their southern ends. The southern bay has several shallows and therefore several anchorages, but it also has lots of coral. The northern bay, between the islands, is very deep (50m). When the rally comes here in August, the winds are SE so the boats Med-moor to one of the hotels on Banda Neira, dropping their anchors in deep water but pulling them up the slope as they reverse to the wall. This is possible during the rest of the year as well, but we opted to pick up one of the 4 moorings that were available in the middle of the bay. The moorings are apparently very strong, as we saw 2 fishing boats hanging on one of them in a 40 knot squall. We needed to repair our mooring's float, but we couldn't find the owner, so we just did the best we could.
Abba, the owner of the Mutiara guest house (he has a fancier guest house now as well) is a wealth of knowledge and can arrange all sorts of land and sea tours. The old Dutch fort is well preserved and fun to explore, and there are other forts sprinkled around. The Dutch used to have a monopoly on Nutmeg in the 1500s and ruled the locals with an iron fist (as everyone did back then). Nutmeg likes shade, so it's planted under Kenari‑nut trees, with buttressed roots. The nuts are very rich and are often used in local meals, which is a treat. The volcano, Gunung Api, is fun to climb and offers stunning views. Snorkeling off the north lava flow is interesting. We took day trips to the eastern side of Banda Besar for snorkeling, and over to Ai Island to the south to see its protected reef. Beautiful.
---
Triton Bay has only recently been "put on the map" as an area of outstanding marine biodiversity. Much smaller than Raja Ampat, its marine-rich neighbor to the north, Triton Bay nevertheless offers many beautiful, unspoiled anchorages, clear water, soft corals, and hundreds of species of pelagic and reef fish. Remote enough that foreigners are still a rarity, the local people are welcoming, if not a bit baffled by our presence. Cell coverage is available only in Kaimana, and even there the data is very slow. Prepare to be self-sufficient and remote. Limited supplies are available only in Kaimana, although fruits and veggies can often be found in the outlying villages. The best season for cruising Triton Bay/Kaimana is October through April. Once the SE trades pick up in May, the water becomes less clear, much colder, and many anchorages and dive sites become untenable. Triton Bay Divers, the only commercial resort in the region, closes from June 1 until September. International clearance and visa renewals must be done either in Tual or Ambon. The anchorages below are presented from NW to SE, first along the outer bay area (which are usually jump on/off points to elsewhere) and then along the Papuan coast.
| | | | | | |
| --- | --- | --- | --- | --- | --- |
| Date | Town or Bay | Depth | S Latitude | E Longitude | Comments |
| Mar 2017 | Mommon Point | 25' sand | 3°55.51 | 132°48.46 | Fantastic waterfall nearby |
| Feb 2015 | Tanjung Usau | 18' mud | 4°03.18 | 133°15.94 | Rest stop only |
| Mar 2015 | Adi Island W | 15' sand | 4°08.96 | 133°24.90 | Good holding |
| Apr 2015 | Adi Island E | 22' sand | 4°10.77 | 133°27.50 | Protected |
| Mar 2015 | Turtle Island | 70' sand | 4°19.37 | 133°20.33 | Turtles laying eggs ashore |
| Many | Kaimana | 25' mud | 3°39.53 | 133°45.49 | Only town for supplies |
| Feb 2015 | N Namatote | 32' sand | 3°42.93 | 133°53.00 | Sand flat, close to Bagans |
| Many | Raf Bay | 43' mud | 3°44.77 | 133°55.08 | Protected, cave paintings |
| Apr 2015 | Castle Rock | 60' mud | 3°49.09 | 134°01.07 | Glorious, good dinghy exploring |
| Apr 2015 | Lobo | 42' mud | 3°45.83 | 134°06.42 | Nice town, stunning hills |
| Many | Triton Bay Divers | 50' sand | 3°56.26 | 134°07.20 | Friendly dive resort |
| Apr 2017 | Triton Point East | 42' sand | 3°54.34 | 134°07.48 | Good diving & dinghy exploring |
| Mar 2015 | Finger Bay | 42' sand | 3°53.82 | 134°10.00 | Good diving & dinghy exploring |
| Feb 2015 | S Iris Strait | 50' sand | 4°00.35 | 134°10.72 | Many dive spots nearby |
| May 2015 | Kayu Merah Is W | 50' sand | 4°01.58 | 134°21.72 | Lots of aquaculture nearby |
| May 2015 | Kayu Merah Is N | 36' sand | 3°58.69 | 134°22.30 | Good dinghy exploring |
---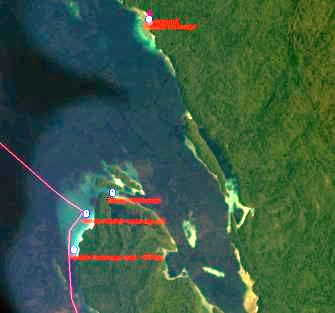 Mommon Point anchorage and approaches
Mommon Point, 3°55.51'S 132°48.46'E, 25', sand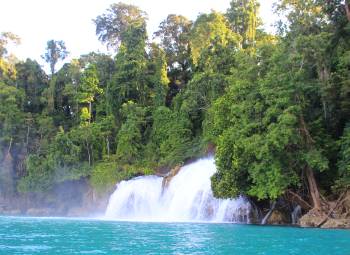 Waterfall, 2.5nm north of Mommon Pt anchorage
Mommon Point was only an overnight stop for us on the way from Sarong to Triton Bay, but it was delightful! The approach from the north is easy, as the reef is deep enough to sail over easily. The outer reef has some coral, but there's less as you approach the mainland. There are several other anchorages in the area. The one at 3°55.27'S 132°48.81'E looked particularly appealing, as it's completely protected, sandwiched in a lovely bay between an island and the point. We only surveyed it by dinghy, but it appeared to be about 25' with a sand bottom. There's several more possible anchorages in the big bay east of Mommon Point, as well as one a bit SW of where we anchored.
One of the big appeals of this area is a huge waterfall that falls right into the ocean! It's near 3°53'S 132°49.3'E, or about 2.5nm north of the anchorage, so in reasonable range for a good dinghy. The bottom looked sandy near the waterfall, so there's a possible anchorage there as well, but the spray from the falls might make everything on deck wet.
A bit south of the falls is a long island protecting a lagoon that also looked interesting to explore. And there are several nooks and crannies to explore in Mommon Bay as well.
---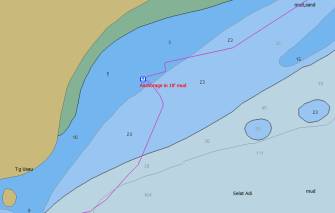 Usau anchorage and approaches
Tanjung Usau, 4°03.18'S 133°15.94'E, 18' mud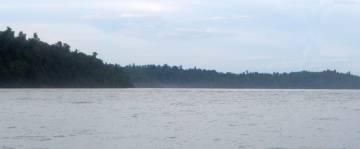 Tanjung Usau after an overnight sail from Banda
This was very much an anchorage of convenience when we'd sailed overnight from Banda. It's shallow and good holding in mud and reasonably protected from the prevailing NW winds (which tend to wrap around the coast here) and the local currents, but it has little else to recommend it. The approach is easy, even in the dark. Once you pass the point with its tiny island, just close with the coast until you find the depth you want. The bottom shoals quite gradually. Note that the pass to the south, Selat Adi, can have strong currents and even violent rips, which should not be attempted at night. Also, the nearby islands and shoals are generally not charted correctly, and even Google doesn't have a lot of information, so good eyeball navigation is a must. There's nothing ashore, but from here Kaimana and the rest of Triton Bay is an easy day-sail to the east.
---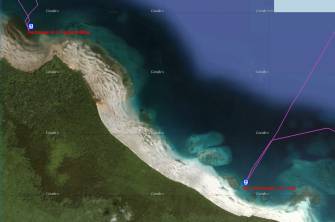 Adi island anchorages and approaches
Adi Island, West: 4°08.96'S 133°24.90'E, 15' sand, OR East: 4°10.77'S 133°27.50'E, 22' sand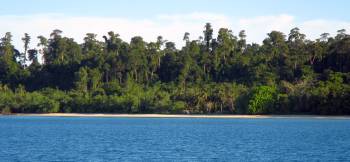 Adi Island, SE anchorage
We used 2 anchorages along the NE coast of Adi Island, but again, they were more protected anchorages of convenience than places to be sought out. There are reefs to the south of both anchorages, so both should be approached from the NE. Both offer good holding in sand, in pretty much whatever depth you want, but closer in will offer better protection in NW or SE winds Both anchorages are well protected in south or west winds, but they're exposed to north or easterly winds. There are extensive sand-banks ashore, especially at low tide. Kaimana and the rest of Triton Bay are easy day-sails from either anchorage. The water looks clear in Google's photo, but when we were there (March and April) the water clarity wasn't as good.
---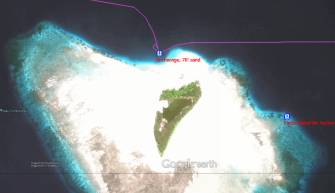 Turtle Island anchorage and approaches
Turtle Island, 4°19.37'S 133°20.33'E, 70' sand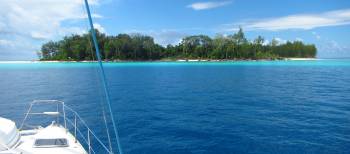 Turtle Bay, north anchorage
As the name implies, Turtle Island is a sanctuary where turtles come up to lay their eggs in pits they dig in the sand at night. We anchored in the little bay on the north side, but others have anchored on the east side of the island. It's pretty deep in either place. There is a small ranger station on the island but they were gone most of the time we were there, perhaps because it was full moon and the turtles tend not to come out during the full moon. Walking around the island takes less than an hour. The island is covered in turtle tracks, but we didn't see any turtles coming out to lay their eggs, despite circum-perambulating the island each night. We did, however, find some baby hatchlings that were making their way to the water. Cute!
---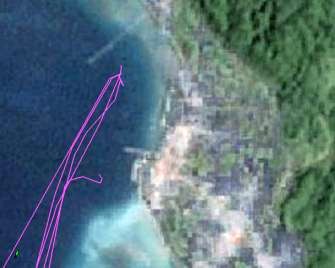 Kaimana anchorage and approaches
Kaimana, 3°39.53'S 133°45.49'E, 25' mud


Part of the Kaimana waterfront, S of the anchorage
Kaimana is the regency capital for Triton Bay and surrounds. Note that the CM93 Charts are offset by almost 1nm to the NW, so some form of satellite derived charts are helpful. There is a green buoy marking the northern edge of an extensive reef south of town. Landing a dinghy involves a beach landing, either between the piers (which gets rocky at low tide) or to the south of the main pier, in front of the big green mosque, which is where we preferred. Ashore you can get a bemo to the north (towards the airport) to the fresh market and a couple small grocery stores. There are a few local restaurants in town. The customs and Harbor Master are located near the main mosque on the waterfront. At the police station you should ask for a Surat Jalan or travel permit, which costs about a dollar, and gives you permission to travel throughout the regency and south to Triton Bay and Kayu Merah Bay. The tourism office is amongst the government buildings out near the fresh market. Here you can buy a Conservation Medallion, much like that required in Raja Ampat. Good for 1 year, the Medallion will be tied to your name, and contributes to the marine conservation of the area. These medallions are also sold by Triton Bay Divers resort.
---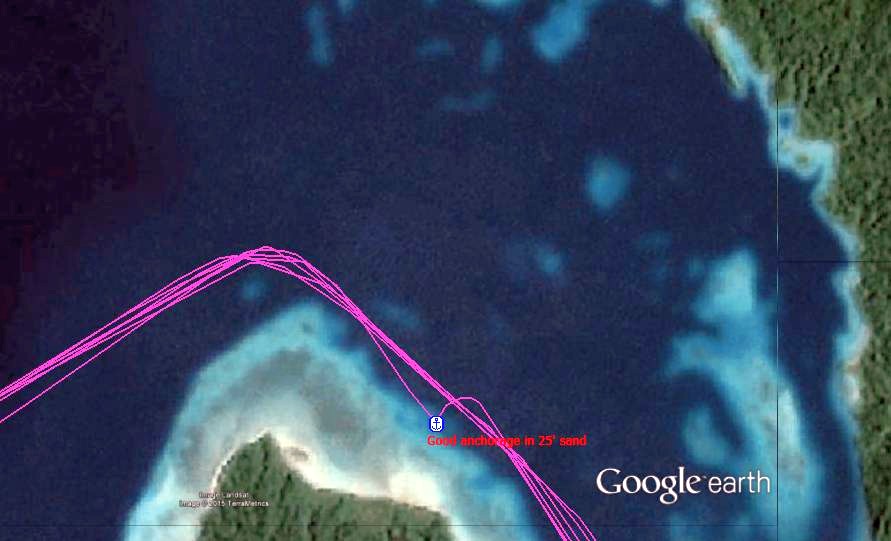 North Namatote anchorage and approaches
North Namatote, 3°42.93'S 133°53.00'E, 32' sand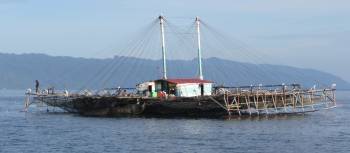 Bagan off North Namatote Island
This was really just so we could get closer to the Bagans (fishing boats) so we could swim with the whale sharks. Approach from the NE and drop the hook on the sand bank. There's room for several boats along this NE tip of Namatote Island
Swimming with Whale Sharks: Bagans are the fishing boats with outriggers that look a bit like trimarans. They shine lights all night to attract the fish, and then raise the nets under their wings. The fish are about 4" (10cm) long, which is exactly the size that whale sharks like. Dinghy out to the Bagans with your snorkel gear at very first light and ask if they've seen any "Ikan besar" (big fish), although in 2017 we found whale-sharks at the bagans as late as 9-10am. You may have to visit several bagans. Look for the whale shark tail-fin cutting the water. When you find one, put on your snorkel gear and jump in! The bagans will usually throw some fish in to keep the whale shark coming back. Contributions of cigarettes, sugar, coffee, old clothing or rain gear are welcome. Large financial donations will result in this becoming a commercial venture like in Cenerwasih Bay where prices are outside the realm of reality for cruisers. We usually give them about IDR 100,000 (US$8) per swimmer. The fishermen receive about IDR 50,000 for each bucket of small fish they sell. They will use about 1 bucket to keep the attention of a whale shark for about half an hour, and they should be reimbursed for that. Don't get too close to the whale shark's mouth, as they can generate a tremendous suction as they suck the fish in. Note that recently, the village at the north end of the Namatote Straits started charging huge fees for swimming with whale‑sharks at "their" northern bagans. But the bagans further south in the straits were still glad to get visitors, and happy with whatever we gave them.
---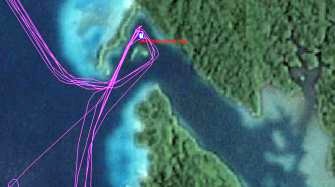 Raf Bay anchorage and approaches
Raf Bay, 3°44.77'S 133°55.08'E, 43' mud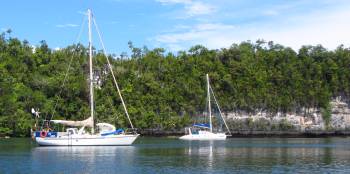 Ocelot and Per Ardua anchored in Raf Bay
Raf Bay is a delightful and completely protected bay just 15nm from Kaimana. We preferred the north corner. You can approach on either side of the little island. Anchor in ~50' with a good mud bottom. There's room for several boats, usually in a line to the SE.
Dinghy exploring of the bay is fun, but watch for shallows at the SE end, and near the stream coming in from the NE. Perhaps more fun is to take the dinghy outside the bay to the south to examine the ancient rock paintings on the cliff walls. They start about 1nm south of the anchorage and continue for almost a mile. The origin of the paintings is not known, and the local people attribute the artwork to spirits. The Bagans sometimes come down inside the Namatote Straits, so then you can use Raf as a base for swimming with the whale sharks.
---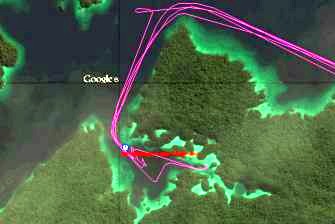 Castle Rock anchorage and approaches
Castle Rock, 3°49.09'S 134°01.07'E, 60' muddy sand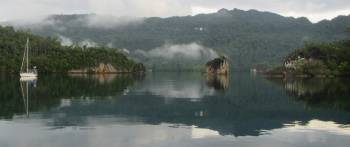 Per Ardua and the narrow entrance to Castle Rock
Castle Rock is our name for a delightful and completely protected bay on the NW side of Mauwara Island. The channels to the NW or the south of Mauwara Island are narrow, but easily navigated. The views from the southern channel are stunning, while the NW channel feels like going up a winding river. The entrance is only 40' deep but it gets deeper inside. There are no villages but there are several small fishing settlements of 1‑2 families nearby. Once when we were there we were approached by locals asking for money, which we politely refused to pay, and they went away.
Dinghy exploration here is a must! The bay is surrounded by an intricate network of karst hills and islets, which invite exploration by dinghy. The islands and channels to the west, outside the bay, are also good fun to explore.
---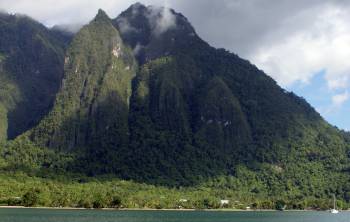 The stunning mountains above the Lobo anchorage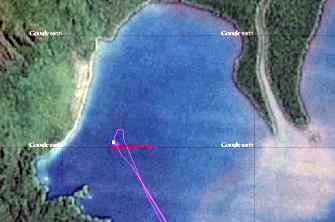 Lobo anchorage and approaches
Lobo, 3°45.83'S 134°06.42'E, 42' mud
The approach to Lobo is quite impressive, with high mountains rising sharply above the town. Come in on the western side of the bay, to avoid the alluvial outflow from the river. The approach is straightforward and the bay is large. We anchored off the south end of the town, and pulled our dinghy up on the beach there.
The villagers are friendly and may have bananas (pisang) or greens (kankung) for sale. For those with a powerful dinghy, it's fun to go up the Tambona River as far as the first set of rapids. There are several villages upriver, and longboats do course through the river, so be aware.
---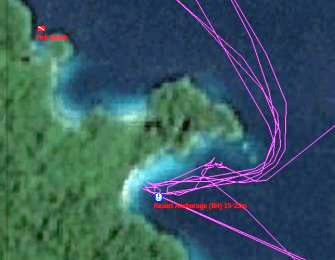 Triton Bay Divers anchorage and approaches
Triton Bay Divers Resort, 3°56.26'S 134°07.20'E, 50' sand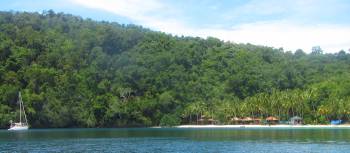 Per Ardua anchored off Triton Bay Divers Resort
It's best to stay south of the 3 small islands off the point to make your approach. We preferred the western end of the bay, up against the wall and away from the coral shoals, but boats can anchor pretty much anywhere as long as it's away from the coral. The anchorage is in good holding sand.
The only resort in all of Triton Bay, Triton Bay Divers is a lovely, small, friendly, dive resort that welcomes visiting yachts. Their south-facing bay offers great protection from the northerly winds and the strong currents in the Iris Strait. Snorkeling along the coast of the bay (the "House Reef") and around the eastern islands is very rewarding in the clear water. The marine biodiversity in the area is amazing!
Depending on the number of guests currently at the resort, cruisers may be able to join the divers to some of the amazing nearby sites. Fresh water is available from a spring. The resort owners, Jimmy and Leeza, are wonderful and sometimes able to offer WiFi, meals ashore, and dive bottle fills, but please remember that their resort guests are their main priority, and their resort is not public property. Ask first, and leave a clean wake for other cruisers.
---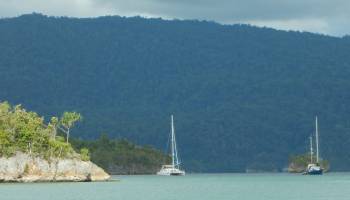 Ocelot and Gaia anchored east of Triton Point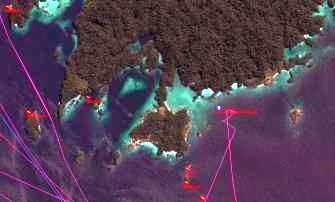 Triton Point anchorage and approaches
Triton Point East, 3°54.34'S 134°07.48'E, 42', sand
Our friends on Villa G first discovered this anchorage in 2015, but reported that it could sometimes get rolly. When we were here in 2015, it was delightful! When approaching from the west, watch the currents around the off lying rocks, as it can run strongly. The southerly approach presents no special problems - just continue in and anchor where convenient. There's room for several boats.
There are several excellent dive sites nearby, and snorkeling along the coast is rewarding as well. Dinghy exploration is also fun, as the coastline is convoluted, with many tiny bays to poke into. The big bay directly in front of the anchorage looks like it could hold a couple boats all by itself. Conservation international has an outpost just to the west, but it's had only a caretaker crew for several years.
---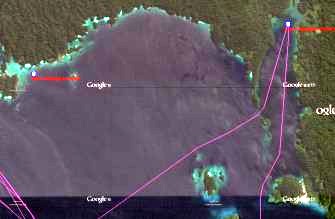 Finger Bay anchorage and approaches
Finger Bay, 3°53.82'S 134°10.00'E, 42' sand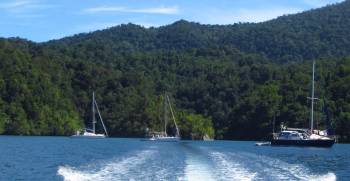 Ocelot, Per Ardua, & Villa G anchored in Finger Bay
This bay, just across the Iris Straits from Triton Bay Divers, stabs deeply into the lush hills of the Papuan mainland, and offers full protection from wind, current and swell. Tidal change will, however, swing your boat. A fringing reef and several small karst islets protect the mouth of the bay to the south. A small village sits on the bump of land at the mouth of the bay. The bay is quite narrow and fairly deep, but it shoals near the small island at the end.
As with many other anchorages in Triton Bay, this one is all about peace, natural beauty and isolation. Snorkeling can be fun on the islands near the entrance. The western side of the bay also offers good snorkeling and exploration possibilities.
---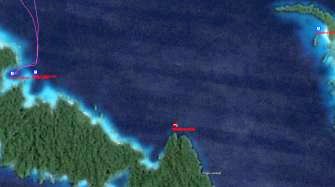 South Iris Strait anchorage and approaches
South Iris Strait, 4°00.35'S 134°10.72'E, 50' sand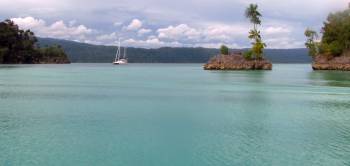 Ocelot and Per Ardua anchored off the straits
A series of small bays scallop the eastern side of Aiduma Island, on the Iris Strait, and it's possible to make one's way between the reefs and into some of the sheltered bays. The water is clear, and the reefs show easily by their colors. There is room for about 2‑3 boats in this and the neighboring anchorage. In the evening the cicadas sent out their courting sounds and the result was a spine‑tingling racket more electric than biological sounding. This is a great anchorage for taking the dinghy to several good dive and snorkel sites south, off the SE tip of Aiduma island, and out to the bordering rock, dubbed "Christmas Rock" which is a beautiful dive and snorkel site. Currents in the Strait can be strong, so divers and snorkelers should be aware.
---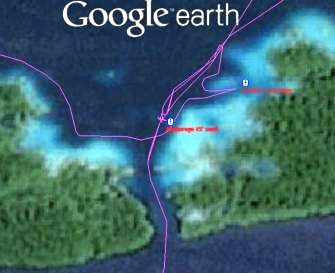 Kayu Merah West anchorage and approaches
Kayu Merah Island West, 4°01.58'S 134°21.72'E, 50' sand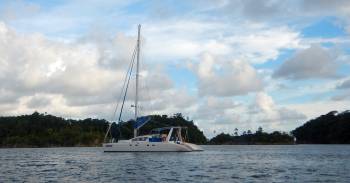 Ocelot at Kayu Mera west, cut just behind her
Approach this anchorage from the south and west, taking the wide passage between the mainland and the western most point of Kayu Merah. Follow the coast east until another (narrow) pass opens up, and anchor just beyond that. The entire area west of Kayu Merah is a huge network of pearl farms, lines and buoys, so it should not be approached at night. The pearl farm workers may come by in long boats to warn you not to enter the maze of floats.
Once anchored, dinghy exploration of the karst inlets is worthwhile, as is an early morning birding expedition by dinghy. It may be possible to get a tour of the pearl farm village, but harvesting and pearl seeding operations do not happen all year. In any case, it is interesting to see how the families live and work on their stilt village over the water.
---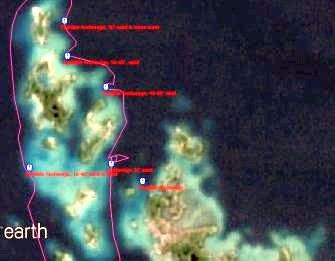 Kayu Merah North anchorage and approaches
Kayu Merah Island North, 3°58.69'S 134°22.30'E, 36' sand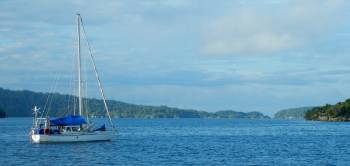 Per Ardua at Kayu Mera north (looking west)
Off the north end of Kayu Merah Island is a large network of shallows and small islands. Much of it is too shallow for anchoring, but we found several potential anchorages. The one listed above is where we actually spent a night, across from a small village. Approaching from the south should only be attempted in good light, as the channel is relatively narrow. Approaching from the north is easier, as it's more open. The anchorage shoals gradually, and there's room for several boats.
Exploring the many nearby islands by dinghy is rewarding. The villagers were very curious, and I think the entire town turned out to see us at the docks when we went to buy some fruits and veggies.
---
Tual, at the north end of the Kai Archipelago, is the administrative capital of the southern Molukas, and the biggest town in the area. It has full Customs, Immigration, Quarantine, and Port Captain (CIQP) facilities, and most boats going to or from eastern Australia do their clearance formalities in Tual. We found the Customs and Immigration (especially) folks to be pleasant and efficient. Immigration even allowed us to extend our visas twice (over a few days) to allow us to cruise Triton Bay for 2 months without having to return to Tual, which was very accommodating of them.
| | | | | | |
| --- | --- | --- | --- | --- | --- |
| Date | Town or Bay | Depth | S Latitude | E Longitude | Comments |
| Many | Tual | 52' mud | 5°38.06 | 132°44.26 | Visa extensions |
| May 2015 | Ohoilitar Beach | 65' mud | 5°39.58 | 132°37.82 | Lovely long fine sand beach |
| May 2015 | Ohira Bay | 75' mud | 5°50.41 | 132°40.94 | Between seaweed farm ropes |
| May 2015 | Kaitanimbar Is | 38' sand | 5°59.37 | 132°26.92 | Jump off point for Tanimbars |
---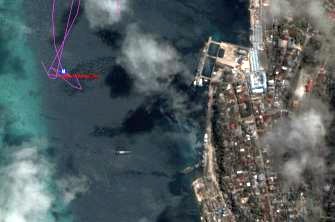 Tual anchorage and approaches
Tual, 5°38.06'S 132°44.26'E, 52' muddy sand
We entered from (and exited to) the north. Red and green navigation buoys assist your approach, marking shallows and channels. Approach the anchorage down the long channel until you find a comfortable depth and space near the waypoint. There's a bridge joining Tual and Langgur (Tual's sister city to the SW) so sailboats cannot go through the gap at 5°38.57'S 132°44.55'E. For boats coming from the south, it's possible to anchor south of this bridge if you come up the east side of the Kai Group, and that does put you closer to Langgur, but most boats will choose to sail up the lee side of the Kai Group and enter through Selat Duroa, the E/W channel just north of Tual. The anchorage is across the channel from town, but it's not a long dinghy ride (0.4nm). Unfortunately, much of the shallows on the west side of the channel opposite town have been taken over by seaweed farms, and there's not much room between them. Boats can anchor further south (or north) but then it's a longer dinghy ride to town. We tied our dinghy at the Coast Guard dock at 5°37.97'S 132°44.55'E. There are steps up and a ring you can lock your dinghy to, and the coasties will watch it anyway. The harbormaster is right at the dinghy landing, first building on the left, across from the mini-mosque. Just south of the bridge on the Langgur side is a big overwater restaurant that was recommended. It looks accessible by dinghy but they're only open for dinner so we didn't try it out.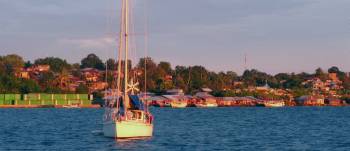 Per Ardua anchored off Tual in evening light
Immigration is at: 5°38.04'S 132°44.72'E, just to the east of the conspicuous red roofed building in front of the parade ground in the upper right of the photo (click photo for blowup). To walk, go left outside the Coast Guard compound, right at the T, first sharp left up the steep road. This road bends 90° to the right at a school/stadium, crosses 1 street, and Immigration is to the right at the next intersection. Customs is past it, just south of Immigration. Immigration was very polite and helpful (in marked contrast to Sorong) and one of the women spoke pretty good English.
Supplies and $$: Turn left just outside the Coast Guard compound and left again at the T to get to the fruit & veggie market. If you turn right at that T (on the way to Immigration) you'll find a Mandiri ATM about 50m on the right. There are also lots of microbusses (bemos) around that will take one to the (slightly more upscale) town of Langgur (Rp5,000 each, or about $0.40) which is across the bridge. Ask to be dropped off at the Gota (on the left) which is the only real grocery store around, but supplies are pretty limited (no cheese, only frozen meat, no alcohol). It's located at about 5°39.12'S 132°44.47'E and has a group of ATMs outside.
The Tourism Department is just a bit further, on the opposite (right) side of the road. Ask to talk to Fatma, who was very helpful and speaks good English (but their maps are very poor). She organized a nice island tour for us (2 boats).
Fuel: Diesel ("solar") and petrol ("benzine") can be bought from 4‑5 dealers right on the waterfront, all together across from the anchorage, usually with several small fishing boats tied up in front. Take your dinghy and jugs (or even your big boat) to 5°38.19S 132°44.50'E (look for 200L drums). This is probably the easiest access fuel we found in Indonesia. Fuel is hand dipped out of open drums of indeterminate parentage, and measurements are ~10% short, so plan to buy 10% more than you think you need. Diesel was Rp6500/L and petrol was Rp7500/L in early 2015, which were the best prices we'd seen outside a Pertamina station.
---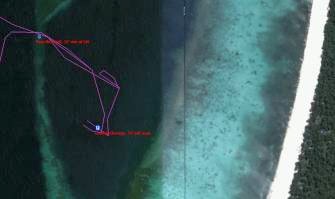 Ohoilitar Beach anchorage and approaches
Ohoilitar Beach, 5°39.58'S 132°37.82'E, 65' mud


Beautiful long white-sand beach at Ohoilitar
Ohoilitar Beach is beautiful, made up of powdery fine white sand. It's reputedly the nicest beach in all of the Kai Group. Getting in requires going over a shallow spot in the outer reef at 05°39.40'S 132°37.71'E. This has at least 12' over it, even at low tide, and it's over 100m wide. Once inside, you can anchor pretty much wherever you want, although the northern part of the bay is full of seaweed farms. The anchorage is deep, but the holding is pretty good in soft mud. There are several cute backpacker hostels just behind the beach where meals can be bought, and some other restaurants in the 2 villages. Snorkeling should be good along the outer barrier reef.
---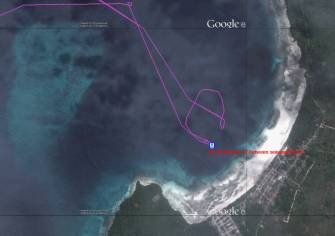 Ohira Bay anchorage and approaches
Ohira Bay, 5°50.41'S 132°40.94'E, 75' mud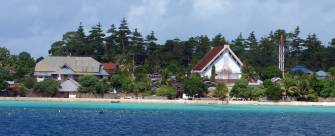 Seaweed farms in Ohira Bay, lower left
The chart looks so promising of a good anchorage, but once again the area was filled with seaweed farms. This anchorage is in a narrow channel between floating lines, which the local boats use to access the beach and town. Enter from the north and proceed until you reach anchoring depth. Anchor in the middle of the channel to maximize swinging room. There may be better anchoring (but less protection) to the NE, further from town, but we didn't explore there. The town is quite basic, with simple provisions but no ATMs.
---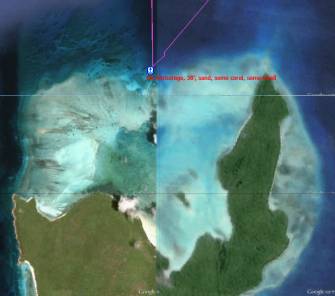 Kaitanimbar anchorage and approaches
Kaitanimbar Island, 5°59.37'S 132°26.92'E, 38' sand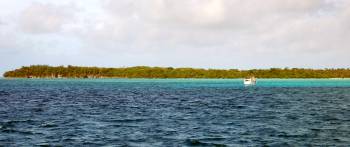 Kaitanimbar anchorage, just outside shallows
Kaitanimbar is a U‑shaped island that makes a good jumping off place for the Tanimbar Group, 70nm to the SW. In the prevailing SE winds, the best anchorage is in a sand patch north of the island. You can't get too close to the island, as the sand banks in the middle of the U are too shallow for most boats. Approach from the NE and nose around until you find a sandy patch clear of coral. The island blocks most of the swell, but some can wrap around when it's blowing hard. Dinghy exploring inside the lagoon is fun. The snorkeling should be good but it was blowing too hard when we were there in May.
If the wind is blowing too much from the east, it's also possible to anchor off the west side of the reef, just north of the island. Satellite imagery shows some sandy spots there. The advantage is that it can be more protected than the middle of the bay, and it offers a faster getaway when heading SW towards the Tanimbars.
---
The Tanimbar Group looks like it should have LOTS of excellent anchorages, and we'd have loved to stay longer to explore more. The group as a whole, and especially the main island of Yamdena, is fairly flat. We only touched some islands off the western edge of the group, as we were headed for Timor. The main islands further east probably have shallow but muddy anchorages, while the anchorages we stayed in (below) had pretty clear water. The main town of Saumlaki, in the SE corner, is reputed to now have full CIQP clearance facilities (they used to be brought in from Tual when needed) but we haven't verified this. In general, we had no cell or data signal throughout the Tanimbar group, although there's probably coverage near Saumlaki.
| | | | | | |
| --- | --- | --- | --- | --- | --- |
| Date | Town or Bay | Depth | S Latitude | E Longitude | Comments |
| May 2015 | Tutunametal | 13' sand | 6°47.77 | 131°31.08 | Clear water |
| May 2015 | Namwaan Is | 31' sand | 7°07.09 | 131°25.83 | |
| May 2015 | Laibobar Is | 20' sand | 7°12.75 | 131°22.94 | Protected, but watch for theft |
| May 2015 | Wotap Is | 30' sand | 7°19.34 | 131°14.92 | Great holding, protected, fun exploring |
| June 2015 | Wuliaru Is | 26' sand | 7°24.78 | 131°06.40 | |
| July 2017 | S Lok Kelah | 32' mud | 7°32.46 | 130°50.40 | Protected, good jumping off point |
---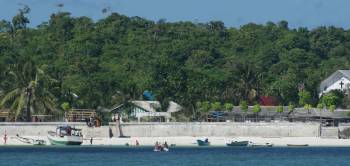 Going ashore at Tutunametal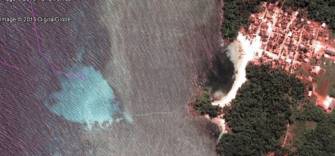 Tutunametal anchorage and approaches
Tutunametal, 6°47.77'S 131°31.08'E, 13' sand
I love this name! (2 ton o' metal!

) This was our first port in the Tanimbar group. We were originally going to anchor further north, off Adodo, but the harbormaster there was corrupt, and Tutunametal is only 7nm further SW. The anchorage is on a nice sand‑fan in clear water, with room for 2‑3 boats, and there's another nice sand‑fan 0.5nm further south. Approach from the NW and anchor as convenient. The village kids were super excited about these spaceships which had landed in their front yard, paddling out in anything that would float. The village is Christian, with a nice church at the top of town, and very friendly, with everyone turning out en‑masse to greet us. There is good snorkeling right from the anchorage.
---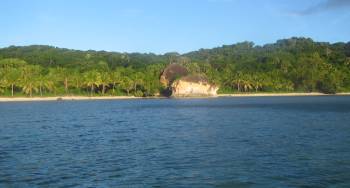 Picturesque Namwaan Island anchorage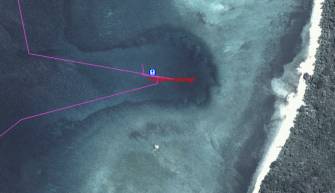 Namwaan anchorage and approaches
Namwaan Island, 7°07.09'S 131°25.83'E, 31' sand
Namwaan is a convenient anchorage, well protected from the SE trades, but it doesn't have much else to recommend it. It's a sand‑fan in a 180m wide gap in the reef along a white sand beach, with a few highly visible rock outcroppings. Approach from due west, watching for the edges of the reef on both sides, and anchor as convenient. The bottom shoals gradually. There is no village ashore. The water is clear, but the reef wasn't very interesting for snorkeling.
---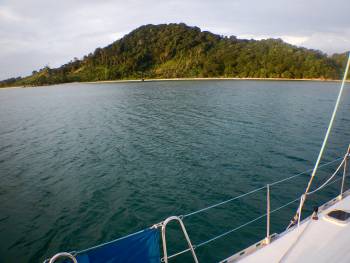 Laibobar Island anchorage. Reefs don't show here.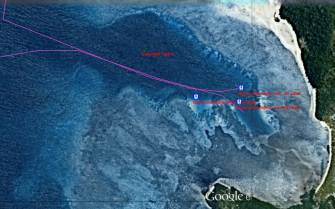 Laibobar anchorage and approaches
Laibobar Island, 7°12.75'S 131°22.94'E, 20' sand
There are several potential anchorages here. Approach from the WSW and hug the reef to the south, to avoid the seaweed farms. When the gap in the surrounding coral turns SE, follow it down and anchor in the middle of the channel, to maximize swinging room. The bottom rises gradually and the water is very clear for spotting bommies and reefs. This is a big bay, with a scattering of fishing families along the coast. Lailobar mountain rises to the south, making this very dramatic. A few fishermen came by to offer fish or squid. There has been theft here, a boarding with snorkeling gear taken, so best to lock up all gear at night and not let folks see where it's stored. The fishermen families are friendly and happy to offer fresh coconuts to drink ("Kelapa muda") and to take you by long boat to the town of Lailobar, about a half hour's journey by sea over the north side of the island. The snorkeling is good near the anchorage on the clearly visible reefs. There is another potential anchorage in the south‑facing bay behind town, but we didn't explore it.
---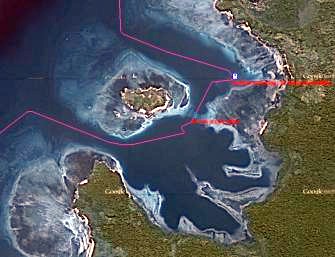 Wotap anchorage and approaches
Wotap Island, 7°19.34'S 131°14.92'E, 30' sand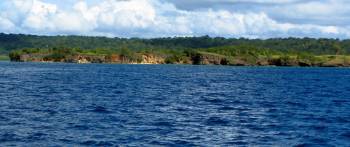 Approaching Wotap Island anchorage
Wotap island has several bays with potential anchorages. This one is on the NW side, so very protected from the prevailing SE winds. The bay is big, and good fun to explore by dinghy. The best anchorage is in the NE corner. Approach from the WNW, keeping an eye on the reefs on both sides. Proceed to the NE corner (there are often fishing boats anchored there) and anchor as convenient. The bottom shoals gradually and there's room for many boats.
There's an island in the middle of the bay, and a coral spit joins it to the mainland, but there's a minimum of 14' (at low tide) over the spit, so boats can easily cross over it. Snorkeling is good on the reef on the north side of the central island.
---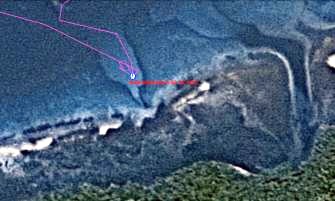 Wuliaru anchorage and approaches
Wuliaru Island, 7°24.78'S 131°06.40'E, 26' sand


Rainbow over the Wuliaru anchorage
Wuliaru is really just an anchorage of convenience, as it makes a convenient place to jump off for islands to the SW. It's just a sand‑fan in the surrounding coral reef, on an otherwise open coast (there's another such sand‑fan ~300m to the NE). It's protected from the SE trades, but that's about all that can be said for it. There's no village ashore. Since it's only 10nm from Wotap, and 70nm from Daweloor, it might be better to look for an anchorage on the north side of Selu Island, but there are lots of reefs there. Probably the best option is to continue on to South Lok Kelah (below).
---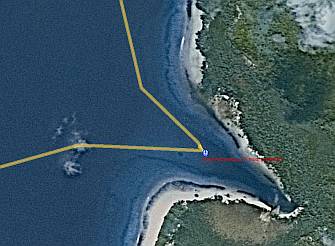 Lok Kelah anchorage and approaches
South Lok Kelah, 7°32.46'S 130°50.40'E, 32' mud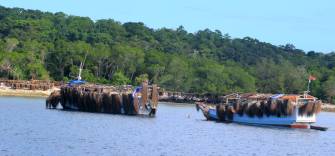 Drying seaweed, ashore and on boats
On a later trip, we found an even more convenient anchorage for jumping off to the SW. South Lok Kelah is extremely well‑protected from the prevailing SE winds. There are no obstacles to entrance or exit. The bottom is good holding mud, not very deep, and no swell comes into the bay even when the SE winds are strong. It also shortens the 60nm trip to Daweloor by a few miles (compared to Wuliaru).
The main issue is that you probably won't be alone. There were at least 12 boats there when we were there, drying some sort of seaweed(?) Not that this was a problem. They were mostly rafted together, and there was plenty of room for more boats. They did their thing, and didn't have a problem when we came ashore to see what they were doing.
---
SE Islands, Daweloor and Babar to Leti
This chain of islands join the Tanimbar Group to East Timor (Timor Leste). While it's probably possible to find good anchorages every night, and thereby day‑sail this stretch, we ended up doing an overnight sail the last night.
| | | | | | |
| --- | --- | --- | --- | --- | --- |
| Date | Town or Bay | Depth | S Latitude | E Longitude | Comments |
| June 2015 | Daweloor Is | 50' sand | 7°45.63 | 130°02.04 | Protected, good walks |
| June 2015 | Wetan Is | 20' sand | 7°51.93 | 129°31.27 | Lots of seaweed farms |
| June 2015 | W Sermata | 25' sand | 8°11.63 | 128°49.73 | Only room for 1 boat |
---

Daweloor anchorage and approaches
Daweloor Island, 7°45.63'S 130°02.04'E, 50', sand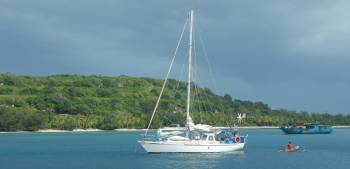 Per Ardua anchored at pretty Daweloor Island
Nestled in the arms of a protecting reef, under the shelf‑like hills of Daweloor Island, this anchorage offers great protection from the strong SE trade winds. The water is clear and the surrounding reefs show easily with their colors. When approaching from the NE, watch out for the reef in the middle of the channel between Daweloor and Dawera island. Approach the anchorage from the west and head towards town, watching the depth sounder. The bay is fairly deep and the reef comes up suddenly, so make sure you anchor before getting there. You probably won't have a full swinging circle unless you anchor very deep, but the trades don't change direction much.
Ashore it's considered polite to greet the head‑man (kepala desa) of the village, and to receive his permission to come ashore. You can find basic provisions (crackers, flour, sugar, tea, coffee, etc) but little else. There's an extensive network of trails that appear to cover much of the island. Views from the trails are lovely, and the village kids love to lead the way. Just walking to the top of the hill above the town is well worth the effort, but an all day hike to the next town would be good fun (and good exercise). Snorkeling is good on the reefs right beside the anchorage. An inter‑island ferry comes every few days, but it anchors out deep and uses long boats to ferry passengers and goods to shore. The concrete jetty at the west end of the island was broken and unusable in 2015.
---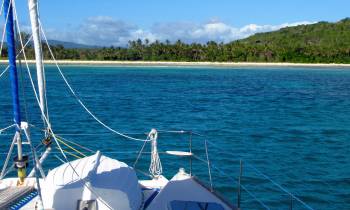 Ocelot anchored at the Wetan Island anchorage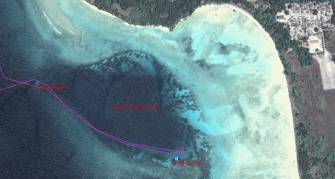 Wetan anchorage and approaches
Wetan Island, 7°51.93'S 129°31.27'E, 20' sand
Wetan has a couple of anchorages that offer protection from the SE trades, and this one looked the best, but Google doesn't show the extensive seaweed farms that cover much of the bay. To get into the bay, you must cross over the outer reef at 7°51.78'S 129°30.96'E. The pass is about 70m wide and has at least 12' of water over it, even at low tide. Once you get inside, hug the outer reef on your right to avoid the seaweed farms. Anchor in the sand patch on the far SE corner of the bay. We got 2 boats in here, but we needed a shoehorn.
---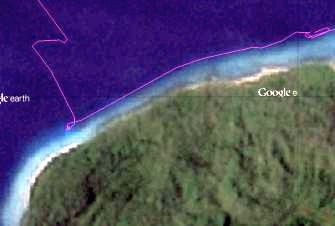 West Sermata anchorage and approaches
West Sermata, 8°11.63'S 128°49.73'E, 25' sand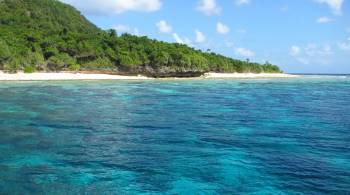 West Sermata anchorage - too much coral
This anchorage is so small that only 1 boat really fits on the sand patch. Approach from the north until you get to the biggest sand patch, then proceed upwind and drop the anchor just before you get to the coral. There should be enough room to fall back and still avoid the coral heads.
However, this is really just an emergency anchorage, if you have to stop. We're pretty sure that boats can get over the shallows 5nm NW of this anchorage, just west of the northern end of Kalapa Island, and thereby get into the inner lagoon to anchor off the eastern end of Pulau Luang. But we didn't try it.
---
Indian Cruising Info: Cruising N&E Indonesia | Cruising S&W Indonesia | Cruising Malaysia | Cruising Thailand | Thai Services | Cruising Andamans | Cruising Sri Lanka | Cruising the Maldives | Cruising Chagos | Cruising Seychelles | Cruising Madagascar | W Indian Weather | Cruising Mayotte
Indonesia Pages: Indonesia Home | Diving Indonesia | Cruising N&E Indo | Cruising S&W Indo | Indonesia Letters | SE Asia Flora/Fauna
Cruising Info: General Cruising Info | Equipment | Pacific Ocean Cruising | Indian Ocean Cruising | Provisioning Food & Fuel | Cruising Recipes
Top Level: Home | Destinations | Cruising Info | Underwater | Boat Guests | Ocelot | Sue | Jon | Amanda | Chris | Site Map | Make a Comment
---
Lifetime
Commodores
of the
Seven Seas
Cruising
Association

If our information is useful,
you can help by making a donation
Copyright © 2000‑ Contact: Jon and Sue Hacking -- HackingFamily.com, svOcelot.com. All rights reserved.