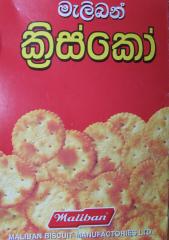 What is it? Pictures
worth 1000 words
Provisioning information, newly updated for 2015!
Cruising through SE Asia, whether as a fast one-way trip or a meander in and out of different SE Asian countries, it helps to know whatís available where, and what isnít. Since returning to Asia from Africa in 2009, we have spent 6 years in this region and we have shopped just about everywhere, looking for just about everything!
If youíre interested in diesel, outboard engine fuel or LPG info, see below. The first part deals with food.
Australia has just about anything and everything you could want (food-wise and otherwise). Arriving by boat from outside the country involves dealing with Australian Quarantine, which we've covered in our section on Arriving in Australia. Everything gets easier when it's time to leave Australia. That's the time to really stock up on a lot of stuff. We left Darwin with the Darwin-Indonesia Rally in July 2006, so most of what I write about here has to do with a one-way journey from Australia north to Indonesia, Singapore, Malaysia, Thailand, Sri Lanka and Maldives.
Leaving Darwin we stocked up on beer making kits (we already had the equipment for brewing), and both bottled and boxed wines for the long haul through the SE Asian Muslim countries. Bulk discounts are available at some merchants in Darwin, and customs will give you a huge tax rebate if you spend more than A$300.
Bring all the meat you can as it isn't very nice until you hit the places like Dili, Bali, Langkawi and Phuket.
Be sure to leave with ample cheeses and yogurt making supplies as you wonít find good dairy products again until Singapore or Thailand.
If you like canned corned beef get it in Australia. The stuff in SE Asia is fatty and mushy like dog food.
Bring any specialty items and brand names you want from Australia. In Indonesia youíll find fresh fruits and vegetables, plus some staples, but no exotic imports until Bali.
Popcorn can be problematic everywhere in SE Asia, so if you want lots, bring it from Australia.
Indonesiaís bread is sweet, but flour can be bought everywhere if you want to bake your own bread.
Australia is your last place to get packaged tortillas, pecans and walnuts. Tortillas (wraps) can now be bought in Langkawi and Phuket.
If you use canned green beans for bean salads, get plenty in Australia. The next place youíll see them is in Dili, Thailand and the Maldives. Maybe Langkawi.
Canned fruit is pretty simple in Asia, usually canned peaches, lychees, pineapples and the ubiquitous fruit cocktail.
Bring your favorite brand personal items, sunscreen and mosquito repellent.
SOUTH EAST ASIA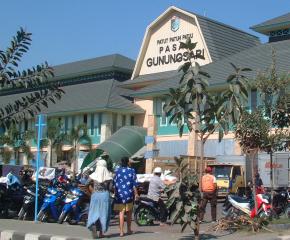 A new shopping center in Mataram, Lombok
Food shopping in SE Asia is totally fun, as long as you're not desperate to find a specific item! The fresh markets abound with color and variety and in the larger towns the supermarkets are usually cool places where you can retreat from the heat of the day and spend time scouring the shelves to see just what there is. I have to admit to being a food-shopping fanatic!
If there's a generalization to be made, it is this: If you see it and you like to eat it, buy it, because you never know when you'll see it again! But along with that "hoarder" attitude, remember: where there are people, there is food, so you can get staples, even in little towns like Kaimana, W. Papua, Indonesia.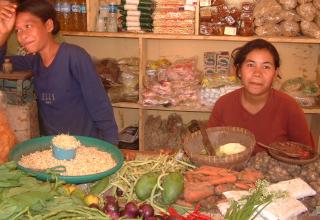 Small shop in Labuan Bajo, Flores, Indonesia
Here are the main food shopping areas, usually accessible by foot from the marina or anchorage:
Indonesia: Kupang, Timur had a basic supermarket as did Mataram, Lombok. The suburbs around Dempasar, Bali had huge supermarkets like Makro. We found good fresh markets at Kupang, Lembata, Riung, Labuan Bajo, Lombok, Bali, and Kumai. Be prepared to bargain (or try offering about 1/2 and see what they give you for that amount). Much produce is sold by individuals by the side of the road, out in the sun and dust. Small shops carry very basic things. In northern and eastern Indonesia, Manado had a good selection of cheese as did Sorong, near Raja Ampat. Those cities, plus Tual and Ambon had good supermarkets. All have fresh markets with a wide selection of produce and fish.
Singapore: You'll be amazed by the modern malls and supermarkets accessible by bus and MRT from the marinas. Everything listed below (and more) is available in Singapore!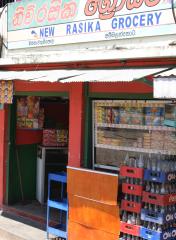 Small grocery, Sri Lanka
Malaysia: Johor Bahru has everything. Port Dickson had small shops only. Penang had many small shops and good supermarkets. Langkawi has several good supermarkets plus small shops and fresh markets and cruiser-processed fresh meats called "Sailor's". In Kuah (Langkawi) you'll find many shops that carry duty free liquor and specialty things like whole wheat flour and brown rice. Over in Borneo you'll find good markets and shops in Kuching, Miri, Kudat, Tawau, and especially Kota Kinabalu (KK). The duty free island of Labuan is especially good for alcohol products and chocolate but a bit skimpy on the general supermarket items like cereals or jams or special baking items.
Brunei: The tiny neighbor of Malaysian Borneo, and just a few miles from duty free Labuan. You can get most everything you want here except pork and alcohol. For that, you need to sail across to Labuan.
Thailand: In Phuket you can find just about anything. Unless you're anchored in Patong (where you can walk to Tesco) or Ao Chalong (where you can walk to the wet market) you'll need to take a bus or tuk-tuk or, probably better for a big provision, rent a car. We found bakerís supplies (whole wheat flour, grains, chocolate chips, cheddar cheese and cream cheese) in Phuket town at Gerbera House on Bangkok Road. There are fresh produce markets in Phuket town, Ao Chalong and Patong. The big supermarkets in the center of the island are: Tesco, Big C, and Festival. Big C is most like a K-Mart i's even been known to send items with other cruisers out to Chagos!n USA (lots of items besides food), and has the cheapest Thai products. Festival and Tesco are good for meats and imports. Villa market in Ao Chalong and in central Phuket have awesome imported cheeses and specialty items, plus all the normal supermarket things at fairly high prices.
India: In Port Blair, Andamans we mainly shopped for fresh produce and eggs. In Chennai, we were driven to a couple upscale stores, but the selection of goods was not impressive. It's best to arrive in India with all your specialty dry goods and then top up the rice, lentils, spices, yogurt and fresh items that are so very plentiful and cheap.
Sri Lanka: In Galle there were several small supermarkets plus fresh fruit/veg stalls and the main fresh market. You could get more "European" food through Mikeís Yacht Services. The government sets prices on bulk and canned items, and alcohol. Check on the bottle or container for the price. Trincomalee is now open to cruisers on the eastern coast and has markets.
Maldives: We only visited Addu Atoll, in the south but friends on s/v Totem cruised for 2 months in 2015 from the north to the south. There are now fresh markets (though eggs are pretty bad) on many islands and good shops in Male where you can get all kinds of imported interesting food. Capers, anyone? There is a small shop, 3S, in Feyhdoo which has a good cruiser's selection. Another shop proprietor in Feyhdoo, named Mulla, can also get things specially from Male (the capital) and local farms if you place an order with him. He's even been known to send supplies with other cruisers out to Chagos!
Here's an overview of what's available where, as of 2015. This is just a rough guide, and can change, of course, over time. Just about anything you could want is available in Dili (Timor-Leste), and Singapore, so I've not included them on the table. The main lack in Dili is a choice of interesting cheese other than edam, gouda, mild cheddar and cream cheese. Chennai, India had awesome fresh food, but i recall the grocery stores being fairly basic. But who wants to cook when you can eat out in southern India?
Item
Indonesia
Malaysia
Thailand
India
Sri Lanka
Maldives
NOTES
Cheese
Manado, Sorong,
Bali. Not cheap
Expensive
& imported
Good choice
Rare
Local,
and good
Poor
choice
India and Sri Lanka have a strong dairy industry with local cheeses and yogurts.
Butter, Yogurt
Yes
Yes
Yes
Yes
Yes
Yes
Canned butter available in supermarkets
Sweetened
condensed milk
Yes. Frisian Flag
Gold is only 1 w/out
palm oil
Yes
Yes
Yes
Yes
Yes
Canned evaporated
milk was more common
Powdered milk
Yes
Mostly for kids but some brands are plain and instant.
Yes. Choices
Children's milk is usually
flavored and sweet
Tofu, tempe
Yes
Tofu, at markets
Yes
Yes
We didn't search for tofu or tempe in Sri Lanka or Maldives.
Sugar/Sweets
White, palm
(in rounds)
White, brown
palm (in logs)
White, brown
White, brown
palm (jaggery)
White, brown
palm (jaggery)
White
Cocoa is everywhere. Thai bee honey is good. Dark chocolate is hard to find in SL & Maldives.
Whole wheat flour
At supermarkets but only biggest cities.
Other flours
Yes
Maybe
White flour everywhere. Also tapioca and sago. Beware old flour in Sri Lanka & Maldives
Pasta
At all big stores
Rice noodles and bean noodles are common
Peanuts & cashews
Yes, at fresh markets. Either raw or roasted.
Unknown
Indonesia has candlenuts, good for curries, and kenari nuts in Banda/Ambon.
Peanut butter
Everywhere, but cheapest in Malaysia and Thailand
Granola, Cereal
Sorong, Manado, Bali
Some. expensive
Best choice
No
Little choice
No
Oats & corn flakes are everywhere
Lentils,
Dry beans
Yellow, red, brown everywhere.
Also split peas, kidneys, butter beans etc.
Sold as bulk in markets
or packaged in stores
Rice
Plain & sticky. Black
Jasmine. Brown in big stores
Yes
Basmati
Basmati
"Local" Maldives rice has bad earthy flavor
Crackers
Everywhere, and inexpensive
Those wrapped in little packets keep longer
Tea, coffee
Locally grown tea and coffee is common. Herbal teas are mostly in larger supermarkets.
Juices
Cordials, like Sunquick are everywhere. Boxed UHT juices are found most everywhere at high prices
Alcohol
Beer & local arrack
(very harsh)
Everything, in duty free Langkawi
Cheap beer, expensive
wine, liquor
Expensive
Beer & local
arrack (good)
None
Dili has wine at medium prices ($8 to 12/bottle). Singapore wine is expensive.
Canned veggies
Canned corn is ubiquitous. Some canned tomatoes. Canned beans & chick peas occasionally found.
Canned fruit
Usually peaches, lychees or pineapple
Some dried fruits (always raisins) at big stores. Dates abound during Ramadan.
Canned fish
Canned tuna is everywhere, but prices vary a lot & may not be dolphin safe
Condiments &
Cooking oil
Yes, everywhere
No
mustard
We boycott palm oil for environmental reasons. Olive oil can be found at upscale supermarkets.
Coconut milk/
cream powder
Only
supermarkets
Yes
Yes
Yes
Yes
Yes
Cheap & longer keeping than
fresh coconut. Great for curries
Personal items
Toothpaste, toothbrushes, hand soap sold in shops.
Deodorant choice limited
Tampons found
in supermarkets
Toilet paper
Sold in
supermarkets
Sold in
supermarkets
Yes
Yes
Sold in
supermarkets
yes
Not commonly used in Indonesia, Malaysia or Sri Lanka so not much selection.
Mosquito repellent
Citronella candles and mosquito coils are common.
Personal DEET-containing repellent is rare
Bug killing sprays
are sold everywhere
SPICES
SE Asia is the spice capital of the world! You name it, itís here, both fresh and powdered: cinnamon, vanilla, ginger, nutmeg, mace, cloves, cardamom, coriander, anise, cumin, turmeric, mixed masala, pre-mixed curry powders. Use your nose to determine the freshness of the product. Usually bulk in the markets is the best, but if you want just small quantities, you can find things pre-packaged in the stores. If they're fresh, you can smell the spice through the thin plastic. There are more and more "specialty" mixes, like for making butter chicken masala or rojak, or tom ka gai, and the quality/flavor varies, so best to buy and try some before stocking up.
Dried herbs are not so easy to find. The staples are oregano and basil. Fresh Thai basil is everywhere in Thailand. Fresh mint can be found in Langkawi and Thailand.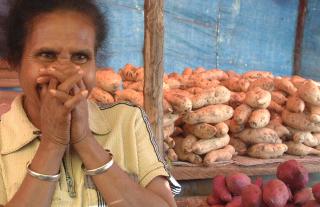 Hiding a smile. Potato seller in Timor, Indonesia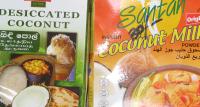 Coconut milk powder keeps
better than fresh coconuts
FRUITS/VEGETABLES
Indonesian, Sri Lankan and Indian markets are a feast of fresh produce. Bargaining is advised. Some Bahasa Indonesia words and numbers are good to know. Water spinach is called "kankung" in Indonesia, Malaysia and Thailand.
Mangoes and avos are very seasonal, so donít expect them year round. Papayas seem to be always available everywhere.
Un-refrigerated eggs, "telur" in Bahasa are available at the fresh markets (the supermarkets seem to keep them cold) but you might want to bring an egg carton or youíll be taking eggs back to the boat in a little tied up plastic bag.
Thailand and Sri Lanka are much better than Langkawi for stocking up on fresh fruit and veg which is all brought from the mainland. In a pinch, in Kuah, you can find small stores with fresh greens, mint, papaya, pineapple and the usual onions and potatoes, eggplant and cabbage.
The choice of produce in Maldives (Gan) depends on what the store owner has brought down from Male recently.
Onions, potatoes and pumpkin are found throughout SE Asia. For the adventurous there are local root crops like cassava and sweet potatoes. Coconuts, both green as drinking nuts, and brown as dry nuts are everywhere. If you use a lot of coconut in curries you might want to stock up on powdered coconut milk and cream which is cheap, keeps for months and takes a lot less room than the nuts.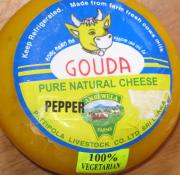 Sri Lankan cheese. Yum.
DAIRY
I've outlined it briefly in the table above, but it helps to know that dairy products (with the exception of yogurt) are not used very much in the local cuisine of Indonesia, Malaysia or Thailand.
In contrast, both Sri Lanka and India have a huge dairy industry with fresh buffalo curd (yogurt), butter, cheeses (hard and soft, aged or not) and fresh milk. Plain (whole or skim) powdered milk is becoming easier to find now in Indonesia and Malaysia, and is plentiful in Singapore, Thailand and Sri Lanka. Most milk is marketed for babies and is fortified or filled with sweeteners or vanilla flavoring. Look for packages with pictures of adults on them for best results. If you want instant, be sure to read the labels well -- some of the powdered milks took professional blenders to mix!
.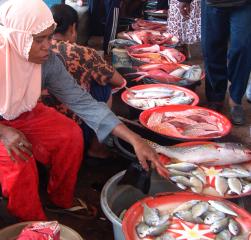 Fresh fish market in eastern Indonesia
MEAT AND FISH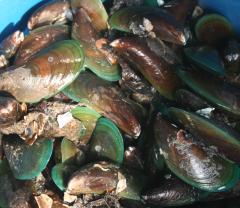 Green mussels in Thailand
There's not much pork in Indonesia except in Bali where beef is hard to find. Chinese markets in (Muslim) Malaysia will have pork.
Timor-Leste has all meats (pork, beef, lamb, chicken) and it's good, but pricy. Singapore, ditto. Meats in Thailand can be very good if you're careful what you buy. They also have salted cockroaches, snake, and crickets, if you're so inclined....
Chicken may be tough and stringy at the fresh markets. You can find good imported frozen chicken at the upscale supermarkets.
Fresh and dried fish is sold at all markets, everywhere. If you want it fresh from the sea, you can buy or trade for fresh fish, shellfish. squid and lobster (be sure the females arenít berried) in Indonesia and Thailand.
We bought beautiful, tasty green mussels in Thailand right from a fisherman and his wife.
---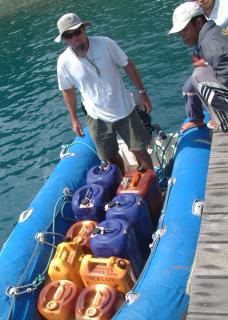 Filling with diesel & gas in Lombok
Indonesia : The national (subsidized) price in 2015 was 6500 R (about 40 US cents) per liter, but given that we had to pay middle-men, or pay for transport of the diesel in jerry jugs to docks, we usually paid about twice that. Both Indonesia and Malaysia have laws against selling diesel in jugs, but there are no docks to pull up to. It's a constant battle to figure out where and how to refuel, except in Male and Phuket where you can go to a dock. On the 2006 Rally in Indonesia we got it easily by jerry jug in Kupang, Lombok, Bali, Kumai. Make sure you're full when leaving Kupang as we were running a bit low by the time we got to Lombok - the winds were light so we had to motor much of the time. Itís critical to filter the diesel as it goes into your tank, although it often looked very clean. We bought from the fisherman's dock in Sorong, for slightly more than the subsidized price. In Tual it was delivered in jerry jugs to the boat, at night, even though we were paying "real" prices. Somewhere in Indonesia in 2014/2015 we got bad fuel, even though we always filter it.
Timor-Leste: Diesel is available from the Tiger Station in town for US$1.25/liter. There is a surcharge to deliver it to the boat in jugs.
Singapore: There's no fuel dock at One 15 Marina and we don't have current info on other marinas.
Malaysia: We got fuel by jerry jugs in a rental car at Admiral Marina, Port Dickson (the fuel dock was broken), then again at Telaga Harbor Marina, Langkawi, once by jerry jug and once directly to Ocelot at the fuel pontoon. The gas station is literally right next to the fuel dock, and they charge quite a bit less but limit you to 20liters per day per boat. If you have time.... We still used the Baja Filter. $1.25 to $1.50 is pretty standard diesel price.
Brunei: The least expensive fuel in SE Asia and the easiest to get, although most yachts still use jerry jugs and hire a driver from the yacht Club to help out. Price, with delivery, was about 25 US cents/liter in 2014.
Thailand: We got fuel by jerry jug via rented car to Nai Harn Bay. Ao Chalong has a fuel dock accessible at high tide on the pier. It's about $1/liter, the same price as the stations inland. That's unusual!
India: In Chennai we got diesel in jugs, organized by our "sponsors" at TNSA (Tamil Nadu Sailing Association), the organization who helps with clearance papers and docking. In the Andamans we stopped for emergency fuel in Hut Bay, Little Andaman and went by truck to an inland "station" (a structure with 55 gallon drums stacked high) where they hand pumped 400 liters of diesel into our jugs. Don't remember the price, which means it was neither exorbitant, nor cheap.
Sri Lanka: We used jerry jugs, and Mikeís Yacht Services in Galle delivered right to the dock in the security area - $.60/liter. If you use GAC (which claims a monopoly) they'll charge you an extra 10%.
Maldives: We had it delivered to the wall in Gan, but it's easy to arrange yourself. Just go to the fuel station half way up Feyhdoo and ask. However, the meter on the fuel truck over-reads by a good 10%, so the fuel will cost you that 10% extra. Don't know how good the metering is at the station, but the truck and the station are owned by the same company.
OUTBOARD GASOLINE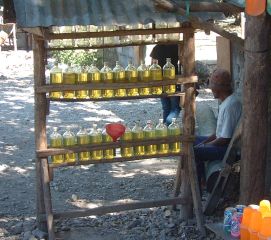 Don't be tempted. These are quick stop
gas stations for motorcycles only.
Indonesia: In Kupang the rally helpers on the beach schlepped our jerry jugs (for a hefty surcharge). It's probably cheaper to hire a bemo or small truck for a couple of bucks and make a run to the fuel station yourself. The roadside stands with liters of fuel are for the ever-present motorcycles.
In Lombok we got it in jugs, via truck, with Mohammadís brother, again for a hefty surcharge.
In Bali we took jerry jugs to a petrol station via rental car. Don't get the premix as it's not the correct oil for (cool running) outboard motors.
In Kumai, Kalimantan, Herry of Herry's Borneo Wilderness Eco Tours can arrange for fuel. Petrol was sold at the fishing wharf in Sorong (along with diesel out of 55 gallon drums).
Malaysia: From Port Dickson, we bought gas in jerry jugs, transported with a friend's or rental car.
In Telaga, Langkawi we took jerry jugs by foot to the petrol station that's 50 meters from the fuel dock. It's cheaper that way.
Thailand: We got gasoline by jerry jugs and rental car from Nai Harn Bay, Phuket.

Decanting propane, not fun!
Sri Lanka: Mikeís Yacht Services brought it right to the dock in our jerry jugs.
Maldives: We could have gotten gas from the station but didnít need it.
If you're headed for Chagos, be sure to carry lots of outboard fuel, as the atolls are big, and people use dinghies for fishing.
COOKING GAS
We swapped a French for an Aussie tank in Aus, so now have all US/Aus fittings (some with newer US outer threads). Our bottles are the standard 20 lb (8.5 kg) size. They were all full leaving Darwin. Make sure the valves have bleed-screws, necessary when gravity feeding from 1 bottle to another (or when filling in Aus).
Indonesia: They use their own fittings here, and we got one so that we can decant the propane from a full to an empty tank right on Ocelot. In Bali there's a big LPG station close to Serangan anchorage, closed weekends. In Kumai Herry at Kumai Yacht services got us LPG. We decanted our own in Sorong, and Tual.
Timor-Leste: The propane company is a block to the left, and across the street from the beach/ramp landing by the maritime Police where you take your dinghy.
Thailand: We used a rental car (but you could easily go by tuk-tuk) to get to the actual LPG dealer in central Phuket.
Sri Lanka: They couldnít use our fittings, so we tried gravity feed, to no success.
Maldives: We bought a full bottle and succeeded in gravity feeding to ours.
---
Provisioning Pages: Up | Caribbean Provisions | Fr. Poly Provisions | Tonga & Fiji | SE Asia Provisions
Sue's Pages: Sue Muller Hacking | Logs | Provisioning
Top Level: Home | Destinations | Cruising Info | Underwater | Boat Guests | Ocelot | Sue | Jon | Amanda | Chris | Site Map | Make a Comment
---
If our information is useful,
you can help by making a donation
Copyright © 2000‑2017 Contact: Jon and Sue Hacking -- HackingFamily.com, svOcelot.com. All rights reserved.