Australia Flora/Fauna
Caribbean Destinations | Pacific Destinations | Indian Ocean Destinations | Pacific Newsletters | Indian Ocean Newsletters | Flora and Fauna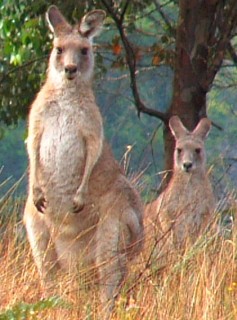 Alert Eastern Grey kangaroo with
juvenile. Snowy Mountains, NSW
FAUNA OF AUSTRALIA
This section highlights some of the unique animals and birds of Australia.
Australia is one BIG island. Actually, it's a continent, of course, and a very complex one in terms of plants and animals. Although we spent over 8 months cruising Australia we visited only a very small part of this country that is as large as the United States.
For Australian animal identification we used several different guides (mouse over the links for more info):
Birds of Australia (Princeton Field Guides)
by Ken Simpson and Nicolas Day; Princeton University Press.
A Field Guide to the Mammals of Australia
by Peter Menkhorst and Frank Knight; Oxford University Press
Encyclopedia of Australian Wildlife
by Steve Parish and Pat Slater; Steve Parish Publishing, Australia
Our other information on the animals of Australia came from park rangers, naturalists and guides, plus brochures and information signs in the parks that we visited, in addition to the material picked up here and there in books. The main parks we visited include: The Blue Mountains, Kosciusko National Park, Wilson's Promontory, The Grampians, The Great Ocean Road and Alpine National Park.
We apologize for the lack of a flora page but there was just too much to learn about the animals without getting into detail on the botanical side of things!
Up | Australia Fauna | Australia Mammals | Australia Birds 1 | Australia Birds 2 | Australia Home | Australia Newsletters | Australia Cruising Info
West Indies Flora/Fauna | Venezuela Flora/Fauna | SW Caribbean Flora/Fauna | Galapagos Flora/Fauna | Fr. Polynesia Flora/Fauna | Tonga & Fiji Flora/Fauna | Australia Flora/Fauna | Southeast Asia Flora/Fauna | Sri Lanka Flora/Fauna | Madagascar Flora/Fauna | Marine Mammals
Caribbean Destinations | Pacific Destinations | Indian Ocean Destinations | Pacific Newsletters | Indian Ocean Newsletters | Flora and Fauna
Top Level: Home | Destinations | Cruising Info | Underwater | Boat Guests | Ocelot | Sue | Jon | Amanda | Chris | Site Map | Make a Comment
---
Lifetime
Commodores
of the
Seven Seas
Cruising
Association

If our information is useful,
you can help by making a donation
Copyright © 2000‑ Contact: Jon and Sue Hacking -- HackingFamily.com, svOcelot.com. All rights reserved.