13 Feb 03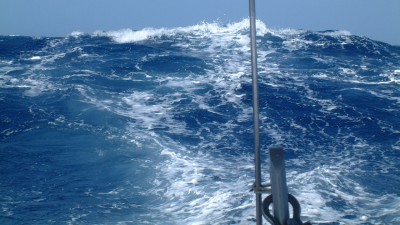 The Caribbean kicks up some big
waves as we head for Panama
The Saga Continues...
Dear friends and family,
And saga it has become. About 9 last night we entered the area of the Caribbean that we'd been worried about. I'm not sure why the weather reports don't really mention it. They only said 20-25 knots of wind and seas to 12 ft. Yeah, right. The winds started building to about 35, with higher gusts, and they started clocking around behind us. We expected this, and to prevent the wind from getting behind the jib (head-sail) we gybed the sail to the other side - only to have the wind come back a bit. Since we could no longer make our desired course, we eventually had to gybe back again, and then gybe a third time later when the capricious wind laughingly slipped back again. We also rolled up about 1/2 the jib to slow us down a bit in the stronger winds.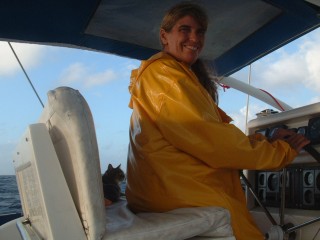 Sue and Arthur at the helm
in a spray-filled cockpit
This morning the sea was white as far as we could see. Huge waves were building and then stacking on top of each other into mammoth wave-trains of 3-5 waves in succession. These tend to form up behind us and lift our sterns up. As we gather speed going down the face of the wave, Ocelot starts surfing, with twin sprays of water from our bows. The helmsperson has to be sure to point straight down the face of the wave to avoid getting thrown sideways - a dangerous situation called broaching. The surfing itself is OK, even exhilarating, but a bit dangerous and very taxing. Eventually, the top broke off one of the waves and we got a bit of spray into the cockpit and down into the cabin. Then, about 1pm, a huge wave formed up behind us and just when Ocelot would have risen up to let it pass underneath, it broke - about 6' above the dinghies and cockpit. Water cascaded into the cockpit and down below, dividing and flowing into each hull, there to trickle through to the bilges to be pumped overboard by the bilge pumps.
I came rushing up from where I'd been reading below to see that the 2 dinghies (they're nested together and hanging in the davits) were not as I'd left them. The huge volume of water had filled the dinghies and apparently broken one of the shackles holding up the bows, which were now hanging down into the flow of water between our hulls. Adrenalin time. Sue was on the helm so the kids and I rushed back to try to lift the dinghies up. Eventually, I got hold of the steel cable that usually connects to the davits, and Amanda gave me a couple of shackles to reconnect the davits so we could lift the dinghies up. Once the dinghies were up and not in any more danger, Chris and I wrestled them into their correct positions. Then came the job of cleaning up below...
But we're now all happy and healthy (if a bit salty) and looking forward (with GREAT anticipation) to landfall in the San Blas. As I write this (4pm local) we're at 10° 33' N by 76° 38' W, scooting along at about 7 knots as we have all along. (Actually, when we surf, we've got 15 ton Ocelot up to, get this, 23.5 knots according to the GPS. GADS! But we still only average 7 knots or about 170 miles/day over the long haul). This puts us about 130 miles from the break in the reef that we'll use as entrance to the San Blas (see map). With luck, we should have the anchor down by noon or so.
All our love to all of you -- Jon, Sue, Chris and Amanda aboard s/v Ocelot
Up | 12 Feb 03 | 13 Feb 03 | 14 Feb 03
Panama Letters | Ecuador Letters | Galapagos Letters | Marquesas Letters | Tuamotus Letters | Tonga Letters | Fiji Letters | New Caledonia Letters | Australia Letters
Top Level: Home | Destinations | Cruising Info | Underwater | Boat Guests | Ocelot | Sue | Jon | Amanda | Chris | Site Map | Make a Comment
---
Lifetime
Commodores
of the
Seven Seas
Cruising
Association

If our information is useful,
you can help by making a donation
Copyright © 2000‑ Contact: Jon and Sue Hacking -- HackingFamily.com, svOcelot.com. All rights reserved.