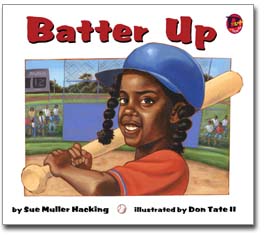 The rich cover art of Batter Up
After the year of research and organization needed to create Boatless in Seattle, I was interested in a quicker project. When I read in the Society of Children's Book Writers and Illustrators Bulletin that there was a call for submissions from Lee and Low Books for emergent readers with a multi-cultural theme, I got to work.
Writing for young children is akin to writing poetry. Every word must count, and must be within the reading ability of the child. This book has seven pages and eight words, but it tells a story! The publisher translated it into Spanish, and both the English and Spanish editions are used as part of reading programs across the United States.
I love the rich illustrations by Don Tate!
Synopsis: An African American girl scores for her team by hitting a home run.
Publisher: Bebop Books, an imprint of Lee and Low Books. Fall 2000
Batter up
is sold as part of an Emerging Readers set, available from Amazon.com
Levels:
Guided Reading:
B
Intervention:
1
DRA level:
2
Word Count:
8
6-pack Item #:
309628
NYC Fast Track #:
58430-962-7
---
Sue's Writing: Up | Sir Edmund Hillary | Take a Walk | Boatless in Seattle | Batter Up | Sue's Bio
Sue's Pages: Sue Muller Hacking | Logs | Provisioning
Top Level: Home | Destinations | Cruising Info | Underwater | Boat Guests | Ocelot | Sue | Jon | Amanda | Chris | Site Map | Make a Comment
---
Lifetime
Commodores
of the
Seven Seas
Cruising
Association

If our information is useful,
you can help by making a donation
Copyright © 2000‑ Contact: Jon and Sue Hacking -- HackingFamily.com, svOcelot.com. All rights reserved.