Madagascar Flora/Fauna
Caribbean Destinations | Pacific Destinations | Indian Ocean Destinations | Pacific Newsletters | Indian Ocean Newsletters | Flora and Fauna
This section includes pages on Madagascar Lemurs, Reptiles, Birds and plants, on which we also highlight some of the natural history of Madagascar.
Looking at a map of Africa, you can see a huge oblong island on the southeastern side -- a land known since the days of Marco Polo as Madagascar. But long long ago, in the time of pre-history when the southern hemisphere was all one continent known as Gondwanaland, Madagascar was actually attached to both Africa and Asia. About 160 million years ago continental drift caused Madagascar to split from Africa and the deep Mozambique Channel was formed between the two. Then about 75 million years later a hunk of Madagascar broke off and drifted northeast to become today's India.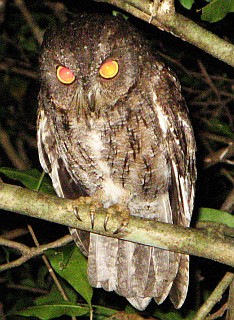 Madagascar Scops Owl
What does all this geology have to do with flora and fauna? Just about everything -- in that some of the animals that developed in Gondwanaland stayed with the land that became Africa, some floated away on Madagascar, and others went off towards Asia on the landmass that became India. A few were able to cross the land bridges that appeared and disappeared between the lands. Madagascar has been isolated from other land for 80 to 100 million years, a fact which has had huge consequences for its plants and animals.
Although Madagascar appears to be a close neighbor of Africa, in fact the plants and animals that live there are more closely related to those of India and Asia and many of them are not related to any other plants or animals in the world. These latter we say are "endemic" to Madagascar. There are over 200 bird species that breed on Madagascar, and half of those are endemic. The only amphibians in Madagascar are frogs -- 150 species of them -- of which 98% are endemic. Lemurs are the most famous of the mammals of Madagascar, and of the 31 living species 95% are endemic. (A few lemur species were introduced to the Comoros Islands between Africa and Madagascar). Of the 12,000 plant species found on Madagascar, an astounding 80% of them are found in the wild nowhere else on the earth!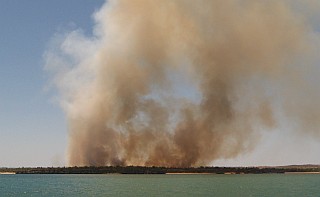 Slash and burn farming is a major destroyer
of Madagascar's environment
Madagascar ranks #10 for its diversity of reptiles with over 300 species. (Australia is #1 with over 700 species). But Madagascar is #1 in percentage of endemic reptile species -- with a whopping 91% found only on Madagascar. Most notable are the chameleon species, including the world's smallest chameleon which is smaller than a human little finger. The Nile crocodile lives in Madagascar, along with many frog, gecko and snake species. Luckily for people living in the dry savanna and lush rainforests of Madagascar there are no poisonous snakes. As a naturalist-guide in Réserve Spéciale de l'Ankárana said, "We left all the poisonous snakes in Africa." This is not true of frogs, however, as Madagascar, like South America, is home to colorful poisonous frogs.
Thinking of traveling to Madagascar to see the lemurs, chameleons and beautiful endemic plants and birds?
International flights serve the capital of Antananarivo from Paris, Bangkok, Hong Kong, Saigon, Singapore, Kuala Lumpur and Johannesburg. Tours can be arranged to the national parks throughout the country using domestic flights to reach far-flung corners of the island. Independent travel is possible, but difficult due to lack of infrastructure. The primary eco-tour destinations for lemurs and chameleons include the National Parks of Andasibe-Mantadia, Tsingy de Bemaraha (which is a World Heritage Site), Ranomafana, Montagne d'Ambre, and Ankarafantsika plus the Réserve Spéciale de l'Ankárana and other nature reserves.
Conservation efforts in Madagascar are of international interest due to the high number of endemic species which are threatened or endangered. In 1985 there were 2 national parks, and today there are over 14 including one World Heritage site. As the population of Madagascar grows by leaps and bounds, great pressure is put upon the forests and land. Deforestation has been slowed by national efforts to protect the forests, but slash and burn farming techniques continue and the soils are eroding at a great rate. One has only to fly over the coast or sail along the shore to see how the red soil of Madagascar is washing into the sea. Fires rage day and night destroying the natural vegetation which is later replaced by grasses in which no native plants or animals can survive. These grasslands now cover about 80% of the whole island. More than 75% of the original forest of the island has been destroyed.
Up | Madagascar Lemurs | Madagascar Reptiles | Madagascar Birds | Madagascar Flora | Madagascar Home | Madagascar Letters | Madagascar Journal | Mad Flora & Fauna | Cruising Madagascar
West Indies Flora/Fauna | Venezuela Flora/Fauna | SW Caribbean Flora/Fauna | Galapagos Flora/Fauna | Fr. Polynesia Flora/Fauna | Tonga & Fiji Flora/Fauna | Australia Flora/Fauna | Southeast Asia Flora/Fauna | Sri Lanka Flora/Fauna | Madagascar Flora/Fauna | Marine Mammals
Caribbean Destinations | Pacific Destinations | Indian Ocean Destinations | Pacific Newsletters | Indian Ocean Newsletters | Flora and Fauna
Top Level: Home | Destinations | Cruising Info | Underwater | Boat Guests | Ocelot | Sue | Jon | Amanda | Chris | Site Map | Make a Comment
---
Lifetime
Commodores
of the
Seven Seas
Cruising
Association

If our information is useful,
you can help by making a donation
Copyright © 2000‑ Contact: Jon and Sue Hacking -- HackingFamily.com, svOcelot.com. All rights reserved.