Over the Top
Our track across the top of Northern Australia into Darwin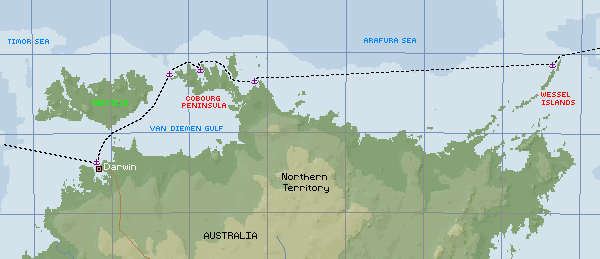 Map scale is 1 degree (60 nautical miles) per division -- Map by Amanda Hacking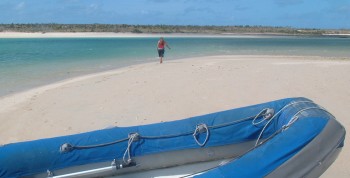 Amanda exploring the desolation of the Wessels
(Sue) Strangely, I almost enjoyed the Over the Top part of our dash to Darwin better than the long sail up the Coral Coast. Maybe it was because the end was in sight? Or maybe because we covered long distances on passage then enjoyed a few days to recuperate -- days spent walking the beaches of places rarely visited by humans! The anchorage in the Wessels not only provided shelter from the heavy winds and lumpy seas, but was eerily beautiful with its striated outcroppings of 250 million year old petrified beaches (so said a fellow cruising geologist) and white beaches. I found new (to me) seashell species on the beach (dead and clean). Although the whole top of Australia is saltwater crocodile territory we never did see any of these immense reptiles. Their danger is not over-exaggerated -- a young girl was taken just the week before (July '06) while walking the beach with her family after an evening fishing trip. We did see lots of birds: frigate birds and osprey, terns (many species), and cockatoos -- both sulfur-crested and red-tailed blacks. Brilliant green and blue kingfishers decorated the mangrove trees on the Cobourg Peninsula anchorages.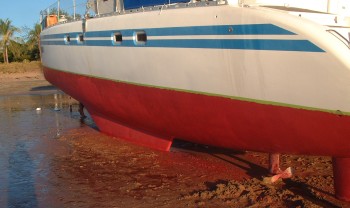 Ocelot sitting on the beach with the first coat on
The town of Darwin has felt more like a personal rat-race than a cruising destination. We had to sort out our Australian visas (we were told in Brisbane that our visas were good for a year, but the officials in Darwin disagreed!), get our Indonesian "social" visas and cruising permits, provision with water, diesel, gasoline, cooking gas and food. We also took the opportunity to careen (beach) Ocelot to scrub down her hulls and paint on a few layers of new anti-fouling. We'd have liked to have time for a visit to Litchfield or Kakadu National Parks, but neither warranted the time or money during the dry season. We did enjoy the wild Mindil Beach Thursday night event -- hundreds of food stalls, entertainers, and thousands of people milling the beach to watch hopefully for the green-flash sunset.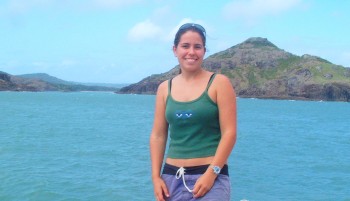 Rounding Cape York, Australia's northernmost point
(Amanda) Somehow, on the sail up the Queensland coast I never thought the trip from Cape York to Darwin would be very significant. Sure, we'd heard horror stories of crossing the Gulf of Carpentaria and I theoretically knew that the distance from the Cape to Darwin was equivalent to the trip from the Whitsundays to Cape York (700 nautical miles) but somehow I thought once we got to the tip of Cape York then Darwin would just be a step away. We'd heard that you needed a permit to go ashore anywhere, so we figured we'd probably just do several overnights to get to Darwin. Wrong again.
First off, the sail across the Gulf (map on Coral Coast) was the best we'd had in ages - wind aft of the beam, low swells, and a nice breeze. A pod of about 50 false killer whales played in our bow-waves for several hours one morning!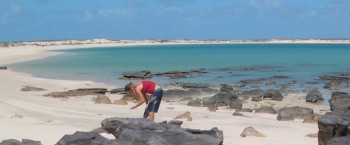 Amanda shelling at 2-Island Bay in the Wessels
Another overnight from the Wessels took us to Malay Bay, and from there it was day-hops around the Cobourg Peninsula. The peninsula is a National Park with 4WD roads and ranger's stations and trails and all that good stuff and it turned out we didn't need a permit and were always welcome to go ashore. So we stayed several days in Port Essington, seeing the birds and wildlife on the dry, hot, deserty land and making friends with the (surprisingly few) cruising boats nearby.
Of course, as soon as we got to Darwin, we found out why there were so few boats - they'd all arrived in Darwin already! Boats galore! I thought poor Darwin was going to get flooded by all the yachties, but it seemed the city was big enough we didn't overwhelm anything.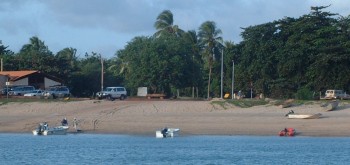 The sleepy Seisia waterfront
(Jon) I, too, enjoyed our "squirt-mode" approach to this passage - short overnight sails that covered a long distance followed by a couple days of recuperation and more in-depth exploration than we could do on our day-hops up the Queensland coast.
We'd heard lots of horror stories about the Gulf of Carpentaria - locally known as the "Washing Machine". It's very shallow - after 24 hours of fast sailing we were still in only 150' (45m) of water. This can kick up short sharp seas, and the strong winds that had shot us up the Queensland coast usually continue over the York Peninsula and into the Gulf. Friends up in front of us had to put into the Wessels because their catamaran was literally flying off the waves.

Exploring a remote beach of Northern Australia
Instead we had a delightful trip. First we recuperated in Seisia for a few days after rounding Cape York, then a double overnight to the Wessel Islands and another few days of quiet exploration and recuperation in this starkly beautiful land. Our overnight passage from the Wessels was a similar rollicking good fast sail, followed by a few days of quiet exploration.
Our approach into Darwin was interesting as the tides can run over 25' (8m) and the currents can be very strong. We had to plan carefully and our very short window for leaving the Cobourg Peninsula dictated that we leave at 1am! But we were glad later as we had current with us most of the way and a relatively easy trip into Darwin.
It was Darwin where we met up with the other 100(!) other boats on the Darwin-Indonesia- Singapore-Malaysia-Thailand Rally. Our arrival was just before Sue's birthday and the rally organizers threw a huge party for all of us on that day, which we thought was nice of them.
Up | Brisbane | Coral Coast | Over the Top | Jon's Thoughts | Cruising Australia | Australia Newsletters
Ecuador | French Polynesia | Kingdom of Tonga | Fiji | New Caledonia | Australia
Top Level: Home | Destinations | Cruising Info | Underwater | Boat Guests | Ocelot | Sue | Jon | Amanda | Chris | Site Map | Make a Comment
---
Lifetime
Commodores
of the
Seven Seas
Cruising
Association

If our information is useful,
you can help by making a donation
Copyright © 2000‑ Contact: Jon and Sue Hacking -- HackingFamily.com, svOcelot.com. All rights reserved.