Prony Bay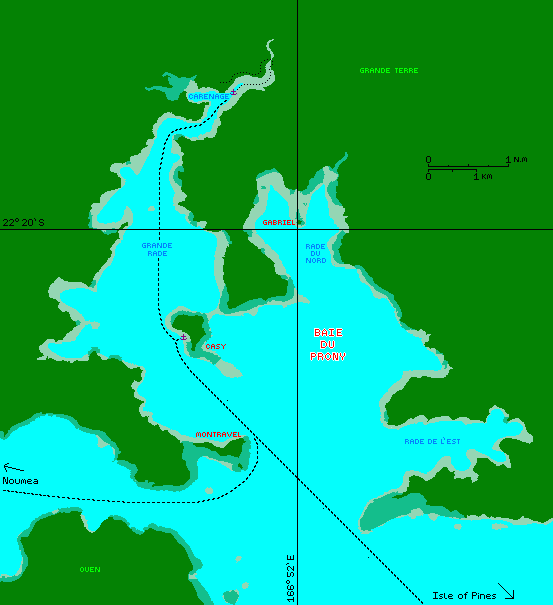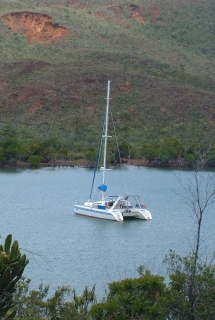 Ocelot in the tranquil Carenage
(Jon) Prony Bay was a marked contrast to the pristine beauty of the reefs west of Noumea, or the southern Isle of Pines area. Prony Bay is fairly dry, with only scrubby vegetation on stark red hills, scarred by years of nickel mining operations. Since nickel mining is the main economic backbone of New Caledonia, they've pretty much been able to do what they want. Even if they tried to clean up after themselves (never an economic proposition) the red soil provides little nutrients for vegetation. Besides, some of the damage was done by small mining operations, long since defunct.
Still, I enjoyed Prony Bay. We found lots of funky old mining equipment. Something often attracts me to old mechanical junk, trying to work out what it was used for and how long it has been there. We also found several nice hiking trails, winding through the hills and giving us lots of good views. But our real finds were the waterfall up at the tip of the Carenage, and the hot-spring-fed pool just next to it. It was actually warm enough when we were there that the idea of a hot-spring was not very appealing, but the water was only gently warmed, making it delightfully refreshing after a long hike.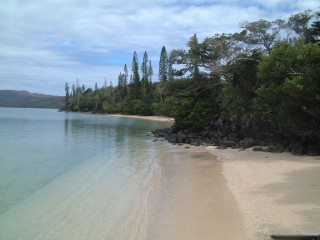 Sandy beach on Isle Casy, Prony Bay
(Sue) After the pristine beauty of the southern reefs and atolls near the Isles of Pines it was strange to return to the mainland (Grande Terre) of New Caledonia with its red hills and green forest marked by nickel mining operations. We anchored a couple nights off Ile Casy which appeared to have a non-functioning resort on it, and several hiking trails. We arrived too late in the day to snorkel, but in truth the area around the island didn't look all that interesting in the water. Just north of the island we passed a buoy in the water marking "L'Aguille", a needle-like underwater formation created by a fresh water uprising in the ocean. It is apparently a wonderful scuba diving spot, but with the heavy overcast and no support divers we didn't attempt it alone. Next time. My favorite part of Prony Bay, other than the walk near the hot spring was probably the arrival. We scooted up from the south under spinnaker, sighted a whale, and were escorted for awhile by a small pod of dolphins. What a glorious sail!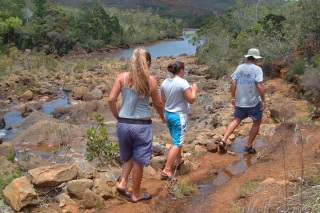 Amanda, Tianna, and Jon hiking near Prony Bay
(Amanda) At first glance, Prony Bay reminded me a lot of Laguna Grande in Venezuela. The same tall, rolling greenish-reddish hills, the same convoluted inlets between them. But Laguna Grande is vegetated by scrubby, dry acacias, and is much redder, whereas Prony Bay (where it wasn't stripped from mining) was green with pines. It was very odd to see pines in New Caledonia. I didn't know they lived in the tropics - I guess I'm mostly used to the dry-climate pines back home.
It would have been nice to dive L'Aguille, and it was a real pity that the few days we were in this inlet, it was overcast. There was even a buoy marking what we figured was the dive site, which is a lot more than we usually get. But we scooted past it from Ile Casy, on our way to the Carenage. Our cruising guide promised several good waterfalls up there, and several hot-springs. And several walks which I wasn't enthusiastic about but went along with. The waterfall was more of a widely-spread cascade, but it was very pretty nonetheless. And the walk up to the hill above where we anchored Ocelot was interesting, with parts of the trail having washed away or eroded into a bit of a gully. Tia, Dad, and I found a type of plant with long grassy spears that we could easily pull out, and spent much of the walk twisting and weaving them into jewelry of a sort. Until we got to the top of the hill, anyway, where we could finally look out over the bay and see Ocelot sitting serenely on anchor below.
Up | Noumea | Western Reef | Isle of Pines | Prony Bay | New Caledonia Letters
Ecuador | French Polynesia | Kingdom of Tonga | Fiji | New Caledonia | Australia
Top Level: Home | Destinations | Cruising Info | Underwater | Boat Guests | Ocelot | Sue | Jon | Amanda | Chris | Site Map | Make a Comment
---
Lifetime
Commodores
of the
Seven Seas
Cruising
Association

If our information is useful,
you can help by making a donation
Copyright © 2000‑ Contact: Jon and Sue Hacking -- HackingFamily.com, svOcelot.com. All rights reserved.