Western Reef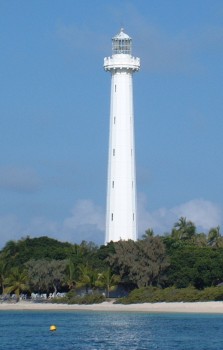 Amedee Lighthouse was built in
France, then reassembled here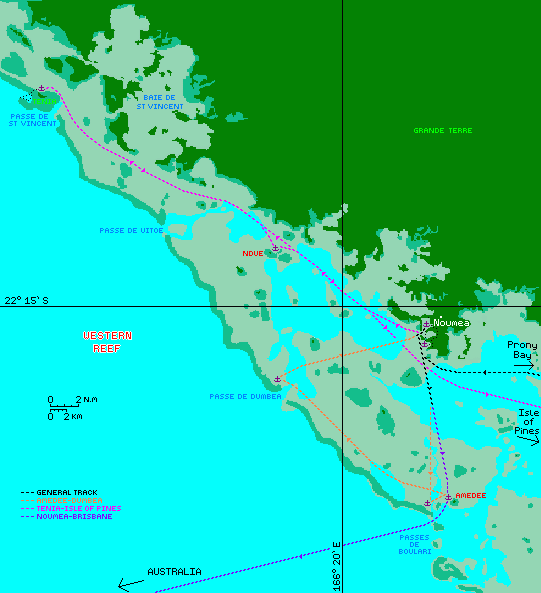 (Jon) This part of New Caledonia was my favorite. New Cal has such an extensive reef system, I would have loved to explore more of it. As it was, we got to see quite a bit even though we were only in New Cal for about a month. Much of this was due to our friends on Scud, whose unstoppable teens were desperate to find new surfing "breaks". So they explored the waves while we explored the reefs.
Some of you might be thinking that we don't usually anchor anywhere near where there might be waves and/or swells, and that's true. It turns out that the good surf breaks were at the many entrances through the outer reef, but we could usually find well protected anchorages behind the reef, with glorious snorkeling but away from the waves. The Scud boys could take their dinghy to the waves while we could use our dinghy to both explore and be our dive platform.
We started by going out to Bulari Pass, just south of Noumea. This is the main pass when leaving Noumea to the south, and it's pretty open and exposed. Although we could have spent the night on the reef, nearby Amedee Island had more protection on free moorings and provided another island to explore. The next day we explored north just inside the reef to Dumbea Pass. We had GPS coordinates there for a wreck we wanted to dive on, but when we go there we could find no evidence of the wreck and no dive mooring. So instead we went up behind the reef to explore the scattered coral formations. Had a delightful dive, followed by lunch and a bit of a siesta, but the wind was starting to come around and make the anchorage choppy. Scud had also blown out one of their engine-cooling pumps and one of our high-power alternators had decided to melt down (for no apparent reason) so we both decided to head back to Noumea.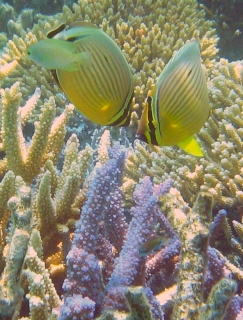 Redfin butterflyfish & acorpora coral
After 2 days of engine work and fresh croissants we were ready for more water-fun, so both boats headed 30 miles NE of Noumea to Tenia Island and the St. Vincent Pass. This was a true paradise. Far enough away from Noumea to discourage casual tourists, we pretty much had the place to ourselves. The island itself hosted our first osprey and the reef was fabulous. We found a pass through the outer reef that we could take the dinghy through, allowing us to explore a protected hook near the pass. This meant we were in the outer ocean with its fabulous abundance of marine life, yet we were still protected from the swells that crashed against the reef just south of us. We dove here repeatedly, and the hook in the reef was big enough that we didn't feel we were diving in the same place. Evenings we explored Tenia and shared meals with Scud, discussing the day's high points. Wonderful!
(Sue) Oh, Heaven. After a week at sea and a week in the city atmosphere of Noumea I was desperately ready for a clear-water-beautiful-reef fix. The nights we spent at Boulari and Dumbea Passes, and the time at Tenia and Ndue Islands were just what I needed to feel like I was cruising the South Pacific again. Once we saw the fantastic reef and its little islands, we couldn't believe how little this is talked about as a cruising destination. I guess most boats come through here en route to Australia, and may be concentrating more on "getting home" or getting to the continent before the cyclone season than on enjoying New Cal for itself. I think the lagoon and barrier reef system of New Caledonia rank as highly beautiful as the reefs and lagoons of French Polynesia. The French colonialists sure had an eye for beauty!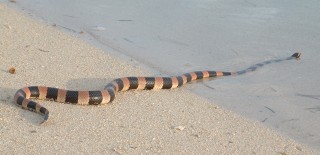 A deadly banded sea krait enters the water
Most of the reef area and islands south of Noumea are within a Marine Preserve and so it was "look, but don't take" snorkeling and beach walking. The reef fish were at least twice the size we were used to seeing in Fiji, Tonga and Fr. Polynesia, which was thrilling to see. On shore there were many sea birds, ospreys nesting, crabs, and the ubiquitous sea snakes. They were so prolific, you had to be VERY careful that you didn't step on one!
(Amanda) The islands were gorgeous. What more is there to say?

Warren, Tianna and Amanda on Tenia Island
Perhaps I should say a bit more. What was gorgeous? The sand, though it was softer in the Isle of Pines. The shells we found. The water. The coral. The fish. The snakes. The company. No, the snakes and the company were not one and the same.
In Amedee, we were supposedly supposed to pay to get up the lighthouse, but the other teens and I finagled our way up there. It was an amazing view - I just wish I'd had the camera.
The waves were heaven for the guys we were with, but I'm afraid I'm not too into the whole surfing-over-2-feet-of-water-over-coral thing. Nice easy breaks on a sandbar would probably keep me and my body-board happy.
Up | Noumea | Western Reef | Isle of Pines | Prony Bay | New Caledonia Letters
Ecuador | French Polynesia | Kingdom of Tonga | Fiji | New Caledonia | Australia
Top Level: Home | Destinations | Cruising Info | Underwater | Boat Guests | Ocelot | Sue | Jon | Amanda | Chris | Site Map | Make a Comment
---
Lifetime
Commodores
of the
Seven Seas
Cruising
Association

If our information is useful,
you can help by making a donation
Copyright © 2000‑ Contact: Jon and Sue Hacking -- HackingFamily.com, svOcelot.com. All rights reserved.