To Farquhar Atoll
24 September 2007, 6°15'S, 54°15'E (at noon)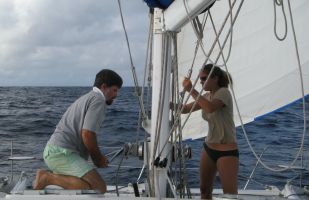 Setting sail off Mahe Island, Seychelles
Dear Friends and Family,
On Sunday September 23rd we finally left the Seychelles and jumped off for Madagascar. This is a trip we've been somewhat dreading. Not only will it be one of our only up-wind passages, but the winds and waves off the northern tip of Madagascar are reputed to be much stronger than the forecasts say. To top it off, our forecasts for the Indian Ocean have been just this side of useless anyway - hopelessly inaccurate. Very frustrating.
But there do seem to be fluctuations in the winds, and we've picked what appears to be a window of lighter winds that seems to be about 4 days long. Leaving the Seychelles is an incredibly complicated affair - we had to start the process on Friday!
We decided to leave via the east end of Mahé Island. During the day we had reasonable winds, but the wind started to come up and we took a reef just at sunset, and a second at 4am. We shook them both out Monday morning but we've put 1 back in now (23 knots at 60° apparent). At noon we were 150 nautical miles from Victoria, Seychelles, with 450nm to go to Madagascar.
Unfortunately, our Newsletter Repeater is still down, so we're sending these just to family.
Fair winds and calm seas -- Jon, Sue and Amanda Hacking
---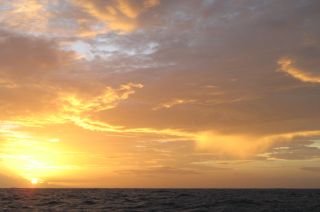 Sunsets at sea are wonderful
25 September 2007, 250nm from the Seychelles, 334nm to go
Dear Friends and Family,
Just a quick note - Winds stayed under 25 knots last night, so we only needed 1 reef. This morning they went light and moved from the SE more into the ESE, which gives us a better angle. So we've been heading more southerly than we thought we'd be able to, and we've eased sheets a bit, which makes it more comfortable. Hope it lasts. At noon we were at 7°40'S, 52°52'E.
Fair winds and calm seas -- Jon, Sue and Amanda Hacking
---
26 September 2007, at sea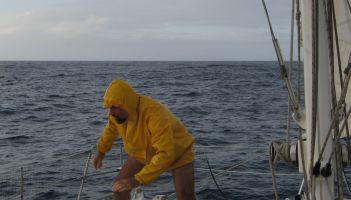 Jon returns from reefing the mainsail in a squall
Dear Friends and Family,
Sue handed off a clear horizon when Jon came on watch at 4am, but by 5:30 it had clouded up with lots of squalls. These had some rain but not much wind, and we dodged between them without much problem. But at 11am a squall came through with lots of wind, and the wind didn't die off behind it - 24 knots. Amanda and Jon took first 1 reef, then a second one.
This is almost certainly the front we had been expecting, but we weren't expecting it until tomorrow! Our noon position was 9°10'S 51°35'E, still on the straight line between Mahé (the main Seychelles island) and Madagascar. The wind is at about 70° apparent - manageable but uncomfortable when so strong, and it's just going to get worse. Time to look for a hole to duck into...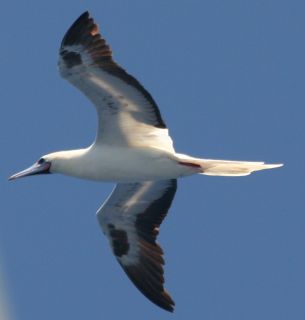 Amanda's Red Footed Boobie photo
Of which there are actually several (you might want to fire up Google Earth here). The Providence Group is closest (35nm downwind) and has 2 tiny islands and a possible anchorage at 9°29'S 50°59'E, but the shelf is tiny and we don't think the island will give much protection. Cruisers who've been there report minimal shelter from the winds and seas.
The Farquhar group has a much better anchorage near 10°06'S 51°10'E, and the group would be fun to explore for the week or so until the next weather window. But they also have a resort, and we're supposed to pay big $$ to visit the island. We can legitimately claim port of refuge, but nobody wants to stay where they're not wanted. It would also require a night approach, as it's 50nm away and we couldn't get there before 8pm. And we know the charts are not very accurate, so it would be a radar/depth-sounder approach.
About 240nm west (downwind) of us is Cosmoledo Atoll at 9°43'S 47°35E, which is out of the way but apparently nice to visit, with lots of birds. 280nm SW of us but still easy to get to is Glorieuse Island (11°33'S 47°19'E) with a friendly French Foreign Legion base. But both of these require motoring 100nm back upwind to get to Madagascar. Not fun.
Farquhar is on the way, so we'll probably check it out. Stay tuned...
All the best -- Jon, Sue and Amanda
---
27 September 2007, Farquhar Atoll, Seychelles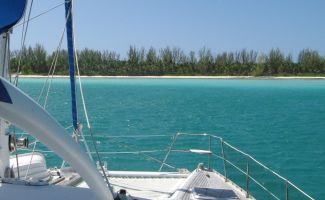 Ocelot's pretty anchorage inside Farquhar Atoll
Dear Friends and Family,
We left you yesterday with strong winds and us looking for a hole to duck into. Actually, 24 knots of wind isn't that bad, but we knew it would get worse. Also, the seas between here and Madagascar have a nasty reputation due to some interesting currents and sea-mounts.
So, at 10pm last night, with the full moon behind some clouds but still lighting everything pretty well, we snuck in behind Farquhar Atoll, dropped sails, and motored up slowly with radar, depth-sounder, GPS and electronic charts all close at hand, and Sue with a powerful spotlight on the bows. We dropped the hook in 20' (6m) at 10°06.7'S 51°01.5'E and it caught immediately. This makes our 5th night approach so far this trip, which isn't bad. Time for a good nights sleep!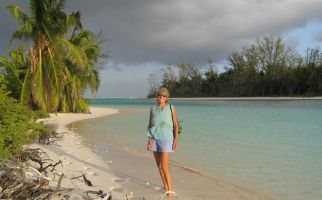 Exploring Farquhar Atoll
It turns out that we'd anchored almost exactly where we'd planned to, but that was close to the pass from the lagoon and there was a strong current that bounced us around a bit. So today we motored through the pass, inside the lagoon and up to the windward side, anchoring behind North Island at 10°08.6'S 51°10.7'E. We can see no sign of a resort, and nobody has asked what we're doing here. We've seen only one fisherman and a handful of houses, probably associated with a copra operation.
Since the next weather window south doesn't arrive for a week or so, we'll probably be exploring this atoll a bit. The islands are covered with Casuarina Pines, palm trees, and super-fine sand. We haven't seen many coral heads, but I'm sure we'll find something to keep us entertained.
Fair Winds and Calm Seas -- Jon, Sue and Amanda
Up | To Farquhar Atoll | Madagascar Arrival | Yacht Rescue | Inland Madagascar | Madagascar Coast | Ocelot Returns
Madagascar Home | Madagascar Letters | Madagascar Journal | Mad Flora & Fauna | Cruising Madagascar
Laos Letters | Vietnam Letters | India Letters | Nepal Letters | Indonesia Letters | Malaysia Letters | Thailand Letters | Sri Lanka Letters | Maldives Letters | Chagos Letters | Seychelles Letters | Madagascar Letters | Mayotte Letters | Africa Letters
Top Level: Home | Destinations | Cruising Info | Underwater | Boat Guests | Ocelot | Sue | Jon | Amanda | Chris | Site Map | Make a Comment
---
Lifetime
Commodores
of the
Seven Seas
Cruising
Association

If our information is useful,
you can help by making a donation
Copyright © 2000‑ Contact: Jon and Sue Hacking -- HackingFamily.com, svOcelot.com. All rights reserved.