Southern Hemisphere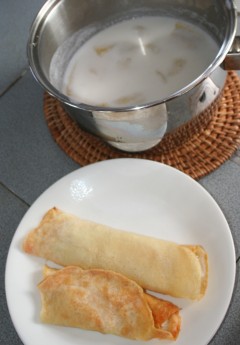 Amanda's banana-coconut crepes
Saturday, 31 March 2007, Indian Ocean
Dear Friends and Family,
Sue here on night watch. Passages can be fun, once we get used to the motion of the boat and learn to sleep on a rocking bed. Then if the winds and seas behave themselves we can actually get some things done as we sail.
The sea tonight is like black silk, and there are animals around. A couple evenings ago we sighted a spinner dolphin leaping 7-10' (2-3m) into the air and spinning around before splashing back into the ocean, only to do it again a few seconds later, over and over. Yesterday afternoon Jon and Amanda heard a "twang" from the aft deck and looked back to see that our 150lb (70kg) test fishing line had just snapped. Looking back we saw what appeared to be a 5-6' (2m) long sailfish leaping out of the water repeatedly, presumably trying to throw its unwanted meal. Just a few hours ago Amanda was accompanied by a pod of small dolphins who cut black arches in the glassy, moonlit sea off our beam. It's beautiful out here.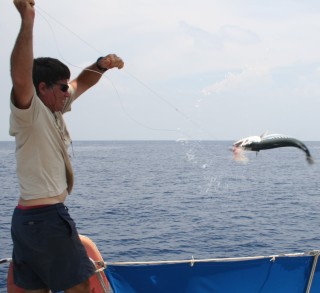 Barracuda dinner coming up. There
is no ciguatera poisoning here!
At 03:22 this morning we once again crossed the equator at 73°50'E so we're now back in the southern hemisphere. I tossed Neptune a sip of Sri Lankan Arrack (palm liquor) as a peace offering. This makes the third time we've crossed the equator so far this trip - the other 2 were between Panama and Ecuador in April 2003, and just before we left Indonesia in October 2006. With luck we'll cross it again in the mid-Atlantic early next year.
We bought a stalk of about 200 "lemon" bananas when we left Sri Lanka. These small bananas are very sweet and delicious but have thin skins, so they don't travel well and aren't usually sold out of the tropics (we hung our stalk from the Targa bar). Unfortunately, they've all decided to ripen at the same time, and several days before they were supposed to. So we've been eating bananas with almost every meal - sliced on cereal, in fritters, and banana crepes with coconut milk for breakfast, blended with other fruits and juices as smoothies, banana bread with tea, neat as a snack any time, fried for desert, and I even concocted a delicious banana chutney for our curry the other night.
At 7am we spotted our first land, the island of Foammulah at 0°18'S 73°26'E. The GPS says that we should be at our waypoint (0°40'S 73°13'E) off the main SE entrance to Addu atoll by 2pm. Our anchorage is only 5 miles from there (0°41.1'S 73°08.6'E, just NW of Gan Island) so we should have the anchor down by 3:30pm and a cold one in hand shortly thereafter.
Fair winds and calm seas -- Sue, Jon and Amanda Hacking
Up | Ocelot has Leaped | An Ocelot Sailing Day | Southern Hemisphere | Maldives Arrival | Ocelot in the Maldives | Back to the Maldives | Sea of Silk | Shearwaters | Ocelot Arrives
Maldives Home | Maldives Diving | Maldives Cruising Info
Laos Letters | Vietnam Letters | India Letters | Nepal Letters | Indonesia Letters | Malaysia Letters | Thailand Letters | Sri Lanka Letters | Maldives Letters | Chagos Letters | Seychelles Letters | Madagascar Letters | Mayotte Letters | Africa Letters
Top Level: Home | Destinations | Cruising Info | Underwater | Boat Guests | Ocelot | Sue | Jon | Amanda | Chris | Site Map | Make a Comment
---
Lifetime
Commodores
of the
Seven Seas
Cruising
Association

If our information is useful,
you can help by making a donation
Copyright © 2000‑ Contact: Jon and Sue Hacking -- HackingFamily.com, svOcelot.com. All rights reserved.