Sri Lanka Arrival
10 March 2007, Weligama Bay, Sri Lanka
Dear Friends and Family,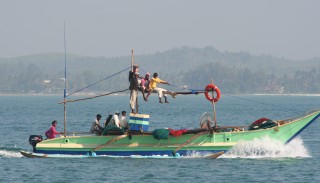 Sri Lankan outrigger fishing boats usually
came close for a look at us and Ocelot.
Just a quick note to let you know that we've arrived safely in Sri Lanka. We first detected land by smelling it(!) at about 5am, a rich earth-smell on the wind. We sighted the coast about 10am but it wasn't until 6pm that we finally got the anchor down. 1,136nm in just over 9 days (5.1 knots average) is certainly no speed record, but we only averaged 3 knots for the first few days through the Andaman Sea. Winds were quite nice after that - a bit of motoring in the early morning until the winds filled in but we usually needed to charge batteries then anyway. Then the trades filled in and we always had a delightful reach during the day which would calm down a bit at night. We never saw more than 20 knots of wind and never had to take a reef in the sails. We even had glorious spinnaker runs for most of the last 2 days. All in all, one of our best passages to date.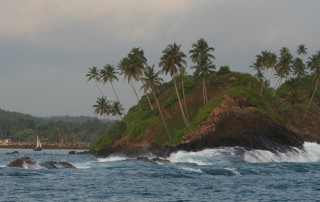 Sri Lanka has a lush, wild southern coast.
Here, the headland at Weligama Bay.
We didn't quite make Galle (we'll go there tomorrow) as the sunlight was fading. We're tucked up in a quiet bay surrounded by lush vegetation next to a fishing village about 15nm east of Galle. The fishermen are very curious about us and ask for cigarettes, but don't mind that we don't have any. I think it's just a friendly form of greeting for them.
We plan to leave Ocelot in Galle for a few days so we can tour the interior before Chris has to return to university on March 20th. We want to visit Colombo (the capital) and then go up into the highlands for some cool air and to see the views, Buddhist stupas, and tea plantations. We'll let you know how that goes...
Fair winds and calm seas -- Jon, Sue, Chris and Amanda Hacking
Up | Heading for Sri Lanka | Beautiful Sail | Sri Lanka Arrival | Sri Lanka Interior | Galle Cruising Info | Sri Lanka Home | SL Flora & Fauna
Laos Letters | Vietnam Letters | India Letters | Nepal Letters | Indonesia Letters | Malaysia Letters | Thailand Letters | Sri Lanka Letters | Maldives Letters | Chagos Letters | Seychelles Letters | Madagascar Letters | Mayotte Letters | Africa Letters
Top Level: Home | Destinations | Cruising Info | Underwater | Boat Guests | Ocelot | Sue | Jon | Amanda | Chris | Site Map | Make a Comment
---
Lifetime
Commodores
of the
Seven Seas
Cruising
Association

If our information is useful,
you can help by making a donation
Copyright © 2000‑ Contact: Jon and Sue Hacking -- HackingFamily.com, svOcelot.com. All rights reserved.