Galle Cruising Info
Sail to Sri Lanka!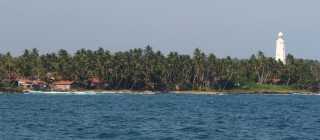 Village and lighthouse east of Weligama
New! We now have 2015 information abut taking your boat into Trincomalee, on the east coast of Sri Lanka. This has not been possible for more than 30 years due to the war. Thanks for Behan and Jamie Gifford on s/v/ Totem and their good negotiation skills, we small sailboats are now welcomed into this beautiful natural harbor, and the fees are commensurate with those of Galle. See s/v Totem's information on Sri Lanka!
Galle, Sri Lanka per Ocelot, March 2007:
First, if you're a bit late and coming from the east, you can make a nice anchorage in the SE corner of Weligama Bay at 5°56.9'N 80°26.84'E - about 25' (8m) in sand. Don't go too far from this point as it becomes rocky and we couldn't get the anchor to stick. Our 2005 series CM93 charts were very accurate except that they didn't have the new breakwater for the fishing boats that extends NE from about half way out Mirissa Point.
To enter Galle, you must use an agent. We groused about the costs as well, as it was the first time we've had to use an agent in 12+ years of cruising. We used GAC Shipping as they always have someone on the radio and were quite responsive. Call them on VHF 71 about an hour out and again as you get closer. They will contact the military to meet you in the bay. We had to anchor out there for an hour or so before the military would escort us into the inner harbor.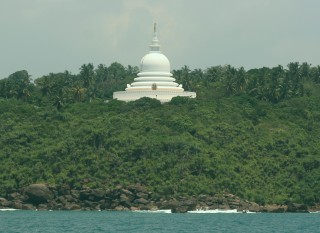 Peace Pagoda east of Galle, a gift from Japan
The entrance to Galle is straight-forward in daylight, but CM93 2005 charts are badly inaccurate, so I wouldn't do it at night. Use the buoys that mark the channel (international buoyage - red to port on entering). The military should meet you near the inner end of the channel.
If you must use waypoints (and we do not recommend this) then come to 6°0.71'N 80°13.38E and turn north to head for a point off the end of the breakwater at 6°01.94'N 80°13.51'E (we used this route to come out, but we actually cut the corner when we came in). From there you turn right into the inner harbor, but you have to thread between the submarine-nets(!) which must be done in daylight, and the military must be on board by this point.
In the inner bay, you can either tie alongside the high concrete dock or Med-moor to the floating steel pier. Neither option is very appealing, but most boats prefer the concrete dock. Both are prone to considerable surge, especially if you go too far in toward the land on the dock. They're dirty and ugly, but it's the only game in town.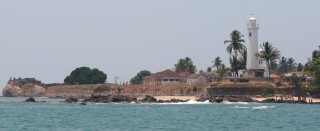 View of Galle Fort to the west as you enter
If you're clever you can arrange some 220vAC. There is a concrete men's and women's shower house just near the guard stand. It has toilets, sinks and showers. All a bit basic and spare, but clean and functional. The water in the shower block is good for drinking, but it's a fair schlep with jerry-jugs. All of these services are free, no matter how long you stay.
The agent, GAC, charges US$200(!) to liaise with the military, clear in and out, and get you gate passes. There are additional fees if crew leave or if they do more for you, but no additional fees when clearing out. For more info, see Noonsite's Sri Lanka pages.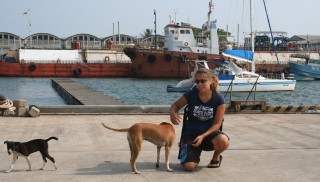 Mandy enjoys the friendly dock dogs in Galle.
Ocelot is stern tied to the floating pier.
At the dock, you will likely be besieged by 2-3 "Yacht supply" people who want your business. They let us use a (used) phone SIM for free (we paid to recharge it). They're very friendly, but very persistent and very competitive - as in they got in a street-fight while we were there. We mostly used Marlin or, more correctly, his Tuk-tuk man, Upa, in Silver Bird - 077 665 7372. Upa is a delight, very friendly and honest - Rp100 (US$1) to town, or Rp300/hour, and he can help you get the best deals when you shop if you like. Please say Hi to him from us. Upa tells an interesting story about the tsunami, how he was trapped in his tuk-tuk as it rolled over and over under water for what seemed like ages. He finally caught a branch and watched the water running out beneath him like a river. His tuk-tuk was destroyed, but previous clients got together and bought him a new one, which he takes very good care of.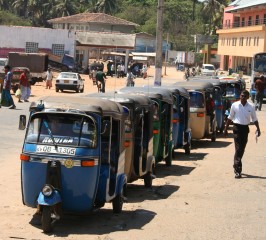 Tuk-tuks are the main taxis everywhere
For fuel (and major provisions) we used Mike (091 223 4054) of Mike's Yacht Services. He's the only "Yacht supply" guy with a gate pass so he can deliver right to your boat, and his prices are competitive with the few grocery stores in town. He prefers to make one large delivery to the docks, rather than several small deliveries. His selection is a bit limited, but geared to the things yachties want. He even has frozen lamb from New Zealand, Australian-made sausages, and things like that. For fresh fruit and veggies, Upa can take you to the street markets, or main town market. To get to Mike's shop, walk out past the gate to the main road by the Buddha statue, cross the street, turn right, and take the immediate left for about 200m - Mike's shop is marked on the left. He'll take your fuel-jugs to the pump for you to fill (at cost) and deliver them to the boat for free, although I'm not sure he's really supposed to. Diesel was Rp60/L at the pump in 2007, or GAC will charge you 10% more delivered (and they claim a monopoly on this service). If you're going to Chagos, make sure you fill with dinghy fuel. Mike can get you old 20L cooking-oil containers for $.50 to fill with fuel (or even water if you clean them out) but make sure they still have their seal.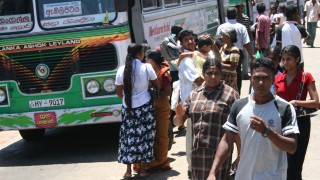 Lots of busses! Lots of people!
If you decide to see some of the interior of Sri Lanka (which we highly recommend), Marlin, if pressed, will offer you an air-conditioned van and English-speaking driver for Rp3,500/day (going rate is closer to Rp5,000). This is actually a very good deal if you get a good driver. We toured for 5 days by public transport, which is cheaper but has it's own issues (like reading the destination signs on the busses, dealing with long waits and crowds, etc). Most Sri Lankans will speak a bit of English. The Kandy highlands are wonderful, as is the Yala National Park (we watched a leopard for 30+ minutes!). The curries are excellent but often very hot so ask them to make them mild for you (most restaurants will tone-down their curries for westerners). If you want more details, let us know.
Heading for Sri Lanka | Beautiful Sail | Sri Lanka Arrival | Sri Lanka Interior | Galle Cruising Info | Sri Lanka Home | SL Flora & Fauna
Laos Letters | Vietnam Letters | India Letters | Nepal Letters | Indonesia Letters | Malaysia Letters | Thailand Letters | Sri Lanka Letters | Maldives Letters | Chagos Letters | Seychelles Letters | Madagascar Letters | Mayotte Letters | Africa Letters
Top Level: Home | Destinations | Cruising Info | Underwater | Boat Guests | Ocelot | Sue | Jon | Amanda | Chris | Site Map | Make a Comment
---
Lifetime
Commodores
of the
Seven Seas
Cruising
Association

If our information is useful,
you can help by making a donation
Copyright © 2000‑ Contact: Jon and Sue Hacking -- HackingFamily.com, svOcelot.com. All rights reserved.