5-6 May 04
Wednesday, 5 May 2004


The Maupiti Pass is sometimes difficult to cross
Dear Friends and Family,
Happy Cinco de Mayo! We've finally set off from French Polynesia! At about noon local time we picked up the hook, wove our way through the coral heads sprinkled around the lagoon, and shot out the pass. And I do mean shot - there was about 4 knots of current pushing us out, so we felt a bit like a watermelon seed. We're nominally bound for the northern Vava'u Group of Tonga, 1,250 nautical miles away. Winds are pretty light, so it may take us about 10 days. As always, don't worry if we don't send out a letter every day - our email is a very complicated system, and many things could prevent us from sending. Also, if you respond to any of these (and we love to receive replies - it helps us realize there are other humans on the planet) then PLEASE do NOT include our message in your reply. Thanks!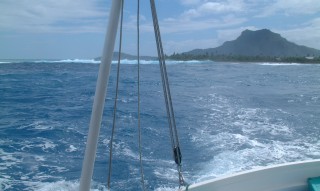 Leaving Maupiti and its pass behind us
We're still not sure if we'll stop at any of the Cook islands between here and there. They're supposed to be quite pretty (and VERY friendly) but we have a lot of ocean to cover. Aitutake is a bit south of our track, and only 3 days away. Palmerston is about in the middle, but there's no way for boats to get into the lagoon - we'd have to anchor in the coral outside the reef and hope the wind didn't switch and push us onto the reef. Niue is almost on the straight line, but they got clobbered by a cyclone last December, and last we heard the island kingdom was "closed". Suvarow is supposed to be a beautiful wildlife preserve, but it's a bit north of our track and it's not a port of entry, so we don't know what our welcome would be if we just showed up. On the other hand, there are cruising teens on another catamaran in Tonga, diving and filming the whales, so perhaps we'll just scoot through and be done with it. We'll let you know...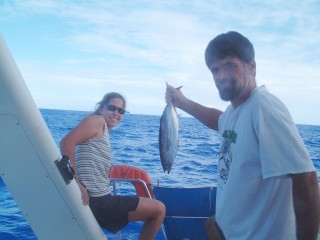 FISH ON!! A nice tuna for dinner!
As I write this, the winds are about 10 knots from the SE, well aft of the beam, so we're only making about 4 knots under all plain sail. The low pressure system that prevented us leaving earlier is well south of us, but it's generating big swells, so we're being tossed around a bit. There were squall clouds south and west of us when we left, but they've mostly passed us, so the skies are blue and sunny behind us and we're rolling along nicely.
LATE FLASH - the winds picked up this afternoon, so we were scooting along at about 7 knots when Sue made that wonderful cry, "Fish ON!" A nice little tuna, good for about 2 meals for all of us. About bloody time. I think the last fish we caught was in Makemo, in the Tuamotus, almost a year ago... (My brother's gonna kill me for admitting that).
Fair winds -- Jon, Sue, Chris and Amanda Hacking
---

Thursday, 6 May 2004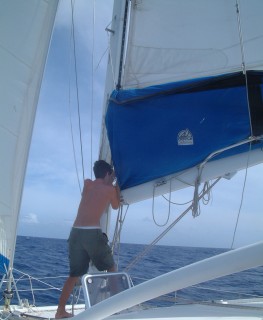 Chris shaking out last nights reef,
running "wing and wing"
Hello Everybody,
Well, for the 2nd day of a multi-day passage, this is pretty darn good. In fact, we've even had some sleep! (This sometimes takes until the 3rd night or so.) Thank goodness for relatively calm seas and consistent winds. The swells are about 9' (3m) and are nice gentle rollers on our aft quarter, about the best we could hope for this time of year. The wind has been keeping about 160° from the bow (almost behind us) and perhaps 15 knots apparent, so we have been running wing and wing with very little need for course corrections or sail trimming. Very pleasant.
We took one reef last night for an approaching squall. This morning, however, the winds kept up their gentle, fairly constant breeze, so we shook out the reef and have been running under full sail for most of the day. As of noon local time (Hawaiian, GMT-10) we were at 16° 19' S and 154° 38' W on a course of 255° magnetic and making about 6 knots over the bottom. Unfortunately, there is a current pushing us northeast, so we are losing about .4 knots. Oh well, at least we are still making decent time. We had gone 145 miles at noon, and had another 1114 to go to the Vava'u group in Tonga.

Lunch at sea, with Chris's fresh herb bread
We haven't made any real passages in a while, and I (Chris) was certainly not looking forward to the first few days at least, but things seem to be going alright. My biggest concern is our battery level, which is hit hard by our autopilot, but with our new alternator, that shouldn't be much of a problem. We run the engine just before dawn for an hour or so to charge the batteries and give us time to use the watermaker. The solar panels and batteries can then carry us through the rest of the day well enough. Other than that, we have been able to read a little, sleep a lot, and have fun in the galley. Right now, there is a big tray of lemon bars getting slowly eaten, both lamb and (fresh as of yesterday) tuna in the fridge, and we have been enjoying fresh bread with cheese and herbs, sautéed tuna with wasabi, rice and cucumbers, and iced tea with mint and lemon. All in all, quite nice!
Hope this finds you all well! We are all fine, and will probably be underway for another week or so, depending on the weather. At the moment, it seems most likely we will take take the direct route to Tonga. Although it feels strange to miss the entire island group of the Cooks, we want to make it to Tonga soon and take advantage of the full moon.
Best wishes to everyone -- Chris, Jon, Sue, and Amanda Hacking
Up | 5-6 May 04 | 7-8 May 04 | 9-10 May 04 | 11-12 May 04 | 13-14 May 04 | 15-16 May 04 | 18-19 May 04 | Heads and Whales | On The Hard | Leaving Tonga
Tonga Landfalls | Tonga Newsletters | Commercial Dives | Private Dives | Tonga Flora & Fauna | Passage Dangers
Panama Letters | Ecuador Letters | Galapagos Letters | Marquesas Letters | Tuamotus Letters | Tonga Letters | Fiji Letters | New Caledonia Letters | Australia Letters
Top Level: Home | Destinations | Cruising Info | Underwater | Boat Guests | Ocelot | Sue | Jon | Amanda | Chris | Site Map | Make a Comment
---
Lifetime
Commodores
of the
Seven Seas
Cruising
Association

If our information is useful,
you can help by making a donation
Copyright © 2000‑ Contact: Jon and Sue Hacking -- HackingFamily.com, svOcelot.com. All rights reserved.