Leaving Tonga
2 October 04, Neiafu, Kingdom of Tonga
Dear Friends and Family,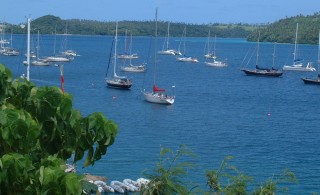 Neiafu Harbor in the Kingdom of Tonga.
Ocelot is the last white boat on the right.
We're now getting ready to leave. Tonga's been wonderful, and we've been here so long that we made many friends, so it's difficult to leave. The Pacific cruising fleet is now coming through (most of them on their way to NZ) so there are lots of other boats with kids, which makes it even harder for Chris and Amanda to leave. Rather than trying to get around to say goodbye to everyone, we simply held a big open-boat party on Ocelot and invited all those who wanted to to drop by.
Our biggest impressions of Tonga have been the friendly locals. Even those who don't know English were friendly and helpful - noticeably more so than other places we've visited. They also seem to have an excellent sense of right and wrong - for instance, we never locked our $5,000 dinghy. We just tied it up with a rope. This is the first place we've felt safe doing that in 3 years of cruising. In the Caribbean, we always locked it with a steel cable (and still had 2 locks cut) and any boat that didn't lift their dinghy out of the water at night risked losing the engine.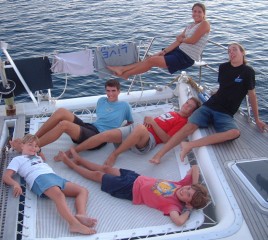 Teens from 5 boats gather on Ocelot
Our final weeks in Tonga have been full of work and play. We hauled Ocelot out of the water for over a week to repair the engine we tore loose in the Ha'apai group, paint the bottom, polish the hulls, and service the headsail roller gear and the saildrives. So Ocelot is looking all spiffy with bright new red bottom paint and shiny topsides. For play, we shared many meals with other cruisers, and participated in the Friday afternoon yacht-races. We also spent many hours watching the Humpback whales that come here to mate and calve. The whole family did several scuba dives in this beautiful clear water. It's unbelievably amazing to hear whale-song in the water all around you while diving.
One of our last-minute "chores" before we left Tonga was that Jon and Chris got their advanced diving certificates. This means that they are now qualified to do several unlikely things that normal people wouldn't dream of, like diving at night (where your imagination produces sharks and giant squids just beyond the reach of your dive-light beam), diving to 100' (where nitrogen narcosis turns your brain to mush), and finding the direction of the North Star while underwater (really).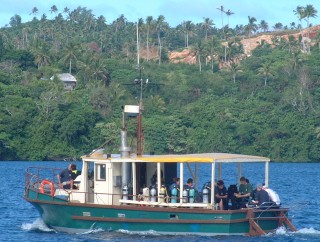 Philia, the Dolphin Pacific dive boat, passes Ocelot on the way to the wreck
On our night-dive, we saw several Spanish-Dancer Nudibranchs. Now, most nudibranchs are only 1-2" long and, while colorful, I can't tell head from tail, so I find them of limited interest. Little blobs of color in a forest of more interesting sea-life. But Spanish-Dancers are the biggest species of nudibranchs, reaching 2' (60cm). At first, they look like oblong red blobs, but if you tickle them, they sprout a fan of bright red and white around their edges, very much like a Flamenco dancer's swirling skirts. Tickle them again and they lift off the bottom, swirling their "skirts" and gyrating back and forth by folding themselves in half. It's a highly inefficient but rather amusing form of locomotion.
Christopher has finally finished off his senior project - a database for the whale-watching groups so they can track where the whales go and what their reactions are to people swimming with them. This earned him a freebie whale-watching trip where they found a small pod of Humpbacks - a mother, baby, and 4 guards. The whales were quite content to let the swimmers watch and photograph them as they rolled and played in the shallow water, so Chris got some great photos.
Fair winds! -- Jon, Sue, Chris and Amanda Hacking
Up | 5-6 May 04 | 7-8 May 04 | 9-10 May 04 | 11-12 May 04 | 13-14 May 04 | 15-16 May 04 | 18-19 May 04 | Heads and Whales | On The Hard | Leaving Tonga
Tonga Landfalls | Tonga Newsletters | Commercial Dives | Private Dives | Tonga Flora & Fauna | Passage Dangers
Panama Letters | Ecuador Letters | Galapagos Letters | Marquesas Letters | Tuamotus Letters | Tonga Letters | Fiji Letters | New Caledonia Letters | Australia Letters
Top Level: Home | Destinations | Cruising Info | Underwater | Boat Guests | Ocelot | Sue | Jon | Amanda | Chris | Site Map | Make a Comment
---
Lifetime
Commodores
of the
Seven Seas
Cruising
Association

If our information is useful,
you can help by making a donation
Copyright © 2000‑ Contact: Jon and Sue Hacking -- HackingFamily.com, svOcelot.com. All rights reserved.