4 July 03
Dear Friends and Family,
We had rather a frustrating day yesterday so we didn't write. The wind kept backing and growing weaker so we broke out the chute and ghosted along. About dinner time a huge wall of cloud surged up ahead of us so we doused the spinnaker and motored - for 6 hours! This would normally have topped up our batteries but our best alternator (just serviced in Panama) died about then as well. Sigh...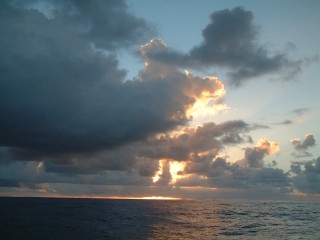 Sunsets at sea can be so amazingly beautiful
When Jon came on watch at midnight there was just enough wind to sail but it was almost bang on the nose. So Chris and Jon hoisted all plain sail and we spent the rest of the night beating into light south-easterlies. Since the seas were flat, this was actually a very comfortable sail. The wind has been backing all day so we're now able to lay our course and start easing sheets.
Hoping not to break the spell, today has been gorgeous. The sky is the brilliant blue of the tropics, the Pacific is being delightfully passive, with only gentle swells and the occasional fleck of white, the clouds are mostly far away and non-threatening, and the breeze is soft, warm and gentle.
As I write this (4pm Hawaii time, or GMT+10) we're at 13° 0' S, 141° 34' W. We've sailed 260 miles south of Nuku Hiva and have 187 miles to go to Raroia (if that's where we end up). We currently have about 11 knots of wind just forward of the beam and we're scooting along at 5-7 knots in almost flat seas.
Happy US Independence Day -- Jon, Sue, Christopher and Amanda Hacking
Up | 2 July 03 | 4 July 03 | 6 July 03 | Makemo Letter | Tahanea Letter | Fakarava Letter | Toau Letter
Fr. Polynesia Home | Marquesas Letters | Tuamotus Letters | Diving | Polynesia Flora/Fauna | S Pacific Cruising
Panama Letters | Ecuador Letters | Galapagos Letters | Marquesas Letters | Tuamotus Letters | Tonga Letters | Fiji Letters | New Caledonia Letters | Australia Letters
Top Level: Home | Destinations | Cruising Info | Underwater | Boat Guests | Ocelot | Sue | Jon | Amanda | Chris | Site Map | Make a Comment
---
Lifetime
Commodores
of the
Seven Seas
Cruising
Association

If our information is useful,
you can help by making a donation
Copyright © 2000‑ Contact: Jon and Sue Hacking -- HackingFamily.com, svOcelot.com. All rights reserved.