2006 Malaysia
December 2006, Malaysia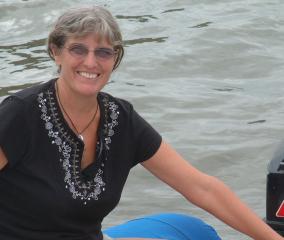 In the dinghy on the Brisbane River 2006
Wow. My family is about to be back together again! And what better time than Christmas time! After being gone for 20 months, Chris will be flying into Kuala Lumpur, Malaysia just before the holidays, and plans to be onboard for a nice long visit -- almost 3 months. Unfortunately he missed out on seeing New Caledonia, Australia (although he's already been there), Indonesia and Singapore. But he'll have the fun of Malaysia, Thailand, and then wherever Ocelot takes us before March 2007. The Andaman Islands? India? Sri Lanka? Maldives? We'll see.
Meanwhile I'm one happy mom, happy not only for myself but that Chris and Amanda will have a few like-aged friends around to do things with. With us right now, and for another month or so, is Amanda's cruising buddy, Rachel, from Australia. Rachel is spending her summer vacation from uni with us, and we're thrilled. Not only is she totally fun to be with, helpful and cheerful, she is an experienced sailor/cruiser. She sailed through SE Asia on her family's boat, Vamp, in the late 90s, so she's able to act as a sort of tour guide to places we want to go.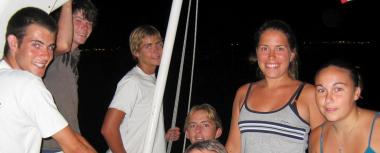 Adam & Alan (Seeka), Warren & Adam (Scud)
Amanda & Tianna (Ocelot) in Fiji, 2005
Also, we'll be meeting up with the family on Scud, who we first met in Grenada in 2002. They zoomed across the Pacific Ocean in 2005 and we had a great couple months with them in Fiji, New Caledonia and Australia. After being apart for several months this past year (they sailed alone up through Indonesia while we did the Rally) we're looking forward to being with them again in Langkawi, Malaysia for Christmas. We hope to all be heading up to Thailand soon after that to explore all those islands that look so alluring on the charts!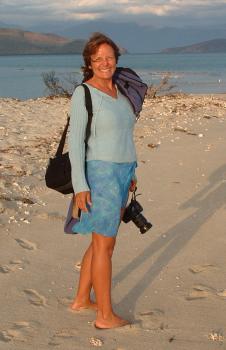 My good buddy Tina, from Scud
on Tenia Is, New Caledonia 2005
So, what's been going on since I last wrote from Fiji in 2005? Lots. Lots of traveling, lots of other teens around and some lovely times with other cruising families and visits with friends and family in Australia. And there was the amazing 3 months in Indonesia and some time spent in Singapore ... but you can read about all our travels under the Destinations section if you're interested.
The last year has been feast or famine in terms of having other teens around for Amanda to hang out with. When she returned to the boat in September 2005, she arrived with her cousin, Tianna, who is just a few months older. The girls thrived on being the only teen girls to hang with three boats with young men: Scud, Seeka, and Safari. Together they terrorized the pool tables, swimming pools, sailing dinghies and volleyball court at Musket Cove, western Fiji. After Seeka left for New Zealand the rest of us met again at Robinson Crusoe Resort on Likuri Island, Viti Levu.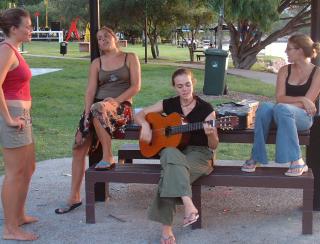 Busking practice: Sierra (Leprechaun),
Amanda, Alex & Katrina (Peregrinata)
Iíve always enjoyed being around the parents of other sailing teens, as we have so many experiences in common, and we are all so happy to see our kids enjoying themselves. One memorable day Tina (from Scud) and I persuaded Carol (from Safari) to join us on a dinghy ride, river ride, walk and bus ride to a small Fijian town where we browsed the shops, tried on Indian saris, and had lunch out. Such women-only days are all too rare. Tina and I spend a lot of time swimming together -- I'd almost call it snorkeling, because we wear mask and snorkel but no fins, but we swim for time and distance, not to sightsee. The fish beneath us are just extras while we work out!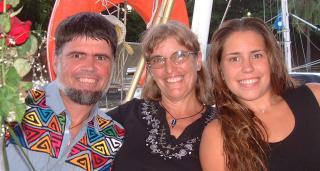 Christmas Eve in Brisbane, 2005. Chris was in
the States with his uncle Tony & family.
In October 2005 we and Scud set sail from Fiji headed for New Caledonia arriving within a few days of each other. Safari came a bit later. It was there that 2 other teen boats arrived Ė Peregrinata with 2 girls about Amandaís age, and Leprechaun with 5 kids (including 2 teens). The fun began with a big Halloween outing to a French night club -- supposedly for folks over 18, but they didnít card. Tina and I went along as chaperones and ended up having so much fun we arrived back on our boats at one AM, much to the concern of the dads (read captains) who expected us earlier and were worried about us out on the water on a windy night crossing the anchorages! No phones, no VHF radio nearby to call from. Oops.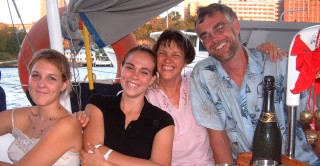 Katrina, Alex, Sonia & Scott from Peregrinata.
Christmas 2005 before they returned to Canada.
The teen saga continued as we made our ways southwest to Australia. We, Peregrinata and Scud ending up together on the Brisbane River. If the kids had had their way, we would have all stuck together, but it wasnít to be. We and Peregrinata sought the comforts of being tied up on a river, while the Scud family sought seclusion and surf. But in sailed Leprechaun, so there was plenty of fun. The girls spent a few months mall-hopping and busking (playing guitar and singing for money) on the streets of Brisbane, while the Scud boys stayed fit kite surfing, wind surfing and surfing on the New South Wales coast. We shared some wonderful days and evenings with our friends on Peregrinata -- long walks by the river in the early morning, evenings on board one of the boats for shared suppers and lots of music and good talks. We were sad to see them leave to return to Canada to top up the cruising kitty.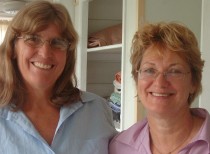 In Toowoomba, with my cruising
friend Carmel from Vamp
Part of what made the Australia time (5 months on the Brisbane river) so good was being near our cruising friends from Vamp (Rachel's family). We hadn't planned it especially, but the pilings in Brisbane are just 120 km from their land-based home in Toowoomba and we had several wonderful weeks and weekends at their place in the hills, or with them down on Ocelot on the river. We had first met them in the Caribbean in 2002, then again in 2003 when we went through the Panama Canal and then toured inland Ecuador together. It's always nice to reaffirm friendships that started on the water, and see that they still hold even when our lifestyles have diverged for a time.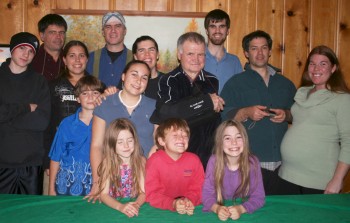 Three (almost 4) generations of the Hacking family
all together for Thanksgiving 2006
The cruising life still totally appeals to me, but its major downfall is the distance, both in time and money, that we are from our families. It was while were in the wilds of Indonesia that I learned (from my brother, by email) how ill by mom was, and it was just lucky that we were near a place like Bali with international flights so that I was able to get home within a few days. More sad news followed, when we learned of the seriousness of Jon's brother's battle with cancer. It was Tony who had visited with his family in Venezuela in 2002, and Tony who flew to Ecuador the next year to add his wonderful wildlife biologist's knowledge and enthusiasm to our Galapagos travels. Leaving the boat in Singapore, Amanda, Jon and I flew to the States in November 2006. We had a month of intense family time, and it felt like just the right thing to do. The pain of being far away is a poignant reminder that family is all important -- and that Jon and I have chosen this life for a few years as a way of being as close as possible to our own small family.
Which brings me back to the anticipated joy of having Christopher with us again, if only for a few months before he returns to his computer and engineering studies at the University of Washington in Seattle. I'll write more later...
---
Sue's Logs: Up | 2012 Thailand | 2011 India | 2007 Seychelles | 2006 Malaysia | 2005 Lautoka, Fiji | 2005 Yasawas, Fiji | 2004 Tonga | 2004 French Polynesia | 2003 Ecuador | 2003 Venezuela | 2002 Grenada | 2002 Martinique | 2002 St. Martin
Sue's Pages: Sue Muller Hacking | Logs | Provisioning
Top Level: Home | Destinations | Cruising Info | Underwater | Boat Guests | Ocelot | Sue | Jon | Amanda | Chris | Site Map | Make a Comment
---
Lifetime
Commodores
of the
Seven Seas
Cruising
Association

If our information is useful,
you can help by making a donation
Copyright © 2000‑ Contact: Jon and Sue Hacking -- HackingFamily.com, svOcelot.com. All rights reserved.