2004 French Polynesia
April 2004, Maupiti, French Polynesia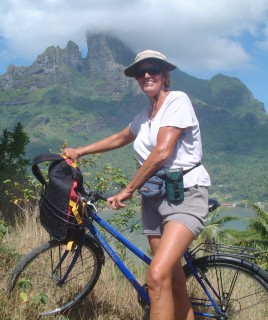 Taking a break on a bicycle trip
around Bora Bora
Living in French territories is now feeling quite normal and my French is probably the best it's been in years. But I do still find myself rehearsing what I'm going to say to someone if I'm anticipating a conversation. While shopping or walking with Amanda she sometimes laughs and says, "Mom! Are you practicing your French again?" The give-away is that I mouth words and discretely wave my hand as though explaining something. I did this a lot when dealing with the officials about our long-stay visas in Tahiti, and I wasn't always thinking very nice things!
To backtrack a bit: you may be wondering what it was like to be back in the USA after 21 months away. I reveled in the fresh scent of the fir trees of the Northwest, and the pungent sea smells of the Pacific coast on our drive to northern California. The mountains, snow and forests reminded me of how much I love that part of the world. And there were the long golden and pink sunsets over Puget Sound. As the weather got colder and the days shorter we felt cozy and warm in the homes of friends who put us up. And we rejoiced with the time spent with family and friends sharing meals, talks, walks, and holidays. Cool, crisp air, bright fall colors, spider's webs, raptors, wet leaves and finally snow (!) before Christmas just rounded out the wonderful experience, such a contrast to our life in the tropics.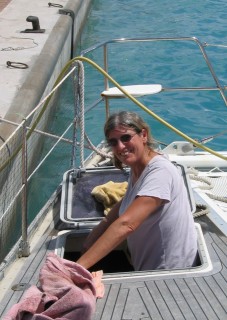 Jon usually does the wash, but he caught me at it one day: hopping in and out of the fo'c's'le
But the four-and-a-half-month visit wasn't all pleasure. We suffered from monthly colds, some flu and allergies. I found my blood-pressure rising with all the talk of politics and international tragedies. The commercialism of the States is like a slap in the face compared to the basic simplicity of island life. And our family life disintegrated into alarm clock awakenings, hurried breakfasts, dashes to school and work, and endless cell-phone calls coordinating with each other's schedules to see who would be home for dinner or pick someone up from the dentist, school, or soccer practice. I loved seeing Chris and Amanda re-engaging with teenage social life, but I missed the long talks we have on passage, the quiet time after dark on Ocelot when we sing and play guitar or watch a movie together, read books, or play games before hitting the beds at nine. Our biggest challenge when we return to the States after this cruising life will be to maintain some of the serenity and simplicity of life we've experienced on the boat.
When we returned to the boat in January we didn't have time to worry about the change from hectic American lifestyle to slow cruising life because we didn't have a slow cruising life again until April when the last of our string of visitors to French Polynesia departed. We loved having all those visitors, and would probably do it all again. But visitor-time is not cruising time; in fact, the whole pace is about 4 times faster than normal. If our friends came down asking for a "true" cruising experience, they might be bored to tears. We normally spend many days, if not weeks, in one anchorage. We spend the days on school work, boat work, reading, napping, taking walks ashore, and snorkeling. If we're off a town we might go ashore everyday to buy fresh produce or just prowl the hardware stores for items we need to keep the boat together. Kind of like a mellow weekend at someone's house in the States.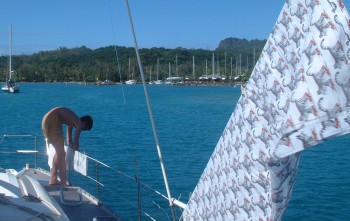 Wash day on Ocelot needs lots of water,
sun, and help from the whole crew
But when we have visitors, it's like we're on charter. Not that I have to cater to these wonderful friends who come to visit, but we do move the boat LOTS more than we would normally. It sometimes feels like we use our visitors as excuses to get out and about. So for 8 weeks, from the end of January to early April, we were in non-stop "vacation mode." Formal school work was lax while we were scuba diving, hiking, biking, museum hopping and sailing. We had lots of shopping to do, both provisioning and errand running in anticipation of leaving "civilization," (like leaving Tahiti to sail to the less sophisticated islands west of there). We spent lots of time studying cruising guides and finding good anchorages. Oh, and then there was the laundry -- one full day each time to take care of all the sheets and towels between visitors. Thank goodness for the washing machine in the starboard fo'c'sle. Those 8 weeks were wonderful, but more hectic than our preferred cruising schedule.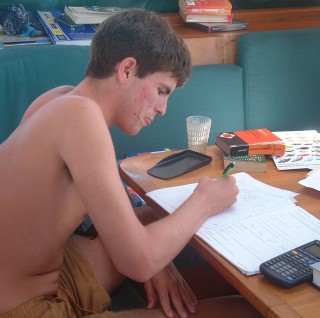 Chris works on an AP physics test
Now that we're back into the "real" cruising life I am grateful for the family time and quiet time that wasn't possible with so many people aboard. We've had to re-gear up for the kids' schooling: Sue and Chris working on English and French, and Jon and Chris working on computer science, physics and calculus. Amanda and I have had more time to spend on her Language Arts projects and the novel we're writing. We've dedicated many hours to boat projects that were on hold during visitor time, or to repairing those things that broke from all the use they got for the past few months. What we hadn't anticipated when we extended our stay in French Polynesia is the lack of cruising friends and other teens for the kids to hang out with. Being the cyclone season, most boats that we sailed with last year are already in New Zealand or Australia, and the new wave of cruisers coming from the Americas this spring have not yet arrived as far west as we are. It was just in the last few weeks in Raiatea we met a few couples and one cruising family who had returned to their boats that they had left on the hard while traveling away from French Polynesia.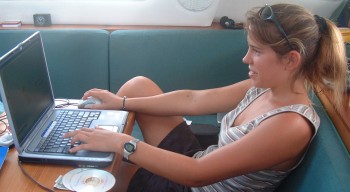 Amanda emailing some Spanish to her teacher
We're eagerly awaiting the end of the cyclone season (officially the end of April) so that we can safely sail west towards Tonga where we know of one catamaran family with two teenage boys on board. We haven't met them yet, but have spoken to them on the radio many times last year, and have exchanged email letters. As for plans after that -- probably Australia by October some time, then put the boat up for sale, and, of my gosh, back to the rat race.
PS: You may want to read Amanda's "Reflections Essay" having to do with her life in the States and on the boat, written for her middle school, the Environmental and Adventure School. And if you're curious about all those adventures we had with all our boat visitors you can check that out as well!
---
Sue's Logs: Up | 2012 Thailand | 2011 India | 2007 Seychelles | 2006 Malaysia | 2005 Lautoka, Fiji | 2005 Yasawas, Fiji | 2004 Tonga | 2004 French Polynesia | 2003 Ecuador | 2003 Venezuela | 2002 Grenada | 2002 Martinique | 2002 St. Martin
Sue's Pages: Sue Muller Hacking | Logs | Provisioning
Top Level: Home | Destinations | Cruising Info | Underwater | Boat Guests | Ocelot | Sue | Jon | Amanda | Chris | Site Map | Make a Comment
---
Lifetime
Commodores
of the
Seven Seas
Cruising
Association

If our information is useful,
you can help by making a donation
Copyright © 2000‑ Contact: Jon and Sue Hacking -- HackingFamily.com, svOcelot.com. All rights reserved.