2005 Yasawas, Fiji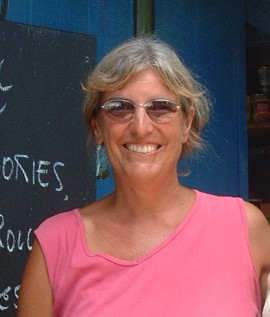 The happy cruising mom in Tonga
February 2005, Yasawa Group, Fiji
It was so difficult to leave Tonga, with all our friends, both ashore and on other cruising boats. The majority of our cruising friends were headed for New Zealand but we had to sail to Suva, Fiji, for Chris to take his SAT university entrance exams at the International School in early October, and then again in early December, 2004.
Not that I regret the "need" to be there. Suva is an awesome city. For me, just the right size, meaning you can pretty much walk the whole center city from the commercial wharf to the parks and Fiji Museum, the upscale downtown, and the small bustling back streets with their Indian shops. I loved the smells and sights: curries and spices and fruits at the two-story market, women in saris of every color. It makes me feel like we're on the edge of Asia!
You can read more about Fiji on the Landfall pages, so I'll turn my attention here to university applications and schooling on the boat. With this being Chris's senior year we have had to face the university application process for most of October through December. This involves a process I have come to call the "moving sidewalk." We live a very slow, isolated life out here on the boat, while the rest of the world moves at a much faster pace where deadlines are REAL. It is very difficult and sometimes frustrating to step from our slow life to the fast moving sidewalk of the rest of the world. But Chris had to do that in order to get his applications in on time. Having perused borrowed books of university profiles he made his "wish list" based on his desire to study computer engineering: MIT, Stanford, Berkeley, and CalTech. UW (University of Washington) was also on the list, as it has a fine computer science program, but was not a top priority as it was so "close to home". His back-up schools were a couple other UC campuses and Western Washington University in Bellingham. Thank goodness for the Internet, and the relatively reliable service at Connect Cafe in Suva. (We're also grateful that the Connect Cafe charges only $3/hour, and $1.50 for students in the afternoons, as opposed to the off-shore Fijian resorts the where it's $12/hour.) All the university applications were on-line, and Chris could download the PDF files to his computer, bring them to the boat, and prepare his answers and essays. When it came time to file the application, he often spent over 7 hours at the Internet cafe per university!

In the rainforest
Although both Chris and Amanda are essentially home schooled, we do have them enrolled at The Westbridge Academy, a school for university-bound home schoolers. Their advisor, Kathleen Julicher, has helped create their curricula, helped us chose textbooks, and granted credit for independent studies such as Field Biology in the Galapagos, oceanography and meteorology. In addition, Westbridge worked with us to finalize a transcript so that Chris's high school studies including Advanced Placement Calculus, Physics and Computer Science can be justly reported on his university applications. Using Westbridge for the past three years has given us confidence and peace of mind that the kids are getting the best possible education while we sail, (without the hassles of having to send papers and books through snail mail to await tests and new materials), and that their work is validated by the reports generated from Westbridge.
Of the universities Chris applied to, Stanford was the most receptive to home schoolers, with the two Washington state schools coming in second. Of course, with our strange lifestyle, there were many times when the on-line applications did not allow space or flexibility to truly portray Chris's life or education. Thank goodness for the allowance for an "extra page of information if necessary." He tried to use the personal essays to best advantage, highlighting his life on the boat, and how he has been bringing together his love of nature with his love of technology. Something must have worked, because he received was offered direct admission to UW's computer science and engineering school which is quite an honor.
As the mom of a home schooler, I took a more active role in the university application process than many other parents. Because home schoolers might not have any teachers other than the parents, Jon and I were invited to write a letter to Stanford admissions, in lieu of a teacher recommendation. We felt the letter so well portrayed our lifestyle and Chris's education that we sent it to other private universities as well. We'll be back in the States by April 1 to watch Chris open his acceptance letters!
---
Sue's Logs: Up | 2012 Thailand | 2011 India | 2007 Seychelles | 2006 Malaysia | 2005 Lautoka, Fiji | 2005 Yasawas, Fiji | 2004 Tonga | 2004 French Polynesia | 2003 Ecuador | 2003 Venezuela | 2002 Grenada | 2002 Martinique | 2002 St. Martin
Sue's Pages: Sue Muller Hacking | Logs | Provisioning
Top Level: Home | Destinations | Cruising Info | Underwater | Boat Guests | Ocelot | Sue | Jon | Amanda | Chris | Site Map | Make a Comment
---
Lifetime
Commodores
of the
Seven Seas
Cruising
Association

If our information is useful,
you can help by making a donation
Copyright © 2000‑ Contact: Jon and Sue Hacking -- HackingFamily.com, svOcelot.com. All rights reserved.