0620 - en route to Hellville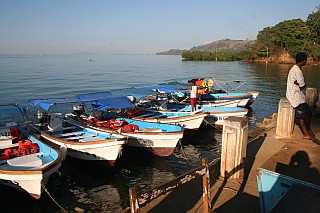 Early-morning Hellville waterfront
Today began at 0500, when the sky was still grey and the sun wasn't up. I washed my hair, as did Mom, and we all ate a quick breakfast. Pana, the man from Mada-Nautique who is staying on our boat while we're gone, arrived a bit early in a single-paddle hard dinghy. We told him to come back in 30 minutes, but 20 would have been better.
It was a long paddle to shore, in almost a flotilla with the other early-morning paddlers. The sun had woken up with us, and already shone warm on my back. We got ashore at 0605, but the taxi we'd arranged yesterday wasn't there. I suppose that was half expected, but the trudge up the hill wasn't quite what we'd planned. But we got to Dar es Salaam, found a taxi, and are on our way to Hellville and the ferry to 'begin' our 4-day trip of northern Madagascar.
The town is already awake, though not jammed like yesterday at 1100. People are out sweeping the street, starting road work. Our taxi driver just dropped off his daughters at school, and here we are at the ferry.
0700 - en route to Ankify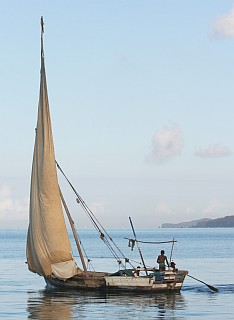 A dhow drifting in the early morn
We're now on the ferry, and I'm wearing an uncomfortable, ridiculous-looking yellow lifejacket. I do, however, have a front-row seat, so I can see where we're going. The water is flat, with only the faintest hint of a ripple here and there. A few fishermen are out on the water, and a couple local dhows are sailing (drifting) around.
We're on one of the 'speedboats,' which hold 12 passengers. Speedy they may call them, and we're making okay time, but we're not planing. The worst thing about it is that there are no back rests. My back is already tired of sitting up straight.
So what do you do if you're tired of sitting? Stand up! I just did, to take a photo of Mom, who is two seats back. I don't know if I've ever felt like such a tourist. The other people in the boat aren't tourists or foreigners - they're locals! Well, a few look Chinese. But still.
We're passing Nosy Komba now. It's so very very green. A little village stands proudly on stilts by the water; a tiny beach hides under overhanging trees. Palm trees on the point don't quite fit in with the lush forest. A dhow just passed us the other way, its sail in spinnaker mode. It looked very cool, but it means the morning breeze has come up from the southeast - right where we're going. The boat's starting to slap the waves now. I wish I could sit on my lifejacket - my left foot has fallen asleep and I think my butt's the next to go.
0900 - Ankify and en route north past Ambalavelona (I love these names...)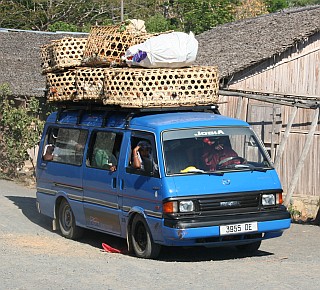 A well-laden taxi-brousse with chickens on top
The boat with the "other passengers" just arrived, so the waterfront at Ankify has gotten hectic. Four frenchmen and -women just arrived, and say they had reserved seats - the best seats, the front seats, the seats in which we are currently sitting and have been sitting in for the past half hour. Never mind that we've been waiting for them for an hour and a half and none of the seats are actually reserved. Tough cookies for them.
"Town" is a bit of a grand word for this place. All the houses are made of sticks (okay, a few of concrete) and there aren't many of them. The main infrastructure seems to be catering to the people taking ferries to Nosy Be. Feeding them, housing them, transporting them.
This minibus is actually quite nice, a maroony-purple with no upholstery on the walls or ceiling. It holds 15 people quite comfortably, though with a bit of knee-scrunching. The road, however... it's sort of semi-paved, with gravel strewn over the rough bits. Despite the bustling activity at Ankify, it's actually quite isolated. As in, the raised road goes through vast tidal mangrove swamps.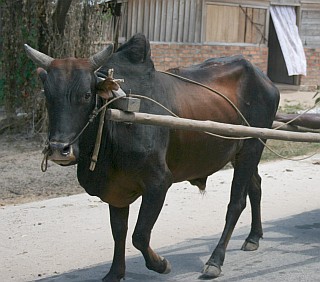 A zebu cart on Madagascar's main highway
We're passing through a forest of cacao trees now - we'll have to remember to buy some Madagascar chocolate...
Well we finally got to the big RN6 (Route National). "Big" might be a bit much, but it's well paved. No lines on the road, and we're as likely to pass five bicycles as another car or truck, but it's definitely the main road.
There're flatlands to the left, presumably all the way to the ocean. On the right is a ridgeline stretching north and south. There seem to be villages at regular intervals along the road, and we just passed a market with colorful stalls on both sides of the road. In between villages is scrubby bush or grazing land. People are walking and biking freely along the road, and some walking zebu.
As soon as we hit the flat and smooth the driver put in a CD, which is now blasting from the speakers - including the one under my seat. It's interesting, a sort of modern African. We've left the coast now, and are heading inland to the hills. There are fewer villages and more open land, but the road is winding more.
1155 - Ambilobe and en route to Ankarana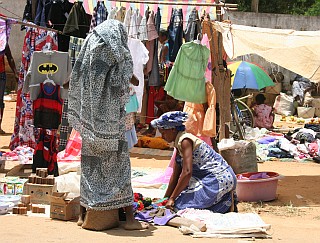 A street fair in northern Madagascar exhibiting
traditional and non-traditional clothing
We've stopped for lunch for 20 minutes. This is the biggest town we've seen yet, with lots of people and cars and bikes and buildings. There are three gas stations (7 ariary more per litre than on Nosy Be) and a few guest-houses and reasonably upscale restaurants. This place we've stopped, "Hotel Bismillah," isn't really one of them, but our driver says it's 2-3 times cheaper than elsewhere. For that we get flies on the tablecloth and a view of a plastic-covered wall. The Madagascar Experience.
Despite that, it was quite a good lunch. Though maybe I should wait a couple hours before saying that. Mom and Dad had chopped ...meat... in sauce over rice, and I had minced ...meat... in sauce over rice. I was almost done before I realized why it tasted so good and familiar - its basically Chippies Favorite (a dish my mom made when I was little and that her mom made when she was little), Madagascar style.
After a minor discussion about money - the restaurant lady tried to convince us our 'demi' (half) meals were 2000 instead of 1500 Ariary (US$ 0.90), and our driver had to explain things to her - we're back on our way. We're only 20 km from Ankarana.
We've climbed up onto an escarpment. Much of the ground and surrounding hills are burnt, but the ground underneath is getting red.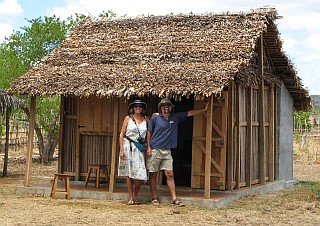 Mom & Dad outside our rustic thatch bungalow
Ah, we've arrived. Now to find the guest-house...
1930 - Goulam Lodge, Ankarana
Ooh, what an afternoon! We just got back from a walk to see the tsingy and a night walk back to the lodges. My feet are sore and very happy to be free of their sneaker bondage, and I was very happy to have a shower. Next on my list is dinner...
The owner of the lodges, Goulam, speaks excellent English and is very nice. He showed us our little wood-sided, thatch-roofed double-double cabin (with no toilet or running water) and said we could join them for a walk at 2pm, once we'd paid the entrance fee for the park. Mom and I walked back to the entrance to pay that. She and Dad had to pay 37,000 Ar (US$ 21) each for their tickets. I had to pay... 2000. Because I'm a student. Hm, maybe I should stay a student a while longer!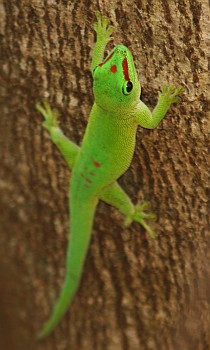 A Green Day Gecko
We started off on the afternoon walk with Goulam, a French couple, and two English med students. We walked along the road, which was dusty but partly shaded so okay. Goulam was a wizard at spotting chameleons. Seriously, even if he said what tree it was on, I couldn't see it. And he'd spot it while walking along, seemingly hardly looking.
The beginning of the walk, along the road, was mostly a reptile walk. Geckos and chameleons. We saw some birds too. Gosh, it was wonderful to walk through the forest, even on a road. We eventually came to a campsite, and abandoned the road. We saw our first mammal there, a ringtail ...mongoose? Not sure. Shortly thereafter we saw an Ankarana sportive lemur peering down at us from a tiny hole in a tree. Welcome to Madagascar!
Right after that we got to the first of the tsingy. Tsingy means "to walk on tiptoe" and when I saw the limestone formations I understood perfectly. It's like a'a lava, but not volcanic. Very spiky. Very cool ridges and ripples and sharp edges, with random deep chasms here and there.
We walked on and around the tsingy for probably an hour, circling around a big deep valley or sinkhole or something. The views were great, though walking on the uneven rock wasn't so easy. There were white paint dots on the rock every couple feet, just so we could tell where the 'path' was. Not that Goulam needed them - he's been a tour guide for about 15 years and can probably walk that track in his sleep.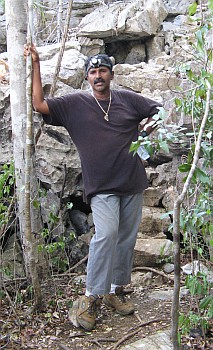 Eugene Goulam, our guide & the
owner of Goulam Lodge
After seeing (and feeling) our fill of the neat rock formations, we went steeply DOWN into the canyon. Down down down, though it was really only 100 metres. And there was the opening to the Bat Cave. It was massive. Tall and probably deep, though we didn't go very far in. The bats were right there. With all our flashlights, we could even take pictures.
Then back out, and up to a different part of the cave - at least, I assume they're connected. We went further into this one, past the bats and into deep dark places where there were great drip castles and stalagmites and -tites and curtains. There was a 'do not enter' sign after a while, but Goulam pushed past it and we continued to the less-traveled bits. Again, I think he went there a lot. I would have gotten hopelessly lost, and been terrified of my torch going out. We turned them off at one point. Not a speck of light. Deep and black.
It was still light when we got out of the cave and walked back to the campsite - taking the end of a loop track, thank goodness, not back over the tsingy. We sat there for about half an hour, waiting for it to get dark. I should have brought my journal, instead of trying to write it all now.
The night walk was cool. We saw a Scops owl, two (or three?) tiny chameleons, several big panther chameleons, a few nocturnal geckos, a green gecko, a few sportive lemurs, and 2 mouse lemurs. SO cute, with their big shining eyes. Holding a torch at eye-level let us see reflected eye glows, which is how we spotted the animals at night. We also saw several ground spiders, whose eyes glow blue.
Ah, dinner!
2030
Well, I'm stuffed. I chowed noodles like nobody's business, and the chicken was good (if a bit tough and rather leggy) and there were cooked veggies as well. Mango for afters, and bananas flambé! And a very strong rum-and-passion-fruit cooler. Whoo!
It's been a long day, but very cool. We're in Madagascar! And now I need to sleeeeeep...
Up | 16 Oct - To Ankarana | 17 Oct - Ankarana | 18 Oct - Montagne d'Ambre | 19 Oct - Tsingy Rouge
Madagascar Home | Madagascar Letters | Madagascar Journal | Mad Flora & Fauna | Cruising Madagascar
Shooting Stars | Bali Cremation | Thai Journal | Passage Blues | Sri Lanka Journal | Night Watch | Feydhoo Walk | Madagascar Journal
Top Level: Home | Destinations | Cruising Info | Underwater | Boat Guests | Ocelot | Sue | Jon | Amanda | Chris | Site Map | Make a Comment
---
Lifetime
Commodores
of the
Seven Seas
Cruising
Association

If our information is useful,
you can help by making a donation
Copyright © 2000‑ Contact: Jon and Sue Hacking -- HackingFamily.com, svOcelot.com. All rights reserved.