0945 - Jardin Exotique, Diego Suarez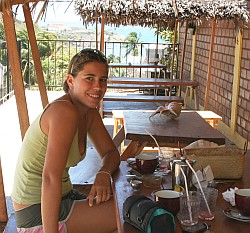 On the terrace of Jardin Exotique
We all slept in quite a bit, which is rather to be expected with our previous two BIG days. Plus we got a phone call in the middle of the night from Canada, which woke us all up and had us being hysterical for about half an hour (okay not quite). I was still groggy when I woke up, but a HOT shower with unlimited water put an end to that and made me feel virtuous.
I'm now up on the terrace above our room, waiting for breakfast. There's Malgasy (MAL-gash) rap playing in the house across the street and beyond that I can see palm trees, a headland, and the ocean! It's blowing like stink. I'm very glad I'm here, not down there sailing in it. On the other side of the terrace, down in the courtyard, is the garden for which this hotel is named - though I'm not sure what makes it exotic. Perhaps that they have a sprinkler on the lawn. It's not very big, but it's colorful. Er, the garden is, not the sprinkler. Little butterflies are flitting past too fast to see.
Breakfast just arrived. A very sweet pink unrecognizable 'fruit juice,' tea, baguette with butter and jame, and a banana. Bon apetit!
1100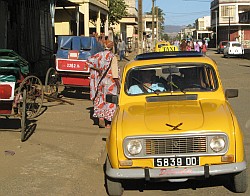 Rickshaws, taxis, Malagasy women --
all normal in Diego Suarez
We're trying to find some way to get up to Montagne d'Ambre. Rather, the the least expensive way to get up there. Most places are saying 100,000 Ar per person, which would make this a bloody expensive day. Boris, whom we met on the truck last night, says he'll take us for 100,000 Ar total, but he doesn't speak English. We could rent a car for 100,000 Ar (plus fuel), but then we wouldn't have a guide.
This is like trying to decide where to go in Sri Lanka - sitting up on the terrace as the day ticks by, guide books and maps strewn across the table, phoning madly.
1230 - leaving Diego Suarez
Well we found a tour, or a taxi, or a whatever-you-want-to-call-it. Our fingers couldn't do enough walking so Mom and I went out to the road. We immediately found a tour company - Diego Guide. They arranged a taxi and driver for us, but we are getting our own guide on the mountain - we didn't want to share this little Renault 4 with anyone else.
We stopped in town to buy baguettes and juice for a picnic lunch, then went to a police registry place (I think) to get permission to go up the mountain. Patou says there was some sort of war here in 2002 and they lost a bunch of guns and so the police want to know what vehicles are going where, why. Never a dull moment traveling with the Hackings!

Big chameleon in the road
...on that note, Dad just said a zebu charged our truck last night. Ooookay...
1256
We're at the turn-off for Montagne d'Ambre now. The police stopped us and asked for passports. The first day, in the taxi-brousse (Taxi bruise, we say), we had a similar stop. The driver (we assume, as he was speaking Malagasy) told the policeman he'd have to ask for our passports in English. The officer ummed and ahhed and sent us on our way. Not today, though. I guess it's a good thing we didn't rent a car.
We just passed a chameleon on the road. Patou even stopped and let us take a picture. It's pretty wild out here now. We passed a bunch of burned eucalyptus fields, for making charcoal.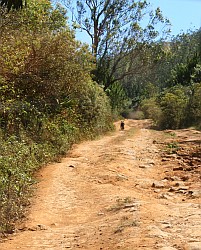 Nasty road to
Montagne d'Ambre Park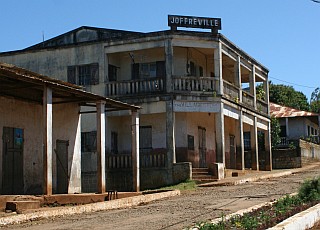 That's it. The main street in town! Ouch.
1325 - Joffreville
Not much of a ville, though maybe we're still in the outskirts.
Ah, the main street. It's a divided road that goes straight up the hill, and it hasn't seen a paver in many a decade. Actually right past this we get to a real, honest-to-goodness dirt road, better traveled in a hefty 4x4 than this car... I guess this is why a taxi-brousse takes about 3-4 hours to get up.
1545 - the sacred waterfall
1624 - Antakarana waterfall
1745 - Joffreville (going the other way)
It's getting too dark to write. I guess I'll have to wait till we get back to Diego Suarez...
1900 - Jardin Exotique
We, of course, left the aircon on all day, so I'm currently freezing. And there isn't much hot water in the evening.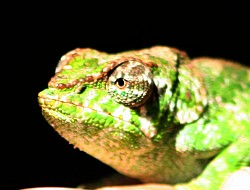 Grumpy day for a chameleon
Anyway. We got a guide, Arnaud, at the entrance to the park - as well as a couple tshirts. Patou drove us all up as far as possible, then we got out and hoofed. First place on the list was Lac Mahasarika (Petit Lac), which was up and over a big hill. The path we took was actually an old road, so it was easy on the feet and not too steep. The forest was great, lush and green. We had shade for most of the walk, which was okay but not strictly necessary - elevation and the wind made it cool. Arnaud found us some chameleons right away, and although he didn't speak English he was quite a good guide. He didn't mind us stopping for photos, and gave Mom names for most of the animals we saw.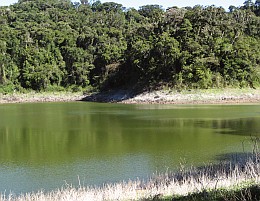 Lak Mahasarika supplies water
for Joffreville. Yuck?
We ate lunch at Petit Lac, which is the water supply for Diego Suarez. It was a bit low, but Arnaud said that in the rainy season, instead of sitting where we were (quite a ways up from the water, in the shade), we'd be swimming.
From there we walked back up to the road, which took less time than coming down, down a bit of the road, which was now completely in shadow, and along a little path to the Sacred Waterfall. On the way we passed the stream below it, which is the water supply for Joffreville.
The sacred waterfall is a place where local people believe their ancestors inhabit. They come (usually Saturday and/or Monday) to give offerings and swim in the pool beneath the waterfall. It's quite a nice waterfall, a fair-sized shower coming down to a modest pool with caves behind the falls. It probably looks quite impressive in the rainy season.
From there we went to another waterfall, but passed through a campsite. Quite a nice one, with covered tent sites, covered or open tables, and a few barbeque fireplaces. Only 3000 Ar per person. Much better than 90 Euro for a bungalow, no?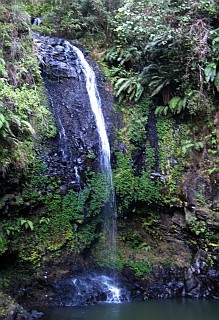 Sacred waterfall inhabited
by ancestors
The second waterfall we looked out and down on, rather than being on the pool. It was bigger than the first, with more water and a longer drop, but the light wasn't good for pictures.
It was getting quite chilly as we headed down the Path of a Thousand Trees. I already had my long-sleeve shirt on, and wished I'd worn long pants. We weren't pressing as hard as we did in Ankarana, so the blood wasn't pumping quite as much.
The Path of a Thousand Trees is so named because it has many many species of trees - not all endemic. There were pines, Japanese cedar, South American trees that grow a foot a year, and Dr. Seuss trees here and there, to name a few.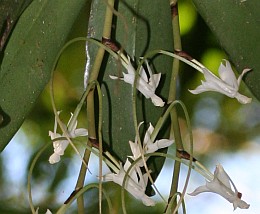 Orchids were part of the wonder
of Montagne d'Ambre
I have to say, I enjoyed Montagne d'Ambre more than Ankarana. It's lush and green, there are information boards every now and then, the trails are easier to walk... though I guess the tsingies are the ones to blame there. Anyway, all of the park was magnificent. Arnaud showed us three types of chameleon, including the smallest in the world, many different birds, and a troop of Sanford lemurs. He offered to take us to a third waterfall, which would have been nice to see, but we also would have been walking in the dark. So we walked back to the car (my back was thankful it was so close), dropped Arnaud off at Joffreville after following an insane zebu cart down an even-more-insane road, then headed on our way. Patou kept the speed around 70 kph most of the way, which was terrifying on that road, but we got to Diego Suarez in basically one piece. Total.
2200 - in bed
I'm falling asleep... I knew I should have written while we were in the park, but we walked so slowly (I'm not complaining, mind) that when we stopped somewhere we didn't need to sit for longer than a few minutes.
We had dinner again at Balafomanga Restaurant across the street, which was awesome once again. I had more zebu, Dad had fish, and Mom had jumbo prawns. After that we had dessert - crepes, fruit with chocolate, and ice cream. And when we asked for the bill, they asked would we like a complementary 'digestif' of rhum with something steeped in it for a month or so. Dad got ginger, and Mom and I got coconut and chocolate. Woah! Yummy, though. After that we had a nice chat with the owners, and came back to the hotel.
Ah yes, Patou popped in to see us, but I'll write about that tomorrow.
Up | 16 Oct - To Ankarana | 17 Oct - Ankarana | 18 Oct - Montagne d'Ambre | 19 Oct - Tsingy Rouge
Madagascar Home | Madagascar Letters | Madagascar Journal | Mad Flora & Fauna | Cruising Madagascar
Shooting Stars | Bali Cremation | Thai Journal | Passage Blues | Sri Lanka Journal | Night Watch | Feydhoo Walk | Madagascar Journal
Top Level: Home | Destinations | Cruising Info | Underwater | Boat Guests | Ocelot | Sue | Jon | Amanda | Chris | Site Map | Make a Comment
---
Lifetime
Commodores
of the
Seven Seas
Cruising
Association

If our information is useful,
you can help by making a donation
Copyright © 2000‑ Contact: Jon and Sue Hacking -- HackingFamily.com, svOcelot.com. All rights reserved.