17 April 03
Ocelot heads for the Galapagos
Dear friends & family,
We've finally jumped off the South American mainland, heading for the Galapagos and points west. We had a WONDERFUL time exploring the Ecuadorian interior with the Aussie family on "Vamp". Life is very inexpensive in Ecuador - nice meals can be had for $3-4, nice busses cost about $1/hour, and clean hotel rooms are cheap enough that we can get the kids their own rooms. The people are interesting, varied and friendly, the countryside is picturesque, the mountains are gorgeous (although I could wish they'd learn to use trash cans), and everyone speaks Spanish. Jon's Spanish is still pretty lame but he can get around (in a non-grammatical, pidgin sort of way). Traveling with Sue (and her fluent Spanish) opens all sorts of doors and makes everything much more enjoyable.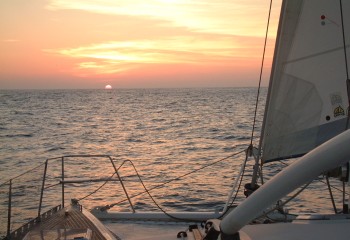 Ocelot sailing into a beautiful Pacific sunset
Most of our traveling was by public bus, so we were right there with the people. The first day was really just getting up into the mountains to Riobamba. From there we took a taxi (well, a twin-cab pickup w/the kids in back, which they loved) up to 15,000', there to hike up another 1,000'(!) to the snow and some sweet hot chocolate. Then to Baños for a couple nights where we biked down a canyon and took a delightful hike above the town. Perhaps the most memorable day was at Saquisili (near Latacunga, south of Quito), the biggest local market in Ecuador. We saw 5-6 plazas as well as several streets packed FULL of people selling everything you can imagine (and some you might not, like a rack of about 30 roasted pigs heads - $4 each). We bought some artwork, purses, a musical pipe, jewelry, shawls, and Jon got an alpaca jacket with a hood for $8 - wonderfully soft and warm. Wandering through the old part of Quito was fun but the most memorable part of the trip there was leaving, as the pass down is steep, our driver was a maniac, we were in the front seats, and the pass lasted for about 3 hours! Stunning scenery but hearts in throats (and burning brake-pads) much of the time. Dinner the last night was meat shish-kabobs w/roasted plantains (2 for $1.80) from street-vendors.
As I write this (4pm CST - yes, we've moved an hour west) we are at 0° 45' S, 81° 15' W, or about 35 miles off the coast of Ecuador (about 500 miles to go). We're headed west but there's not much wind - say 10-15 knots from the SSW - so we're only making 4-6 knots. Since forecasts are for light winds until past the Galapagos, we may be out here a while, but that's OK. The skies are clear and blue, the sea is flat, the moon will be full, we have friends (2 Aussi boats) in front of us, and we're in no rush.
All our best -- Jon, Sue, Chris, & Amanda
s/v Ocelot, sailing into the sunset
Up | 17 April 03 | 18 April 03 | 19 April 03 | 20 April 03 | 21 April 03 | Lobo de Mar Letter | Galap Cruising Info
Panama Letters | Ecuador Letters | Galapagos Letters | Marquesas Letters | Tuamotus Letters | Tonga Letters | Fiji Letters | New Caledonia Letters | Australia Letters
Top Level: Home | Destinations | Cruising Info | Underwater | Boat Guests | Ocelot | Sue | Jon | Amanda | Chris | Site Map | Make a Comment
---
Lifetime
Commodores
of the
Seven Seas
Cruising
Association

If our information is useful,
you can help by making a donation
Copyright © 2000‑ Contact: Jon and Sue Hacking -- HackingFamily.com, svOcelot.com. All rights reserved.