21 April 03
Ocelot arrives in the Galapagos
Dear friends and family,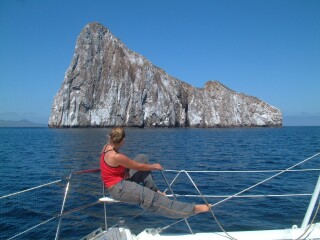 Galapagos Landfall - approaching Kicker Rock
We made it! We anchored in Wreck Bay, San Cristóbal Island, about lunchtime today. We were able to sail for part of the night but then the wind died and we had to motor again. We had a delightful sail down the coast of San Cristóbal, even stopping to circle Kicker Rock that had hundreds of birds nesting on it. Kicker Rock rises about 300 feet straight out of the ocean, and even right next to it the depth sounder was reading over 200 feet of water. Awesome.
Problem is, Jon had a "tooth event" at breakfast and spent a couple hours getting a root canal this afternoon. Ugh! We'll probably be here exploring for a few days then head for Academy Bay, Santa Cruz Island, for the remainder of the dental work as well as exploration. Sue has been reading about where to see and do things in the Galapagos and Santa Cruz island has the most to see and do.
All our best -- Jon, Sue, Chris, and Amanda
s/v Ocelot, in the Galapagos
Up | 17 April 03 | 18 April 03 | 19 April 03 | 20 April 03 | 21 April 03 | Lobo de Mar Letter | Galap Cruising Info
Panama Letters | Ecuador Letters | Galapagos Letters | Marquesas Letters | Tuamotus Letters | Tonga Letters | Fiji Letters | New Caledonia Letters | Australia Letters
Top Level: Home | Destinations | Cruising Info | Underwater | Boat Guests | Ocelot | Sue | Jon | Amanda | Chris | Site Map | Make a Comment
---
Lifetime
Commodores
of the
Seven Seas
Cruising
Association

If our information is useful,
you can help by making a donation
Copyright © 2000‑ Contact: Jon and Sue Hacking -- HackingFamily.com, svOcelot.com. All rights reserved.