19 April 03
Ocelot heads for the Galapagos #3
Dear friends and family,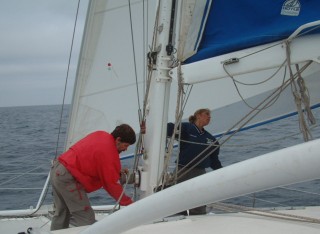 Shaking the reef out of the mainsail
after the wind lightened up again
How much difference a day makes. About 10pm last night the clouds rolled in and we've had solid overcast until 3pm today. The wind piped up to 22 knots last night so we made good time, but we had to take a reef in the mainsail. Also, the water, about 80°F in the Caribbean, was only 74°F (23°C) off Manta, and was a chilly (to us) 70°F (21°C) this morning. Here we are, only 13 miles from the equator, all dressed in windbreakers and long pants!
We hope to arrive in the Galapagos Mon or Tues and we want to stay there 3-4 weeks if they let us. Then we're off for the LOOONG jump (3-4 weeks) to French Polynesia (Marquesas, Tuamotus, Tahiti, Bora-Bora, etc.)
The winds have lightened considerably this afternoon (as friends in front of us said they would). Our 4pm CST position is 0° 13' S, 85° 40' W, or 235 miles still to go to Wreck Bay, a 24 hour run of about 140 miles. The wind is very light right now, about 8 knots, so we're only making about 4 knots, but all on board are happy and healthy (well, except Arthur, who wishes the boat would stop rocking).
All our best -- Jon, Sue, Chris, and Amanda
s/v Ocelot, sailing into the sunset
Up | 17 April 03 | 18 April 03 | 19 April 03 | 20 April 03 | 21 April 03 | Lobo de Mar Letter | Galap Cruising Info
Panama Letters | Ecuador Letters | Galapagos Letters | Marquesas Letters | Tuamotus Letters | Tonga Letters | Fiji Letters | New Caledonia Letters | Australia Letters
Top Level: Home | Destinations | Cruising Info | Underwater | Boat Guests | Ocelot | Sue | Jon | Amanda | Chris | Site Map | Make a Comment
---
Lifetime
Commodores
of the
Seven Seas
Cruising
Association

If our information is useful,
you can help by making a donation
Copyright © 2000‑ Contact: Jon and Sue Hacking -- HackingFamily.com, svOcelot.com. All rights reserved.