18 April 03
Ocelot heads for the Galapagos #2
Dear friends & family,
Today was an absolutely picture perfect trade wind sailing day: 12-15 knots of wind from just forward of the beam, flat seas, clear skies, warm sun, and a razor-sharp horizon. I don't usually mention the sun as we usually try to avoid it, but we seem to be into the cold current that comes up from Chile (much like our cold southbound current along the US west coast) and temperatures are a bit cooler than we're used to, even here on the equator.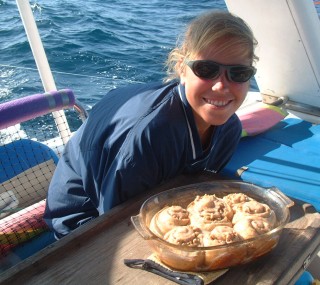 Happy 14 year old with special homemade
cinnamon rolls for breakfast
Today is Amanda's 14th birthday, so we had homemade cinnamon rolls for breakfast, chicken rotis for lunch, and steak (with a birthday cake) for dinner. But we'll probably postpone our real celebrations until we get back together with other kid-boats in a few days. Protracted celebrations can be so much fun.
Our 4pm CST position is 0° 9' S, 83° 15' W, or 378 miles still to go to the Galapagos. The wind came up a bit last night (15-18 knots), so we made better time than we expected, clocking about 125 miles today. We still have not really come to the South Pacific trades, which blow from the southeast. They start by pushing up from the south, along the coast of South America, and then blossoming east (and west) off Ecuador, so we're expecting the winds to back as we get closer to the Galapagos. This is why I'm letting us creep a bit north of our straight-line track. It allows us to make better speed and have a more comfortable sail. In the mean time, our 5-6 knots of boat speed is just fine with us.
All our best -- Jon, Sue, Chris, & Amanda
s/v Ocelot, sailing into the sunset
Up | 17 April 03 | 18 April 03 | 19 April 03 | 20 April 03 | 21 April 03 | Lobo de Mar Letter | Galap Cruising Info
Panama Letters | Ecuador Letters | Galapagos Letters | Marquesas Letters | Tuamotus Letters | Tonga Letters | Fiji Letters | New Caledonia Letters | Australia Letters
Top Level: Home | Destinations | Cruising Info | Underwater | Boat Guests | Ocelot | Sue | Jon | Amanda | Chris | Site Map | Make a Comment
---
Lifetime
Commodores
of the
Seven Seas
Cruising
Association

If our information is useful,
you can help by making a donation
Copyright © 2000‑ Contact: Jon and Sue Hacking -- HackingFamily.com, svOcelot.com. All rights reserved.