Leaving South Africa
Thursday, 16 July 2009, Off the South African coast

We sailed "one foot on the beach"
Dear Friends and Family,
Wednesday at about 2 pm we finally untied our lines (after 20 months!!) and motored out of Richards Bay, set full sail, and turned north for the Mozambique Channel, heading for Madagascar.
The winds have been from the south for a day or so and look like they're going to continue for several more days. We had a pleasant enough night. The winds blew from right behind us at between 12‑20 knots and Ocelot happily scooted up in front of them.
The Agulhas Current comes down this coast pretty quickly, so we hugged the coast to stay out of it as much as we could. Since there's no moon until after midnight, we didn't go in to the 20 meter (depth) line, but stayed out closer to the 30m (100' deep) line. This is about 1/2 mile (1 km) off the beach. Even so, we were able to find a small counter-current which generally gave us a small assist for most of the night. Sailing this close also allows us to watch the scenery pass by (mostly shrub‑covered sand‑dunes at this point) which is a pleasant distraction.
By 9AM this morning we had covered 115 miles in 18 hours so we're averaging a bit more than 6 knots, which is fine with us. We plan to go up into Mozambique (Maputo Bay) today and then cross the Agulhas Current at the top of the bay, where it's thinnest (about 30 miles wide).
Fair winds and calm seas -- Jon and Sue
---
Dear Friends and Family,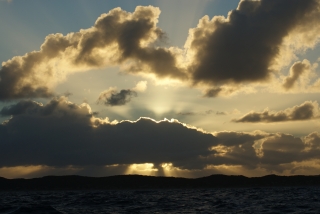 Last sight of Africa. Sunset over Mozambique
We're just at the north tip of Maputo Bay. This is the point where the south-flowing Agulhas Current is the narrowest. With the wind blowing out of the south, this can setup some difficult wind-against-current square-sided waves, which we'd like to minimize. (Yes, currents are generally described by where they're going, while winds are described by where they're from - I'm not trying to be difficult

). So tonight we plan to head off shore, away from Mozambique and Africa, to cross the current quickly. Then we'll head up the Mozambique Channel towards the western tip of Madagascar, 720 miles away. [We didn't yet know that we were going to change our minds and head for Mayotte. This is cruising! -- ed.]
Last night was a bit bumpy. We decided to cut the corner of Maputo Bay and head directly for its northernmost point. This would give us a better angle on the wind, which was blowing 25 knots from the south. The problem was that this is a pretty fast point of sail for Ocelot, and she took off. With that much wind (and associated waves) the ride is wild enough that sleeping gets difficult, so we started reefing the mainsail to try to slow Ocelot down. Eventually we ended up with all 3 reefs tucked in and Ocelot was still peaking at 8‑9 knots now and then.
Africa is now giving us a beautiful send off - we have a full rainbow over breaching humpback whales. But we hope to be back here in a year or 2.
By the way, we're having a bit of a problem connecting to our ground stations (by SSB radio) to send these missives out, so don't be worried if you don't hear from us for a bit.
Fair Winds and Calm Seas -- Jon and Sue
---
21 July 2009, 250nm from westernmost tip of Madagascar (Cape St. Andre), 870nm from Richards Bay
Dear Friends and Family,
That last line was very telling - our email has been down. Not sure when we'll be able to send these.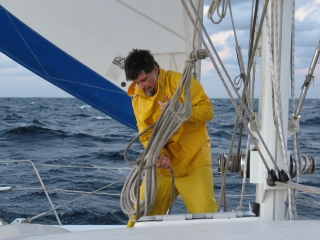 Jon reefs the mainsail, mid-Channel
While in Richards Bay (and even along the coast of South Africa) we could send and receive these emails via the internet and our little 3G modem. Now that we're at sea we have to go back to the SSB radio - and we can't get any of the ground stations to respond to us! VERY frustrating! Durban has his antenna pointed away from us, Pretoria has never responded to us, and our next closest station is in Madras, India. He was very reliable as we crossed the Indian Ocean in 2007, but now he's 3,000 miles away. Hopefully we'll find a solution soon.
Our passage up the Mozambique Channel has been ... challenging. We had a 1 knot current behind us as long as we hugged the coast, and could probably have ridden that all the way up to Inhambane or even Bazaruto if we'd wanted. But we jumped off a bit south of Inhambane as we have a lot of respect for the Agulhas Current.
As it turned out, crossing the Agulhas was a non-event. Seems it's pretty weak this time of year. But the Mozambique Channel had more wind than expected - gusting up to 35 knots. Ocelot can certainly take a lot more than that, but at those winds the seas get rather excited, banging against the hulls and keeping us all awake. So we're a bit sleep deprived.
But at 10 pm last night somebody found the fan switch and turned it down for us. Since then we've had lovely sailing conditions - 18‑22 knots of wind from just aft of the beam and seas flattening down nicely. We still have a current pushing us WNW (at more than 2 knots!) while we're trying to sail ENE, but we can deal with that.
While our radio email may not be working, our radio itself is, and we're in daily contact with several weather and position reporting nets so we don't feel so alone out here. As I write this (on my 4‑8 am watch) the sun is just trying to come over the horizon, setting all the clouds there on fire in magnificent preparation for another day.
Fair Winds and Calm Seas -- Jon and Sue
Up | Leaving South Africa | Sailing to Mayotte | Exploring Mayotte | Mayotte Home | Cruising Mayotte
Laos Letters | Vietnam Letters | India Letters | Nepal Letters | Indonesia Letters | Malaysia Letters | Thailand Letters | Sri Lanka Letters | Maldives Letters | Chagos Letters | Seychelles Letters | Madagascar Letters | Mayotte Letters | Africa Letters
Top Level: Home | Destinations | Cruising Info | Underwater | Boat Guests | Ocelot | Sue | Jon | Amanda | Chris | Site Map | Make a Comment
---
Lifetime
Commodores
of the
Seven Seas
Cruising
Association

If our information is useful,
you can help by making a donation
Copyright © 2000‑ Contact: Jon and Sue Hacking -- HackingFamily.com, svOcelot.com. All rights reserved.