Sailing to Mayotte
Wednesday, 22 July 2009, 250nm from Mayotte, 1016nm from Richards Bay
Dear Friends and Family,
The sun has just crested the horizon and the clouds are still all rimmed with golden fire and a rosy glow - sunrises at sea are WONDERFUL!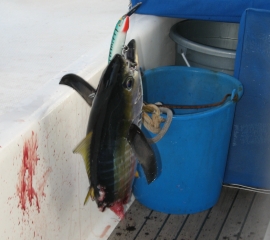 Two-thirds of a tuna. Yum!!
Last night was awesomely beautiful - the stars were out in magnificent glory, the Southern Cross blazing forth as the Milky Way arched over us. We're in the dark of the moon for the next few days so the stars are particularly brilliant. The wind and seas have died down a lot so we're just ghosting along at 5‑6 knots with the wind at a very comfortable 120° apparent. The calm seas means that there's almost no sensation of movement down below - just the gentle swishing of water moving past the hulls to lull us to sleep.
Last night we decided to head for Mayotte, a small atoll in the Comoros, 180 miles west of the north end of Madagascar. While nominally part of the Comoros, it's actually administered by France. We didn't go there on our way to Africa in 2007. We have good friends we'd like to meet up with who are sailing from Chagos to Madagascar but they're not expected to arrive until early August, so we have a few days to explore Mayotte. And, of course, we'd like a croissant-fix!
Calm conditions make us perk up and start doing more stuff, like cleaning up all the salt that's been tracked inside over the last few days. Yesterday Jon finally dug out our new fishing gear, put together a couple of new lures and tossed them out behind us. Within a couple of hours we had ourselves a nice tuna - or should I say, we had the front 2/3 of a nice tuna. Something big had taken off the tail section but there was plenty to go around. So we shared fresh tuna and fresh salad as we watched the sun set from the helm seat.
Fair Winds and Calm Seas -- Jon and Sue
---
Thursday, 23 July 2009, 150nm from Mayotte, 1135nm from Richards Bay
Dear Friends and Family,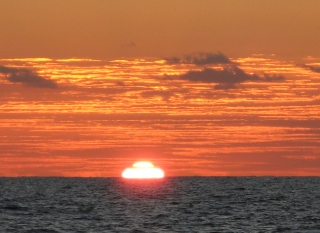 Just seconds before a green flash sunset!
Yesterday we sailed past Cape St. Andre, the western bump of Madagascar where we jumped off from in 2007 to head for Africa. But only a few days out on that leg we hit a huge current that pushed us southeast at up to 6 knots! We certainly didn't want to hit that again, so this time we stayed pretty close to land as we sailed north. The problem with this is that Madagascar is high enough that it blocks the southeast trades of the southern Indian Ocean. So the wind died on us and we ended up spending most of yesterday motor-sailing in flat-calm conditions.
So we decided to make the most of it. Jon reactivated the water-maker (which has been pickled with biocide for the last 20 months). With essentially unlimited electricity the water-maker generated about 100 gallons (380 liters) and essentially filled both water-tanks. Jon also took advantage of the flat conditions to do a bit of engine maintenance. Meanwhile Sue was digging out gear that had gotten salty during our rough passage up the Mozambique Channel, washing it in fresh water and putting it out in the sun to dry. Ocelot looked a bit like a floating Chinese laundry!
Late in the afternoon we were visited by a huge pod of several dozen dolphins! They were playing just under our bows and leaping up to take a look at us. Some even pulled the old Flipper trick of sticking most of their body out of the water and swimming along backwards balanced on their tail. There might have been 2 pods as the ones close to us looked like Pantropical Dolphins but there were also several Spinner Dolphins leaping out of the water and spinning around several times before splashing back in.
Later, as we were eating dinner in the cockpit we got a green-flash sunset, our first in 2 years! Then at 8 pm we finally got far enough from Madagascar that the wind filled in for us and we could shut down the engine (we typically only use 1 at a time if we're not anchoring or coming through a tricky pass). So we got to sail all night and now (6 am) we've got 14 knots from the southeast so Ocelot's sailing along beautifully. The fishing lines are out, puffy little white clouds dot the vivid blue sky, the GPS says we should arrive at the outer reef of Mayotte in about 24 hours, and we've just had yet another gorgeous tropical sunrise.
Fair Winds and Calm Seas -- Jon and Sue
---
Friday, 24 July 2009, 30nm from Mayotte, 1243nm from Richards Bay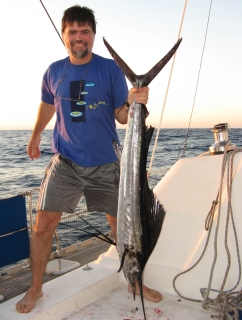 63" (160 cm) of sailfish!
Dear Friends and Family,
LAND HO! As the sun to the east turned the clouds a fiery crimson we could make out the outline of Mayotte on the horizon - some mountains flanked by smaller undulating hills. Our first land since leaving Africa almost 1,000 miles ago.
The entrance to Mayotte is complicated. There are only a few entrances through the outer reef system, and some of those are not well charted or are in nature reserves. Once inside the lagoon there are 15 miles of twists and turns to avoid coral formations. We'd like to take the southeast entrance, as it's the closest, but rumor has it that the French don't like boats entering via that channel. If they make us go around it will add 25 miles (5 hours!) to our journey and we might not be able to get in before dark. We Shall See...
Last night the wind died down on us, slowing us to less than 3 knots. So we've been motor-sailing all night, with the starboard engine ticking over at 2,000 rpm. We want to arrive with plenty of light so we can see and avoid any underwater hazards.
Had a bit of excitement last night: Just at dusk, as we were thinking of bringing the fishing lines in, we noticed that the lighter port-side line was tight. Jon started pulling it in and realized that we had a fish on! As he pulled it closer we realized that it was a Sailfish! It's a good thing he was well hooked as it took Jon 2 tries to get him over our high life-lines, about 7' or 2m above the water. We gave him a shot of alcohol down the gills to calm him down and found that we'd landed our longest fish yet - 63" or 160cm! So Jon had to work quickly in the fading light to fillet him while he could still see.
Later, as we were changing watch at midnight, we heard a blow off our port bow. Walking up to the bows with a powerful lantern we saw a small pod of dolphin playing in our bows. We rarely see (or hear) dolphin at night so these were a treat.
The Milky Way is brilliantly arched over us, pointing the way north to Mayotte.
Fair Winds and Calm Seas -- Jon and Sue
Up | Leaving South Africa | Sailing to Mayotte | Exploring Mayotte | Mayotte Home | Cruising Mayotte
Laos Letters | Vietnam Letters | India Letters | Nepal Letters | Indonesia Letters | Malaysia Letters | Thailand Letters | Sri Lanka Letters | Maldives Letters | Chagos Letters | Seychelles Letters | Madagascar Letters | Mayotte Letters | Africa Letters
Top Level: Home | Destinations | Cruising Info | Underwater | Boat Guests | Ocelot | Sue | Jon | Amanda | Chris | Site Map | Make a Comment
---
Lifetime
Commodores
of the
Seven Seas
Cruising
Association

If our information is useful,
you can help by making a donation
Copyright © 2000‑ Contact: Jon and Sue Hacking -- HackingFamily.com, svOcelot.com. All rights reserved.