Exploring Mayotte
Wednesday, 29 July 2009, Mayotte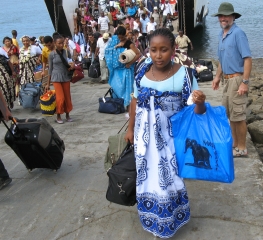 Great people-watching at the ferry
Dear Friends and Family,
For the last day or so we've been driving around the main island of Mayotte. The upper reaches are delightfully cool and moist, with verdant rain-forests of lush vegetation. We've even seen several troops of Lemurs. Most of them are a bit afraid of people, but not enough to turn down offers of bananas. Around the coast the island is dryer - more what I'd call a scrub-forest. There's lots of home construction going on, using cinder-blocks and concrete. Many houses are built a bit at a time, with obvious plans to add a second story in the future.
Most of the island is on a somewhat subsistence type economy, with little shops selling what they can. Mayotte is more prosperous than the independent Comoros islands, but that's not saying much. As French protectorates go, it's relatively undeveloped.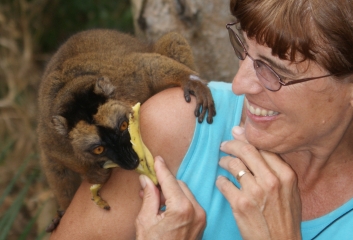 Lemurs are gentle, with thick soft fur.
Still, it is beautiful. The barrier reef entirely surrounds the main island (and a handful of lesser islets) creating a nice protected lagoon between the reef and the "mainland". The island is criss-crossed with excellent hiking trails so this morning we drove up as high as we could and then walked along a lovely ridge, through lush forest. Sue spotted a new Kestrel that she still has to identify, several huge spiders, and we also came across 2 troops of Lemurs. Delightful.
Our friends look like they'll be arriving in Madagascar on Friday. That's a 200 mile sail for us, which is a ticklish distance. We could do it in a single overnight if we could average 6 knots, but although it's blowing 20 knots here now, the forecasts say the wind will die as we get closer to Madagascar. So we're planning to leave this afternoon, which means we should arrive in daylight on Friday if we average between 3‑6 knots.
Please note that right now we're WiFi connected (they beam it out to the anchored boats) but our radio email is still down. We don't know why or when we'll be able to get it working again. It could just be bad propagation, as several other boats are reporting similar problems. Madagascar has essentially NO internet access and it could be as much as 3 weeks before we get to the Seychelles, if we decide to stop there at all. So you may not hear from us again until we get to the Maldives, which could be as much as 6 weeks from now. We'll certainly try to send updates when we can, but please don't be concerned if you don't hear from us for a while.
Fair winds and calm seas -- Jon and Sue
Up | Leaving South Africa | Sailing to Mayotte | Exploring Mayotte | Mayotte Home | Cruising Mayotte
Laos Letters | Vietnam Letters | India Letters | Nepal Letters | Indonesia Letters | Malaysia Letters | Thailand Letters | Sri Lanka Letters | Maldives Letters | Chagos Letters | Seychelles Letters | Madagascar Letters | Mayotte Letters | Africa Letters
Top Level: Home | Destinations | Cruising Info | Underwater | Boat Guests | Ocelot | Sue | Jon | Amanda | Chris | Site Map | Make a Comment
---
Lifetime
Commodores
of the
Seven Seas
Cruising
Association

If our information is useful,
you can help by making a donation
Copyright © 2000‑ Contact: Jon and Sue Hacking -- HackingFamily.com, svOcelot.com. All rights reserved.