Seychelles Arrival
8am, 5 July 2007, Victoria, Seychelles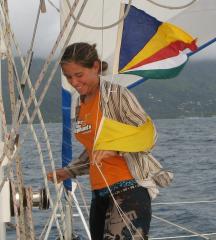 Raising the Q & Seychelles flags
Dear Friends and Family,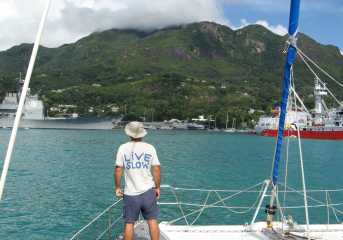 Our arrival in Victoria, with a US missile cruiser
on one side, big tuna-clippers on the other,
and the yachts anchored in between.
Just a quick note to let you know that we arrived safely in the Seychelles this morning. We crossed over the edge of the bank last night with no problems except a bit more sloppy sea. Our course to the quarantine anchorage also presented no problems. We expect the officials to come clear us in in an hour or so, then we'll move to a more convenient anchorage and go explore the sights (and maybe catch up on some missed sleep!)
Many thanks to all of you who wrote to us - it's nice to know there's other humanity out there when we can see no signs of it for so long.
Fair winds and calm seas -- Jon, Sue and Amanda Hacking
Up | Goodbye Chagos | Washing Machine | Halfway | Nice Sailing | Beautiful Sailing Day | Beef-Fish for Lunch | Seychelles Arrival | Enjoying Seychelles | Leaving Madagascar | Arriving Seychelles | Seychelles Home | Seychelles Cruising Info
Laos Letters | Vietnam Letters | India Letters | Nepal Letters | Indonesia Letters | Malaysia Letters | Thailand Letters | Sri Lanka Letters | Maldives Letters | Chagos Letters | Seychelles Letters | Madagascar Letters | Mayotte Letters | Africa Letters
Top Level: Home | Destinations | Cruising Info | Underwater | Boat Guests | Ocelot | Sue | Jon | Amanda | Chris | Site Map | Make a Comment
---
Lifetime
Commodores
of the
Seven Seas
Cruising
Association

If our information is useful,
you can help by making a donation
Copyright © 2000‑ Contact: Jon and Sue Hacking -- HackingFamily.com, svOcelot.com. All rights reserved.