Enjoying Seychelles
2 September 2007, Victoria, Seychelles
Dear Friends and Family,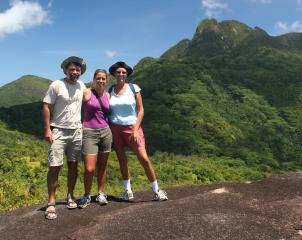 Ocelot crew atop Copolia rock, Mahé
It is a muggy hot day, and low clouds scud by obscuring the 900m (3,000 foot) granitic cliffs above us. The locals say, "Very strange to have rain now. This is the season of strong winds and bright skies." Could have fooled us!
But no matter. Ocelot is living up to one of the definitions of cruising: "Doing boat maintenance in exotic places." After one year of constant travel through Indonesia, SE Asia, Sri Lanka, Maldives and Chagos we have been pleased to find the Seychellois (French pronunciation: Say-shell-WA) people to be enterprising and good at the work they do. Ocelot is purring under their meticulous care. This is not to say there are big factories here, or manufacturer's representatives. Like other isolated places in the world, the need-to-work-with-what-is-at-hand has created a whole class of bush mechanics, engineers and electricians who are not afraid to tackle any problem on a boat. The railway lift that hauled Ocelot out of the water for 6 hours while we replaced sail-drive seals and bearings was surrounded by years of scrap metal, boat parts, tin roof sections and flotsam from the sea -- without a doubt the worst looking yard we've ever hauled at. But they do fantastic work!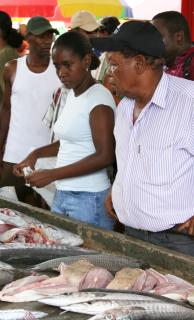 Fish buying at Mahe market
Although our seven weeks here have been forged by the necessities of boat work we've found lots of between-time to enjoy Mahé, the main island of the Seychelles. While anchored in Victoria harbor — which serves as a visiting yacht basin and home to the local fishing fleet — we've spent many hours exploring the small capital with its mix of modern sculpture and 100 year old buildings. The public busses are reliable, if not a bit rickety, and for about US$0.30 you can travel from Victoria to the far north (region of posh homes) or the far south and west coasts where more traditional homes nestle amongst the coconut, mango and banana plants.
Even though the Seychelles are isolated in the western Indian Ocean the country appears to be thriving -- no begging, no slums. The people are well dressed and multi-lingual (Creole, French and English). Much of the success of this country stems from the Seychellois people, who, being a mix of African, Arab, Chinese, Indian and European have kept strong business connections with the outside world. Goods arrive in a feast or famine sort of flow from Dubai, South Africa, Europe and Singapore. The local music is a mix of rap, hip hop and reggae. Stately churches, a colorful Hindu temple and a gold-roofed mosque adorn the town.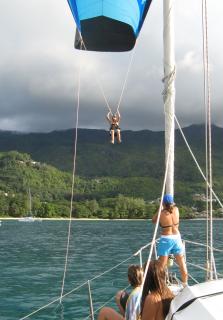 Spinnaker flying with friends
While waiting for parts to arrive from overseas we've spent several weeks anchored off Beau Vallon, the main tourist beach of the island. Beau Vallon has a long white sand beach flanked by granite boulders washed by the small, but omnipresent shore break which makes for very challenging landings and launchings through the surf! On Wednesday evenings a stretch of beachfront between hotels and under the Takamaka trees swells with the bustle of a street fair -- dozens of families set up stalls to sell octopus, fish or chicken curries, freshly grilled fish, rotis, spicy mango salad and fresh passion fruit juice. A few touristy trinket stalls also appear, but the majority of people are Seychellois, out for an evening of socializing, strolling, sunset-watching. Even the menus are in the local language. We go for the food, sunset, and people watching.
Amanda has hooked up with local teens from the International School (on their summer holidays now) and together with two other "teen" cruising boats has been seen very rarely by her parents except as a blur as she knee-boards by or flies in the air on someone's spinnaker! She is in her last month of high school and senioritis has hit hard. It's tough to study when everyone else is on holiday!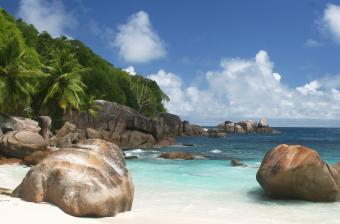 Weather-worn granite on white sand beaches
While the Seychelles has disappointed us underwater (the coral was all "bleached" — killed by ocean warming in the 1998 El Niño event, then further decimated by the 2004 tsunami) it has far exceeded our expectations above water. The central four islands are called the "Granitics", being formed from the ancient continent of Gondwana, and are capped with sheer black granite cliffs, domes, and towering peaks overlaid with dense rainforest. Well-maintained hiking trails in the Morne Seychellois National Park require sturdy shoes, keen eyes and balance, sometimes a bit of rock scrambling, to bring you out to view-points overlooking the blue Indian ocean and the green valleys of Mahé. Atop one rounded granite doom we found clusters of carnivorous pitcher plants, and below us scores of Tropic Birds with their long white tails soared and dove. In the mangroves just behind Ocelot is a rookery of over 100 grey herons and cattle egrets who squawk, croak and fuss at each other as they build nests, feed their young, and fight for perching territory on the branches just above the water.
As the boat work ends we are looking forward to another couple weeks here. We hope to sail to the less-inhabited granitic islands of La Digue and Praslin (home to the endemic coco-de-mer, or "love nut" palms) before grabbing a light-winds window to make the next leg of our journey SE towards Madagascar.
Fair winds and calm seas -- Sue, Jon and Amanda Hacking
Up | Goodbye Chagos | Washing Machine | Halfway | Nice Sailing | Beautiful Sailing Day | Beef-Fish for Lunch | Seychelles Arrival | Enjoying Seychelles | Leaving Madagascar | Arriving Seychelles | Seychelles Home | Seychelles Cruising Info
Laos Letters | Vietnam Letters | India Letters | Nepal Letters | Indonesia Letters | Malaysia Letters | Thailand Letters | Sri Lanka Letters | Maldives Letters | Chagos Letters | Seychelles Letters | Madagascar Letters | Mayotte Letters | Africa Letters
Top Level: Home | Destinations | Cruising Info | Underwater | Boat Guests | Ocelot | Sue | Jon | Amanda | Chris | Site Map | Make a Comment
---
Lifetime
Commodores
of the
Seven Seas
Cruising
Association

If our information is useful,
you can help by making a donation
Copyright © 2000‑ Contact: Jon and Sue Hacking -- HackingFamily.com, svOcelot.com. All rights reserved.