We left Martinique soon after we dropped Gina and Terry off, stopping only to publish the site (last update). After that, we headed down to St Lucia. Coming into port there, we had just had a talk about what we would do if we caught a fish, and suddenly my mom looked back and yelled "Fish on!" We were so excited. My mom took the helm, and Dad went back to reel it in. At first he didn't see anything, but decided to reel it in just to check; we may have hooked some seaweed or something.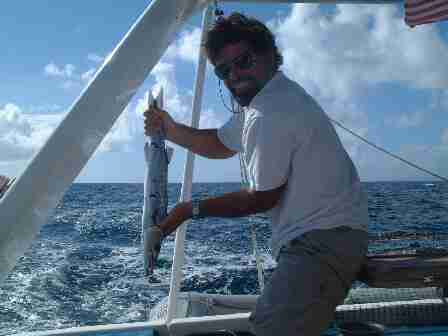 He pulled it in about half way, and then yelled "It is a fish!" he reeled it in a little further, and by then we could see it. A baby barracuda. So dad pulled it up, got the hook out of it's mouth, held it up for a picture, and tossed it back. Okay, so people say they're safe to eat south of Martinique, but we didn't really trust that, we were fairly close to shore, and it would probably barely feed the four of us for one night.
We pulled into Rodney Bay and dropped the hook. We had a couple days to ourselves, and then, once again, we had a visitor. We took Emilie Cobb down the coast of St Lucia, stopping at Marigot, Anse Chastenet, and Soufriere for the nights. But not only for the nights -- we also went to many other places to snorkel. Snorkel, snorkel, snorkel, and, for a change, snorkel. And snorkel. Do you think we snorkeled?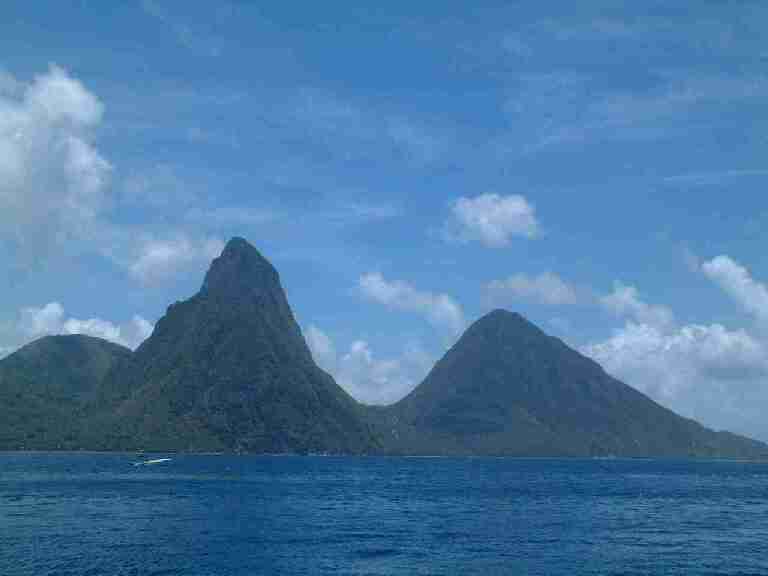 Anyways, we went down the coast of St. Lucia just as far as the Pitons, where we got a great view of them. We might have stayed the night there, but its a horrible anchorage. Extremely deep, not great holding, and a Hilton on the beach.
We came up St. Lucia again, and then crossed to Martinique. It was an interesting sail. We started off with the wind just about off the beam (90 degrees), and about a half an hour away from St. Anne, the wind gradually shifted until we were going straight into it! We weren't extremely surprised, since you can't usually lay St. Anne from St. Lucia, but it was a little weird, tacking our way in when it was the same course that had it off our beam.
One day there, the adults (Mom, Dad, Emilie) went to town (Marin), but they locked the dinghy at the near dock, and then they couldn't get back, because busses weren't working. So I had to row over to the dinghy, unlock it, take the rowing dinghy back to Chris on the boat, look at the chart of the reef around the point, and then start off to Marin. Straight off the pier was a huge reef, with a gap that I didn't see, so I went completely around it. From there, I went straight upwind, blowing about 20 knots, towards Marin. It was blowing so hard that I didn't want to plane, for fear of flipping the dinghy over. It was about 15 long minutes up that channel, weaving between all the bouys. Finally, I got there and picked up the adults. My dad drove back, and showed me the gap in the reef. It's not like I would ever go back up that channel, however.
[ Home ]
Top Level: Home | Destinations | Cruising Info | Underwater | Boat Guests | Ocelot | Sue | Jon | Amanda | Chris | Site Map | Make a Comment

Lifetime
Commodores
of the
Seven Seas
Cruising
Association

If our information is useful,
you can help by making a donation
Copyright © 2000‑ Contact: Jon and Sue Hacking -- HackingFamily.com, svOcelot.com. All rights reserved.